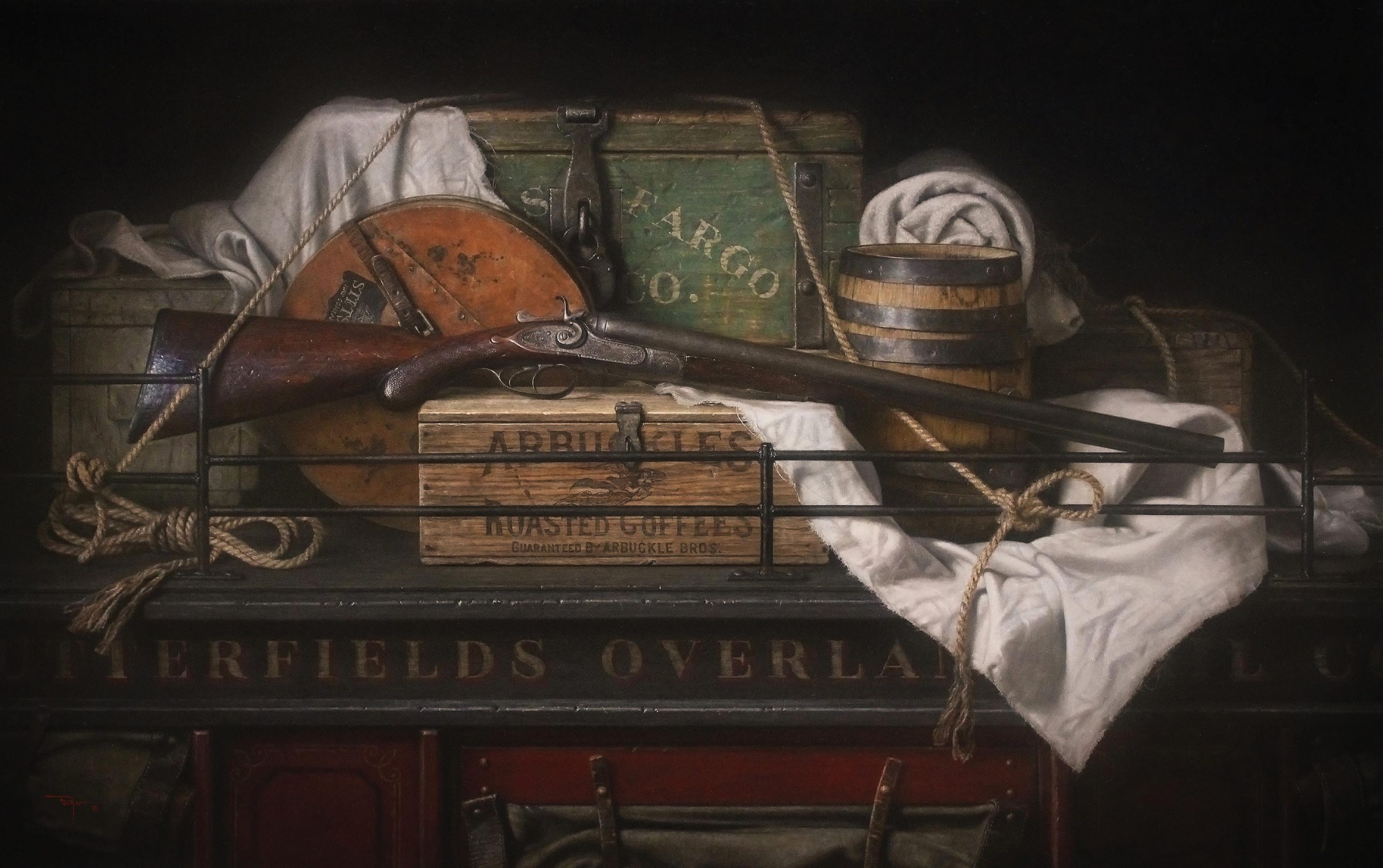 Kyle Polzin, Rough Passage | Oil on Canvas | 31 x 50 inches | Sold: $65,000 | Courtesy of National Cowboy & Western Heritage Museum
11 Jul

Auction Block: A Return to Roots

Works by renowned Western artists continued to stand the test of time, achieving robust sums during spring 2022 auctions. Thomas Moran and Frederic Remington dominated the top-selling lots during Christie's Stewards of the West. And Fritz Scholder, celebrated for bold exploration of his Native American heritage and figurative work, led Hindman Auctions' Western and Contemporary Native American Art sale for a second consecutive year.

During a separate sale, Christie's sold one of Ansel Adams' masterpiece prints, Monolith, The Face of Half Dome Yosemite Valley, California, 1927, above its high estimate. The auction house's sale of American art also brought out the best in Georgia O'Keeffe's abstract work, and enthusiasm over a poetic painting by Bert Geer Phillips drove its price above anticipated estimates.

Moran's painting of the Grand Canyon captured the top slot during Sotheby's sale of American art and photographs, which also offered Adams' photos, a William Wendt landscape, and a Walter Ufer painting.

Works by Victor Higgins and Maynard Dixon depicting mountainous terrain achieved new heights at Bonhams' Western Art auction in late April. The same sale saw another artfully executed painting by Birger Sandzén surpass price expectations.
National Cowboy & Western Heritage Museum Prix de West
June 17–18, 2022
Total: $3,833,000+
Kyle Polzin's Rough Passage had a smooth ride to the winner's circle during the 50th annual Prix de West at the National Cowboy & Western Heritage Museum in Oklahoma City. His still life, which included a double-barrel coach shotgun among other Concord Stagecoach ephemera, captured the Prix de West Purchase Award, with the museum adding the work to its permanent collection for $65,000. Polzin built a stagecoach to use as reference for the still-life painting.
Over the weekend of June 17–18, the art sale and exhibition brought together collectors and the nearly 300 original works by leading Western artists. T. Allen Lawson was recognized with two awards at the event. Lawson's Two of Us earned the Wilson Hurley Memorial Award for outstanding artistic merit for a landscape. The painting, depicting a dusty road lined with desert brush and leading toward distant mesas, sold for $65,000. He also earned the Robert Lougheed Memorial Award for his collection of three paintings in the exhibition.
Additional award winners included Huihan Liu, with the Frederic Remington Painting Award for Family Time; Steve Kestrel, who received the James Earle Fraser Sculpture Award for Heir of Aries (sold: $20,000); Thomas Blackshear II, recipient of the Express Ranches Great American Cowboy Award for Two Americans of the Old West (sold: $38,000); Ron Kingswood, with the Major General and Mrs. Don D. Pittman Wildlife Art Award for A Morning Walk; Dean Mitchell, recipient of the Donald Teague Memorial Award for The 1903 Wickedest Town in the West & Christianity (sold: $20,000); and Curt Walters, winning the Jackie L. Coles Buyers' Choice Award for Inexorable Shiprock (sold: $62,000).
The works of these and other leading Western artists will be exhibited through August 7 at the Oklahoma City-based museum.
Phippen Museum Western Art Show & Sale
May 28–30, 2022
Total: Undisclosed
The Phippen Museum's Western Art Show & Sale in Prescott, Arizona, marked its 48th annual extravaganza with 85 of the nation's leading Western artists. Executive director Edd Kellerman noted that thousands of locals, tourists, and art enthusiasts flocked to the events that took place over Memorial Day Weekend.
Outdoor art shows included two quick-draw contests, with artists challenged to produce a finished work within an hour. This year's Miniature Masterpiece Show & Sale featured 60 drawings, paintings, and sculptures, which were snapped up during a sale-by-draw on Memorial Day.
Awards represent a high point in the festivities. Gary Ward's portrait of four horses, Quartet, earned both Best of Show and First Place Oil. Russell Johnson captured First Place Acrylic with Boulders and Brambles, a color-soaked painting of those features in nature, while Wai Tei took First Place Drawing for Ranch, a foundational piece with emblematic Western figures. In the category of mixed media, Linda Dillon-Sutton received First Place for Star Shawl, a shawl imprinted with a line of five Native Americans. First Place Pastel went to Zion's Gate by Carolyn Parker, and First Place Sculpture went to Alvin Marshall for Stone Sculpture.
Christie's Auction House
Adams & Company: Photographs of the American West
May 10–25, 2022
Total: $649,000+
Stewards of the West: The Knobloch Collection
May 17, 2022
Total: $21.175 million+
American Art
May 17, 2022
Total: $9.455 million+
This May, Christie's hosted three auctions focused on Western and American fine art. Among them, an online sale, Adams & Company: Photographs of the American West, offered dozens of Ansel Adams' gelatin silver prints and saw several achieve larger amounts than anticipated, including the photograph that nourished the seeds of the nation's nascent environmental movement. The piece, Monolith, The Face of Half Dome, Yosemite Valley, California, 1927, brought $47,880, against estimates of $25,000 to $35,000, to become the auction's fourth best-selling item. The top-selling item, Moonrise, Hernandez, New Mexico, 1941, is as striking an image as Adams' ever produced and sold for $94,500, compared to estimates of $40,000 to $60,000.
The places and peoples of the U.S. West were front and center at Christie's Stewards of the West: The Knobloch Collection, which saw works by landscape artist Thomas Moran and sculptor Frederic Remington dominate the 10 bestsellers.
Moran's The Castle Rock, Green River, Wyoming, one of the artist's depictions of a river rimmed by rock formations, took the top slot at $2.7 million. That piece's nearest competitor was Moran's Grand Canyon, Colorado River, which was purchased for more than $2.34 million, defying price expectations of $700,000 to $1 million.
Works by Moran made up three of the 10 highest amounts achieved at the auction, while Remington bronzes captured another three top slots. The Broncho Buster, arguably the Western artist's most recognizable sculpture, climbed to $655,200, easily outstripping estimates of $300,000 to $500,000. The piece was first cast in 1895, revised in 1909 just before the artist's untimely death, and recast posthumously in 1910. Two additional tabletop pieces by Remington, The Cheyenne and The Rattlesnake, brought $504,000 each and were part of a three-way tie for eighth place with Richard Lorenz's The Last Farewell. The Cheyenne was expected to sell for $250,000 to $350,000, while estimates for The Rattlesnake ranged from $200,000 to $300,000.
Modernist Georgia O'Keeffe, among the early artists who brought the beauty of the American Southwest into focus, took two of the top 10 slots during the final May auction, Christie's American Art. Abstraction, a small-sized watercolor created in 1917, relatively early in O'Keeffe's extraordinarily long career, went for $1.134 million to become the second highest-selling item in a sale that included regionalists such as Thomas Hart Benton and Grant Wood. Abstraction was estimated to sell between $1 million and $1.5 million. O'Keeffe's Abiquiu Trees VII sold for $504,000, below estimates of $700,000 to $1 million. The small oil featured trees that were part of a series of the same scene, in differing seasons and conditions, and took the fourth-place position in the sale's top 10 bestsellers.
Bert Geer Phillips is credited with envisioning an art colony in Taos, New Mexico, in the early 20th century, a collective that later became known as the Taos Society of Artists. Christie's American Art auction saw one of Phillips' most lyrical pieces, The Magic Deer Song, realize $378,000 against estimates of $150,000 to $250,000. Phillips' use of intense color, the plaintive expression of the Native American man, and the emblematic images in pottery and textile patterns brought the piece into those august arenas where an artist captures the soul of a place or person.
Sotheby's: The American Scene
May 9, 2022
Total: $1.609 million+
One of the most recognized and, arguably, most admired works by landscape painter Thomas Moran topped Sotheby's sale of American art and photographs from the Helene Wurlitzer Foundation. Grand Canyon, executed in 1919 and signed "TMoran" along with the artist's thumbprint, spans a 14-by-20-inch canvas but looms larger-than-life in the American imagination and mythology. Evoking the Romanticism emphasized by a school of American painters who created ideal images of nature untroubled and unpopulated by man, Grand Canyon is one of several Moran paintings that depict the storied landform. The picture, which came to market from a private collection based in Japan, went for $352,800, against estimates of $150,000 to $250,000.
A mountain scene by California Impressionist William Wendt went for $63,000, with estimates between $60,000 and $80,000. Mount Williamson is a sterling example of Wendt's loose and broad brushwork, with thick paint for the cascading ridges of the Sierra Nevada and fine detail for the tree foliage in the valley below. Wendt also uses short, almost staccato strokes for the underbrush in the foreground to indicate scale. Like many of Wendt's landscapes, a peaceable quality pervades a scene that would otherwise overwhelm with rocky ridges.
An expertly executed painting of California canyonlands by Walter Ufer was among the Western works featured in a sale that offered 71 lots. The small picture, Young Piñons, Santa Clara Canyon, makes the most of muted greens and blues, with the latter echoing from sky to stream. The piece went for $16,380 against expectations of $10,000 to $15,000.
The same sale saw an Ansel Adams print, Taos Pueblo, South House, go for $10,080, with the work sold to benefit the Helene Wurlitzer Foundation in New Mexico, a nonprofit artist residency program. And Eric Sloane's Taos Moranda brought $7,560, a steal for an oil that arranges both light and objects at uncomfortable angles, exciting attention yet stilling the scene with memento mori.
Hindman Auctions Western and Contemporary Native American Art
May 19, 2022
Total: $3.916 million+
Works by the late Fritz Scholder have led Hindman Auction's Western and Native American Art auction for two years in a row. This spring's event saw an auction record for Scholder, whose work is known for bold colors and equally bold compositions in the post-modern style he made his own.
Hollywood Indian and Horse #2, 1973 was anticipated to bring between $50,000 and $70,000. Instead, the stylized figure on a shadowy horse — against a pink background — rapidly ascended to $500,000.
Scholder dominated the sale's 10 best-selling items. All told, seven of the Native American artist's paintings — including Hollywood Indian — took top slots.
Portrait, 1896, the Scholder work that took third, depicts George Armstrong Custer. Here, Scholder evokes the pope series painted by Francis Bacon in the 1950s. It swept past expectations, selling for $275,000, compared to estimates of $20,000 to $30,000.
The second-highest selling lot was Fireweed by Jaune Quick-to-See Smith, a member of the Confederated Salish and Kootenai. The painting swiftly surpassed estimates of $10,000 to $20,000 to achieve $350,000. The expressionistic piece is hypnotizing and mystifying and leaves much to the viewer's imagination.
Works by Frederic Remington are never out of fashion and do not lessen in popularity. The 'Hold-Up,' which represented the fourth highest-selling lot in the auction, was painted by Remington for Collier's magazine. The oil sold for $250,000, within its estimated range.
Bonhams' Western Art
April 22, 2022
Total: $1.517 million+
Victor Higgins is familiar to Western art collectors as a Taos Society of Artists painter whose portrayal of Native Americans was only equaled by his facility with still lifes. His study under Ashcan School founder Robert Henri, whose status as an artist was cemented by his portraiture, brought Higgins into contact with rising, increasingly visionary artists of the early 20th century.
That legacy is seen without impediment in Pink and Black (Still Life), which realized $264,975 during Bonhams' auction of Western Art in April. The painting was the top-selling lot, which saw a nice mix of Taos painters and early Bay Area artists.
A work by Higgins also captured fourth place, with Southwestern Landscape going for $63,375, compared to estimates of $25,000 to $35,000.
Maynard Dixon paintings were among the top sellers, with Glory After Storm garnering the second-highest amount and selling for $126,375, while Inyo County achieved the third at $120,075. The latter landscape came in at the high end of estimates while Glory arced above the expected amounts, which ranged from $60,000 to $80,000.
Wild Horse Creek (Pasture with Creek), Graham County, Kansas by art professor Birger Sandzen rose from estimates of $60,000 to $80,000 to bring $93,615.
The sale also saw a world auction record set for Harry Curieux Adamson with Autumn Prelude — Pintails achieving $44,475, nearly three times its pre-sale estimates of $10,000 to $15,000.
Laura Zuckerman is a senior contributing editor for Western Art & Architecture. Her work has been featured in such outlets as The New York Times Magazine and Cowboys and Indians.