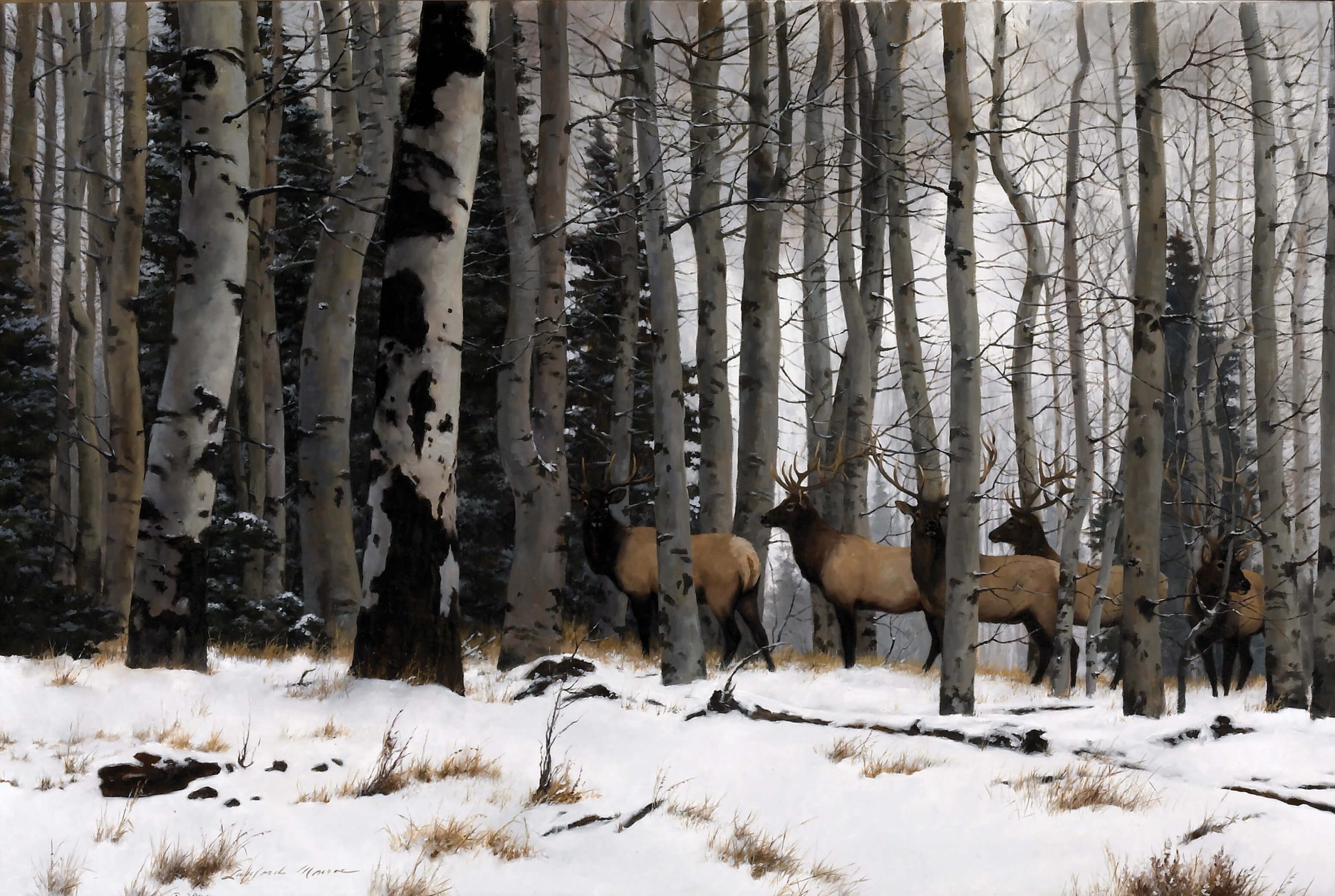 Lanford Monroe, Processional | Oil on Canvas | 31 x 47 inches | 2000 | Sold: $66,000 | Courtesy of Jackson Hole Art Auction
07 Nov

Auction Block: Art Appreciation

Collectors showed a strong appreciation for the iconography, heritage, and spirit of the American West during late summer and autumn auctions. Wildlife works and art by historic and contemporary Indigenous artists were among the offerings that stirred art enthusiasts and brought large bids.

The Jackson Hole Art Auction achieved $4 million in sales this year. Highlights included setting a world auction record for wildlife artist Carl Brenders. The sale also offered three works by Lanford Monroe, which are rare at auction and performed beyond expectations.

The Russell Summer Sale at the C.M. Russell Museum in Great Falls, Montana, also marked a memorable year with $5.4 million in auction sales. Nearly half of that sum came from a single Russell painting, which brought $2.6 million.

And the Santa Fe Indian Market continued to celebrate and showcase Indigenous creativity. More than 60 judges reviewed work and presented awards to select artists for their achievements. This year, Jennifer Tafoya (Santa Clara Pueblo) won Best of Show for her finely etched pot, Caught by Surprise. The pot was selected as a standout from among 1,500 artworks on display, in a true recognition of Tafoya's talent.
Hindman: Native American Art, Sessions I & II
September 22 and 13 – 26
Total: $985,000
Woven works were among the most desired lots during Hindman's Native American Art auction this past September. A classic Navajo second-phase blanket was the top-selling item, bringing $100,800 amid estimates of $80,000 to $120,000. The blanket, woven circa 1870, incorporates wide bands of soft handspun cream, dark brown, red, and indigo wool. In addition to the outstanding craftsmanship, the weaving was in excellent condition, contributing to its sale price, according to Hindman auction officials.
Another woven work, Grey Mountain Dancers by Sarah Paul Begay (Diné), earned the second-highest bid, soaring above its high estimate of $7,000 to achieve $28,350. The 60-by-84-inch weaving tells a story of 14 dancers dancing through the day and into the night.
Keeping pace with Begay was a Nez Perce beaded otter bowcase and quiver with bow. The thread- and sinew-sewn set from the mid-19th century featured a red trade wool strap inset with otter fur and edged with navy wool, and also incorporated brightly colored beadwork. The piece sold for $28,350, above estimates of $20,000 to $25,000.
The third top-selling item was a Navajo late classic woman's third-phase blanket, which brought $23,940 amid estimates of $15,000 to $25,000. The work includes colors of indigo, vegetal green and yellow, black, and cream.
Fourth place was a tie between Santa Clara artist Helen Hardin, for her 1974 acrylic on masonite Father Sky, Universal Protector (sold: $20,160, exceeding the high estimate of $10,000), and a Navajo Bisti weaving by an unknown artist depicting a Sikyátki-style bird and incorporating natural browns, cream, and subtle highlights of red and gold (sold: $20,160, above the high estimate of $15,000).
Rounding out the five top-selling lots was a Comanche mountain lion bowcase and quiver, which sold for $18,900, amid estimates of $15,000 to $25,000.
Jackson Hole Art Auction: 17th Annual Live Sale
Center for the Arts
 September 16
 Total: $4 million
On September 16, the Jackson Hole Art Auction at the Center for the Arts in Jackson, Wyoming, brought a sales total of $4 million, with 88 percent of the 310 lots sold.
According to auction officials, wildlife art performed strongly this year. A painting by Carl Brenders, Lookout Tower — Timberwolves, far exceeding its high estimate of $90,000, setting a world-record price for the artist of $192,000.
The auction offered an array of works spanning the breadth of Bob Kuhn's career, led by A Universe of Smells, which sold for $132,000, amid estimates of $120,000 to $200,000. Other top-selling works by Kuhn included Rocky Mountain High, which sold for $108,000 (estimate: $90,000 to $120,000), and Spoiling for a Fight, which sold for $84,000 (high estimate: $70,000). Dog Hunting, an early acrylic from the Estate of Bob Kuhn, realized $18,000, more than seven times its high estimate of $2,500.
Works by renowned Wyoming wildlife artist Tucker Smith also performed well: Drift Fence sold for $84,000, amid estimates of $70,000 to $100,000, and The Bear brought $78,000, amid estimates of $60,000 to $90,000.
Three works by Lanford Monroe, rare at auction, were featured this year, and all performed beyond expectation. Leading the way was the stunning Processional, selling for $66,000 (estimate: $25,000 to $45,000); followed by Brand New World for $30,000 (estimate: $10,000 to $20,000) and Pelican in Flight over a Lake for $14,400 (estimate: $5,000 to $7,000).
Western & Native American-themed art, both classic and contemporary, shone as well at this year's auction. Major highlights include Howard Terpning's Status Symbols, which sold for $390,000 (estimate: $200,000 to $500,000), and Richard Lorenz's Indian Chief, selling for $72,000 (estimate: $30,000 to $50,000) in a thrilling bidding contest between several parties.
Additional highlights selling above their high estimates include Edgar Alwin Payne's Packers, sold for $66,000 (estimate: $40,000 to $60,000), and Martin Grelle's September Search, sold for $39,000 (estimate: $25,000 to $35,000).
42nd Annual Buffalo Bill Art Show & Sale
Buffalo Bill Center of the West
September 18 – 23
Total: $1.3 million+
The 42nd Buffalo Bill Art Show & Sale at the Buffalo Bill Center of the West brought more than $1.3 million during the event, which takes place during Rendezvous Royale, a celebration of the arts held each September in Cody, Wyoming. Of the 103 pieces included in the live, quick draw, and silent auctions, 91 percent were sold to benefit the Cody Country Chamber of Commerce and Buffalo Bill Center.
A panel of judges selected seven pieces that reflected the museum's mission of representing the West's location, history, grandeur, and exceptional artistry. Dusk on the Lower Salt River, an oil painting by Nicholas Coleman, earned the Spirit of the Buffalo Bill Art Show & Sale Award. The painting, which sold for $25,000, depicts a Native American camp beneath a wide and colorful sky. Coleman "captured a grandeur that wouldn't have translated on a smaller canvas," says Davison Koenig, a judge for the event and the executive director and curator at the Couse-Sharp Historic Site in Taos, New Mexico.
Distant Thunder by Phil Epp earned the Two-Dimensional Award. The acrylic painting, depicting a group of horses on the plains beneath a deep blue sky and surreal clouds, sold for $9,500. This was the first year that Epp participated in the Buffalo Bill Art Show & Sale.
The Red Queen by Jeremy Bradshaw earned the Three-Dimensional Award. Bradshaw's bronze brought to life a red fox with smooth lines and a bright rust-red patina. "I love that it's sculptural and the artist took artistic liberties," says Koenig. "There is so much emotion in the face. It's beautifully executed." The sculpture sold for $10,000.
In addition, four artists earned Awards of Excellence: Vic Payne, for his bronze Sounds of the Night (sold: $45,000); Dustin Van Wechel for the oil painting Speed Dating (sold: $27,500); Max Werner for Over the Pass (sold: $12,000), and Kevin Red Star for his mixed-media painting Crow Indians on Magpie Creek (sold: $32,500, the highest price for a work in 2-dimensions at this year's Buffalo Bill Art Show & Sale).
Western Visions Art Show + Sale
National Museum of Wildlife Art
September 9 – October 1
Total: $500,000+
The 36th annual Western Visions Art Show + Sale opened on September 9, with over 170 wildlife art pieces on display. This was the second year the event included a live auction component, with an estimated 400 people participating in person or online on September 14. The sale of small-format works continued through the end of the exhibit on October 1, bringing more than $500,000 for 116 works in total. As the National Museum of Wildlife Art's largest fundraiser, proceeds support the museum's programming and participating artists.
"Western Visions has always been a unique opportunity for visitors and collectors to meet contemporary wildlife artists," says Steve Seamons, the museum's director, referring to the nearly 80 exhibiting artists in attendance on September 14. "Not only do they have the chance to see their work inside the museum, but they also form valuable connections and relationships."
Awards were given to artists for exceptional artistic merit. The Purchase Award went to Jhenna Quinn Lewis for When You Cannot Stay. The oil on canvas of a bird holding a pearl in its beak sold for $5,200 and now resides in the museum's permanent collection.
For the first time this year, the museum presented an Excellence for Artistic Merit award. The winning work was determined by a panel of experts and went to Steve Kestrel for his sculpture Shadow of Doubt. The bronze work depicts a frog at the edge of a pool filled with the reflection of a bird soaring above. The sculpture (edition of 21) was available to purchase for $5,500.
Also new this year, the People's Choice award was divided into two categories, one for two-dimensional works and another for sculpture. A majestic owl rendered in bronze and mounted on wood by Paul Rhymer won the People's Choice Award in Three Dimensions. Rhymer's Merle's Moondance, edition of 25, was available for $5,950. Bruce K. Lawes won the People's Choice Award in Two Dimensions for Frozen for the Moment. The 16-by-20-inch oil painting, depicting a wolf curled up in a snowbank near cascading ice, sold for $6,800.
And William Alther won the Red Smith (Artists' Choice) Award for Solace, depicting a polar bear in an icy setting of blues and purples. The painting sold for $4,100.
Quest for the West Art Show and Sale
Eiteljorg Museum of American Indians and Western Art
September 8 and 9
 Total: $1 million+
The opening weekend of Quest for the West at the Eiteljorg Museum of American Indians and Western Art brought more than $1 million in sales from some of the top artists in the Western genre. During the 18th annual exhibit in downtown Indianapolis, more than 300 collectors and guests mingled with artists and bid on works during two fixed-price, luck-of-the-draw sales. Unsold artworks (paintings and additional bronze castings) were available to purchase through October 8, with 75 percent of sales returning to the artists and the rest funding museum programming.
Weekend festivities included a miniatures sale, the primary auction, and an awards banquet. The special guest speaker was actor and artist Jim Hatzell, who worked on "Dances with Wolves" and other Western movies and television shows.
Artists were recognized with awards in multiple categories on Saturday. Donna Howell-Sickles received the Harrison Eiteljorg Purchase Award for her painting Waiting for the Boot to Drop. The work, purchased for $22,000, now resides in the museum's permanent collection. It depicts a joyful cowgirl juggling balls and a boot amid her three dogs, more cowgirl boots, and a colorful geometric background.
Artist Krystii Melaine received the Artist of Distinction Award, sponsored by The Western Art Society, for her stature in the field and overall body of work. Originally from Australia, Melaine has been a successful realist painter of the American West for more than three decades. Four of her five pieces in the museum's show sold, including Chanku Luta, The Red Road, Lakota, which achieved the greatest sum at $13,900. During next year's Quest for the West, the Eiteljorg will host a special exhibition of Melaine's paintings.
An oil painting by G. Russell Case, Autumn in Twilight, won the Henry Farny Award for Best Painting and was priced at $19,000.
A bronze sculpture by Scott Rogers of Logan, Utah, Whiskey's Rebel, received the Cyrus Dallin Award for Best Sculpture. The sculpture (edition of 30) offered castings for $6,400 and demonstrates the drama and focus of a cowboy on a bucking bull.
Artist Dean Mitchell exhibited five paintings in the show and received the Victor Higgins Award of Distinction for the best overall body of work. The artist's paintings Homestead Relic sold for $4,500, Winter in the Heartland for $12,000, and Rural Farmlands for $22,000.
A painting by Mark Kelso, The Sound of Silence, received the Patrons' Choice Award. The 18-by-24-inch piece, depicting a charming portrait of a serene fox in falling snow, sold for $5,500.
In an unprecedented event, there was a five-way tie for the Artists' Choice Award, selected by Quest artists, which included William Haskell's painting Unrelenting (sold: $13,500), Mark Kelso's The Sound of Silence (sold: $5,500), Dean Mitchell's Monument Valley (price: $18,500), Heide Presse's They Shall Inherit the Earth (price: $8,500), and Scott Rogers' bronze sculpture Commander (edition of 30, castings listed for $18,500).
Cowgirl Up! Art from the Other Half of the West
Desert Caballeros Western Museum
March 31 – September 3
Total: $530,000+
Cowgirl Up! Art from the Other Half of the West is an art show and sale showcasing the leading contemporary female artists working in the Western genre. Curators at the Desert Caballeros Western Museum organized the first Cowgirl Up! in 2006, having identified an opportunity to highlight the female perspective in the male-dominated world of Western art.
This year's invitational art show brought 65 artists to show work at the museum in Wickenburg, Arizona. The exhibition is divided into a miniatures gallery and one with full-sized artworks. Opening weekend sales, March 31 through April 2, totaled more than $360,000, with the total sales figure at the exhibition's end in early September rounding out to more than $530,000.
An awards ceremony recognized artists working in specific mediums. Best of Show went to Rachel Brownlee for her charcoal on cotton paper Mere Breath, depicting a horse in tack, breathing mist into frosty air. The work sold for $8,900.
First Place Two-dimensional on Paper went to Stephanie Campos for her charcoal drawing Jicarilla Apache (sold: $5,600). The work also earned the museum's Purchase Award and is now part of its permanent collection.
First Place Two-dimensional on Canvas went to Julie Nighswonger for her oil painting It's a Dog's Life. The oil on canvas, which sold for $8,000, shows a working border collie and three cowboys funneling a herd of cattle into a dry ravine.
First Place Three-dimensional went to Rosetta for her sculpture High Country Totem, a bronze depicting the moon and a series of sculpted animals below it, which sold for $7,650.
Additional awards went to: Yun Wei for Director's Choice for a New Artist; Mejo Okon for Artists' Choice; Lisa Danielle for Patrons' Choice; and Michelle Kondos for Western Art Collector Editor's Choice.
The Russell Summer Sale
C.M. Russell Museum
August 16 – 19
Total: $5.4 million
During the 2023 Russell Summer Sale this August, the C.M. Russell Museum in Great Falls, Montana, raised $5.4 million to support its programming and exhibiting artists. "We are thrilled with the enthusiastic audience response to the stellar Western art on sale during The Russell," says Jessica Nebel, senior director of operations and human resources.
Offerings by the museum's namesake artist, Charles M. Russell, brought significant interest, resulting in four of the five top-selling lots. Piegans, created by Russell in 1918, sold for $2.65 million (estimate: $2.6 to $3 million); the watercolor Hunter's Rest brought $375,000, just shy of its low estimate of $400,000; and a watercolor and gouache Cavalry Mounts for the Brave sold for $300,000 (estimate: $250,000 to $350,000). Additionally, a letter from Russell written in June 1926 sold for $250,000.
Rounding out the top-selling works was an oil painting by Joseph Henry Sharp, Governor's Son, which achieved $70,000, below its estimate of $80,000 to $100,000.
While The Russell has been held in August for the last three years, the museum is moving the event back to its traditional March schedule during Great Falls' Western Art Week in 2024.
Santa Fe Indian Market: 2023 Best of Show Ceremony
August 18
Total: N/A
The 101st Santa Fe Indian Market, hosted by the Southwestern Association of Indian Arts (SWAIA), drew thousands of visitors to New Mexico's capital city for its annual celebration of Indigenous creativity. Works by more than 1,000 juried artists were on display and offered for sale. The event represented some 250 tribal Nations from the U.S. and Canada, working in pottery, basketry, jewelry, painting, sculpture, wood carving, and textiles. The market generates upwards of $160 million in revenues for artists and the community, according to SWAIA.
Since its inception in 1922, the prestigious art market has given awards in various juried categories. In 2023, over 60 judges reviewed and critiqued entries, announcing the stand-out works from the more than 1,500 accepted this year at a ceremony on August 18 inside the Santa Fe Community Convention Center.
Artist Jennifer Tafoya (Santa Clara Pueblo) was awarded Best of Show for her etched black pot, Caught by Surprise. The finely etched piece uses traditional pottery-making methods employed by artists from the Santa Clara Pueblo. Tafoya harvested the clay from the earth and coiled, carved, and polished the pot by hand; it was then fired in an outdoor fire pit instead of a kiln. The vivid colors depicting dinosaurs amid a prehistoric landscape are made from natural clay pigments she harvested. The piece also won the top award in the pottery category.
Additional 2023 Best of Class awards went to: Lyndon Tsosie (Diné) for an untitled sea turtle pendant made from stamped silver and inlaid coral, turquoise, lapis, and Boulder opal, in Best of Jewelry; Dan HorseChief (Pawnee/Cherokee) for the painting Judgement Day Manifest, The Greasy Grass 1976 Keough's Stand in Best of Painting, Drawing, Graphics, and Photography; Arthur Holmes Jr. (Hopi) for Talavi Morning Katsina, carved from the root of a cottonwood tree, in Best of Wooden Pueblo Figurative Carving and Sculpture; Ryan Benally (Navajo) for Dreamscapes of Love, a 5-foot-tall calcite onyx and black granite abstract sculpture, in Best of Sculpture; TahNibaa Naataanii (Navajo) for Autumn Rose Carnival, a shawl and purse set made of dyed sheep wool, in Best of Textiles; Victoria G. Adams (Southern Cheyenne/Arapaho) for Sundance on Muddy Creek, a tripod supporting glass containers filled with such materials as deerskin, copper, fossils, and Edward Curtis photogravure, amid other items, in Best of Diverse Arts; Jackie Larson Bread (Blackfeet) for We Are Fierce, a Blackfeet horse mask ornately decorated with flowers and dragonflies in Best of Beadwork and Quillwork; Aydrian Day (Ho-Chunk/Anishinaabe/Lakota) for Father's Love, a Lakota-style beaded cradleboard in Best of Youth (age 17 and under); and Carol Emarthle Douglas (Northern Arapaho-Seminole) for Skywoman Watches, a colorful coiled, waxed linen basket in Best of Basketry.
Hindman: The Laumeister Collection of Western & Wildlife Art, Parts I & II
August 29 – 30
Total: Nearly $600,000
Hindman presented The Laumeister Collection of Western and Wildlife Art from The Bennington Center for the Arts in Bennington, Vermont. This single-owner auction achieved nearly $600,000 over the two-day sale of more than 500 lots.
The collection was developed over the years as a result of Bennington Center for the Arts founders Bruce Laumeister and his wife Elizabeth Small's passion for celebrating representational artists of North America. The auction featured paintings and sculptures by important Western and wildlife artists, including Charles Pabst, Joe Velazquez, Stan Davis, Francois Koch, Daniel Smith, Jan Martin McGuire, Justin Prigmore, Carl Brenders, Susan Terpning, and more.
A bronze by wildlife artist Bob Kuhn, one of the most renowned wildlife artists of the 20th century, led the auction. Winter Chase sold for $16,380, above its estimate of $10,000 to $15,000.
The second top-selling lot was a four-way tie between Ken Rowe (Blue Heron, edition 24 of 36, high estimate: $4,000); Dan Smith (Riverbank Refreshment, high estimate: $7,000); Carl Brenders (Family Tree, high estimate: $5,000); and Morten Solberg (Clam Digging at Low Tide, high estimate of $8,000). Each work sold for $8,190.
The third top seller was Susan Terpning's 1995 oil on canvas Gathering for Trade, which brought $7,560, above its high estimate of $5,000.
The fourth top-selling lot was John Fawcett's Stranger's Camp, which sold for $6,930, above its high estimate of $5,000.
And the fifth top-selling lot was a three-way tie for Justin Prigmore's painting Inviting His Attention (high estimate: $6,000); Jud Hartmann's sculpture Madockawando (edition 2 of 15, high estimate $3,000); and John Fawcett's Stranger's Camp (high estimate: $5,000). Each brought $6,930.
Christine Rogel is the editor in chief of Western Art & Architecture and the copy editor of Big Sky Journal.