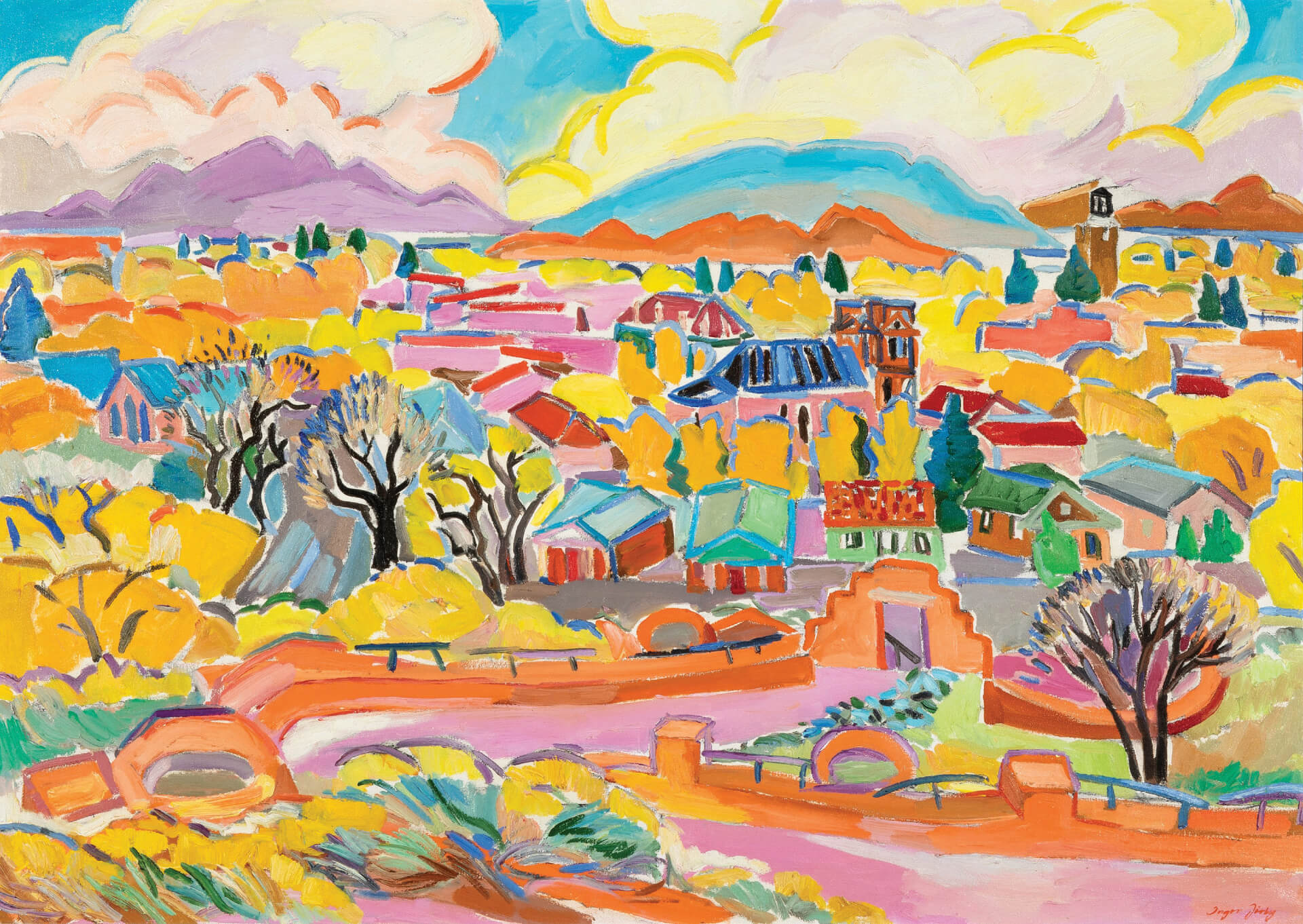 Inger Jirby, Autumn in Santa Fe | Oil on Canvas | 40 x 56 inches | Sold: $5,760 | Courtesy of the Santa Fe Art Auction
05 May

Auction Block: Higher and Higher

Prices for Western works, from paintings to sculptures to a variety of other media, achieved pleasing heights in late winter and early spring, leading to an air of optimism among auction organizers, gallerists, and collectors. The feeling is bound to rub off on artists, especially those whose works sold for high sums and who have spent years mastering their mediums.

A modestly sized spring sale by the Santa Fe Art Auction in New Mexico saw more than modest amounts and also set world records for two Native American artists. Bidders at the Scottsdale Art Auction in Arizona pushed prices up through sheer enthusiasm and appreciation for the artworks offered. The live auction tied to Night of Artists at the Briscoe Western Art Museum achieved a 100-percent sell-through rate to the joy and relief of officials and attendees alike; while March in Montana, marking its 35th anniversary, broke the record for sales at an event that saw a 97-percent sell-through rate in Great Falls, Montana. George Carlson won Best of Show at the Autry Museum's Masters of the American West for the second year in a row. And other award winners at the signature art show saw many works sell even after activities tied to the event had long ended and the crowds had dispersed.
Santa Fe Art Auction: The April Sale
April 15–16, 2022
Total: $115,000
A small spring sale by the Santa Fe Art Auction in New Mexico's capital garnered $115,000 in an event that benefited two foundations and nonetheless set world records for the Cheyenne/Sioux artist Paladine Roye (Pon-Cee-Cee) and the painter Donald Brewer (Wakpa).
Roye's Untitled (Indian Camp), 1982 took the top slot in the sale that aided the foundations, including the Michael R. Jordan Endowment for Native American Art, with the gouache on paper going for $9,600 with fees, bringing thousands more than expected, with a pre-sale estimate of $800 to $1,200. The piece is spare in color and rich in forms, with headdress feathers echoed by the strong vertical lines of the tips of teepees, and horses taking a central role in the scene.
Brewer likewise set a world auction record and achieved the second-highest sum for Untitled (Night Clouds). The work went for $6,600 with fees, compared to expectations of $600 to $800. The strong showing for an acrylic with mystical references to the night sky and a wolf was followed by another solid sum for a Brewer artwork. Untitled (Four Riders) brought $5,520 with fees, far outstripping estimates of $400 to $600. That piece, number four in the five top-selling items, is one version of several paintings with a similar theme. The stylized image of mounted Native Americans, with two central figures in headdresses and two flanking figures in feathers, was made more powerful by wide bands of black and yellow, topped by an overarching yet nearly colorless sky.
The third and fifth spots were taken by Inger Jirby's Autumn in Santa Fe and Robert Natkin's Bern Series, 1982, which went for $5,760 and $4,428 respectively.
Heritage Auctions
Women of the West Showcase Auction
March 25
Total: $200,000+
Art of the West Showcase Auction
February 25
Total: $600,000+
This spring, two Western art sales by the Dallas, Texas-based Heritage Auctions brought more than $835,000.
A sculpture by the late Texas-born artist Glenna Goodacre led the Women of the West Showcase Auction. Naiad, a bronze with a green patina, depicts a woman dressed in an old-fashioned swimsuit seated on a bench. The statue is evocative of another time, notably classical sculpture produced in ancient Greece and Rome, yet it suggests a spirit that is feminine and ageless — as were the naiads, or nymphs, in ancient mythology. It sold for approximately $35,000 with fees.
The solemnity of Naiad is countered by the charming sculpture that took the second slot, Swat Team by Robin Laws. The 58-inch-high bronze features a trio of intertwined donkeys that all but wink at the observer as though they were also engaged in happy antics. The sculpture sold for $20,000.
Buck McCain's sculpture The Cowboy topped Heritage Auctions' Art of the West Showcase Auction on February 25. The 76-inch-high bronze sold for approximately $47,500. The brown-and-red-patinated statue is a work of realism, with the figure fully outfitted for riding and roping. The rough-hewn clothes and the facial cragginess speak of utility and fortitude.
California Gold by James Fetherolf brought more than $23,000, the second-highest amount. The painting centers on sunlight, a lush vista, and gathering clouds.
Scottsdale Art Auction: Annual Sale
April 8–9, 2022
Total: $14.7 million+
Howard Terpning's The Shaman and His Magic Feathers flew to more than $1.5 million to lead the Scottsdale Art Auction in early April, boosting a two-day sale that brought a total of $14.7 million, or over $1 million more than last year's event.
The large horizontal oil by Terpning exhibits some of the magic in the work's title. It depicts a shamanistic figure in meadowlands, surrounded by a cluster of Native American men, women, and children. Each suggests strong emotion in a series of expressions that range from awestruck to fearful.
The powerful piece, expected to sell for $1.25 million at its high estimate, marked one of several high points. Two works by Frank Tenney Johnson landed in the five top-selling artworks: The Rimrock Wrangler sold for $585,000, with pre-sale estimates of $400,000 to $600,000, to take the second spot. And a nocturne by the artist, Packing In, brought $315,900, well within expectations of $250,000 to $350,000, to achieve the fifth-top-selling lot. The painting of a single rider on horseback followed by a heavily laden pack animal is a vision, with a lone light showcasing the figures in a mountainous landscape wrapped in mystery.
Paintings by Edgar Payne and Thomas Moran were sandwiched between the Terpning and the two Tenney pictures, with Arizona Indians by Payne and Moran's Solitude, Coconino Forest, Arizona going for $438,750 and $374,400 respectively.
Briscoe Western Art Museum's Night of Artists
March 25, 2022
Total: $1.9 million+
The Briscoe Western Art Museum in San Antonio, Texas, marked a 100-percent sell-through rate during the opening live auction, the centerpiece event in an extended exhibit and sale that tallied nearly $2 million. Art sales during the live auction alone brought in excess of $551,000, a healthy return as the Briscoe and museums around the nation have sought to revitalize their missions in the face of challenges in fundraising and attendance set off by restrictions tied to COVID-19.
Paintings by Don Oelze and Bonnie Marris brought hefty amounts at the live event, with Oelze's Scouts at the Old Mission and Marris' By the Light of the Moon each going for $70,000.
Oelze's piece hit more than one high mark. It won the 2022 Night of Artists Sam Houston Award for painting and the William B. Travis Award for Patrons' Choice. It also easily outdistanced estimates of $18,000 to $22,500, with both collectors and art experts vying for the work, notable for both its realism and sense of movement.
Marris' painting of a white wolf spotlighted by a mirroring white moon ultimately sold for more than twice its high estimate of $30,000. Marris is adept at capturing the stillness of nature and its creatures, and By the Light of the Moon is evidence of the artist's ability to imbue an image with spirit.
In the Land of the Ute by Martin Grelle brought $65,000, the next highest amount, followed by Kim Wiggins' Last Tally at Bosque Grande — 1867, which sold for $45,000 and will be added to the museum's permanent collection after receiving the Briscoe Museum Purchase Award.
Wiggins' work evokes the engaging effect achieved by such American regionalist painters as Thomas Hart Benton, yet the bold colors favored by Wiggins are also akin to Fauvism, an art movement that lessened the emphasis on representational conventions. However you may wish to categorize Wiggins' style, he will elude you — adding extra intrigue to the viewing experience.
George Hallmark's Swallows of Capistrano rounded out the top five spots, with the oil on linen selling
for $27,500.
March in Montana
March 18–19, 2022
Total: $2.75 million
March in Montana, the event brought by Coeur d'Alene Galleries and the Coeur d'Alene Art Auction, celebrated record sales of $2.75 million this year during its 35th anniversary. Additional seating was needed to accommodate the larger than expected crowd during the auctions, which achieved a sell-through rate of 97 percent among the 755 lots.
Auction officials said bronze sculpture has been hitting highs in the secondary market despite casting costs that are steeper than usual. This meant a generous return for works like those of the late Dave McGary, whose The Crow and the Bear went for $40,000, compared to pre-sale estimates of $15,000 to $25,000.
Art aficionados were excited by several portraits by Henry Balink, with bidders from across the country competing — in person and by phone — for the prized The Dance Roach, which ultimately sold for $65,000.
In a sign that buyers were willing to follow the bids wherever they led, An Outlaw Steer, an action-packed oil by William Moyers, garnered $21,000, three times its high estimate. There is a reason the work by the late member of the Cowboy Artists of America elicited so much enthusiasm. Employing light, swirling dirt, the determined look of the cowboy, and the openly rebellious stance of the steer, Moyers makes any observer feel the heat and taste the grit of the scene he created.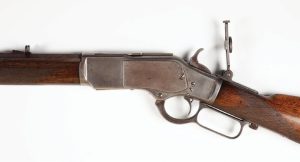 Collectors found cowboy images popular, and so were the tools of his trade. A One of One Thousand 1873 Winchester, 40-44 caliber, went for $90,000, and a pair of silver parade saddles by legendary saddlemaker Edward H. Bohlin brought $100,000, compared to estimates of $60,000 to $80,000.
Masters of the American West
February 26, 2022
Total: Not available
George Carlson gained the Best of Show Award and the Thomas Moran Memorial Award for Painting at the Masters of the American West at the Autry Museum in Los Angeles. Long Shadows, which sold for $80,000, demonstrates the title perfectly, with the angles of a talus slope replicated in tone and texture by a sky partly shrouded in clouds.
Oil Field Skeletons by Dean Mitchell received the Chrystina and James R. Parks Trustees' Purchase Award and is destined to become part of the museum's permanent collection. The museum bought the work for $15,000.
Walter Matia's Fall Flight, a beautifully fashioned bronze sculpture with exquisite patination, gained the Kenneth T. and Eileen L. Norris Foundation Award for Sculpture, while Dustin Van Wechel's CariBOO! was named the winner of the Bob Kuhn Wildlife Award.
John Moyers, who saw three of his works sell, received the Gayle Roski Stories of the West Award for the best work of narrative art. Moyers' storytelling powers through art cannot be denied. His World, which sold for $11,500, evokes a strong emotional response. In a three-quarters profile, headdress on, eyes closed, and in a pool of blanched sunlight, the figure appears poised on the threshold of many worlds.
Laura Zuckerman's work has been featured in such outlets as The New York Times Magazine and Cowboys and Indians.