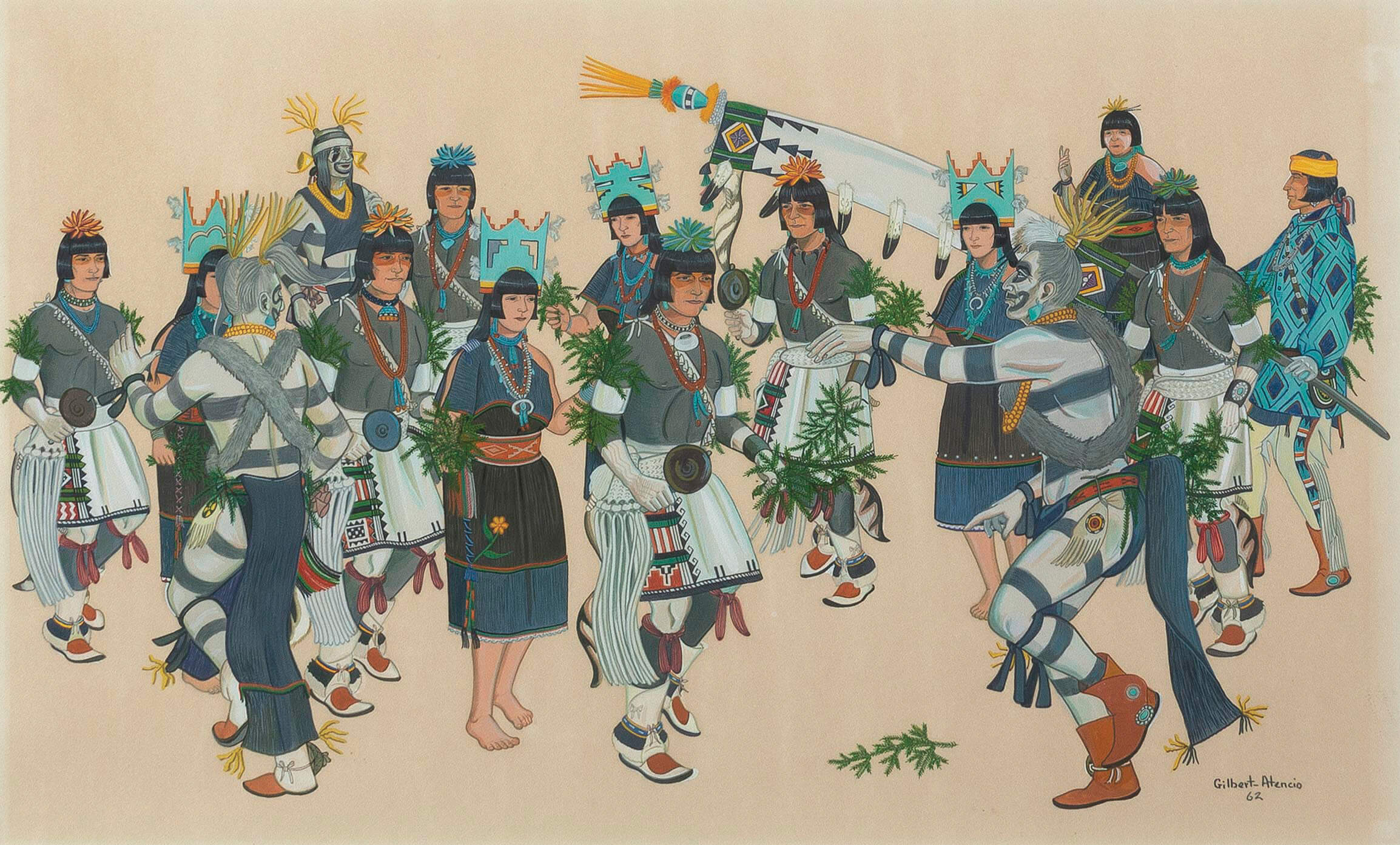 Gilbert Benjamin Atencio, Untitled (Butterfly Dance) | Gouache on Paper | 17.625 x 28.5 inches | Sold: $7,500 | 1962 | Courtesy of Santa Fe Art Auction
06 Sep

Auction Block: Quality Amongst Classics

The long, hot summer of 2023 across the entire West brought with it equally hot interest from collectors looking for quality amongst classic and contemporary regional art auctions featuring some of the most important names in the genre. What those art aficionados found was equally hot prices fueled by growing demand and an art market resiliency that refuses to bow to economic forecasts or predictions.

Summer auctions across the West are typically a mix of sales held in regional destinations popular with travelers as well as sales of quality Native American art from respected auction houses in Santa Fe, Denver, and Los Angeles. Native art, particularly pieces from contemporary Indigenous artists, is proving to be an especially popular collecting category, with more and more such sales being added to the national auction calendar. 

A retrospective at the Whitney Museum of American Art for Jaune Quick-to-See-Smith of the Confederated Salish and Kootenai Tribes, as well as one last year for Yanktonai Dakota Modernist Oscar Howe, has brought 20th-century Native art into the limelight after being neglected for quite some time; and auction houses are quickly picking up on these new collecting categories. 

For the past few decades, sales of Native American art were either broadly titled "American Indian art" or even relegated to a catch-all "ethnographic art" category. Nowadays, one can find a respectable, even formidable, selection of sales featuring Native American art, including such sub-categories as contemporary Native art, Native jewelry, and 20th-century Native art.
Santa Fe Art Auction: American Indian Sale
August 17–19
Total: $745,000
The Santa Fe Art Auction's three-day American Indian Sale saw more than 900 lots and a total of $745,000. Highlights for the week included woodcarver Dempsey Bob's (Tahltan/Tlingit/Canadian) Eagle/Human Mask, which sold for $11,000 against a $1,000 to $2,000 estimate. 
Pueblo paintings saw high prices as well, with Butterfly Dance by Gilbert Atencio (San Ildefonso Pueblo) selling for $7,500 against an estimate of $2,000 to $3,000; and Turkey by Alfonso Roybal (San Ildefonso Pueblo) selling for $7,000 with a $2,000 to $4,000 auction estimate.
Pottery was also strong, with a Helen Cordero (Cochitl Pueblo) 18-piece Nativity scene bringing $9,000 ($4,000 to $6,000 estimate) and two ceramic bears by Tony Da (San Ildefonso Pueblo) selling for $8,500 and $5,500 respectively. Carved Redware Jar with Yucca Design by renowned potter Tammy Garcia (Santa Clara Pueblo) brought $14,000 against a $3,000 to $5,000 estimate.
Bonhams: California Art
August 2
 The summer sale of California Art at Bonhams in Los Angeles continued the momentum for high-quality works of American art, with impressive results for artists including William Wendt, Edgar Payne, Selden Gile, and Alson Skinner Clark.
Wendt [1865-1946] is the master of California Impressionism and his auction market is as strong as ever. Showery Day brought $57,600, while Payne's lovely harbor scene, Morning In Concarneau hammered at $53,760. Meanwhile, Clark came in strong as well with Brookside Park (Pasadena) bringing in $61,440 for the highest sale of the day.
Cheyenne Frontier Days:  Western Art Show & Sale Opening Reception
July 19
Total: $225,000
 The annual Cheyenne Frontier Days Western Art Show and Sale, showcasing the finest Western artworks from more than 50 hand-selected artists, concluded its much-anticipated run with another successful year. The event kicked off with an opening reception on July 19 that drew hundreds of enthusiastic attendees and resulted in $225,000 in sales during the reception alone.
Spanning four weeks at the Cheyenne Frontier Days Old West Museum, the Western Art Show and Sale was a celebration of creativity, craftsmanship, and the rich cultural heritage of the American West. The carefully curated collection featured diverse artworks, including paintings, sculptures, and other forms of visual art, all capturing the spirit and essence of the Western frontier.  With a total attendance surpassing 6,000, the event provided a platform for artists to connect with a broader audience visiting from all over the world.
"This was one of our most successful years yet, and we are grateful to our artists, attendees, and the team of volunteers who made this show happen," says Amanda Marshall, Art Show & Events Coordinator. "We hope to see everyone for another great show next year, on July 18, 2024."
Coeur d'Alene Art Auction
July 15
Total: $21 million 
The Coeur d'Alene Art Auction had one of its stronger years in recent memory, coming in with a $21 million sale and several new notable auction records for the Western market. Howard Terpning's painting Paper That Talks Two Ways — The Treaty Signing (2008) sold for $2.36 million, the first work by this living artist to reach the $2-million mark. Terpning had two other strong results in the sale as well, with Traveling in Good Company hammering at $326,000; Time Stood Still bringing $242,000; and Searching the Mountains selling for $163,350.
Maynard Dixon's The Pony Boy also sold for more than $2 million, reaching $2.13 million, a new auction record for this classic Western Modernist. Three other Dixons reached six figures in the sale, including Migration, No. 2 ($229,000), Thunder Over Shiprock ($121,000) and Signs of Autumn ($114,950). All four of these results confirm the old adage when it comes to historic Western art: High-quality, fresh-to-the-market works set the standard and achieve the most interest from collectors across the West.
The results were similar for contemporary artists, as offerings from some of the best talents working today recorded high demand and high prices as well. Two paintings by Mark Maggiori soared to next-level results with Morning Above the Canyon coming in at $332,750, well over its $40,000-$60,000 estimate. Night Chase brought $78,650 against a pre-auction estimate of $8,000-$12,000.
Other paintings realizing strong results include Gerard Curtis Delano's Evening ($786,500), William Herbert Dunton's A Race for the Chuckwagon ($786,500), Henry Farny's The Trail Over the Pass ($665,000) and Edward Hopper's Shoshone Cliffs, Wyoming ($574,500).
Hindman: Native American Jewelry
July 13
Always an innovator when it comes to Native American art, Hindman held a Native American Jewelry auction on July 13. The sale saw impressive results for historic and contemporary jewelers. 
Featured was a strong collection of works by Charles Loloma [1921-1991], several of which came in quite impressively. Loloma's Abstract Height Cuff Bracelet sold for $13,860, while a lovely silver and cobblestone inlay cuff bracelet — demonstrating the Hopi jeweler's mastery of the inlay style — brought $11,340. A ring featuring sought-after Bisbee turquoise and a 14 karat gold tufa case sold for $9,450, while a wife tufa cast height cuff bracelet sold for $6,300.
Also at the auction, an early and unusual Preston Monongye [1927-1987] Large Silver Tufa Cast Shalako Pin with turquoise accents sold for $4,725. A classically designed Orville Tsinnie [1943-2017] squash blossom and bracelet set featuring sterling silver and high-grade turquoise brought $5,355, while two pairs of earrings by Loloma's niece, Verma Nequatewa (Sonwai), sold for $3,465 each. 
Contemporary Chugach-Sugpiaq jeweler Denise Wallace saw some very healthy sales, with her Bird Head Mask necklace selling for $13,860 and a Caribou pin bringing $3,780. Killer Whale/Wolf Transformation, a necklace, also went over the high estimate, selling for $5,350.
Hindman: Native American Art Online
July 6–16
In addition to its July 13 sale, Hindman also offered an online-only timed auction of Native American art and artifacts starting in early July. The sale featured many one-of-a-kind objects of art, including a Sioux Beaded Hide Bow Case and Quiver with Bow and Arrows that sold for $5,040. A Sioux Beaded Hide Tobacco Bag with Quilted Pipe Stem and Catlinite Bowl brought $2,835, while a beautifully conceived Nez Perce Beaded Hide Blanket Strip done in pinks and light blues brought $3,465. 
In pottery, a lovely piece of carved Blackware Pottery by Lu Ann Tafoya sold for $2,835; and a set of blackware featuring a melon jar and base by Hopi-Tewa artist Alton Komalestewa sold for $2,394. An intricately carved Tlingit Halibut Club sold for $4,095.
Brian Lebel's Cody Old West Show
June 23–25
Total: $922,500
Brian Lebel's Cody Old West Show and Auction took place June 23–25 in Santa Fe, New Mexico. Lebel's team and the crew from Morphy Auctions of Denver, Pennsylvania, collaborated to produce the auction of Western and Native American relics that took in $922,500. The top lot was an Edward H. Bohlin silver saddle that sold for $50,820. The saddle was decorated with bucking broncos, Texas Longhorns, and covered wagons — and then additionally mounted with silver conchos.
Another highlight of the day was a pair of Tony Lama "El Rey II" handmade cowboy boots. The pair was originally ordered through Luskey's 1966 catalog and then became a roadside attraction on Route 66 as the boots were gold-leaf inlaid and adorned with 54 carats of diamonds, rubies, and sapphires. The boots sold for $24,200.
Native American items also brought high dollars, led by a circa 1870-1880 Cheyenne beaded cradle. Completed in the traditional geometric style and done in turquoise, yellow, red, dark blue, and green beads, this cradle board also featured Native-tanned buffalo hide mounted to wood slats studded with brass tacks. After some heated bidding, the piece sold for $22,900.
Lebel's auction typically features important works and drawings by famed Canadian-American Western artist and illustrator Will James [1892-1942]. This year was no different, as seven works of art with cowboy and horse themes were offered. Of the group, a signed and dated ('34) drawing on board featuring a cowboy roping a longhorn steer brought in the greatest demand, selling within its estimate at $36,300.