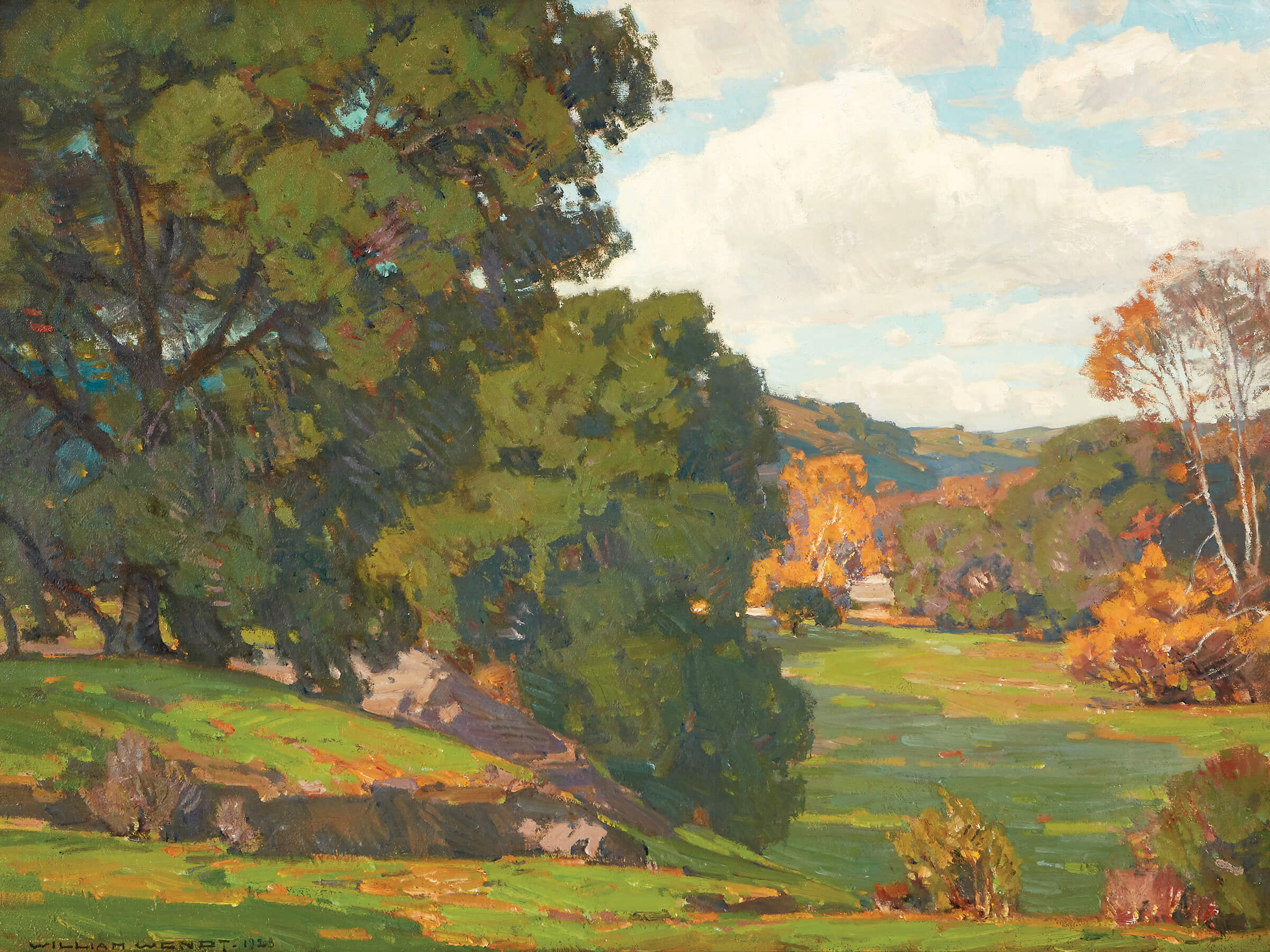 William Wendt, On the Brow of Laudamus Hill | Oil on Canvas | 18 x 24 inches | Sold: $10,200 Courtesy of Bonhams
10 May

Auction Block: Spring Fever

Western art shows and sales in early spring were infused with a celebratory atmosphere as organizers, artists, and buyers in some cases gathered in person for the first time in many months. With Covid-19 safety practices in place, online platforms also remained available for those preferring to participate remotely.

"Western art is alive and well," officials with the Scottsdale Art Auction noted as they marked an April event which saw brisk sales and brought in more than $13 million.

Similarly, the Wyoming Art Auction — which marked its inaugural event in 2021 — was punctuated by strong interest in the works of deceased artists and those tied to the Cowboy Artists of America. And the annual March in Montana event marked record-setting sales, as well as a new high for a Wyoming artist's work that brought more than six times its high estimate. Also underscoring the adage that absence makes the heart grow fonder, those who attended the Briscoe Museum's 20th anniversary of Night of Artists raised their paddles for top-shelf art and to provide donations to the institution in light of a year that slowed visits to museums worldwide.

International auction houses also attracted Western art aficionados, with both Bonhams and Sotheby's offering an array of works by well-known painters which, in certain cases, achieved amounts far in excess of what was anticipated.
Bonhams California Art
April 20, 2021
Total: $3.7 million
Armin Hansen made the fishing town of Monterey, California, the subject of many paintings even before he made it his home in the first quarter of the 20th century. His stirring Storm at Sea led Bonhams' spring auction of California art, with the oil going for $375,312, rising above estimates of $150,000 to $250,000.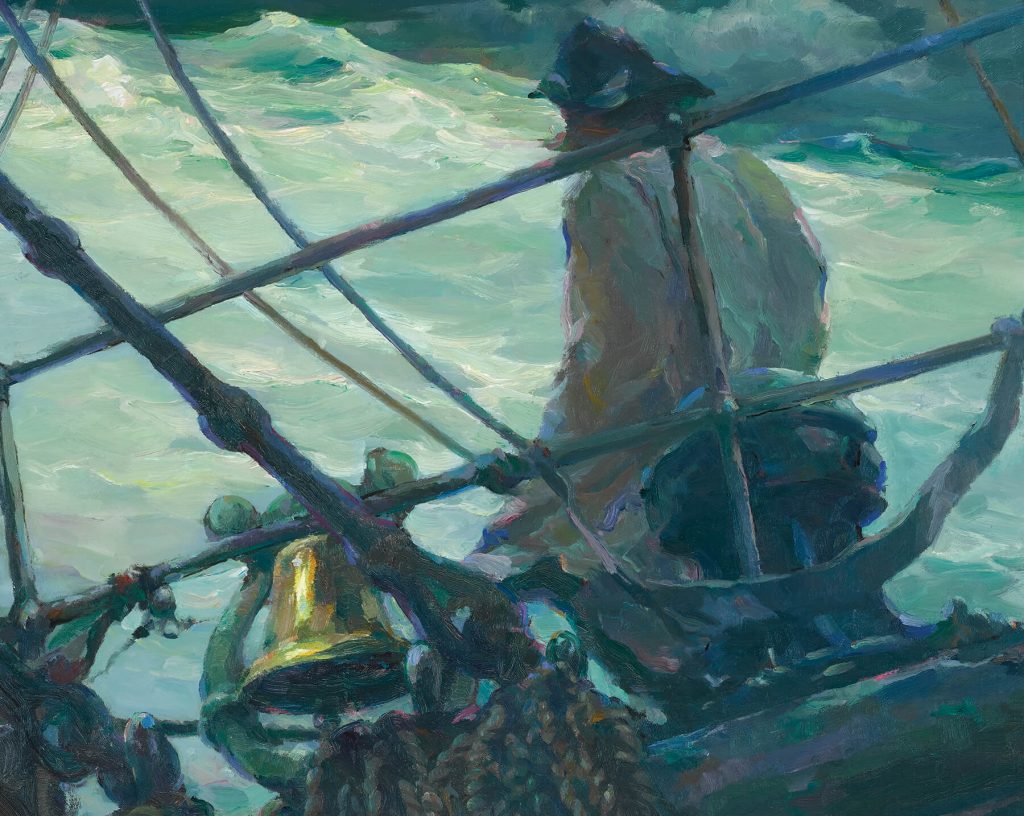 Noted California Impressionist William Wendt is frequently a favorite at Bonhams' events, and the sale on April 20 was no exception. Along the River Bed, which is described in the catalogue as a composition "with a lively sense of immediacy and freshness," brought $312,813 to place second among the auction's top sellers. A work by Wendt also captured the third slot, with In the Shadow of the Grove (Shadow and Sunlight) selling for $262,816, amid its estimate of $200,000 to $300,000.
Drifting Mist (Lingering), Monterey Coast by Franz Arthur Bischoff was also strongly prized by collectors. The ethereal oil on canvas realized $200,313, and was one of two paintings in a row to bring more than twice their low-end estimates. The other was Alson Skinner Clark's San Juan Capistrano Mission (Mission Cloisters), which was anticipated to sell for between $60,000 and $120,000 but instead brought $194,063.
Carmel Dunes by Guy Rose also proved a popular lot, with the small oil bringing a big price. The 10-by-13.75-inch painting achieved $175,312, above its high-end estimate of $160,000.
Scottsdale Art Auction
April 9–10, 2021
Total: $13.3 million
Two sessions of sales over two days saw the Scottsdale Art Auction in Arizona hit many high marks, with works by deceased Western artists reaching top estimates. The genre's contemporary counterparts also elicited amounts that far exceeded expectations.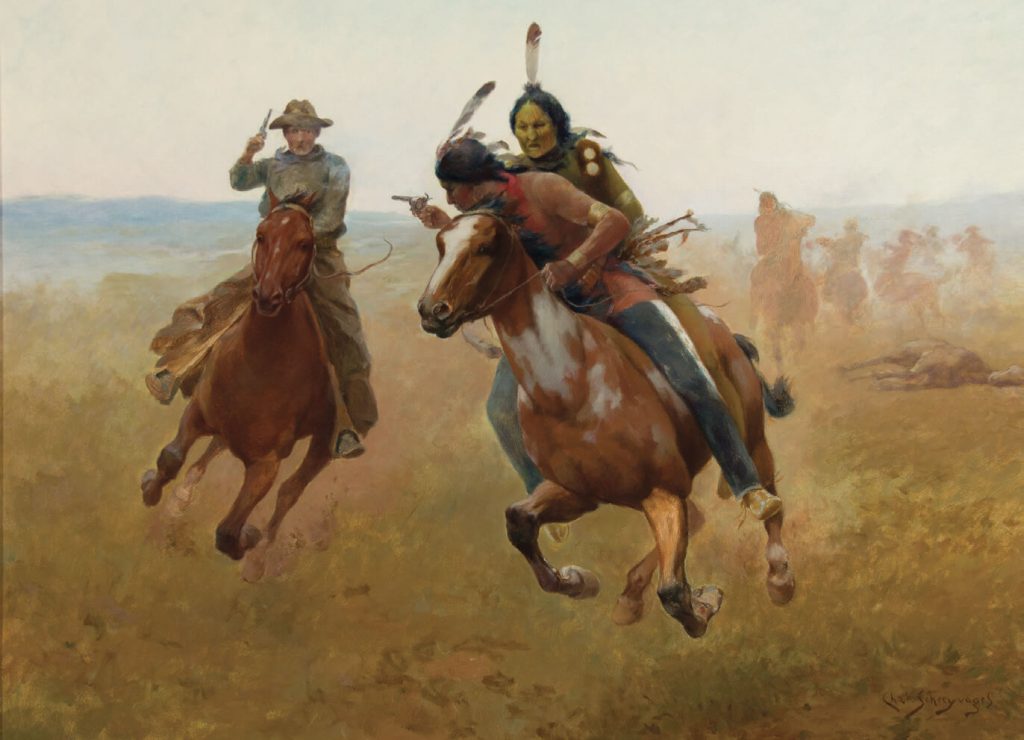 Top lots included A Close Call by Charles Schreyvogel, the late artist described by the National Cowboy and Western Heritage Museum as "one of the most popular painters of the historic frontier army in the United States." The oil, depicting horse-riding antagonists in a chase at breakneck speed, went for $819,000.
A quiet camp scene by E. William Gollings, Cheyenne Winter Camp, effortlessly achieved $642,500 against estimates of $300,000 to $500,000, and Star King Mountain by Albert Bierstadt went for $497,250, selling at the high end of predictions. A series of paintings by wildlife art master Carl Rungius brought tidy sums and mostly topped estimates. That trend was led by Grizzly Bear, which sold for $468,000, compared to estimates of $200,000 to $300,000.
An oil by Charles Russell, The Battle at Belly River, performed well at $409,500, while John Clymer's Wild Horses brought $380,250, instead of the estimated $150,000 to $250,000.
Collectors were so enamored with several paintings that they achieved more than twice their expected prices or nearly so. Those include Forgotten by Oscar Berninghaus ($210,600); Westward Bound by Maynard Dixon ($152,100); Tal-Lee & Ea'h-Pa-Ko-Ia's-Kuk by George Catlin ($117,000); Gold of Autumn by William Dunton ($128,700); Mary Tailfeather — Blackfoot by Joseph H. Sharp ($111,150); and Range Branding by Bill Owen ($70,000).
Perhaps unsurprising, but nevertheless gratifying, was the $321,750 realized for Howard Terpning's Hunting and the pleasing sums for works by additional contemporary artists such as Mark Maggiori, Logan Maxwell Hagege, and Clyde Aspevig. Works by those painters that sold for double — or more — than their top estimates were The Sarapes ($93,600), The Sentinel ($64,360), and Autumn Foothills, Glacier Park, Montana ($40,950).
The sale saw world auction records set for William Schenck, with Blood on the Horizon going for $64,300, and Clark Kelley Price, with Last of the Water, selling for $81,900.
Night of Artists 20th Anniversary Exhibition & Sale
March 27, 2021
Total: $1.8 million
The Briscoe Western Art Museum in San Antonio, Texas, slightly retooled and considerably expanded its offerings this year during Night of Artists, the 20th anniversary of its key sale and fundraising event. And those efforts paid off.
An online auction opened on March 13 and continued until the evening of March 27, the same day the museum featured the live auction. The event included 271 paintings, sculptures, and mixed-media works by 79 of the nation's top Western artists and brought $1.8 million — the third-highest sum in history — amid its opening celebration.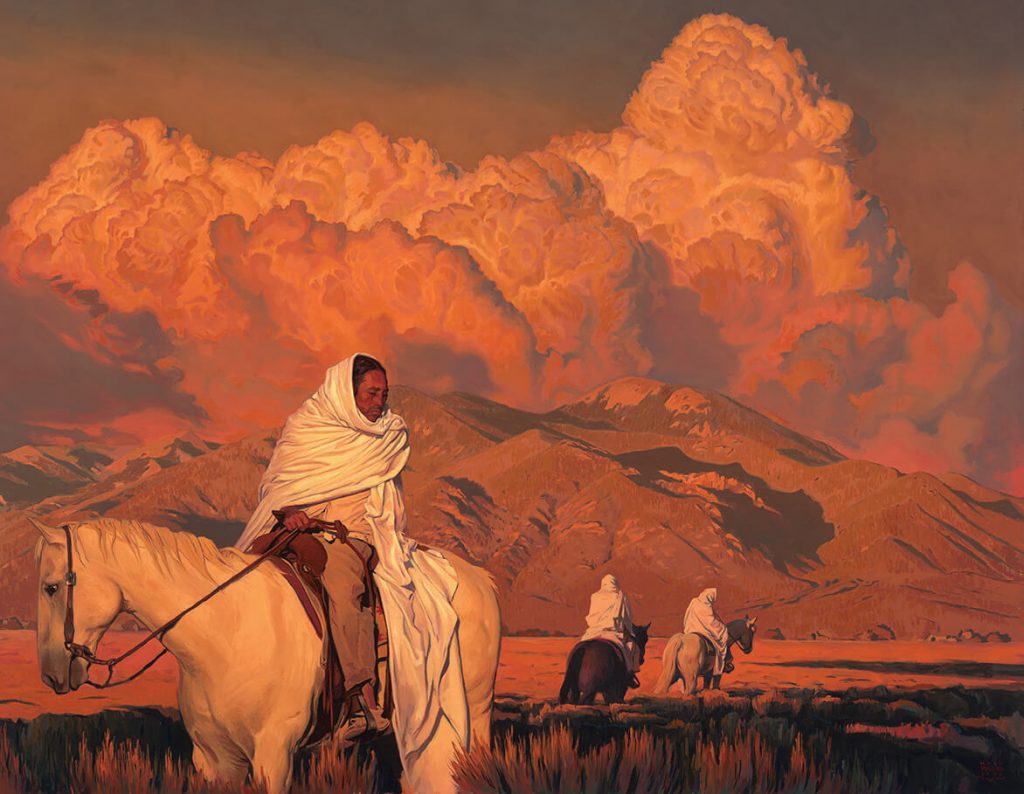 Works by Mark Maggiori constituted the two best-selling items. Riders of the Golden Sky led the online sale at $63,250, while Sons of Blue Lake captured the top slot at the live auction and the William B. Travis Award for Patrons' Choice. The oil, depicting Native American riders against towering clouds and the broad outline of a mountain range, went for $57,500.
His Storm has Passed, a painting by Martin Grelle of an American Indian warrior against a sweeping prairie, sold for $51,750, while Z.S. Liang's Entering Hostile Country brought $34,500 to round out the three leaders at the live auction.
The Briscoe Museum Purchase Award went to Ezra Tucker for The Mail Must Go Through, an acrylic showing a rider and horse at full gallop. The honor means the painting, purchased for $18,000, will be included in the museum's permanent collection.
Gladys Roldan-de-Moras received the Sam Houston Award for Painting with Untitled (Traje de Luces), which depicts a matador, his costume sparkling in the half-light, and brought $13,500.
The James Bowie Award for Sculpture went to Paul Rhymer for War Eagle, while Mian Situ garnered the David Crockett Award for Artists' Choice with The Meeting Place, which sold for $11,500.
March in Montana
March 20, 2021
Total: $2.5 million
Last spring, just as March in Montana, the sale hosted by Coeur d'Alene Galleries and the Coeur d'Alene Art Auction, was due to shift into high gear, COVID-19-related shutdowns took place, instilling worry in the art world and pretty much everywhere else.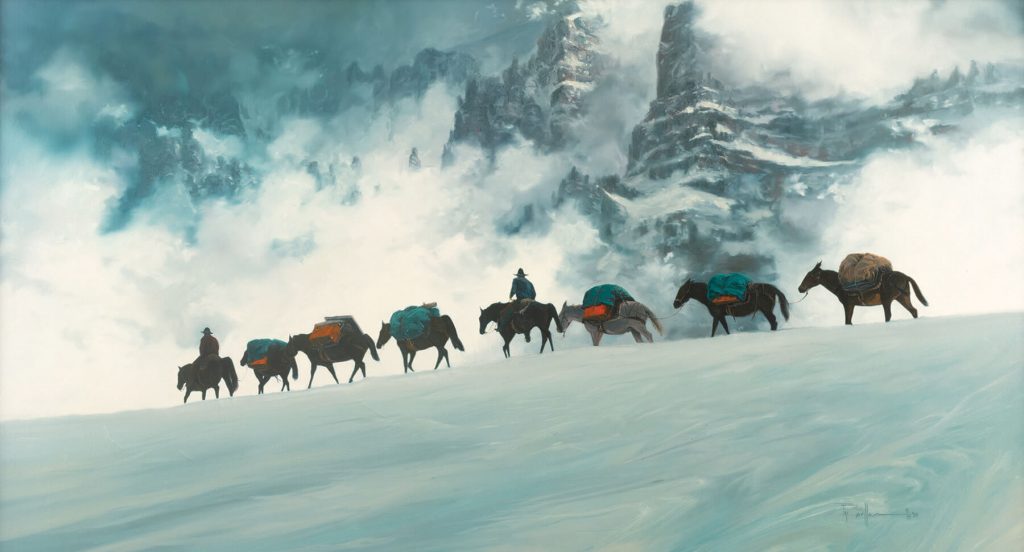 This year's outlook was promising, but few would have predicted an almost complete reversal of 2020's misfortunes. March in Montana got underway at a swift pace amid a reunion-like environment. The event saw record-setting sales at more than $2.5 million and hailed the return of familiar faces and new collectors. Since the end of the auction, attendees have sent a flood of messages to organizers expressing their appreciation for an event that was mindful of safety, but also offered a much needed return to normalcy and camaraderie, says auction partner Ron Nicklas.
Records were set for artists, including a piece by Ty Barhaug of Wyoming which was desired by multiple bidders. This sent the price of Pure Altitude sky high, with the work going for $55,000, or more than six times its high estimate.
Another standout was the sale of Fresh Mounts, a work by Jack King. The painting, by an artist whose work is highly prized in Canada, but which infrequently appears in U.S. auctions, climbed to $32,500, easily surpassing estimates of $5,000 to $7,000.
Signs that the audience was eager to show appreciation for top Western artists included a handsome sum for Clyde Aspevig's Planetary Alignment, which hammered for $42,500, compared to expectations of $10,000 to $15,000. The Line Riders by E. William Gollings shot to $47,500 against estimates of $20,000 to $40,000, and bronzes by John Coleman achieved amounts higher than anticipated, including The Greeter — Black Moccasin, Hidatsa Chief, which brought $13,000, or more than twice its low estimate.
Masters of the American West
February 27–March 13, 2021
Total: Undisclosed
George Carlson led the way for sales and awards at Masters of the American West, the Autry Museum's seminal event that celebrates the creative genius of Western painters and sculptors. Carlson's painting Light Lingering in Silence, an ethereal rendering of a forest pierced by light, sold for $68,000 and gained the Best of Show Award and the Thomas Moran Memorial Award for Painting.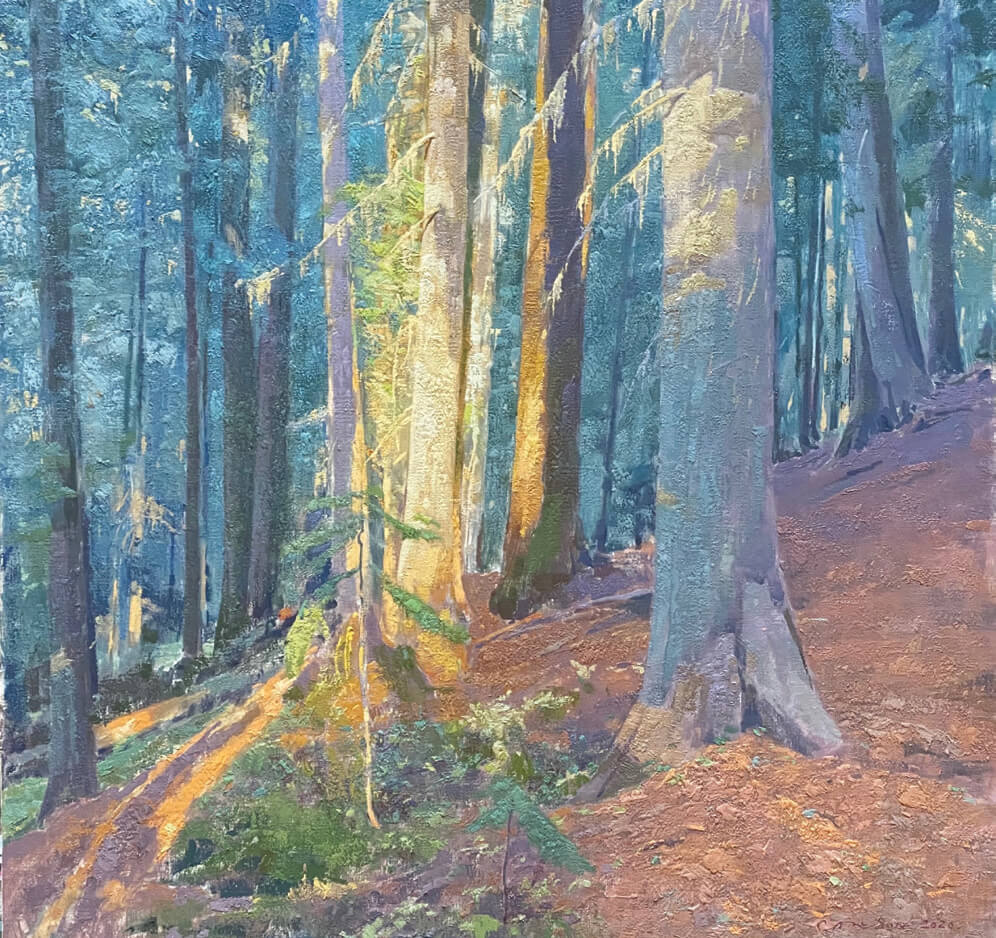 The most lyrical statement about the oil was provided by the artist, who described his technique today compared to his early years: "My approach now is to slow down and be open to the possibilities in nature — when something moves me, to be present and aware, to be in a state of wonder, and to respond to that feeling."
Artist Ed Mell is a master of intriguing angles. His work, Cascading Canyon Storm, which took the Chrystina and James R. Parks Trustee's Purchase Award at the Masters, is evidence of that talent. Mell uses form and color to create an atmosphere replete with the mix of admiration and awe evoked by nature's theatrics. The painting was purchased for $52,000 and will be added to the museum's permanent collection.
The Wait by Thomas Blackshear II hammered for $45,000 to become one of the event's bestsellers as well as the recipient of the Artists' Choice Award, which was shared with Len Chmiel's Languorous.
Sotheby's Majestic America
February 23–March 2, 2021
Total: $824,040
A diverting and diverse offering, including paintings, Native American textiles, beaded items, and woven baskets representing just a portion of the best art tied to the U.S. West, were highlighted at Sotheby's online auction titled Majestic America: Property from an Important Western Collector II.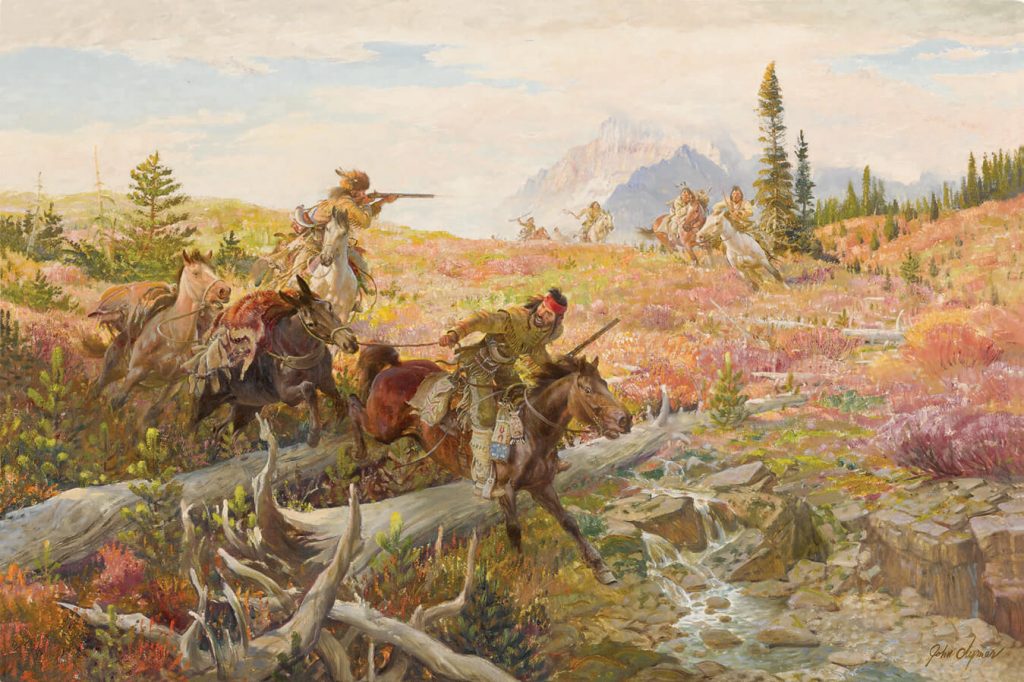 The sale saw paintings by John Clymer achieve hefty amounts, with Injuns, Injuns bringing $138,600, nearly twice its low-end estimate. Additional Clymer works that garnered more than expected include Up River, which went for $81,900 compared to pre-sale estimates ranging from $50,000 to $70,000.
Collectors prized The Friendly Willows by Tom Lovell, a snowy scene depicting Native Americans, to the point that it arced above estimates of $60,000 to $80,000 to achieve $138,600. Likewise, there was intense interest in Clyde Aspevig's beautifully detailed High Country Lakes, with the painting going for $44,100, or more than twice its high estimate.
A painting by Tucker Smith also evoked the enthusiasm of bidders, bringing $32,760. Vermillion Creek, depicting a bull bison, defied pre-sale expectations by a wide margin, with those amounts ranging from $10,000 to $15,000.
Ken Carlson's Four Wolves in the Snow was a steal at $32,760. The oil on masonite is a stirring depiction of sturdy wolves on alert in the snowy, darkened forest which borrows colors from the animals' coats. The painting was thought to go for an amount between $12,000 and $18,000.
Native American textiles also proved popular, with the prices for several items far exceeding expectations. A Navajo pictorial rug presenting two figures climbed to nearly 10 times its low estimate as collectors sought to outbid one another. The piece, measuring 60 by 84 inches, sold for $23,940 instead of the expected $2,500 to $3,500.
American Miniatures at Settlers West
February 13, 2021
Total: $300,000
Settlers West Galleries knows how to put on a show. The opening weeks of 2021 provided more evidence of that skill as the gallery in Tucson, Arizona, hosted three days of extended hours for collectors and artists to safely view the original, small-sized paintings — rather than host a large opening reception — before the set-price drawing on the evening of February 13.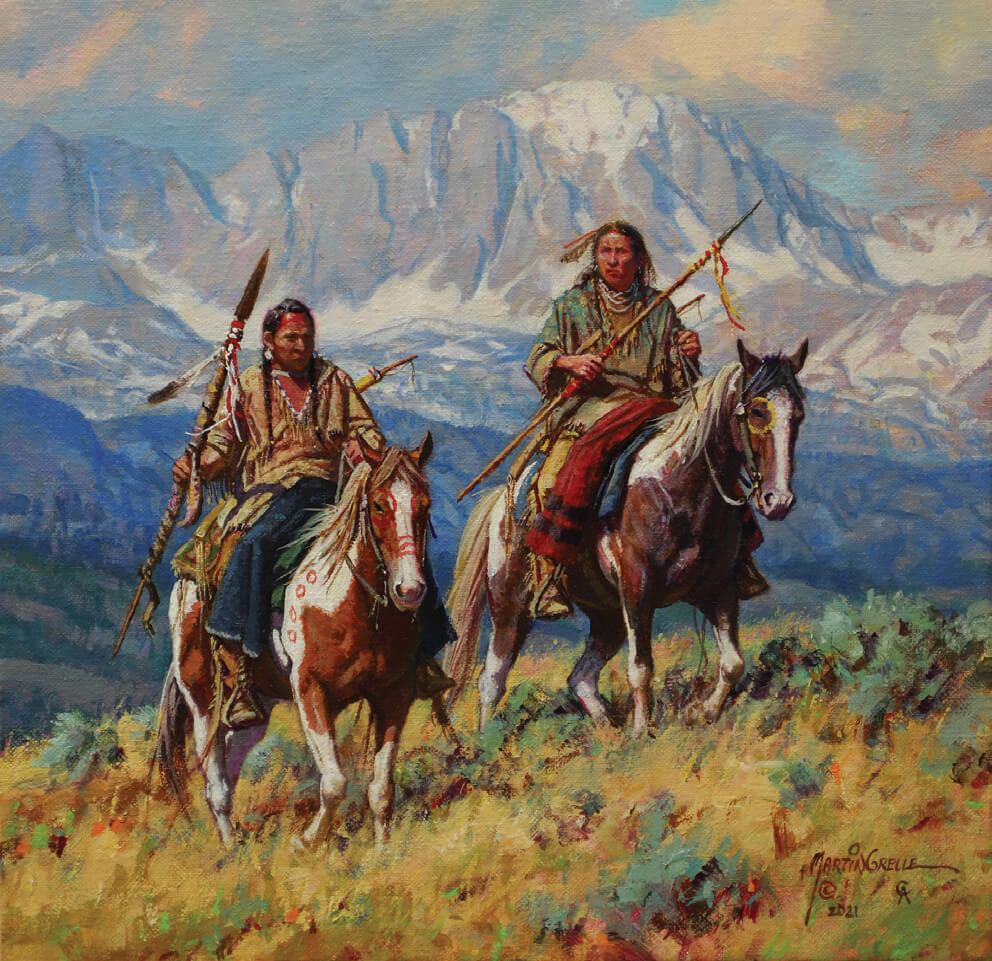 A 12-by-12-inch painting by Martin Grelle was the showstopper. Wind River Scouts also occupied the top slot for sales, with the acrylic of two Native Americans on horseback going for $10,500.
Robert Griffing's They Crossed Here, an oil depicting three American Indians about to cross a stream, went for $6,800. And Tim Cox's Snow in the Desert, showing a lone rider, sold for $6,500 to rank in the top three sellers.
Rojo y Verde, George Hallmark's clever composition of contrasting colors that serve as the backdrop to a saddled donkey, followed at $6,000. And Jeff Legg's Quiet Light sold for $5,500 to become the fifth-highest priced item. The oil illustrates the variety of subjects tackled by the 170 participating artists, as the still life features a ceramic vessel, a red onion, grapes, and blue petals in a painting that perfectly demonstrates the impact of subtle light.
Both of Z.S. Liang's oils sold at the show, with Blackfeet Brave going for $5,000, and William Acheff's sole offering, Northern Plains, was next up at $4,500. A piece by Dan Mieduch entitled The Road Less Traveled By, depicting a Native American man on horseback in watery surroundings drenched by light, was snapped up for $3,900.
Wyoming Art Auction
February 20, 2021
Total: $668,650
The Wyoming Art Auction, the first sale in a planned annual tradition by the Jackson Hole Art Auction, opened online February 20 to an art-hungry audience that snapped up most of the 228 lots. The sale, which garnered nearly $670,000, set several auction records and easily achieved above-estimate prices for such Cowboy Artists of America members as Bill Owen and Clark Kelley Price.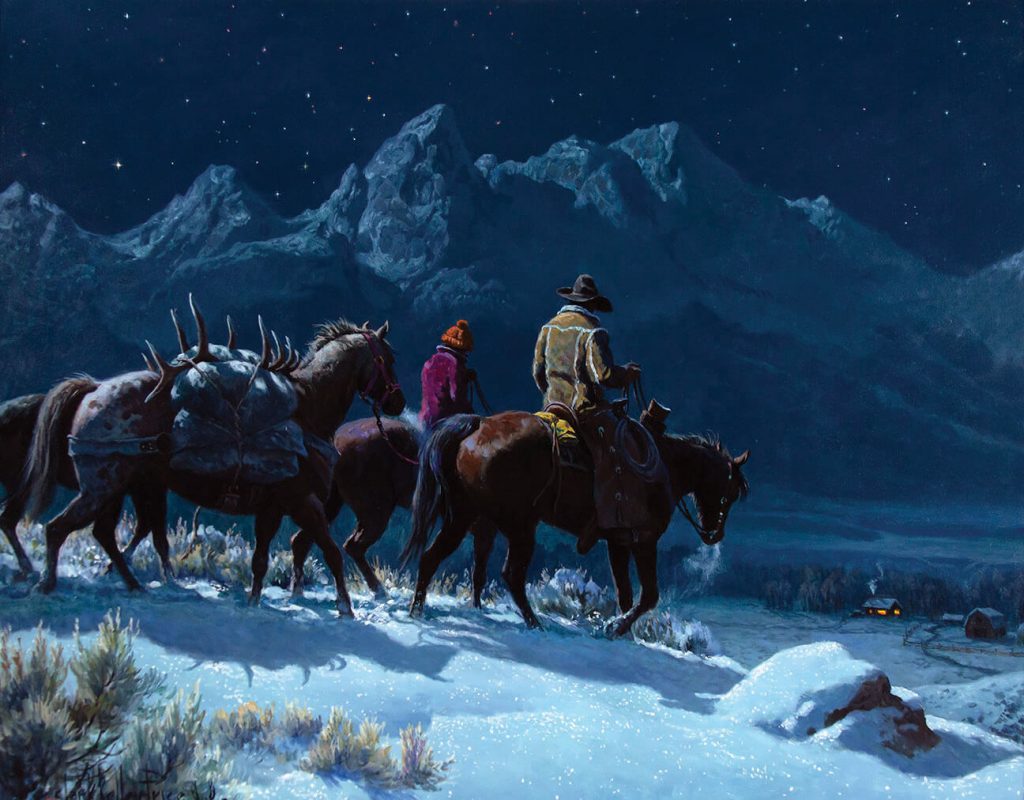 Price's Sweet Wyoming Home, a nocturne featuring horses, riders, and striking moon shadows, brought $30,000, a startling sum given the oil's estimates of $3,000 to $5,000. And the selling price for Owen's small-sized work, Untitled (Horse) easily topped its pre-sale expectations of $1,500 to $2,500, by achieving $33,000. The 9-by-12-inch oil of a horse whose back hoof is hoisted into a stirrup could not be more indicative of an animal comically perplexed by a mishap.
Works by deceased Western artists drew strong interest — and bids — from collectors. Charlie Dye's Throwing the Houlihan brought $57,000, among the 42 percent of lots that achieved higher than expected prices at the sale. Navajo Rider by Gerard Curtis Delano also landed in that category by fetching $36,000, a bargain for a prime example of the painter's pictorial praise to the American Southwest, with its Indigenous peoples and striking skyscapes. A rare painting by Carl Roters, On the Warpath, notable for its geometric design and dream-like convergence of riders with hillside, sold for $16,800 or more than twice its high estimate.
Wildlife art also attracted satisfying sums, including $9,000 for Justin Prigmore's painting of a bull moose trailing after its quarry in Mating Games. The amount represented four times the painting's estimated price and set an auction record for the artist.