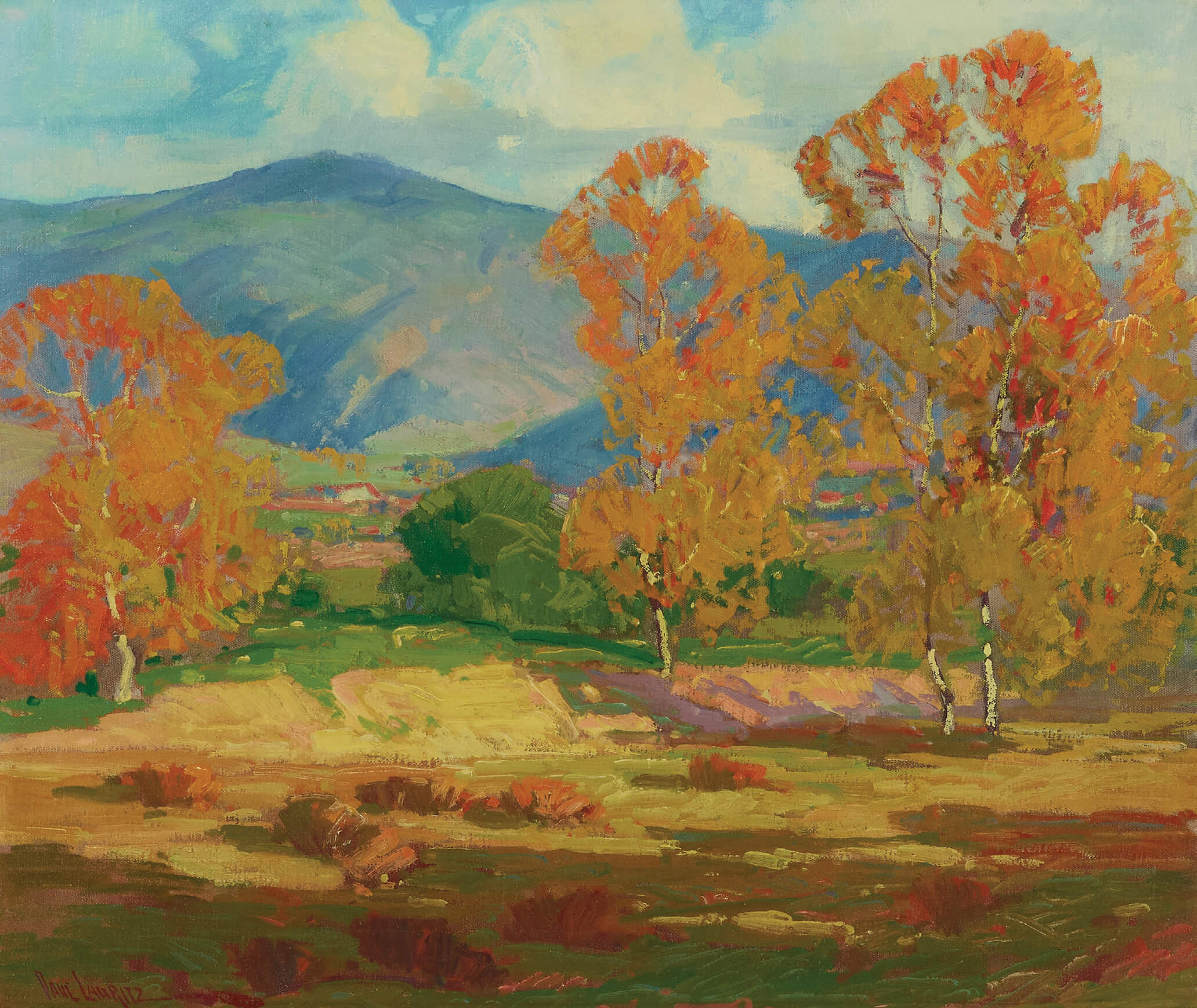 Paul Lauritz, California Autumn | Oil on Canvas | 20 x 24 inches | Sold: $10,838 | Courtesy of Bonhams
09 Jan

Auction Block: Standing on the Shoulders of Giants

Auctions in the closing weeks of 2022 saw sales of contemporary paintings by Western and Native American artists achieve handsome sums in a market that's generally shaped by traditional themes and Realism.

The expansiveness across late-fall sales suggests that artists, auction houses, and collectors are finding new ways to express long-held values. It seems a rejuvenating spirit is infusing the Western art world, and it comes, paradoxically, in a season when much else is preparing for winter's long slumber.
Bonhams' California and Western Art Online
November 11 – December 2, 2022
Total: $272,000
Two small seascapes by a prominent 19th-century painter and designer led Bonhams' California and Western Art Online sale during the closing weeks of 2022, capping an auction that brought scenes of an untrammeled West Coast to its audience.
Moon Setting Over Pacific Shoals and Full Moon — Calm Sea, a pair of two 10-by-14-inch oils by Lockwood de Forest, sold for $11,475, rocketing passed the pre-sale estimates of $1,500 to $2,000.
The pair of seascapes was one of two lots by de Forest that landed in the auction's top sellers. Another pair by the artist, Nocturne with Large Rock and Nocturne from Santa Cruz Island, was the fourth highest-selling item, achieving $6,375 compared to estimates of $1,500 to $2,500.
A thickly colored landscape by a lesser-known California painter also excited the admiration of buyers whose competing offerings took California Autumn to second position. The painting by Paul Lauritz evoked sufficient interest to push its cost to $10,838 against the anticipated $2,000 to $4,000. The question that has inspired philosophers and perhaps anguished artists is whether the painter is pivotal to the work or if it stands alone without famed authorship.
Glenn Dean's Fall in the Sierras, a light-infused landscape demonstrating the painter's prowess with color and form, sold for $7,013 to earn the third highest-selling slot. The painting was estimated to go for $4,000 to $6,000.
Boats, Sotto Marino, a drawing by Edgar Payne, was another hero of the sale, with the quiet rendering garnering $5,100 instead of the estimated $1,000 to $1,500.
John Moran Auctioneers' Art of  the American West
November 16, 2022
Total: $460,000+
A small oil on linen by Logan Maxwell Hagege brought a substantial price and arced over its pre-sale estimates to earn a top position during John Moran Auctioneers' Art of the American West.
The piece by Hagege, whose depiction of people and landscapes of the American Southwest represents one of the more elevated oeuvres in contemporary Western art today, realized $22,500. The ultimate price speaks volumes about an oil that was expected to bring between $4,000 and $6,000. The painting, titled Dry Air, depicts a Native American man in profile, wrapped in a blanket and illuminated by the sun. The 13-by-8-inch oil conveys that Hagege is a master of short-form paintings that suggest a wealth of hidden meaning.
The sale also offered an array of furniture inspired by celebrated Western designers. An example was a sofa by New West Furniture Co. that was built to replicate furnishings produced by Thomas Molesworth. The wood-framed couch with cushions in black wool and ornamented with a Southwestern design went for $18,750 instead of the anticipated $3,000 to $5,000.
A large wooden Native American figure mirroring the work of historic woodcarver Samuel Robb brought more than expected. The piece, dated between 1890 and 1910, was estimated to sell for $6,000 to $8,000 but ultimately went for $18,750. Early in his career, Robb created such figures for tobacco shops but later became known for carving circus wagons and ventriloquist dummies, according to the auction house.
A bass drum from a band organized in the late 19th century by Gordon William Lillie ("Pawnee Bill") brought $12,500, outpacing pre-sale hopes that ranged from $300 to $500. The drum was featured in a 19th-century ensemble titled "Pawnee Bill's Wild West Band," according to auction officials. In 1888, Lillie and his wife launched a Wild West show with hired performers, which went bust in its first season. A reorganized effort, "Pawnee Bill's Historical Wild West Indian Museum and Encampment Show," fared well financially even though its only untamed element was its popularity.
Monarch of the Arctic, a painting by Fred Machetanz, a regionalist whose specialty was Alaskan figures and wildlife, is also worth mentioning. The watercolor went for $7,500, against estimates of $1,000 to $2,000, but the price was not the principal achievement of this polar bear portrait. What Machetanz depicts in the 1956 painting is the oneness of the creature with its angular, icy environment.
National Cowboy & Western Heritage Museum: Small Works, Great Wonders Art Sale
November 11, 2022
Total: $460,000+
Those new to collecting the artworks of some of the nation's top Western artists and faithful fans of the genre eagerly snapped up fixed-price gems at the National Cowboy & Western Heritage Museum's Small Works, Great Wonders Art Sale. Oklahoma City was the place to be this November, when such painters as William Acheff offered works for small amounts compared to the outsized talent on exhibit.
Jeremy Winborg led the top-selling items. His 17.75-by-17.75-inch oil painting Fierce Beauty, depicting a Native American girl whose decorative clothing is offset by a background of flat-topped rock formations, perfectly captures emotion. The weapon brandished by the girl is of little importance compared to her expression and the steadiness of her gaze. The piece sold for $8,500.
Howard Post's 14-by-18-inch oil of two horses with dappled sunlight returning to the open range earned the second top-selling placement. The painting, titled Leaving Water, demonstrates the power of spare images and sold for $6,500.
Two oils by Acheff, Sunset at Brule and The Artist Who Painted Pots, brought $6,000 each. The paintings were substantial in symbolism, each with a Native American motif that speaks of immortality through art.
Last but not least was the fifth highest-selling item, Autumn Equinox by Jim Rey. It's a curious state of affairs when an artist takes his heart, mind, and hand to a painting and produces a masterpiece of the moment. What Rey accomplishes in Autumn Equinox is the suspension and preservation of that time and place. The oil sold for $5,750.
Santa Fe Art Auction's Annual Signature Live Auction
November 3 – 5, 2022
Total: $2.5 million
Works from three prominent private collections drove sales during the Santa Fe Art Auction's Annual Signature Live Auction to $2.5 million. The event had a sell-through rate of 90 percent, according to officials.
The auction's much-anticipated offering of Christopher Cardozo's Collection of Edward Curtis highlighted seven complete portfolios from Curtis' photographic masterwork, The North American Indian. Volume XII, which centers on A Walpi Man, was the top-seller at $61,000, compared to estimates of $14,000 to $18,000. Volumes II, IX, and XI sold for $54,900 each, above expectations of $12,000 to $18,000; $7,000 to $10,000; and $5,000 to $8,000.
The Georgia and Charles Loloma Estate saw many of the items owned by the famed Hopi jeweler and his wife — particularly Loloma's own creations — outdistance estimates. A tufa-cast gold pendant with inlaid stones carried a high estimate of $4,500 and instead brought $12,200, while a Pueblo 10-strand silver bead, coral, and turquoise necklace went for more than twice its high estimate of $3,500, bringing $7,320.
In fact, the first item among bestsellers at the auction was a Loloma gold and multi-stone cuff, which was consigned to the secondary market by a private collector. The creation, made of 18-karat gold, coral, lapis, mastodon, onyx, and turquoise, went for $73,200, amid estimates of $65,000 and $95,000.
The auction also featured the Charles P. and Virginia L. Sonnet collection of historic Pueblo pottery, much of which dated to the late 19th century. An Apache polychrome olla with a diameter of 20.5 inches was the second top-selling item. It sold for $54,900, compared to estimates of $40,000 to $60,000.
Rounding out the five bestsellers were: Taos Clouds by Fritz Scholder, which brought $39,650; Winter Corral by Gustave Baumann, which sold for $36,600; and Wolf in the Moonlight by John Nieto, which went for $33,550.
"The sale's success demonstrates the strength of the mix of modernity and history in the Western art market today," Gillian Blitch, president and CEO of the Santa Fe Art Auction, says in a statement. "To be able to sell everything from Charles Loloma jewelry to historic 19th-century Pueblo pottery speaks to the breadth and diversity of not just the auction house but of our collector base as a whole."
Hindman Auctions: Western and Contemporary Native American Art
November 1, 2022
Total: $2.6 million+
The late Native American artist Fritz Scholder was known for creating contemporary paintings that brought forth the central theme of Native Americans' separation from their homelands, religions, languages, and traditions. This axiomatic conflict depicted in symbols and figures could be the seat of Scholder's great genius. The image central to Hindman Auctioneers' sale of Western and Contemporary Native American Art in November presented that iconography par excellence. Scholder's Horse and Rider realized $175,000, above estimates of $80,000 to $120,000, to become the event's top-selling lot.
Several paintings at the auction effortlessly outstripped expectations. Robert Daughters' At Arroyo Hondo, which employs a style that successfully meshes Cezanne with Van Gogh, rose to $43,750, above estimates of $7,000 to $9,000. Similarly, Cowboy Conference by Howard Post garnered $25,000, or more than twice its high estimate of $12,000, and Theodore Waddell's Monet's Sheep #9 jumped to $21,250, over the high estimate of $12,000.
The sale set an auction record for Emmi Whitehorse, whose Green Wood realized $28,125, far more than the anticipated $3,000 to $5,000.
A work by renowned British artist and conservationist David Shepherd showed the strength of the wildlife art market. The painting Two Elephants excited significant bidding and ultimately sold for $46,875, compared to estimates of $12,000 to $18,000.
Lone Star Art Auction
October 29, 2022
Total: $5.6 million
 Another Bucker, an outsized oil by artist Tom Gilleon, led the Lone Star Art Auction at the end of October. The painting realized its high estimate of $300,000 and depicted a horse and rider in mid-air against an abstract, colorful background. It's a startling example of action and the interplay of light.
One of Frederic Remington's more recognizable bronzes, The Rattlesnake, sold for a hefty $240,000 against estimates of $150,000 to $250,000. The 24-inch-tall sculpture often sparks discussion among cowboys, who believe the rider is grabbing his hat to throw atop the offending snake, shielding it from his alarmed horse's view.
The sale's third highest-selling item was by another Western art giant. Indian Women Moving Camp, a watercolor on paper by Charles Russell, went for $240,000, amid estimates of $225,000 to $275,000. Russell's singular insight into the West is on full display, notably in the pensive expressions on the women's faces in the painting.
The fourth and fifth top-sellers were: In the Boerne Hills — Southwest Texas by Texan Impressionist Julian Onderdonk, which sold for $240,000, and War Bonnet Indian, a screenprint by Andy Warhol, which went for $214,000.
2022 Fall Larsen Art Auction
October 22, 2022
Total: Undisclosed
A print of a piece by the celebrated artist Jean-Michel Basquiat was up for sale during Larsen's Fall Art Auction. The work triggered intense interest among dealers and private collectors, as the artist's creations are closely watched by a loyal and discriminating following. Cabeza, from Portfolio II, a screenprint, sold for $114,000, compared to estimates of $20,000 to $40,000, leading the Scottsdale, Arizona, event.
A bidding war broke out over a multi-media piece by Pascal Pierme, pushing the price to $27,000 and surpassing estimates of $8,000 to $12,000. The work earned the sale's second top slot.
A relatively distant competitor, Printemps en Normandie by André Hambourg, similarly evoked a flurry of bids, resulting in a sale price of $16,800, more than $10,000 above its high estimate.
The trend of artworks achieving better-than-expected amounts didn't end with the two pieces that ultimately became the fourth and fifth top-selling items: Dango with Blue Stripe by Jun Kaneko sold for $40,625, against estimates of $15,000 to $25,000, and Chino Longhorns by Ed Mell went for more than twice its high estimate of $25,000, realizing $51,000.
Laura Zuckerman is a senior contributing editor for Western Art & Architecture. Her work has been featured in such outlets as The New York Times Magazine and Cowboys & Indians.