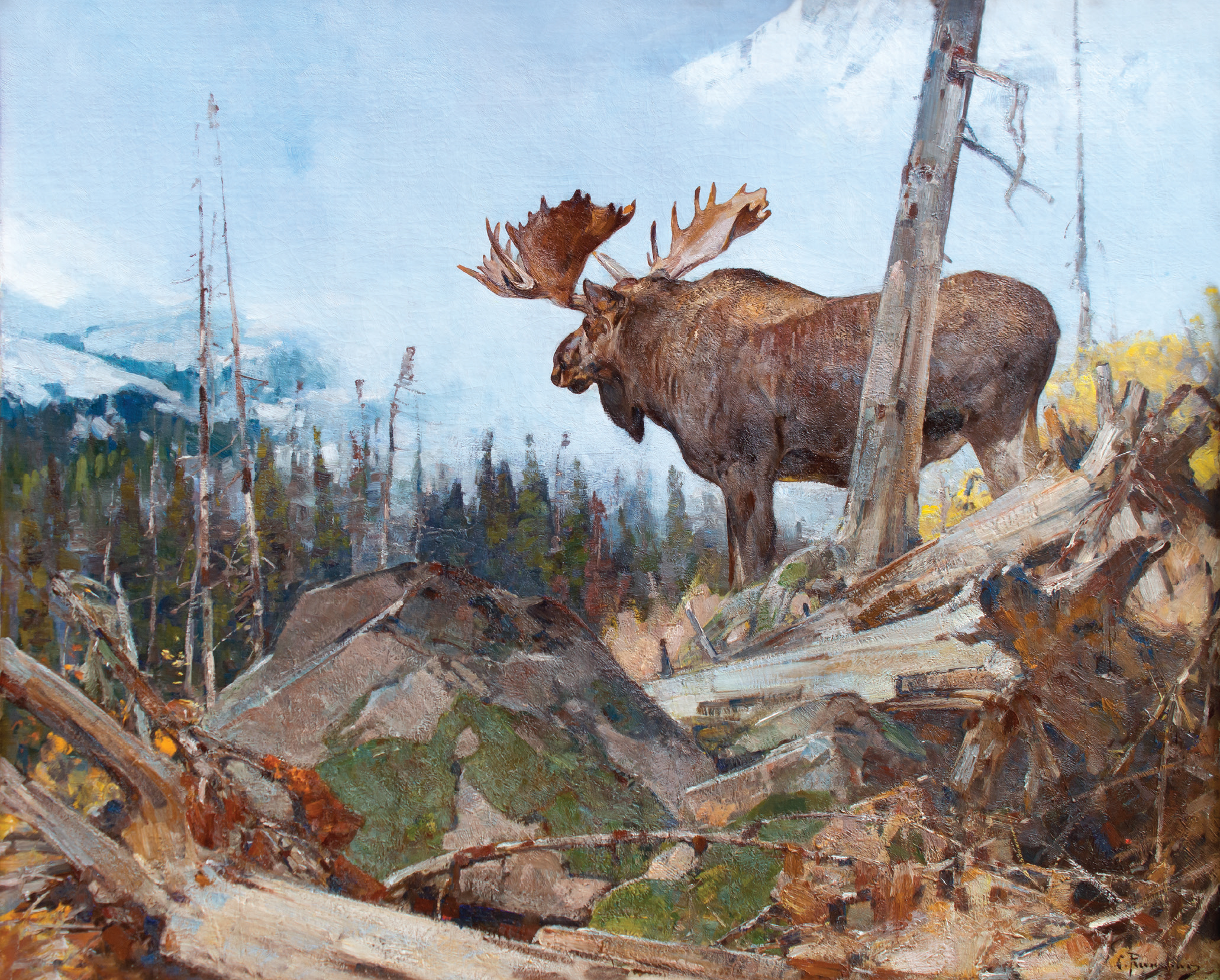 Carl Rungius, Alaskan Wilderness | Oil on Canvas | 40.25 x 50.25 inches | Sold: $642,500 | Image courtesy of Jackson Hole Art Auction
13 Nov

Auction Block: The Way of the West

There continues to be a calling among artists and collectors for art that represents the animals and traditions of the American West. Key autumn shows and sales suggested that the appetite is not waning for paintings, sculpture, and handcrafted items that demonstrate both the heights that art can achieve and the underlying heritage that gives it expression.

A Carl Rungius painting that sold at the Jackson Hole Art Auction for a high price serves as a pleasing sign of the staying power of one of North America's finest wildlife painters. Meanwhile, a hand-carved saddle by Cary Schwarz led sales at the Traditional Cowboy Arts Exhibition & Sale at the National Cowboy & Western Heritage Museum. And during Western Visions, the centerpiece show and sale at the National Museum of Wildlife Art, the purchase of Mark Eberhard's It Takes a Village for the museum's permanent collection was a nod to the artist's ability and to the determination of bison migrating through deep snow in winter.

Additional wildlife art was in high relief at the Buffalo Bill Art Show & Sale, with Ron Kingswood capturing the top slot with his painting Feast Day. Wildlife as a subject matter also hit a high note at Quest for the West, where Sandy Scott was honored for her sculpture of a wild horse entitled Untamed.
Traditional Cowboy Arts Exhibition & Sale
October 4–5, 2019
Total: $275,000+
Works by members of the Traditional Cowboy Arts Association (TCAA) brought critical and financial success in early October at the National Cowboy & Western Heritage Museum in Oklahoma City, where a saddle featuring a carved flower motif by Cary Schwarz of Salmon, Idaho, brought the highest amount at $35,450.
Cool Morning, an ornately worked silver plate, saw the second highest sum at $32,400. The piece by Beau Compton of Tombstone, Arizona, centered around a cowboy on a rearing horse in a masterly mix of art and craftsmanship.
The third top slot went to an artistically wrought silver bit by Wilson Capron of Christoval, Texas, with the piece going for $27,500.
More than 150 people attended the event tied to the TCAA, which is comprised of a select group of artisans engaged in saddle-making, rawhide braiding, and bit- and spur-making. A portion of the proceeds benefits the museum's educational programs.
Buffalo Bill Art Show & Sale
September 20–21, 2019
Total: $1.4 million
More than 900 people participated in a pair of sales that generated an estimated $1.4 million during the finale of Rendezvous Royale, a week-long celebration of the arts and Western heritage in Cody, Wyoming.
The vast majority of funds achieved by the Buffalo Bill Art Show & Sale, an event hosted by the local Chamber of Commerce and the Buffalo Bill Center of the West, stemmed from a live auction and dinner on September 20, but also from a quick draw the following day, with both events featuring the works of 100-plus Western and wildlife artists.
Ohio wildlife painter Ron Kingswood saw his Feast Day lead sales during the live auction, with the painting going for $27,500. White Feather by Whitney Hall, who draws inspiration from her hometowns of Bozeman, Montana, and Scottsdale, Arizona, grabbed the second highest-selling slot at $22,500.
The coveted Best in Show award went to Bozeman wildlife artist Adam Smith for Valley Thunder; while the quick draw's People's Choice Award was bestowed on painter David Frederick Riley, whose piece sold for $15,000.
Jackson Hole Art Auction
September 13–14, 2019
Total: $5.6 million
It's not that Carl Rungius was a genius who toiled in obscurity. But it is sometimes a bit of a blow when, on the rare occasion, one of his works sells for a bargain price. Thankfully, that was not the case at the mid-September sale of premier Western and wildlife works featured at the Jackson Hole Art Auction. Rungius' Alaskan Wilderness, an exquisite portrait of a bull moose contemplating mountainous mist, went for $642,500 — compared to pre-sale estimates of $400,000 to $600,000 — to lead sales at the two-day auction.
The happy results didn't stop there. A G. Harvey bronze, The Spirit of Texas, achieved $36,000 to set an auction record for one of his sculptures; and handsome sums were paid for paintings by the late wildlife artist Bob Kuhn and the increasingly acclaimed Logan Maxwell Hagege.
Kuhn's The Look Before the Leap, which depicts a female lion atop a rocky outcropping in a piece that celebrates horizontal lines and subtle use of color, brought $180,000, on the high end of estimates ranging from $100,000 to $200,000. Meanwhile, The Rising Clouds, a painting that underscores Hagege's understanding and iteration of the American Southwest's lands and peoples, went for $187,200 compared to estimates of $80,000 to $120,000.
Additional pieces that far exceeded expectations included Tucker Smith's Shiras Bull, a pleasing pastoral scene that pairs a moose with sagebrush and sun, which climbed to $64,350, or more than twice its low estimate; Olaf Weighorst's The Last March went for $93,600; and Trout Creek Ranch, a painting by James Bama, realized $81,900.
Western Visions Show & Sale
September 12–13, 2019
Total: $600,000+
The numbers say it all: More than 1,600 people attended the National Museum of Wildlife Art's Western Visions Show & Sale in mid-September, an event that saw 105 artists contributing 172 artworks, and which generated more than $600,000.
Mark Eberhard's beautifully and sparingly rendered depiction of bison embarking on their winter migration, It Takes a Village, won the Trustee's Purchase Award, meaning it was acquired for $19,000 and is now part of the museum's permanent collection.
Lindsay Scott's Young Bloods, an oil featuring three African lions, was the favorite of artists, garnering her the Red Smith Award. People's Choice went to Mary Roberson for I Heart Lobo, a 48- by 48-inch
painting in which Roberson's technique of depicting barely-there animal figures — in this case, the Western gray wolf — is at its height.
The Bob Kuhn Sketch Award went to Steve Devenyns for Back Country Blessings, while a special honor, the Rungius Medal, went to sculptor Robert Glen. The honor, which has been awarded 19 times since 1988, recognizes the artist's lifetime of exceptional contributions to the awareness of wildlife and its vital habitat. On a special note, the medal was presented to Glen by museum founder Bill Kerr.
Quest for the West Art Show and Sale
September 6–7, 2019
Total: $1 million+
The weekend tally for Quest for the West, the annual show and sale tied to the Eiteljorg Museum of American Indians and Western Art in Indianapolis, topped $1 million thanks to events that included luck-of-the-draw and miniature art sales. The event featured 160 paintings and sculptures by dozens of the nation's leading Western artists.
The Harrison Eiteljorg Purchase Award went to George Hallmark for Sagrado (Sacred), with the oil on linen purchased for $37,000 and destined for the museum's permanent collection.
The Cyrus Dallin Award for Best Sculpture went to Sandy Scott for Untamed, a bronze of a spirited wild horse that all but leaps from its base and into life, while the Henry Farny Award for Best Painting honored H. David Wright for Colonel Crockett's Last Serenade — The Alamo, March 1, 1836.
Brent Cotton received the Victor Higgins Award of Distinction for works including Valley Summer, a landscape whose atmospherics are akin to those prized by Hudson River School artists.
In a collision of equal merit, the Artists' Choice Award proved to be a three-way tie, with Robert Griffing and his work Respect for the Ancients matching up with Zuni Patterns by Terri Kelly Moyers and Wright's painting Colonel Crockett. Wright's moonlit scene in which onlookers are serenaded by the violin also garnered the Patron's Choice Award for a three-way win for one painting.
Western Design Conference Exhibit + Sale
September 5–8, 2019
Total: N/A
The Western Design Conference drew 4,500 guests to a four-day extravaganza at the Snow King Events Center in Jackson Hole, Wyoming, where more than 100 juried artisans presented handcrafted items ranging from custom-designed sheep wagons to wearable art.
The sheep wagons by Hamilton Forge won Best of Show and a $5,000 award; this was among the more than $20,000 in cash honors disbursed by the Western Design Conference and its sponsors. The wagons, crafted by Wyoming blacksmith Les Hamilton, feature an aluminum shell and oak interiors, and are typically used as spaces for guests or tiny living in the great outdoors.
Additional award winners included: Misty M Designs, Best Artist in the Art to Wear Fashion category, for handbags; Mountain Jewelry Designs, Best Artist in the Best Art to Wear Jewelry category, for sculptural silver pieces that use gems and minerals to mimic Western landscapes; Game Trail Gatherings, Best Artist in the Accents category, for creating furniture, lighting, and collectibles out of such materials as antlers, skulls, tree branches, and burls.