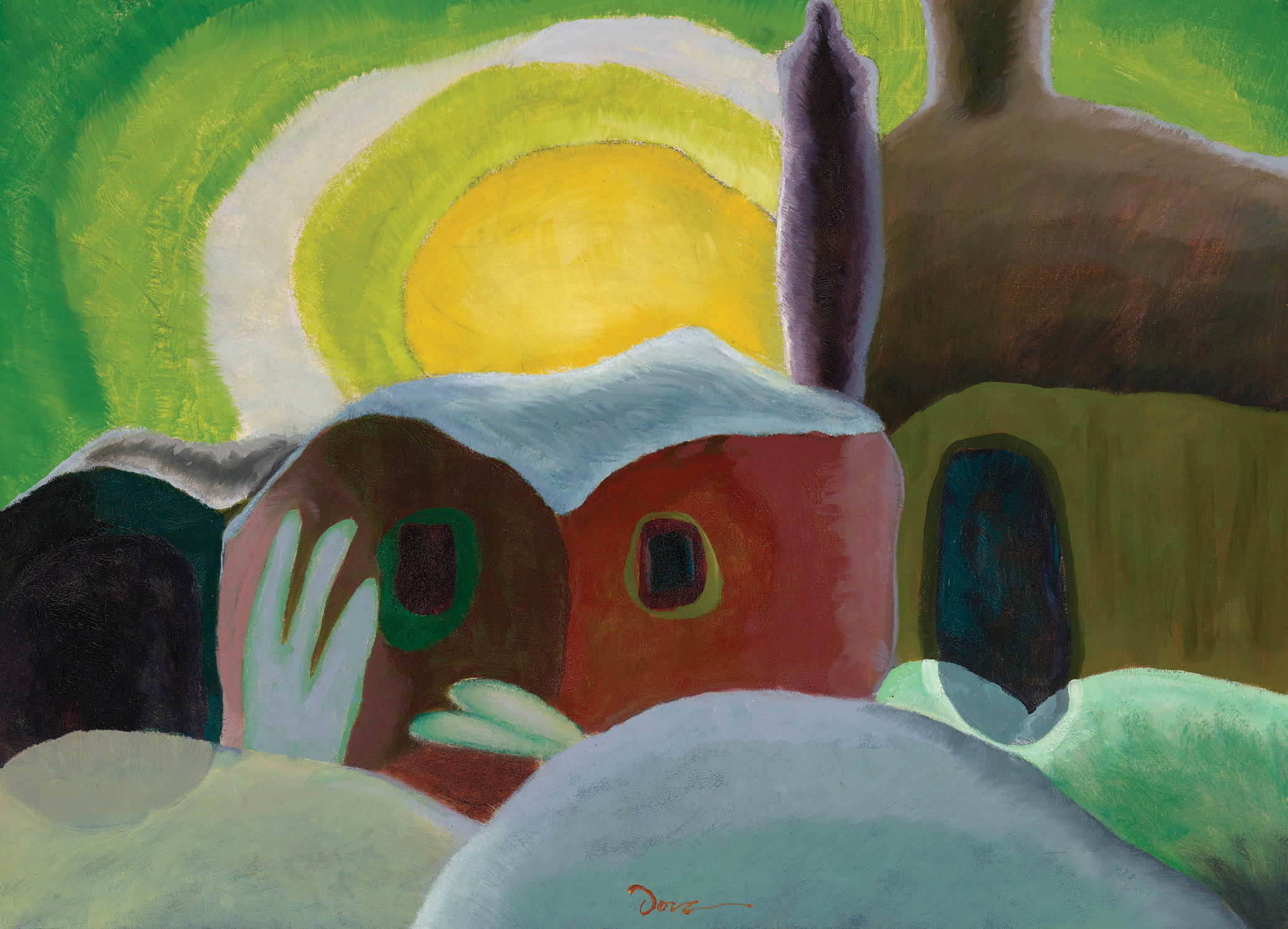 Arthur Dove, Sunset | Oil on Canvas | 24 x 33 inches | Sold: $81,900 | Courtesy of Christie's American Art Auction
07 Jan

Auction Block: Western Art Wonders

Both Western and American artworks achieved amounts higher than expected during late fall and winter sales. There's no doubt the auction block was busy with large and small works, exciting collectors with unique opportunities to get in on the ground floor with new artists and to own a part of history with historically significant works.

Paddles rose at the Santa Fe Art Auction for Edward S. Curtis' 20-volume set of The North American Indian, which brought $1.1 million to lead the auction house's signature fall sale. American Indian paintings from the late 20th century brought strong prices across the board. Pablita Velarde's Navajo Riders at Dusk sold for $30,000, almost five times her previous auction record. Christie's American Art Auction was led by Arthur Dove's Sunset, which established a world auction record for the artist, achieving more than $7.8 million, above estimates of $2 to $3 million.

Cowboy Artists of America Exhibition and Sale
 November 5 – 6
Total: More than $1.2 million
The 55th annual Cowboy Artists of America Exhibition and Sale, held November 5 and 6 at the Will Rogers Memorial Center in Fort Worth, Texas, reflected a strong market for traditional Western art with revenue up approximately 30 percent over the 2019 event. Several artists, including C. Michael Dudash, Tyler Crow, Loren Entz, Martin Grelle, and Oreland C. Joe Sr., sold all of their available works.
Mikel Donahue's Poker Night earned the Gold Medal in water solubles and the Anne Marion Best of Show Award; the painting sold for $18,500. Other sale highlights included Dudash's oil painting Eyes That See a Distant Danger, which brought $39,000; Grelle's In her Finery, $45,000; Bill Nebeker's large bronze If Horses Could Talk, $48,000; and R.S. Riddick's oil painting Pony Coup Prize, $56,000. Dustin Payne earned the Ray Swanson Memorial Award for his bronze Tales of the Trail, $15,900.
Bruce Greene's pair of bas-relief wall panels, Heritage #1 and Heritage #2, brought $28,500 each; two sets and three additional panels were also sold during the event. The original panels were created as part of Lady and Her Legacy, featuring a life-sized bronze casting of Anne Windfohr Marion, now on display at the National Ranching Heritage Center in Lubbock, Texas. Greene won the Patron's Choice Award for the panels, which depict horses and cattle from Marion's Four Sixes Ranch.
National Cowboy & Western Heritage Museum's Small Works, Great Wonders Art Sale
November 12 – 28
Total: More than $470,000
In November, the National Cowboy & Western Heritage Museum held their Small Works, Great Wonders art sale and auction. The sale featured smaller works by well-known artists, making them more affordable for buyers. There were 171 pieces sold, bringing in almost half a million dollars.
The Cynthia Post Memorial Buyers' Choice Award went to Todd Connor for his Mother Talk, a 6-by-6-inch oil painting showcasing a Remington-style nocturne with a campfire illuminating the faces of two pioneer women clutching blankets under a crisp Western night sky. The painting sold for $1,000. The Cynthia Post Memorial Buyer's Choice Award is named for the assistant director of development for the National Cowboy & Western Heritage Museum from 2003 to 2009, who died after a lengthy illness in 2009 and was instrumental in helping establish Small Works, Great Wonders.
Other small-scale standouts included Sunset from San Juan Pueblo by William Acheff, which went for $6,500; The Outcast by Greg Beecham, $6,500; William Haskell's Trailblazer, $5,500; and Luna Nueva by Tom Gilleon, $7,500.
2021 Fall Larsen Art Auction
October 23
Total Sales: More than $1.6 million
The Larsen Art Auction had a 94 percent sell-through rate with nearly 2,800 registered bidders from almost every state and over 40 countries. Highlights include Emma Amos' Time Will Tell, which achieved an auction record at $132,000, surpassing expectations of $80,000 to $120,000. Time Will Tell, from 1998, is an acrylic and fabric collage on canvas. Amos' work was recently shown at the Philadelphia Art Museum, where a retrospective of her works spanned abstraction to figuration. She incorporated textiles in her art, first her own weavings and then various kinds of African cloth. As noted in a New York Times article, "Amos experimented with forming figures from [the textiles] but ended up using it mostly to accent and frame her paintings, a device that gives them literal texture as well as historical depth." Since her death last year, her work has taken on an especially important cultural aspect.
Benny Andrews also hit an all-time high for his work by selling for $30,000 over its high estimate of $42,000. His oil and collage on paper, Brothers Keeper, created in 1996, impacts the viewer as much today as it did 26 years ago. His use of collage, as well as intense body language and vivid colors, speaks to the power of the artist's voice.
Santa Fe Art Auction's Signature Annual Sale
November 5 – 6
Total: Nearly $4 million
Edward S. Curtis' 20 volume-set of The North American Indian sold for $1.1 million, leading the Santa Fe Art Auction's signature auction to nearly $4 million in sales and a 90 percent sell-through rate.
At the beginning of the 20th century, Curtis believed that he was in a desperate race against time to photograph the North American Indian tribes before white expansion and the federal government destroyed what remained of their way of life. With the support of J. Pierpont Morgan and Theodore Roosevelt, Curtis lived among dozens of Native tribes, which ultimately led to The North American Indian. The New York Herald hailed it as "the most ambitious enterprise in publishing since the production of the King James Bible."
The Curtis volumes at auction came from the personal set of famed railroad executive and 19th-century American financier E.H. Harriman and are believed to be the last set of books in private hands. The $1.1 million is the highest price ever paid for a set of Curtis volumes. The auction house also paired individual Curtis volumes with portfolios, a first for the auction world. The strategy paid off, as a number of pairings sold at or over high estimates, including volume one and its portfolio, which brought $110,000.
The auction house saw wide interest in other categories, including Native American art and classic and contemporary New Mexico artwork, especially woodblocks by Gustave Baumann. The auction set world records for Kevin Red Star, Pablita Velarde, Susan Hertel, Albert Handell, Edna Bradley Stevenson, Catharine Phillips Fels, and Peter Miller.
One of the highlights of the Native art offerings was a group of paintings from the private collection of legendary Hopi jeweler Charles Loloma and his wife Georgia. An early Kevin Red Star painting, Plains Indian Dress, completed while the artist was still an undergraduate at the Institute of American Indian Arts, sold for $33,000 against an estimate of $15,000 to $20,000, a new world auction record for the artist.
Love Stream, an early Abstract Expressionist painting completed in 1962 by Loloma's friend and colleague Fritz Scholder, sold for $30,000, and a stunning and iconic triptych by Susan Hertel titled Dogs in the Snow sold for $42,000, flying past the previous world auction record for her work.
A private collection of John Nieto works also saw record prices. A rare Nieto stained glass piece, Archer, sold for $27,000 against an estimate of $4,000 to $6,000. The work, one of only five Nieto ever completed, was made in 1980. Other Nietos that soared over their auction estimate included Zuni Woman Making Pottery for $39,000 (estimate: $20,000-$30,000); Rabbit II for $8,400 (estimate $4,000-$6,000); San Antonio de Padua for $27,000 (estimate: $5,000-$7,000); and Madonna Navajo for $32,000 (estimate: $20,000-$30,000).
American Indian paintings from the late 20th century brought strong prices across the board. Velarde's Navajo Riders at Dusk sold for $30,000, almost five times her previous auction record. And a rare black and white landscape from Tony Abeyta brought $19,200, over three times its high estimate. At only 8 by 10 inches, the result was an auction record for price per square inch for Abeyta. Two classic Earl Biss paintings sold for $18,000 and $16,800, both well over their high estimates. An early Dan Namingha abstract, Reservation Storm, sold for $10,200, also well over the high estimate. David Bradley's Call of the Wild brought $13,200.
Christie's American Art Auction
November 18
Total: More than $28.9 million
Christie's American Art Auction featured Modern Icons: Property from an Important Private Collection in New York. Eighty-five percent of the works were sold by lot. The sale was led by Arthur Dove's Sunset, which established a world auction record for the artist at more than $7.8 million, selling above the estimate of $2 to $3 million.
Dove's painting represents his exploration into the abstract techniques that characterize his revolutionary body of work. His examinations of pure abstraction in the early 20th century are recognized as American art's earliest forays into nonobjective painting, and throughout his ambitious career to follow, the artist continued to balance inspiration from the natural world with a boldly innovative spirit. As epitomized by his 1935 Sunset, Dove's abstracted visions of nature's rhythms importantly anticipated and influenced the post-war Abstract Expressionist movement to come.
Thomas Hart Benton's Keith Farm, Chilmark sold for more than $4.8 million, achieving the second-highest price for the artist. The painting represents the culmination of the great Regionalist master's craft and is emblematic of the everyday American subject matter he sought to champion. The work depicts the small Massachusetts island of Martha's Vineyard, which had a significant impact on Benton's defining style and was a spot the artist continuously returned to throughout his career. With Keith Farm, Chilmark, Benton's treatment of a representational subject matter, combined with boldly abstracted and undulating forms, achieves an obvious reverence for America, understood today as a hallmark of the artist's oeuvre.
Additional new world auction records were established for Paul Cadmus' Lloyd and Barbara Wescott, which sold for more than $2.4 million amid estimates of $3 to $5 million; Walt Kuhn's Chico in a Silk Hat, $1.5 million; George Copeland Ault's The Plough and the Moon, $687,500; Wolf Kahn's Atlantic Highlands, $212,500; and Ida Ten Eyck O'Keeffe's Roots, $13,750.
Sotheby's Modern Art Auction
December 13
Total: More than $1.9 million
Sotheby's Modern Art auction garnered nearly $2 million, with nearly 80 percent of lots sold. Those pieces that sold over their estimates include Edouard Vuillard's Villa at Saint-Jacut, a pastel on paper estimated between $60,000 and $80,000 that achieved $107,000. Andre Brasilier's Le Grand Ciel Rose, an oil on canvas board, was estimated to sell for between $30,000 and $50,000 and instead sold for $81,900. Moïse Kisling's Roses Rouges Dans un Vase, an oil on canvas, also went over the high estimate of $90,000, coming in at $94,500.
Gustav Klimt's pencil on paper Stehender Weiblicher Akt mit Langen Haaren und Ausgestreckten Armen sold within its expected range at $63,000, while Francoise Gilot's Aries — Woman, an oil on canvas, exceeded its $18,000 estimate and sold for $52,920.
Bonhams' California and Western Paintings and Sculpture
November 23
Total: More than $1 million
The 122 lots in Bonhams' California and Western Paintings and Sculpture auction featured landscape paintings that reflect major art history movements of the 19th and 20th centuries. Leading artists represented include Jessie Arms Botke, John Frost, Edgar Payne, Arthur Putnam, and William Wendt.
One of the highest-selling pieces was by Botke, celebrated for her ornate and stylized paintings of exotic birds, particularly peacocks and cockatoos; Decoration sold for $75,312, near the top end of its $80,000 estimate. The work is a bravura display of her inimitable style and ability to synthesize artistic influences from 19th-century British illustrations, Edo-period Japanese folding screens, and 17th-century Flemish still-life painters.
Joseph Kleitsch came in as one of the leading sales with his Artist's Paradise (Laguna Beach), which sold for $100,312. In his oil painting, Kleitsch mixes his paints with evident fervor to give the surface movement. The work was painted en plein air and executed with confidence and emotion. His love for his beloved Laguna Beach speaks to his idea of paradise and reflects the landscape today.
Another big success was the sale of Charles Reiffel's oil on canvas Edge of the Lake, which sold for $56,562. Reiffel uses a painterly style unique to the California Plein Air School, combining impressionism with expressionism. During his career, he was considered "too modern" for many of his critics. Often broke as a young man, Reiffel worked as a lithographer while he pursued his vision as a painter. Many of the paintings he completed for the Works Progress Administration are now in the Smithsonian American Art Museum.
Bonhams' Native American Art Auction
November 22
Total: More than $500,000
Bonhams' Native American Art auction offered a wide selection of historical works by Native artists, including Navajo weavings, matriarch Pueblo pottery, a selection of Hopi katsina dolls, an impressive painted muslin piece depicting the Battle of the Little Bighorn, and a variety of jewelry, including pieces by famed Zuni fetish carver Leekya Deyuse.
A selection of modern and contemporary prints by Fritz Scholder and T.C. Cannon from an Oregon collection opened the sale, and the auction closed with an important, impressively curated collection of Southern California baskets.
One of the highest-priced pieces, A Plains Painted Muslin, came from an unknown artist of probably Northern Tsitsistas/Suhtai (Cheyenne) depicts two distinct battle scenes between Cheyene and Lakota warriors and the U.S. Army. One is set against a topographical background and is likely the Battle of Greasy Grass, also known as the Battle of the Little Bighorn. The other battle is possibly an incident from the Battle Where the Girl Saved Her Brother, or the Battle of the Rosebud, fought in 1876. Thick horse tracks link the scenes across the tableau. The piece sold for $105,312.
A Navajo Late Classic Second Phase Chief Blanket sold for $31,562, and Cannon's 1977 Memorial Woodblock Suite, a series of five portraits, edition 45 of 200, sold for $24,062. Cannon often combines traditional Native American iconography with popular culture symbols of the West. In 2018, his retrospective at the Peabody Essex Museum in Salem, Massachusetts, entitled T. C. Cannon: At the Edge of America, revived interest in the artist, who died in 1978. The show traveled to Tulsa's Gilcrease Museum and culminated in 2019 at the Smithsonian Museum of the American Indian in New York City.