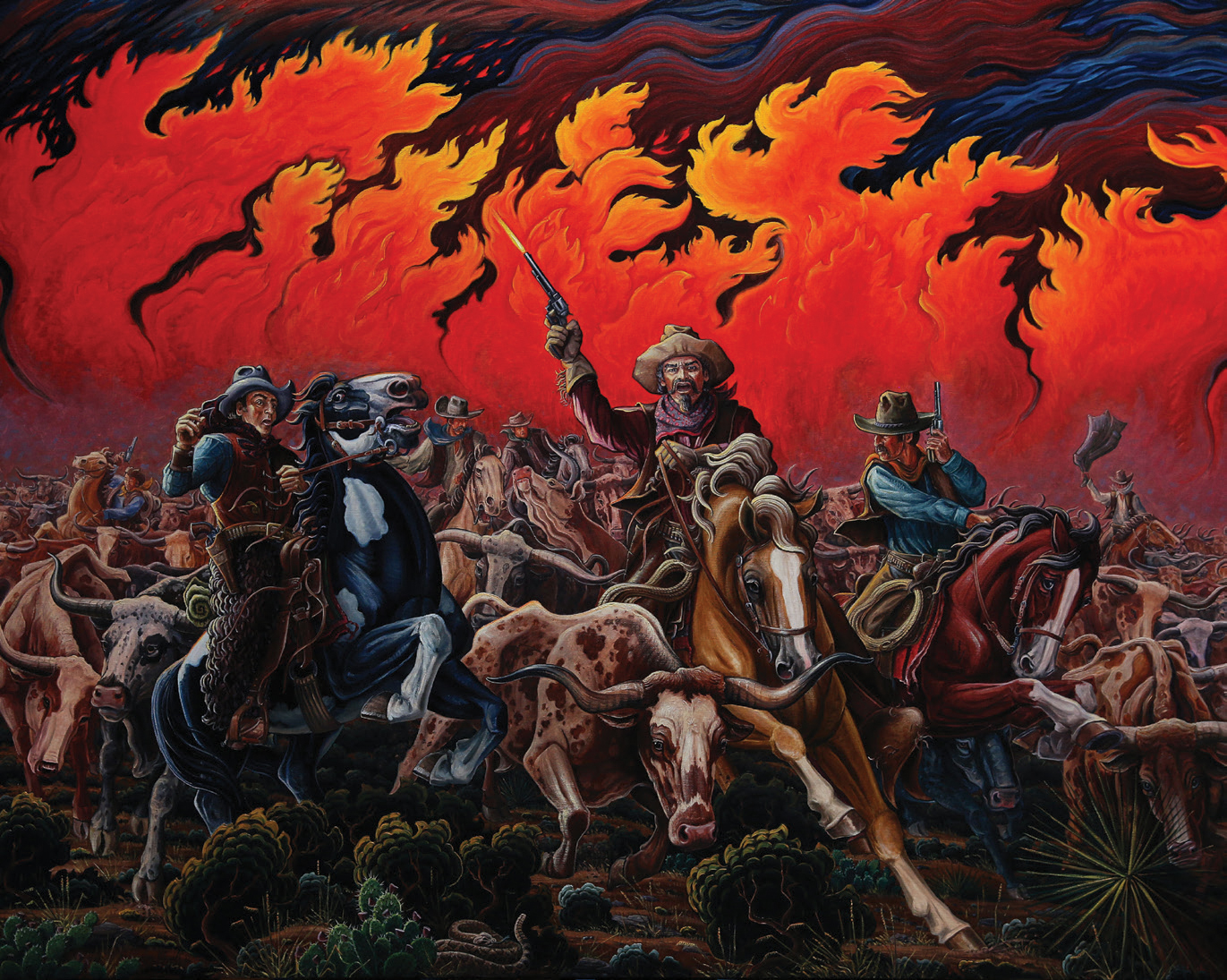 Kim Wiggins, Fleeing Hell's Fury- Range Fire | Oil on Linen | 48 x 60 inches | Sold: $45,000
11 Mar

Auction Block: Western Expansion

The market for Western works held steady in the early months of 2020, which is always a welcome sign for auction officials and gallerists. Yet, the nugget of news contained within a variety of winter sales was variety itself.

Sotheby's saw a high in the sale of missives and manuscripts tied to U.S. history. In one of its five Americana Week auctions, a letter by John Hancock announcing the adoption of the Declaration of Independence sold for more than $1 million with fees.

The Masters, the Autry Museum of the American West's signature sale, gave sway to singular contemporary Western works, with top sellers including a work by Mark Maggiori that featured nature — as a force, if not a figure — contending with mere mortals and animals. Heaven's Gate went for a hefty $65,000.

Portraits set the stage at Settlers West Galleries' American Miniatures Show & Sale in February, with artists ranging from Martin Grelle to Scott Powers proving that size hardly registers when it comes to packing a painting with feeling and drama, all within the confines of the human face.

The Coors Western Art Exhibit & Sale provided yet another aspect of Western art, with William Matthews' First Response earning Best of Show. The painting, which depicts a rancher battling a range fire, is notable for its workmanship, but also for its subject matter in a sign of the growing challenges facing the landscape and inhabitants of the changing Western U.S.

Guns and cowboy paraphernalia led Brian Lebel's Old West Auction in Mesa, Arizona, where sales suggested the market is still strong for traditional Western emblems.
Masters Art Exhibition and Sale
February 8 – March 22
Total: Nearly $1 million opening week
Kyle Polzin, a Texas artist whose flair for transforming traditional Western subjects approaches wizardry, gained the Best of Show Award in early February at the Masters, the yearly show and sale tied to the Autry Museum of the American West in Los Angeles.
Buckin' at the County Fair, a large oil that's made more vivid by its spare allusion to a time when rodeos were the main form of rural entertainment, was given the award for exceptional artistic merit. And although there's no cap on matters of merit, the painting sold for $40,000.
Contemporary Navajo painter Tony Abeyta was honored with the James R. Parks Trustees' Purchase Award for his oil New Formations. The painting elegantly demonstrates what's described in his biographical text for the Masters as "the emotional experience one finds in the New Mexico landscape." Here, rays of light shoot from the sky as bolts of blue and the stylized arc of birds in flight appear as a fixed part of the horizon. The 50-by-60-inch work was purchased for $28,000 and is now part of the Autry's permanent collection.
The Patrons' Choice Award went to Mark Maggiori for Heaven's Gate, which sold for $65,000. The painting provides yet more proof that it's impossible to pigeonhole Western artists. Backlit clouds of portentousness loom over a mountain landscape where, in the rolling sagelands below, dozens of spirited horses are attended by just a few dusty riders. In its mastery of light and landscape, the piece evokes Turner and, in its startling use of color, Titian. Not long ago, Maggiori was a painter to watch; now he is an artist to emulate.
Kim Wiggins garnered the Stories of the West Award, aimed at the best work of narrative art, for Fleeing Hell's Fury – Range Fire, which went for $45,000. The oil on linen shows the illustrator's love of graphic images, and the look of helpless terror in the eyes of horses, men, and cattle alike is visceral.
Proceeds from the Masters, which this year featured new works by 64 top contemporary Western artists, benefit the museum's educational programs, exhibits, and more than 100 yearly public events.
American Miniatures Show & Sale at Settlers West Galleries
February 8, 2020
Total: $300,000+
The power of the portrait was in high relief February 8 at Settlers West Galleries in Tucson, Arizona, during the opening of its signature American Miniatures Show & Sale. Among the 145 works that sold that day and through mid-February, many of the standouts were portraits. In the tradition of Hans Holbein, one of the finest historical portraitists, Western artists such as Martin Grelle depicted more than a face and more than a figure; the spirit of the sitter comes to the fore in Grelle's Strength and Honor. The 11-by-14-inch acrylic, depicting a Native American, was a top seller — and a bargain — at $10,500.
Seems Like Only Yesterday, an imposing portrait of a Native American ornamented with a nose ring, heavy silverwork earring, and a medallion, demonstrates Robert Griffing's ability to infuse a flat surface with drama and dimension. The 12-by-9-inch oil went for $6,800.
That was one of several paintings priced higher than the majority — which fell in the $1,500 to $3,000 range — and were snapped up by an enthusiastic crowd that included many new faces, says gallery co-owner Stuart Johnson.
Among the other interesting sales was R.S. Riddick's Bowman's Alliance, which realized $9,500 and is a beautiful composition that shows a Native American youth with a bow, flanked by a trio of huskies whose eyes are as mesmerizing as the hunter's. That description hardly does justice to a gem of a work that incorporates violet, jade green, and ultramarine in a painterly style that evokes Impressionism.
Lightening the mood was Tim Cox's A Soft Touch, which went for $6,900 and charmed observers with a bright backdrop of yellowing grasses and a calf in the foreground with a contemporary cowgirl admirer.
Arguably the deal of the day was Scott Tallman Powers' La Florista, a portrait of a weathered but sharp-eyed woman wearing a traditional shawl and bearing the imprint of the desert sun on her face. The tiny oil sold for $1,250.
Brian Lebel's Old West Auction
January 24–25, 2020
Total: $1.3 million+
Firearms and objects tied to movie star cowboys led sales at Brian Lebel's annual Mesa, Arizona-based auction in January, with a Henry repeating rifle selling for $70,800. The event drew a crowd of more than 800 for its 30th anniversary.
A floor bidder won the battle for the rifle during an auction that saw a 94 percent sell-through rate. Bidding for an engraved Colt Army revolver, dating to 1860, went for $47,200, more than twice its high pre-sale estimate, to become the second top-selling item. A flintlock rifle with a Northwest Coast Indian carved stock and powder horn realized $38,500 to take the third-highest slot.
It made auction official's day to see a high flyer in the celluloid cowboy category, notably a hat worn by Clint Eastwood in the film "Pale Rider." The hat sold for $7,865 after intense bidding by phone, on the floor, and via the internet. The ultimate price cast a long shadow on the hat's pre-sale estimates, which ranged from $500 to $800.
A James Reynolds oil, with loose brushwork depicting two cowboys herding cattle, went for $16,520, and, rounding up heavy earners, a Samuel Anderson Robb cigar store figurine brought $13,310 during an event that welcomed first-time bidders.
Owner Brian Lebel believes that the sale confirmed the steady appeal of Western works. "I'm very happy that the business is still so strong," he said in a statement.
Sotheby's Americana Week Auctions
January 16–27, 2020
Total: $20.1 million
A letter signed by John Hancock signaling the adoption of the Declaration of Independence led the Fine Manuscript and Printed Americana Auction on January 27 in New York City, one of five events that make up the international auction house's Americana Week.
The manuscript sale brought more than $3.2 million, with the Hancock missive alone going for $1.04 million with fees. The Independence letter garnered far more than predictions, which ranged between $600,000 and $800,000. It was the beginning of several transactions that saw historic documents fetch princely prices compared to their pre-sale estimates.
Writing by men who need no introduction — including Abraham Lincoln and George Washington — sold high, indicating the strength of the market. An autographed letter by the 16th U.S. president, addressing Joshua Reed Giddings, realized $175,000, compared to a high estimate of $120,000. And a fragment of Washington's undelivered first inaugural address brought $137,500, compared to pre-sale estimates of $20,000 to $30,000.
Works by John James Audubon, or plates after his style, constituted four of the 10 best-selling items in Sotheby's auction of Important Americana on January 26, with the sale bringing a total of $4.1 million.
Audubon's plate, American White Pelican, went for $137,500, compared to expectations ranging from $90,000 to $120,000. And another plate by the American painter celebrated for his detailed depiction of wildlife — Great Blue Heron — sold for $118,000, very near its high, pre-sale estimate. The two plates after Audubon, Hooping Crane and Snowy Owl No. 25, each brought $62,500 with fees to anchor the sale's top lots.
The auction's happy surprise was an 1830 oil by William Matthew Prior that provided, for the times, a rare formal image of an African American. Bust Portrait of a Young Black Gentleman far exceeded price expectations, ultimately going to an anonymous bidder for $112,500. That compares to pre-sale estimates of $8,000 to $12,000.
A New Dimension of Tradition: Important American Folk Art, a sale on January 25 that brought more than $2.1 million, saw a molded copper and zinc fire pumper and double-horse weathervane, circa 1870 and credited to Cushing & White, sell for $437,500 or nearly three times its high estimate.
Two additional auctions — Mario Buatta, Prince of Interiors and Triumphant Grace: Important Americana from the Collection of Barbara and Arun Singh — brought nearly $7.6 million and $3 million, respectively.
Coors Western Art Exhibit & Sale
January 7, 2020
Total: $860,000+
It's a rare but notable occasion when the power of an artist's depiction of action overrides its medium to provide direct and palpable contact with the viewer. Yet Colorado artist William Matthews, famed for his images of working cowboys, perfectly achieved action and drama in First Response, a watercolor of a man garbed in Western gear and engaged in single-handed combat with a wildfire that appears to be raging out of control.
The $12,500 painting, strangely delicate given the subject matter, was awarded Best of Show at the Coors Western Art Exhibit & Sale, a highlight of the annual National Western Stock Show in Denver, meaning the painting will be added to their permanent collection.
Colorado artist Ron Hicks appears to effortlessly achieve what all great portraitists seek: to imbue each image with the essence of the person being depicted. So it's perhaps a given that Hicks gained the Artists' Choice Award for his body of works, including Shadow of Innocence, a small-scale oil on board which sold for $4,000, and Veiled, which finds its subject staring straight out at viewers against a filmy backdrop, with an overall effect that achieves a kind of magical realism.
In Joseph McGurl's landscapes, there's an echo of the luminous glow found in Hudson River School works. His layered, shining landscape, The Golden West, was selected for the People's Choice Award at the Coors event, where it sold for $11,500. The oil on panel shows a rider on horseback balanced on a rocky outcropping and looking toward water, grass, and sky — all shimmering with gold. It is the high art of an artist to instill awe in the observer, and McGurl, in this work, scales that peak.