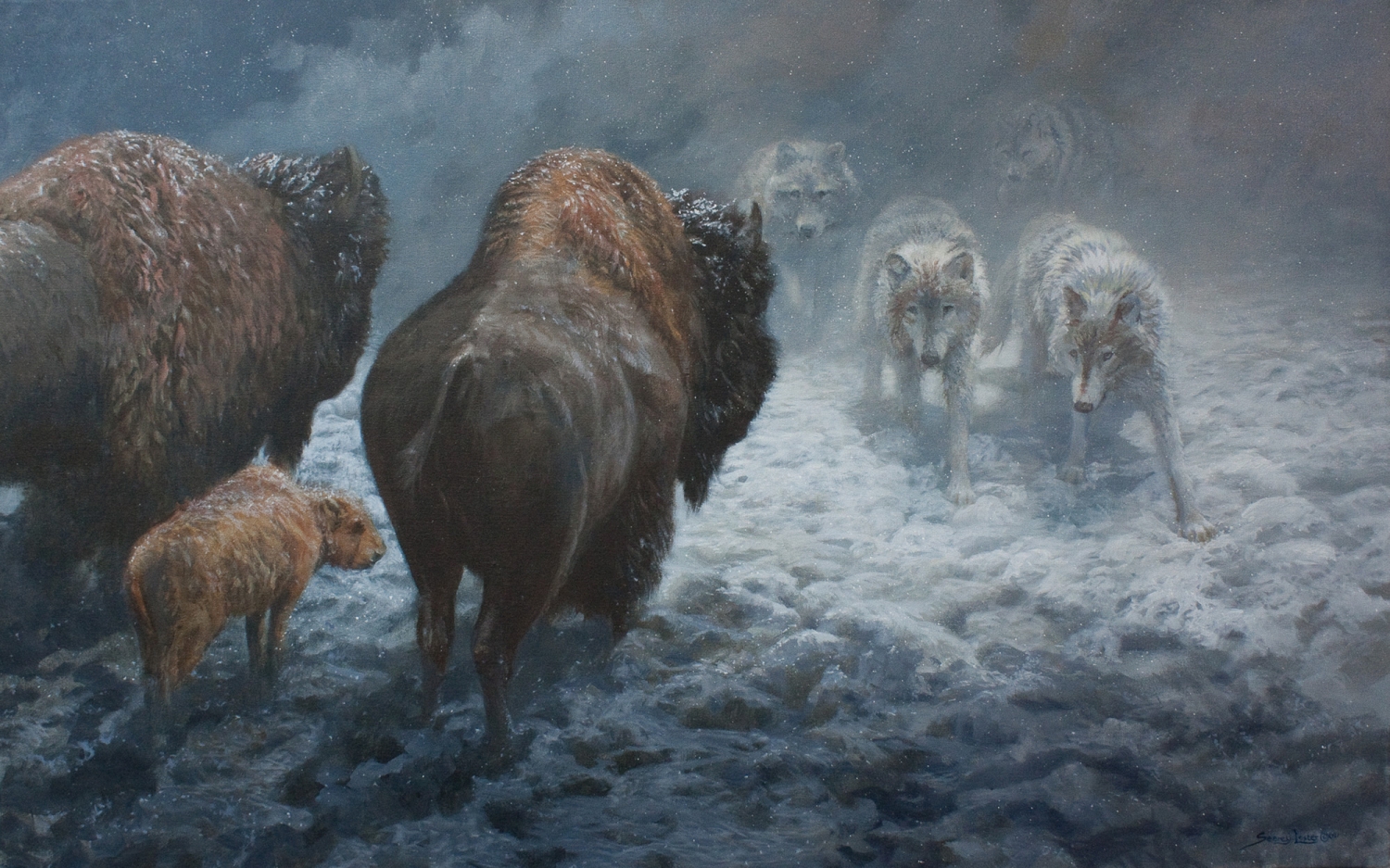 Sir John Seerey-Lester, "The Stage is Set" | Oil on Belgian Linen | 56 x 38 inches | 2017 | Western Visions People's Choice Award
17 Dec

Auction Block: Western Outlook

In a year that brought social, economic and environmental changes on a grand scale, the range of prices for Western and wildlife art should prompt barely a murmur. Neither the dips nor the arcs were dizzying — a reassuring sign — but the closing months of 2017 did see several fine works by leading Western landscape painters fail to achieve their financial due.

An example was a smaller-sized Albert Bierstadt, Mountain Landscape, which did not immediately win the hearts, or at least the desired bids, of collectors during Sotheby's October 6 sale of American art. Yet the same auction saw works by Thomas Hill, chiefly revered for his renditions of the Yosemite Valley in Northern California, fetch respectable and even handsome sums.

Bright spots in shows and sales tied to leading Western and wildlife art museums at the tail end of summer and in early fall 2017 marked upticks in revenues. This included the Buffalo Bill Art Show & Sale at the Buffalo Bill Center of the West, Western Visions Show & Sale by the National Museum of Wildlife Art, and Quest for the West, the annual fundraiser of the Eiteljorg Museum of American Indians and Western Art.

In yet another indication that premier works by prime artists can command elevated amounts, and in a specific salute to the late Bob Kuhn, the Jackson Hole Art Auction saw the wildlife art master's Closing the Distance streak to four times its low-end, pre-sale estimate.
---
The Best of the Best | October 7 – December 31
---
The Best of the Best Retrospective Exhibit and Sale by the Woolaroc Museum and Wildlife Preserve in Bartlesville, Oklahoma, spent weeks celebrating the genius of eight Western art talents, notably Bill Anton, George Carlson, Tim Cherry, Len Chmiel, Steve Kestrel, T. Allen Lawson, Dean Mitchell and Andrew Peters.
Woolaroc, established in 1925 in Oklahoma's Osage Hills by oilman Frank Phillips, is a testimony to one man's vision of the West. The 3,700-acre ranch, home to buffalo, longhorn cattle and other creatures, is only matched in excellence by a museum showcasing stellar examples of Western art and artifacts, Native American items and an extensive Colt firearms collection.
A crowd of more than 350 gathered for the event's Saturday night sale on October 7, with the featured exhibition representing 20 retrospective as well as sale pieces per painter or sculptor.
Top sellers included an oil painting by sculptor Carlson, with Beaver Cuttings going for $75,000; a graphite on paper rendering by Lawson entitled Interior Pine, which sold for $35,000; and Anton's nocturne, A Range Relic, which went for $27,000.
---
Sotheby's American Art | October 6, 2017
---
Paintings depicting celebrated mountain West landscapes made a modest showing even as abstract expressionism and neo-surrealist works showed renewed appeal for buyers during Sotheby's sale of American art on October 6 in New York City.
Paul Pletka's color-saturated and dynamic Grass Dance of the Omaha Society, realized $32,000, more than twice its low estimate, in a sign of the increasing favor of neo-surrealism as a sensibility well-suited to explore the peoples and the places of the American Southwest.
The modernist ethos overlaid by abstract expressionism rose to pure poetry in the nature paintings by German-born American artist Wolf Kahn, whose works, Magenta Cloud, Fall in the Valley and Headland made a strong showing at the Sotheby's sale in early October.
The three oils went for amounts far above expectations, with both Fall and Headland fetching more than two times their upper, pre-sale estimates ($12,000 compared to $31,250 and $5,000 compared to $11,250, respectively). Magenta Cloud sold for $75,000, compared with estimates ranging between $35,000 and $45,000.
Traditional landscapes by well-known Western painters did not fare as well, although several works by Thomas Hill, best known for capturing the Sierra Nevadas and the lands in and around Yosemite National Park in particular, realized respectable sums, including Fishing in Yosemite Valley, which went for $18,750 or slightly more than its top, pre-sale estimate.
---
Cowboy Crossings | October 5 – 7, 2017
---
The international appeal of the American cowboy, frequently depicted as a hatted figure mounted on a horse amid an otherwise solitary trek across broad expanses, showed no signs of abating at Cowboy Crossings, the annual Western art sale and exhibit by the National Cowboy & Western Heritage Museum in Oklahoma City, Oklahoma.
The opening weekend in early October saw 150 pieces of art produced by the Cowboy Artists of America (CAA)  — marking that group's 52nd annual sale — and the Traditional Cowboy Arts Association (TCAA), which celebrated its 19th such sale and exhibition. Gross sales during the long weekend exceeded $986,000, officials said, with a portion of that amount going to benefit the museum and its programs.
CAA member and acclaimed Western artist Martin Grelle led sales with the painting Expectations, which was awarded the event's silver medal in oil painting, selling for $54,000. In the craftsman category, a sterling silver shot glass set and tray created by TCAA artist Scott Hardy of Alberta, Canada, sold for a hefty $31,000.
"We are pleased by the tremendous support for Western art from across the country," Gary Moore, the museum's CFO, interim president and CEO, said in a statement. He added that the diversity of items — from saddles and bits to paintings and sculpture — served as common ground for collectors with a variety of backgrounds and tastes.
Grant Redden of Evanston, Wyoming, received top kudos in the CAA category with his painting, Feeding the Flock, gaining both the gold medal for oil painting and the Anne Marion Best of Show Award. The bucolic piece depicts an aproned matron spilling a bucket of grain for gathering sheep.
The honors represent a high point in the career of the mostly self-taught artist who grew up on his family's sheep and cattle ranch in southwest Wyoming. In 2013, Redden received the CAA's gold medal for an oil entitled Loading the Sled.
---
Buffalo Bill Art Show and Sale | September 22 – 23, 2017
---
The Buffalo Bill Art Show and Sale, the signal event brought by the Cody County Chamber of Commerce and the Buffalo Bill Center of the West in Cody, Wyoming, generated more than $1 million in art sales from a nighttime live auction and a daytime quick draw. For the second time in as many years, this marked an increase in sales generated by the pair of events.
Top seller among original artworks featured was There Are Those Who Won't Hoe Corn, an oil by show veteran Michael Ome Untiedt, which went for $30,000. The piece, illustrating the grit and verve of a cowgirl who chose wrangling over a more traditional female role, had hung in a center gallery for nearly a month before sparking intense interest the night of its sale on September 22, officials said.
Nancy Dunlop Cawdrey capped the quick draw on September 23 with her dye-on-silk work engagingly termed Good Humor Bear.
Just 106 artists made the cut for the signature events tied to the chamber and the center amid Cody's annual art bash known as the Rendezvous Royale, which showcases a patrons' ball and a functional art exhibit called By Western Hands.
The work of three artists was highlighted even before the September art event got underway. The Spirit of the Buffalo Bill Show and Sale, which carries a monetary award of $20,000, went to sculptor Walter Matia for a bronze bas-relief of a bison. The 3D award of $10,000 was given to Oreland Joe, Sr., the first Native American artist to win a top prize at the Buffalo Bill Show, for his intricately carved and decorated bust of an American Indian. And watercolorist Dean Mitchell captured the event's 2D award, which also bequeaths $10,000, for Zion's Shadows, a spare, high-desert landscape that is said to ably respond to the eternal question, "What is the West?"
More than 800 people attended events which serve as a chief economic engine during Cody's so-called shoulder season, the period when summer and associated activities are on the wane and winter recreation has yet to rev up.
The show and sale has tremendous value to the chamber, the Buffalo Bill Center of the West and the community, director Kathy Thompson said in a statement. The center receives 60 percent of net proceeds while the chamber retains 40 percent, she said. Artist compensation ranges from 50 percent to 70 percent of the sale price, depending on the event.
In a statement, Tina Hoebelheinrich, the chamber's executive director, expressed gratitude for the volunteers and patrons who made the event possible.
"The show takes a tremendous amount of manpower," she said. "We could not be more grateful for the team at the Chamber of Commerce who put aside their other duties and responsibilities to devote 110 percent to the show and sale, in addition to the value of the dedicated volunteers who work tirelessly to ensure its success."
---
Jackson Hole Art Auction | September 15 – 16, 2017
---
The late John Geraghty, stalwart defender of aspiring artists, enduring supporter of the Autry National Center for the American West and a co-founder of the National Museum of Wildlife Art, believed painter Logan Maxwell Hagege possessed sufficient talent and drive to achieve greatness.
Geraghty offered that insight some years back and Hagege has never given cause to doubt its prophetic accuracy. In fact, the Geraghty protégé, known for his images of the American Southwest, marked a milestone in September when his work, Desert Meeting, realized a world record price of $58,500. This pushed Hagege toward the ranks of premier artists who can expect their works to fetch tidy sums at one of the West's premier sales.
The two-session auction, which capped the array of offerings and events that make up Jackson, Wyoming's Fall Arts Festival, brought $5 million in sales, a more modest amount than has been generated in recent years, but still solid.
In proof of how strongly the art market is shaped by the convergence of collector and objects of desire, a piece by wildlife art giant Bob Kuhn sold for $409,500, or four times its low-end, pre-sale estimate and a record for Kuhn's work in the auction's 10-plus-year history. The work, Closing the Distance, depicts two lions in the powerful yet poetic fashion that made Kuhn a master of the genre. The larger size, horizontal acrylic on Masonite is a strong reminder of Kuhn's rich and lasting legacy.
Auction officials noted energetic bidding on the floor and remotely for a sale that confirmed the standing and genius of the late Kuhn but which also saw some softening in prices for pieces by an equally esteemed wildlife artist and a celebrated painter of Western landscapes.
A smaller sized oil by Carl Rungius — Moose in a Landscape — realized $93,600, just under its low-range estimate of $100,000, even as the auction's cover lot, Edgar Payne's Navajo Scouting Party, sold for $304,200, a veritable steal compared with pre-sale expectations.
Yet Arnold Friberg's Uncertain Odds brought $93,600, or tens of thousands more than its low estimate, and W.H.D. Koerner's New Horizons went for $175,000, far exceeding pre-sale expectations that ranged from $75,000 to $125,000.
There's no time like the present to issue an aside about that illustrator celebrated for his depictions of the U.S. West. The 2017 Jackson Hole Art Auction featured a special section on Koerner and can boast achieving the highest prices for his works in two decades.
---
Western Visions Show & Sale | September 14 – 15, 2017
---
There may be no better way to celebrate a 30th anniversary than to throw a party for your 1,200 closest friends and relatives. And that's exactly what the National Museum of Wildlife Art did in September with activities tied to its signature Western Visions Show & Sale.
A cornerstone of the Jackson Hole Fall Arts Festival, Western Visions in 2017 capped a year of special events and exhibits designed to highlight the museum's three decades of support and celebration of wildlife art. To mark the occasion, the museum showcased the work of 114 participating artists, 10 of whom were in the original Western Visions Show & Sale in 1988, including Clyde Aspevig, Kenneth Bunn, Ken Carlson and Tucker Smith.
It is a sign of the museum's perspicacity that it divined the talent of those and other artists relatively early in their careers. Amy Goicoechea, the museum's director of programs and events, said it was especially fulfilling this year to look out in the crowd and see several of the original artists who made a special effort — including international travel by renowned wildlife artist Carl Brenders and his wife — to attend the show's 2017 version. In that sense, it was a reunion.
"There seems to be a special affinity for the museum among artists and others, and a number of them articulated that by saying it felt like coming home," said Goicoechea.
And what a homecoming. The show and sale brought more than $650,000, up from last year, even as distinguished artists such as Sir John Seerey-Lester, Kathryn Mapes Turner, Edward Fraughton and Bill Sawczuk received top honors.
Turner's Sky, an ethereal oil depicting a sandhill crane, won the Trustee's Purchase Award while Seerey-Lester's dramatic face-off between bison and wolves — The Stage is Set — garnered the most votes to gain the People's Choice Award.
Fraughton's artistic bronze, American Monarch, received the Red Smith Award while the merit of Sawczuk's piece, A Fine Specimen, was rewarded with the Bob Kuhn Sketch Award.
Spirit, creativity and vitality are not the only qualities that distinguish Western Visions. "What is unique about us and our show is it is completely dedicated to contemporary, living artists. We are featuring and selling pieces by wildlife artists who are making those works today," Goicoechea said.
---
Quest for the West | September 8 – 9, 2017
---
Quest for the West, the show and sale put on by the Eiteljorg Museum of American Indians and Western Art in Indianapolis, Indiana, generated more than $1 million during its opening weekend, September 8 and 9, including an inaugural miniature art sale that nearly sold out.
The chief fundraiser for the museum, Quest for the West in 2017 marked a modest uptick in the amount generated at an annual gathering that pairs dozens of gifted Western artists with hundreds of art appreciators and buyers.
Leading a group of seven artists honored at a gala the evening of Saturday, September 9 was John Moyers of Santa Fe, New Mexico, whose oil, The Way to Sacred Water, ultimately brought $32,000 and gained the Harrison Eiteljorg Purchase Award, meaning it is to be added to the museum's collection.
The painting lyrically depicts Native American riders muffled against the coming cold, their horses expertly picking their way through stands of aspen nearly bare of fall-turned, copper-gold leaves.
Honored with the Artist of Distinction Award was Howard Post. The Queen Creek, Arizona, artist wowed the crowd and judges with Double Yellow, a Southwest landscape that sold for $19,500.
Tim Cherry's stylized bronze of a pelican, Big Gulp, received the Cyrus Dallin Award for Best Sculpture. The piece shows the Branson, Missouri, artist's penchant for clean lines and spare shapes that encase the spirit of the wildlife depicted.
"I push the limits of anatomical accuracies in order to emphasize a stronger design, finding myself interpreting representational shapes and pushing them to boundaries of near abstraction," Cherry said in a statement that accompanies the image of Big Gulp, where it is sold at the Columbine Gallery in Loveland, Colorado.
Artworks purchased by lottery during the gala included Jay Moore's Wild Plum Blossoms, which garnered the Henry Farny Award for Best Painting. The piece freezes in time the delicate beauty of pink blossoms juxtaposed with bare-limbed trees in a form of visual haiku. The oil on linen sold for $15,000.
John Vanausdall, president and CEO of the Eiteljorg Museum, said Quest for the West ultimately supports Western artists by pairing them with collectors who make it possible for them to pursue their creative visions. He added in a statement, "We are inspired by the Quest artworks that beautifully convey the complexity of the American West, past and present."
---
Western Design Conference | September 7 – 10, 2017
---
The Western Design Conference (WDC), a four-day affair in Jackson Hole, Wyoming, showcases the best in American West-inspired wear and design flair. This September marked its 25th anniversary as crowds that swelled to 4,000 eyed the work of more than 130 artists from across the U.S.
The 2017 version of the multimillion-dollar event brought top honors to 21 artists, designers and craftspeople for everything from one-of-a-kind furnishings to functional art pieces and fashion wear, according to organizers.
Brian Boggs Chairmakers of Asheville, North Carolina, garnered the Best of Show award for Slab in the Dark, a sleek, wood slab dining table that was described as a piece that captured the beauty of a tree that gave the table substance but not form. "We are honored to have been chosen among so many masters showing spectacular work," Boggs said in a statement.
A leather-framed, full-length mirror by Warrior's Work and Ben West Gallery, of Hill City, South Dakota, received the Best Artist–Accents award, while the Best Artist–Woodworking went to fine art furniture company Mosart of New Market, Maryland, for a curved coffee table fashioned from walnut.
Other award winners — with the conference dispensing a total of $19,100 in cash prizes — included Helga's Design of Jackson, which was honored with the People's Choice Award for handcrafted leather apparel and accessories. Bear Paw Designs, based in Western Montana's Bitterroot Valley, received the Western Spirit Award for a handsomely rustic hutch that would be at home in anything from a turn-of-the-century cabin to today's Western show home.
Allison Merritt, the event's executive director, said the 2017 show brought particularly fresh work from all quarters, and she termed many of the offerings "edgy" in an approach that stirs excitement. She added that the show directly benefits craftspeople, artisans and designers.
"During the celebration of the 25th anniversary, patrons got to personally know artists and shop directly with them, a unique trait found here annually as the WDC takes no commission from sales," she said in a statement.