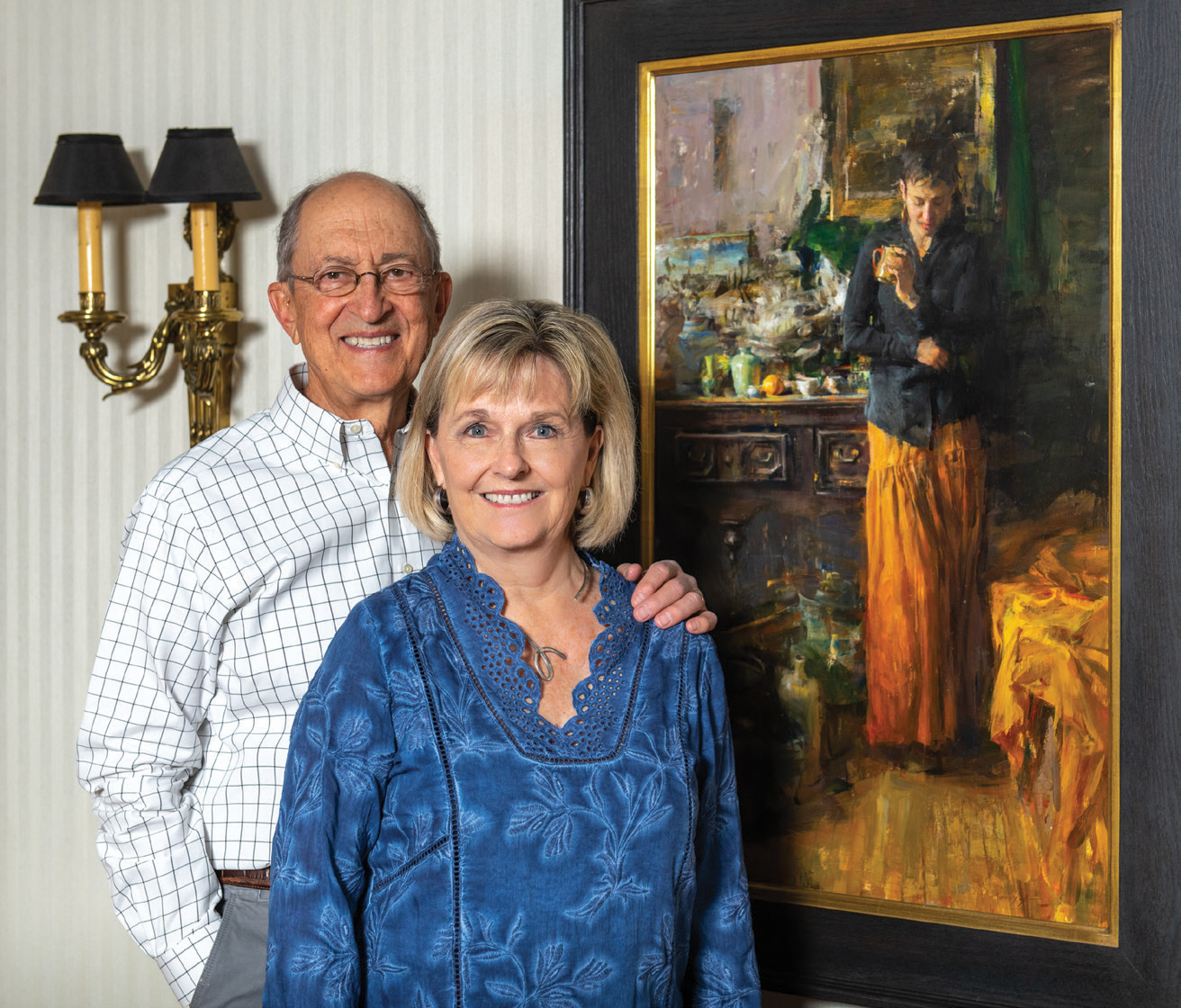 11 Jan

Collector's Eye: A Realized Dream

Bartlesville, Oklahoma, with a population of around 37,000, is a city of surprises. In a rural area, where buffalo roam in the tall prairie grasslands, there's also a ballet company, a symphony, and a world-class Mozart festival. Frank Lloyd Wright built his only high-rise, the Price Tower, here instead of New York City.

Dean and Kathy Zervas have lived in Bartlesville all of their married life, and it's where they raised their three children. They speak of their love for the verdant rolling hills around them, but most of all, they talk about their love of art that started early in their courtship.
At the time, Dean owned an etching by Taos, New Mexico, artist Gene Kloss. As a birthday gift, Kathy had it framed. For their wedding, he gifted her with a small Richard Schmid painting. Since that day, they haven't stopped collecting, and their contributions to the arts have expanded even further.

Kathy has served the Bartlesville Civic Ballet for 45 years, 19 of those as the development director. After retiring from his dental practice, Dean orchestrated a free dental clinic that included state-of-the-art equipment donated from manufacturers he'd worked with. Recently he retired from eight years of pro bono work for a total of 55 years in dentistry.

Together, the Zervases are a powerful team, helping to elevate the Woolaroc Museum and Wildlife Preserve — located 12 miles outside of Bartlesville in the heart of Osage County — to national prominence. It's no wonder the Bartlesville Community Foundation honored them with an award in May 2019 for outstanding service.

While attending numerous national art shows, the Zervases never gave a thought to the buildings they walked into for exhibits. However, they had always considered the Woolaroc Museum, a 3,700-acre ranch and former retreat for Frank Phillips of the Phillips Petroleum Company, a unique venue for a national art show. The museum, often referred to as "a hidden gem," was the best-kept secret in Oklahoma. "The whole purpose of creating a show was to showcase Woolaroc and its magnificent collections," Dean says.

Through a series of introductions, John Geraghty, founder of the annual Masters Art Exhibition and Sale at the Autry Museum of the American West in Los Angeles, became their ally, assisting them in putting together their first exhibit. He advised them that Woolaroc needed updating before they presented it to a national audience.

Bob Fraser, Woolaroc's CEO, worked with the Zervases through major renovations. And experts in museum lighting, staging, and security offered assistance. Kathy worked with Geraghty on color schemes and wall designs, resulting in beautifully rendered exhibition spaces.
In 2013, with Geraghty's help, the Zervases' dream became a reality. Woolaroc's first national art show — Lewis & Clark Corps of Discovery, featuring artists Charles Fritz and Richard Greeves — was a great success.

"John's mentoring us for the 2013 exhibition was instrumental in establishing our credibility and authenticity," Dean says.
The Zervases are excited about the fifth biennial The Woolaroc Retrospective Exhibit & Sale, scheduled for October 2021 and featuring artists Sherrie McGraw, William Acheff, Scott Christensen, Matt Smith, Paul Moore, Josh Elliott, Grant Redden, John Moyers, and Peregrine O'Gormley.

"Art has made our lives so much fuller. It is a powerful force and has greatly influenced the quality of our lives," Dean says, and Kathy agrees.

WA&A: What inspires you to collect art?
Kathy Zervas: We are fortunate that we share the same interests. We love beautiful things: furniture, Oriental rugs, performance art, sculpture, and paintings.
Dean Zervas: We still have passion, and hopefully it's more refined and educated, enabling us to appreciate the artists even more.

WA&A: What was the first work that you purchased, and what made you choose it?
D.Z.: When we got married, I was still a struggling dentist, but I wanted to buy Kathy a Richard Schmid painting for a wedding gift. Jody Kirberger, of Talisman Gallery, represented him exclusively. Jody arranged for me to buy a small, still-life painting of Schmid's by making timely payments. It's still in our living room; we love it now as much as we did then. It's our 'together piece.'

WA&A: Was there ever one that got away?
D.Z.: It was a Frank Tenney Johnson we saw in a gallery in nearby Tulsa. We looked at it again and again. It was not only a wonderful painting, but it was also the cover for a Zane Grey novel, and the gallery had the book. We admired it for so long but never figured out how to buy it.

WA&A: At what point did you realize you were collectors?
D.Z.: We were always making intentional trips for art. Coming home from such a trip, I realized one day that all the paintings on our walls were originals. That's when I began to think that we might be collectors.

WA&A: Do you balance your collection between paintings and sculptures?
K.Z.: As our walls have gotten fuller, we've added three-dimensional pieces by Walter Matia, Richard Greeves, and Glenna Goodacre, as well as other prominent sculptors.

WA&A: What is your favorite piece?
K.Z.: All of them. They are like part of the family; each one has its own story.
D.Z.: Usually, it's our latest acquisition, which is a beautifully rendered, large oil painting by Quang Ho.

WA&A: If you were having a dinner party, which living artists would you invite?
K.Z.: Len Chmiel, Danny Pinkham, and Walter Matia. They are the three most entertaining guys we know.

WA&A: If you could visit with any artist in history, who would it be?
D.Z.: If I had to single one out, it would be John Singer Sargent, the recognized master of his time.

WA&A: Where will your collection be in 100 years?
K.Z.: We are so fortunate that our children love our art. Some of our pieces already have their names on them. D.Z.: Our three children are collecting on their own in a modest way, and we have gifted some to them already. Eventually, it will all go to them and our grandchildren.