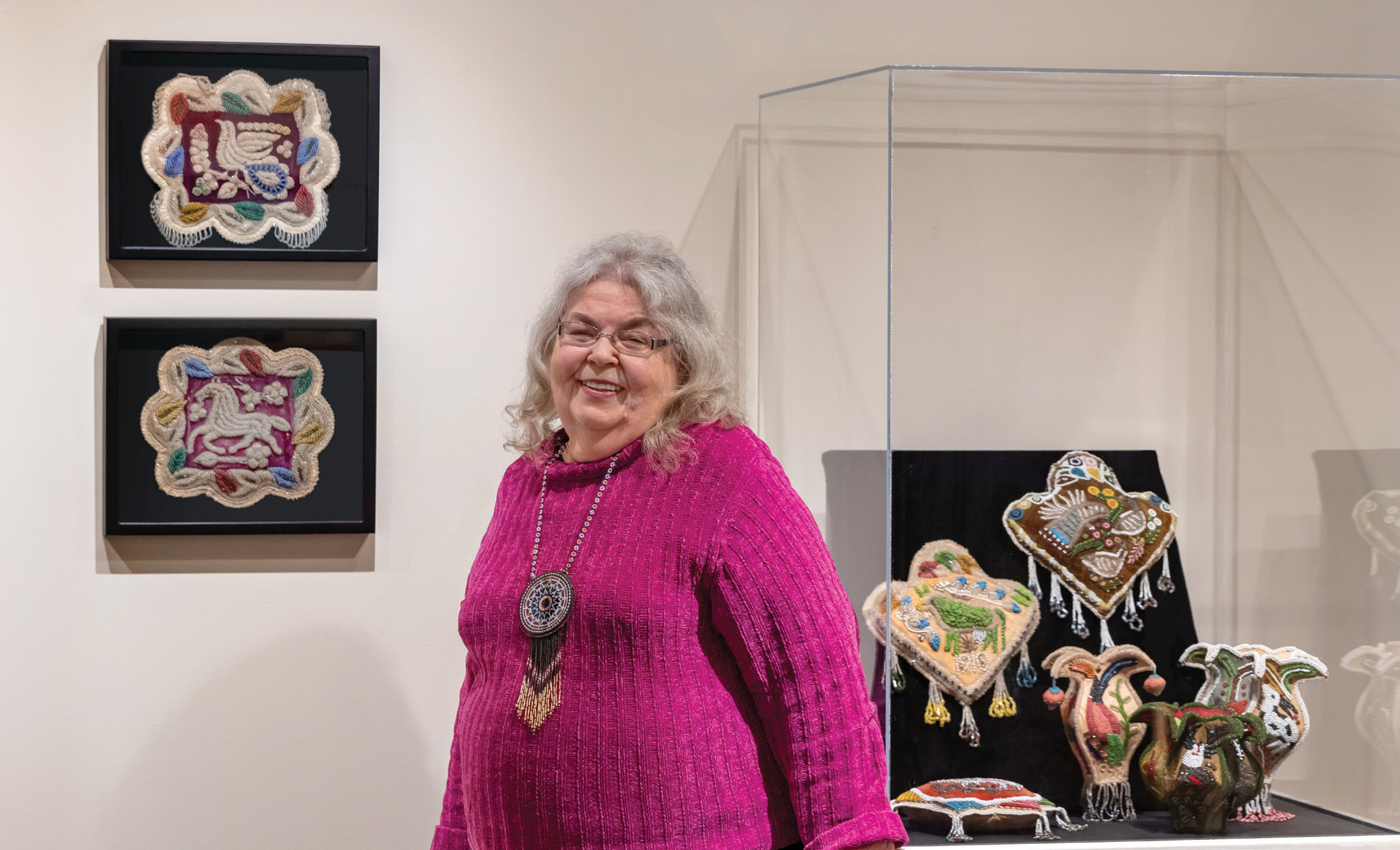 06 May

Collector's Eye: A Studied Passion

When it comes to Iroquois beadwork, Dolores Elliott of Johnson City, New York, is one of the world's top experts. With a collection of nearly 2,600 pieces at the last count, the raised designs made with tiny glass beads can be found on pincushions, picture frames, whiskbroom holders, match holders, wall pockets, purses, urns, mats, dolls, glasses holders, photo album covers, and more.

The majority of the pieces are covered with elaborate patterns sewn on colorful velvet fabrics, and both the fabrics and beads were imported from Venice and Eastern Europe beginning in the 17th century. (Christopher Columbus brought the first beads to trade in North America.) "Iroquois beadwork sparkles and glitters like magic. It dazzles the viewer's eyes with its artistry and creativity. It is beautiful, gaudy, fancy, simple, intricate, colorful, and amazing," says Elliott.

Beadwork was an artform practiced by members of the Iroquois Nation starting in the late 1700s, when a Seneca made the first beaded pincushions and purses. Beadwork increased dramatically with the opening of the Erie Canal in 1825, which provided easier access to Niagara Falls as a tourist destination and lucrative market. The Tuscarora, who lived nearby, became leaders in beadwork, followed by the Mohawks in the latter half of the 1800s, who sold to tourists in nearby Montreal, traveled with Wild West Shows, and ventured as far away as Alaska during the Gold Rush to sell their designs. The other three members of the Iroquois Confederacy — the Cayuga, Onondaga, and Oneida — began making beadwork a century later. "Today, members of all six of the Iroquois Nation, now called the Haudenosaunee, carry on the tradition of creating beautiful beadwork," says Elliott.

Elliott does not just spend her time collecting and archiving; about 40 years ago, she began to investigate beadwork as a cultural artform. With a master's in archaeology, she used archaeological methods, including typology and seriation, to study the cultural affinity and evolution of the various types of beaded art, and she is currently at work on her 14th book.

After founding the Otsiningo American Indian Program in the 1970s, Elliott directed 25 Otsiningo powwows, where she met beadworkers from across North America. In the 1990s, she adopted the existing Iroquois Studies Association (ISA) and started the first International Iroquois Beadwork Conference in 2009. Since then, the event has been held on several reservations and in museums across the U.S. and Canada for collectors, beadworkers, and scholars.

Within the last 20 years, Iroquois beadwork has been studied more carefully and exhibited in more museums. Parts of Elliott's collection have appeared at the Denver Art Museum, the Woolaroc Museum in Oklahoma, the Mashantucket Pequot Museum in Connecticut, and the Iroquois Indian Museum in New York. It's currently on display at the Rockwell Museum in Corning, New York, through June 21, 2020.

WA&A: What inspired you to start collecting beadwork?
Dolores Elliott: The beauty and design in the variety of beadwork created by the artistic Iroquois beadworkers amazed me 60 years ago, and my admiration continues today. I have amassed a file of over 50,000 beadwork photos, and there are no duplicates.

WA&A: What was the first work you purchased, and what made you choose it?
D.E.: In 1958, when I was in 4-H showing my cows at the New York State Fair, I bought a bright red heart-shaped pincushion for my mother at the Indian Village where traditional Iroquois arts were showcased. The pincushion had 'State Fair 1958' beaded on it. As with most pieces, it was made as a souvenir. Incidentally, some 20 years later, after my collection numbered several hundred pieces, a Tuscarora sewer visited me and identified that pincushion as one that she had made. We were both teenagers at the fair in 1958.

WA&A: What is your most beloved piece and why?
D.E.: Of my approximately 2,600 pieces of beadwork, there are at least 100 that are my favorites. One of them is a purse created by master beadworker Sam Thomas. He created a beaded Appaloosa on magenta velvet fabric because I love horses and magenta. Another is a mid-19th century, 18-by-18-inch amazing mat on purple velvet with tens of thousands of sparkling crystal beads woven into an elaborate design.

WA&A: When did you realize you were a collector?
D.E.: I've collected Native American art all my life and have many baskets, weavings, pottery, rugs, paintings, and carvings. But it was about 40 years ago that I became obsessed with Iroquois beadwork.

WA&A: If you could meet any artist in history, who would it be?
D.E.: I would love to discuss beadwork with the Seneca woman who made the first pieces in the late 1700s, but she probably spoke only the Seneca language.

WA&A: Where do you find most of your purchases?
D.E.: My two sources for fine beadwork are eBay, for older pieces, and from contemporary beadwork artists at powwows, festivals, and art shows. I've also been known to write to artists to see if they might have a particular piece from their grandmother hidden away in the attic that I need for research.

WA&A: Was there ever one that got away?
D.E.: There was a large, 2-foot diameter pincushion, sitting on a mat that was much larger, that was offered to me for several hundred dollars, and I passed it up. Pincushion and mat sets are very rare. I have a smaller one that dates back to the early 19th century.

WA&A: Where do you see your collection in 100 years?
D.E.: I have no idea where my collection will be in 100 years or even 20 years. It is probably 100 times the size of any current museum collection, so I doubt a museum is in its future.