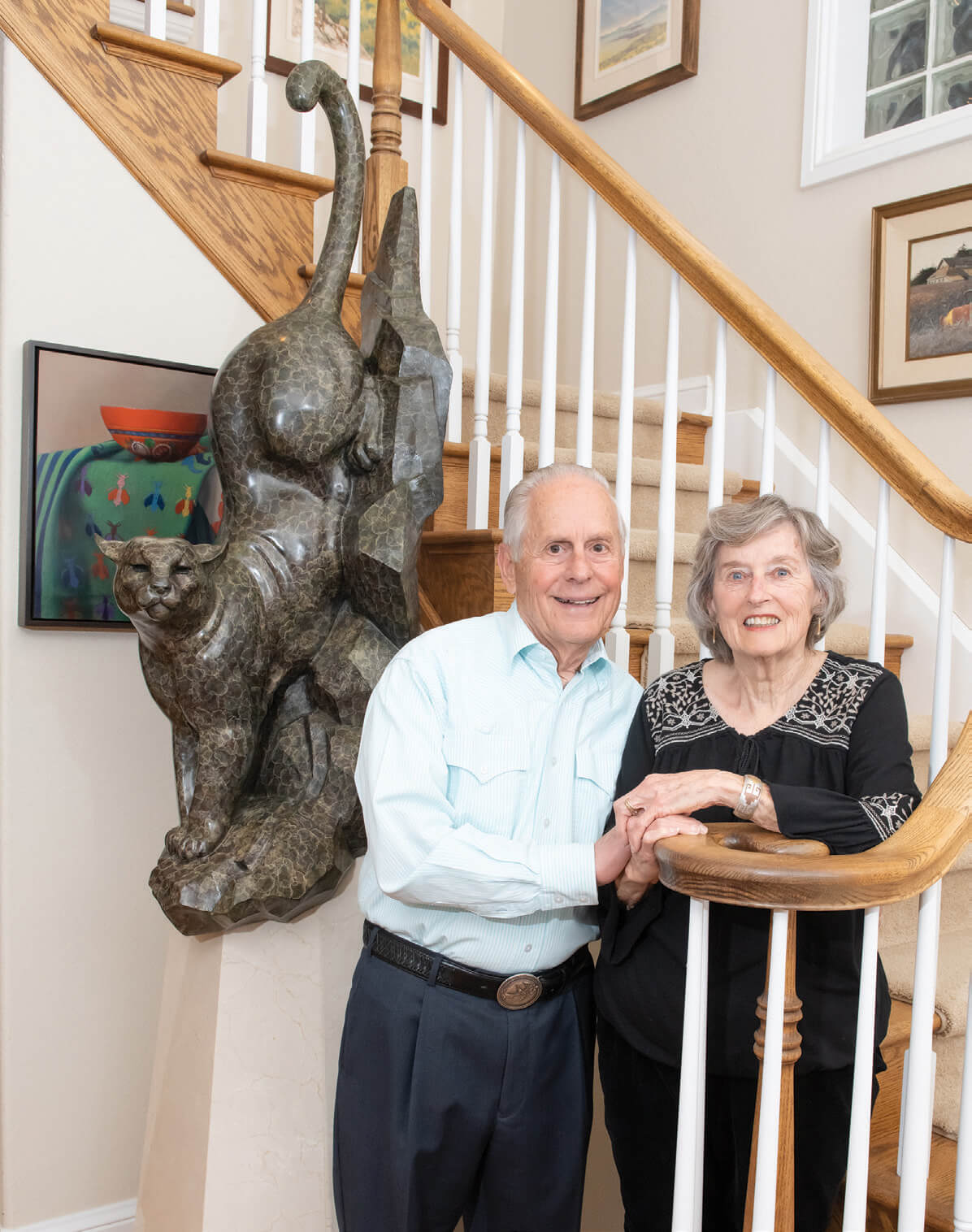 William and Kathryn Winn have collected Western art for about 50 years.
05 May

Collector's Eye: ADMIRATION AND DEVOTION

"I can't imagine living without art; it enhances our lives," says William Winn of Denver, Colorado. He and his wife, Kathryn, caught the collecting bug in a big way on their 25th anniversary in 1981. While visiting the Pam Driscoll Gallery, and just before their anniversary, they heard about a trip to China for 40 artists and 40 collectors.

"Almost on the spur of the moment, we decided to go as a thing to do for our anniversary," Winn says. "It was life-changing. For three weeks, collectors and artists milled together; we toured Chinese temples and historical sites under the watchful eyes of 'minders' who made sure we didn't go places not intended. There we were — two busloads of us touring China a few years after the Cultural Revolution. We learned that artists are not that different than we are; they are the talented and creative ones," Winn says. Among the artists who joined them on the trip were Mike Desatnick, Gerald Fritzler, Dee Toscano, George Lundeen, and Fritz White.

The Winns weren't new to buying art at that time. As a businessman in industrial distribution, and on a trip to Montana in 1972, Winn met Forest Hill, a draftsman at a small oil and gas refinery. "He had these lithographs of historic Native American subject matter that fascinated me because I'd studied the history of the Oregon Trail," Winn says. "His duotone lithographs of Crazy Horse and Buffalo Hunter were executed with incredibly researched detail. I bought all three."

Throughout their lifetime of collecting, William and Kathryn have traveled to many museums and galleries nationwide, including the Salmagundi Club in New York City, often during the past two decades under the auspices of the Booth Western Art Museum in Cartersville, Georgia. The Winns are among that museum's Circle members, which affords them extensive travel opportunities to see some of the finest collections in the U.S.

The couple's love of art and their devotion to it has encouraged them to act so that others may also have the privilege to enjoy it. William served for 17 years on the Western Art Advisory committee for the Coors Western Art Exhibit & Sale, an annual event associated with the National Western Stock Show in Denver. And together, they joined with 20 other couples to form the Contemporary Realism Group, an organization dedicated to supporting contemporary artists by donating their work to the Denver Art Museum. At the time, the Winns felt that the museum was dedicated to Modern art. Each of the couples donated $5,000 a year, then researched worthy artists working in Realism. "We identified top-notch artists, introducing them to the curator who would then work with each artist to choose a piece that would advance the museum's collection. Ultimately, we donated over 50 pieces to the museum," Winn says. Daniel Sprick, Lanford Monroe, Clyde Aspevig, James Bama, and Steve Kestrel are among the artists whose work was gifted to the institution.

In addition to working with the arts, both Kathryn and William are devoted to a nonprofit they created called Friends of the Haven. Kathryn was volunteering with The Baby Haven, a residential recovery program for mothers and their children who had been born with addictions. She bought coats, nappies, and blankets for them, returning home with tremendous stories of recovery. William suggested they form a nonprofit and raise money for the organization's needs. In doing so, they were surprised by the generosity of many, including friends, neighbors, and foundations, who "chipped in" more than $3.5 million to build a new facility. "It is the most rewarding thing I've done in my life because it brought me into the world of need," says William.

WA&A: What inspires you to collect?
William Winn: Collecting art has added joy to our lives. There's a story behind every piece that brings fond memories to us. One thing is, we don't collect for investment but for the beauty and pleasure that art brings.

WA&A: What was the first work you purchased, and what made you choose it?
W.W.: The three duotone lithographs by Forest Hill that we bought in June 1972. They are nicely framed and still hang in my office. In 1979, we bought a bronze sculpture by Veryl Goodnight from Nancy Hart Galleries in Saratoga, Wyoming. After that, it was the life-changing three-week trip to China in 1981.

WA&A: Was there ever one that got away?
W.W.: Oh yes! An early painting by Gerald Curtis Delano. Prairie Fire by Kim Wiggins. A bronze by Glenna Goodacre, Spirit of the Southwest. Another one got away, but there's a happy ending. In 1985, we fell in love with a Hollis Williford sculpture, San Juan Deer Dancer. But we didn't have the courage to buy it. In 2018, on a trip with the Booth Western Art Museum, we visited a gallery in Coeur d'Alene, Idaho. There it was. I didn't miss it the second time.

WA&A: If you had to choose, what is your favorite piece?
W.W.: Kathryn likes two sculptures: Intruder by Ken Bunn and River Sport, a black marble otter by Gerry Balciar. But it's difficult to pick one that is above all others. We have a Bill Hook landscape of Northpark, Colorado, hanging over our fireplace in the family room that is our most lived with piece, and in the same room, we have a small landscape of milk cans in front of a barn by Ray Swanson, probably painted in 1968 before he started painting Navajo subjects for which he is best known.

WA&A: When did you realize you were collectors?
W.W.: I suppose when we inventoried and found we had more than 60 woodblock prints by Leon Loughridge. I'm a nut on the craftsmanship of creating a reduction woodblock, as it requires tremendous skill in carving the same block for each color.

WA&A: If there was a museum professional that you feel has enlivened Western art, who would that be?
W.W.: Seth Hopkins, without a doubt. He is the most knowledgeable person in Western art. Plus, he has a photographic memory. He knows every significant private collection. He can walk into a museum, and if the art curator is stumbling on delivering information, Seth could complete the talk. We belong to the Collector's Circle at the Booth Museum, where he has been its director for 22 years. Under his leadership, the Booth earned USA Today's Readers' Choice Award for the best art museum in the country for 2020 through 2022.

WA&A: Where do you see your collection in 100 years?
W.W.: Unlike many of today's collectors, our children love our art. In fact, they have become collectors themselves, and now the grandchildren have started. With the exception of a few pieces which will go to museums, most of it will stay with our family.

WA&A senior contributing editor Shari Morrison has been in the business of art as an administrator, publisher, curator, writer, and collector for more than 40 years.