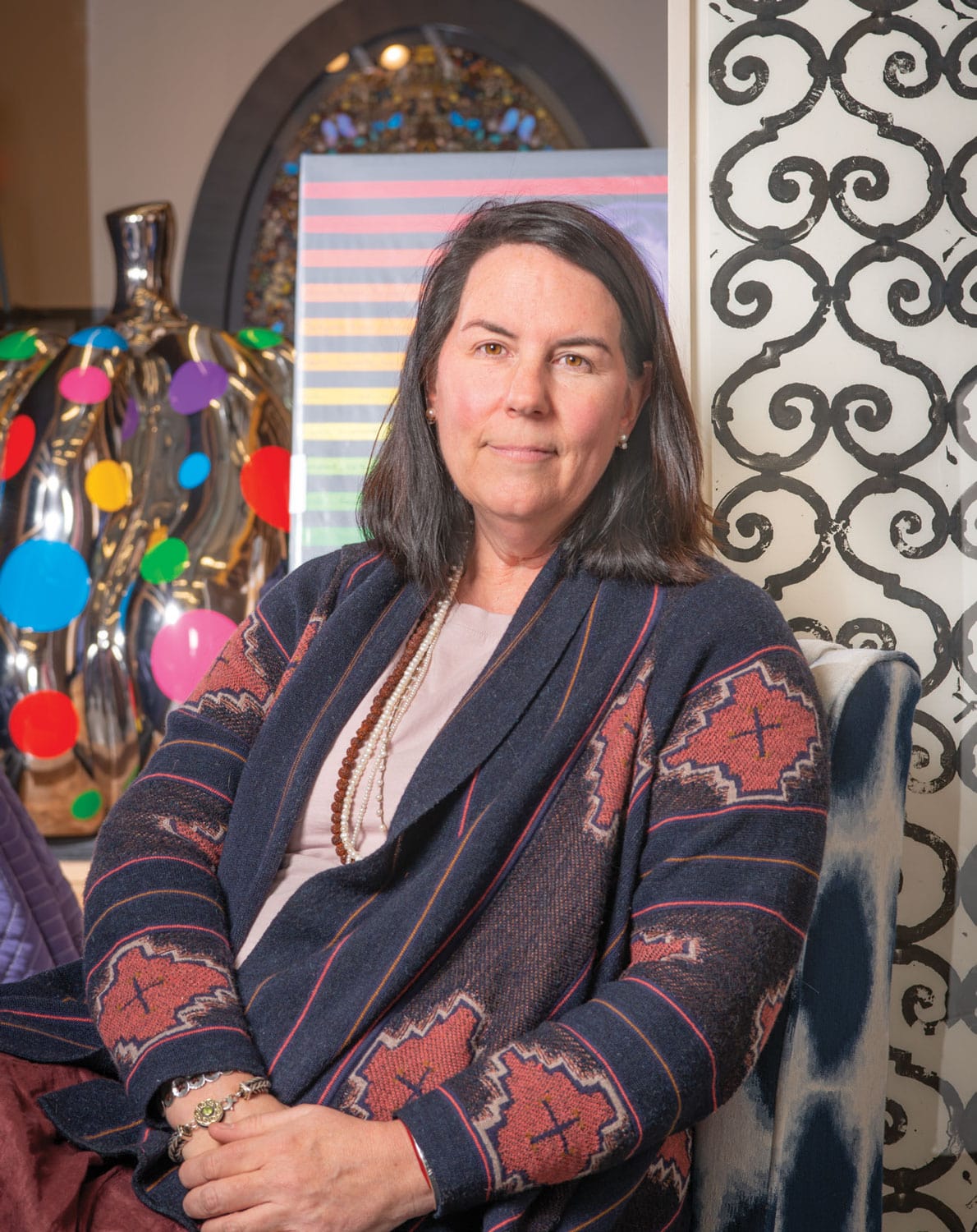 08 May

Collector's Eye: An Art Lover's Dream

Imagine shopping for art at the world's top galleries, studios, and auctions, funded by a philanthropic benefactor. Laura Finlay Smith is the curator of the Tia Collection, a global art holding with a diverse range of paintings, drawings, prints, photography, sculpture, ephemera, and mixed media. The collection's owner chooses to remain anonymous, preferring the attention to be focused instead on the artworks. "I always say I have the very best job in the whole world," Smith says. "I get to travel and meet artists and collectors, visit museums, acquire artworks, and further the mission of the collection." 

Smith's parents instilled in her the importance of art at an early age, filling their home with beautiful works and taking Smith out of school when traveling exhibitions came through their hometown of Dallas, Texas. Smith fell in love with the American Southwest in the first grade, after her parents purchased a home in Santa Fe, New Mexico. Once she graduated from college, she worked for several galleries, eventually landing at Santa Fe's famed Nedra Matteucci Galleries where she worked for nine years. 

A chance phone call shifted Smith's career in a new direction. "My now-client called to inquire about a small bronze sculpture by Doug Hyde," she says. "I asked a lot of questions, and he had lots of questions of his own. We developed trust, and if he was considering an artwork, I'd show him other examples so he could visualize how a piece might fit in his overall collection." 

Smith became the curator in 2012, and the Tia Collection now numbers 2,500 works. It includes a variety of mediums and spans roughly 150 years, from French Impressionism to artists working today. "One of our guiding principles is best answered when we ask this question: 'If we're going to have only one work by this artist, is the one we're considering the best work we can afford?'" she says. 

Sharing the collection with a broad selection of institutions is a joy for her client, Smith says. "In addition to finding important works to add to the collection and broaden the base of the material, much of my time is devoted to reaching out to established museums and developing new relationships," she says. "The basis of my client's inspiration for this collection has always been in sharing it. It's a wonderful resource for museums, like a lending library of art. We love helping and supporting museums."

New Beginnings, a traveling exhibition featuring more than 100 historical American Western artworks from the Tia Collection, is on display at Scottsdale's Museum of the West through September 22. The exhibition presents works by more than 70 early 20th century artists and their impressions of New Mexico, and will travel to four additional museums across the U.S. into 2021.

WA&A: What inspires you to collect art? 

Laura Finlay Smith: I love learning about the artists, how they started their careers and the stories about their subject matter. That, to me, is such a beautiful part of the whole experience with art. When it comes to living artists, the opportunity to talk with them in person and hear about where they draw their inspiration — to me there's nothing more exciting.

WA&A: When did you realize you were a collector? L.F.S.: I think I've always been a collector. When I was little, I started gathering a group of hearts that I still have — some made of jade, others of lapis, gold, silver, and other materials. From that point forward, I began surrounding myself with beautiful works of art.

WA&A: What was the first piece you bought for the Tia Collection, and why? L.F.S.: The first artwork I found and recommended was a Clark Hulings painting, Tesuque, which depicts a classic scene of an old pickup truck on a lonely, treed dirt road with beautiful filtered light. Hulings lived in Santa Fe, but he didn't paint many New Mexico scenes in his 60-plus-year career, and I felt it was an important work for the collection.

WA&A: What is your most beloved piece right now, and why? L.F.S.: It's hard to choose just one, but Julianita by Robert Henri is a wonderful, large oil depicting an American Indian girl ready for a dance. The collection is very fortunate to have several of his other works, and Henri's painting Lucinda is in the New Beginnings exhibit.

WA&A: Was there ever one that got away? L.F.S.: There have been quite a few! Early in our relationship, when I was still at Nedra Matteucci Galleries, we were very interested in a painting at an auction called The Red Moccasins by Walter Ufer. It was the first significant work of art in value that I'd be bidding for at auction, and we strategized extensively about our approach and upper limit. When we weren't successful in adding it to the collection, we were both very disappointed.

WA&A: If you could share dinner with any artist in history, who would it be? L.F.S.: I'd love to have dinner with Gustave Baumann. He was a German immigrant, printmaker, and painter who worked primarily on paper. He and his wife lived in Santa Fe, and he had such a dedication to his craft. Woodblock printings require a separate hand-carved block for each color, and some of his prints have 13, 14, or even 15 colors. It would be fascinating to hear about his thought process on visualizing the whole image based on its parts, and the ways he conceptualized how those colors would layer over one another.

WA&A: Where do you see the Tia Collection 100 years from now? L.F.S.: In addition to continuing the work we do with museums around the world, it would be wonderful to have a physical space where we could support an artist-in-residence program. Someday, we'd love to be able to bring living artists in to share their stories with the public.