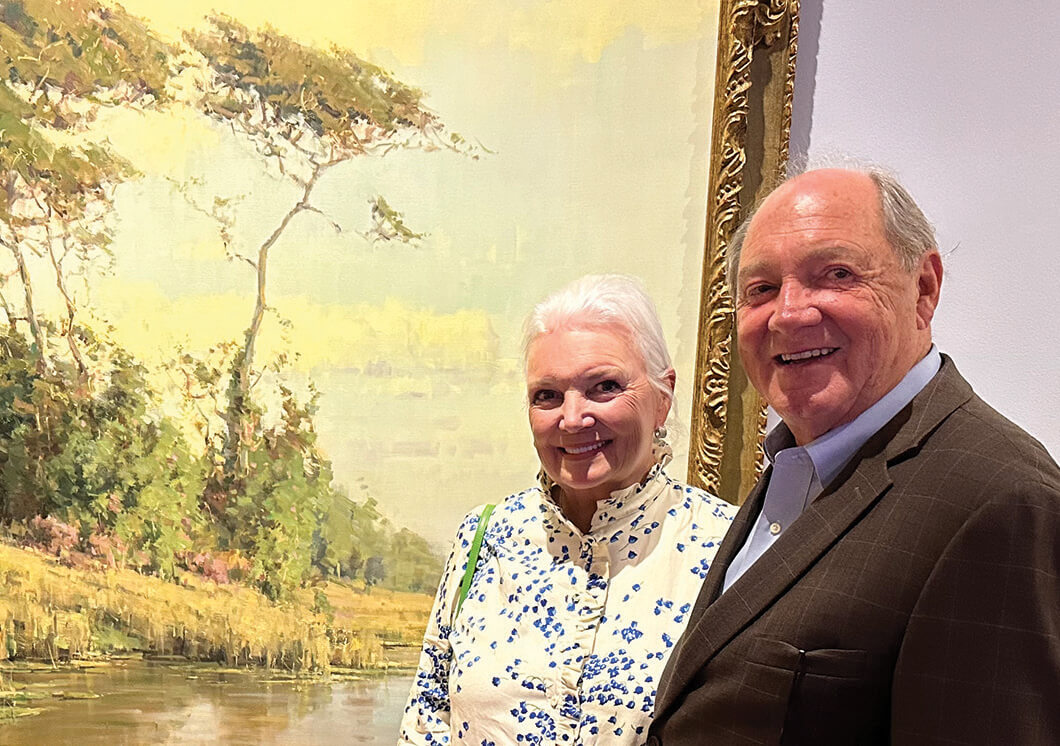 Milah and Steve Lynn at the opening of Eye on the Prize, an exhibit of more than 30 Western artworks they loaned to the Booth Western Art Museum. Photo courtesy of Booth Western Art Museum, Cartersville, Georgia
07 Nov

Collector's Eye: An Enriching Experience

As businessman and philanthropist Steve Lynn has matured as an art collector, one thing has become abundantly clear: Sharing one's collection enhances the experience of it. 

"Why do it if you aren't going to let others enjoy it?" Lynn asks. "It's not fun to drink a great bottle of wine by yourself."

In keeping with this principle, Steve and his wife  Milah have loaned more than 30 artworks from their collection to the Booth Western Art Museum in Cartersville, Georgia. The exhibition, Eye on the Prize: The Steve & Milah Lynn Collection, showcases the artistic talents of some of the greatest painters and sculptors dedicated to the Western genre. The exhibition is on display at the museum through January 14, 2024. 

Steve grew up in LaGrange, Georgia, near the Alabama border. "It's a little cotton mill town, and everyone on my side of town worked in the cotton mill," he says. "I grew up in poverty, but I didn't grow up without love and clothes and food. I didn't think about it." 

He was the first in his family to attend high school. Steve then graduated from Tennessee Tech University's engineering program with a full-ride athletic scholarship in tennis and earned his MBA at the University of Louisville. 

Steve and Milah met on a blind date arranged by their best friends from high school. She grew up 50 miles north of his hometown and was earning her bachelor's degree in nursing at the time. They married a year later and raised two children, Whitney and Josh. The couple celebrated their 47th wedding anniversary this year, a week after their granddaughter Caroline's first birthday. 

Steve's extensive business career has included running the supply chain at Kentucky Fried Chicken in his mid-20s to overseeing marketing for Century 21 and serving as chairman and CEO of Sonic and other food service companies, including Shoney's and Back Yard Burgers. He also served as the chairman of Cummins, an engine corporation, from 1999 to 2011. 

The Lynns moved to Oklahoma City while Steve worked for Sonic, and they became involved with the National Cowboy & Western Heritage Museum. He served on the museum's board for 30 years, and they annually attended the Prix de West, which introduced the couple to quality Western artwork, igniting a new passion. 

WA&A: What was the first work you purchased, and what made you choose it?

S.L.: A Jerry Yarnell. We bought it in a little town in Oklahoma. We were window shopping and went into a store with his pieces. At the time, his pieces were probably $3,000 to $7,000, which was a painful amount of money to us, but we liked his work and started with that. Today, we have five paintings by him, but the first was a waterfall scene. 

WA&A: What advice would you offer someone who wishes to start a collection?

S.L.: As we decided to start collecting, we developed some criteria. And, of course, anybody who's going to get into this needs to have their own list; it doesn't need to be the same as ours. The foundational piece was, as we collect these beautiful things, we don't own any of them. God owns them all, and he just loans them to us for a season or two. 

We also saw collecting as an event. It's a process, so build it into the natural flow of your life's journey and enjoy the process. We'd see great Western art wherever we were. If there were good galleries there, we would only buy pieces that captured our spirit. 

And then we wanted to focus on museum-caliber art by living artists because we couldn't afford a Bierstadt or Remington. And when we bought something, we wanted it to be a signature piece by that artist. 

We were also blessed by a guy who became a dear friend and mentor, who offered advice on costs and also helped define our collection. 

And the final criteria we added later: Insure the art, display it, and enjoy it. Don't store it away in a vault where no one can see it. 

WA&A: Was there ever a piece that got away?

S.L.: I think we were in Trailside Galleries, in Scottsdale or Jackson Hole. Because of where I grew up, there is something about the Deep South. The late Louis Grizzard said, "I am American by birth, but Southern by the grace of God." The Deep South can pull you back into it, and Southerners can take it to a kind of extreme. So because of that, we also collected Civil War artifacts, and there was a G. Harvey painting on display called Decisions at Dawn; it had every component of his signature pieces for the way he painted the lighting at sunrise to the way the cabins had light coming out through the windows. It just takes your breath away. And Stonewall Jackson and Robert E. Lee were on horseback. It was for sale for $60,000 at the time, and that was just such a painful amount of money that we didn't go there, but later it got purchased by a museum for $150,000 or so, and the last time I heard, it was still in their permanent collection. So that vividly comes to mind as a mistake.

WA&A: What is your most beloved piece and why?

S.L.: Over the mantel in our formal living room was a Curt Walters called Winter Grandeur Revisited. It was in the Prix de West when we bought it and won Buyers' Choice that year. It's of the Grand Canyon, which he is famous for doing, and it was a fairly large painting.

I think Milah would agree that another favorite painting, and of course they change around a little bit, is a smaller one called My Friend Martha by Ray Swanson. It's a portrait, and Milah asked how old she was and the dealer didn't know, but she clearly had a wrinkle for every year. It tells a beautiful story. 

Another is a commission by Gerald Balciar. He made The Canyon Princess and gave it to the National Cowboy & Western Heritage Museum. So he did a commission piece for us that is different enough that it's not a copy. It's called The Canyon King, and it's a 7-foot-tall white marble cougar in a more horizontal orientation, using the same white marble quarried for the Tomb of the Unknown Soldier. 

WA&A: If you could dine with a famous artist, living or dead, who would you choose?

S.L.: We've done that many times. We had dinner with Lanford Monroe the year before her death. With Gerald Balciar, Ray Swanson, Tucker Smith. I've really enjoyed Bill Owen's company. But maybe the guy I would choose now is G. Harvey, and apologize to him that we didn't get that great painting.

WA&A: Do you have any advice for loaning artworks to a museum? 

S.L.: You've got to go with a professional. There's a lot involved: the packing, insuring, storing, repairing, maintaining digital records, and updating value rates for insurance purposes. So just choose great folks, and they will do a great job. 

WA&A: Where do you see your collection in 100 years?

S.L.: Hopefully, in a museum. Our two kids have no interest in any of that stuff, so my guess is this collection will not be with them. We hope it will be in someone's home that loves it or a museum that stands for what's in our hearts.

Christine Rogel is the editor in chief of Western Art & Architecture.