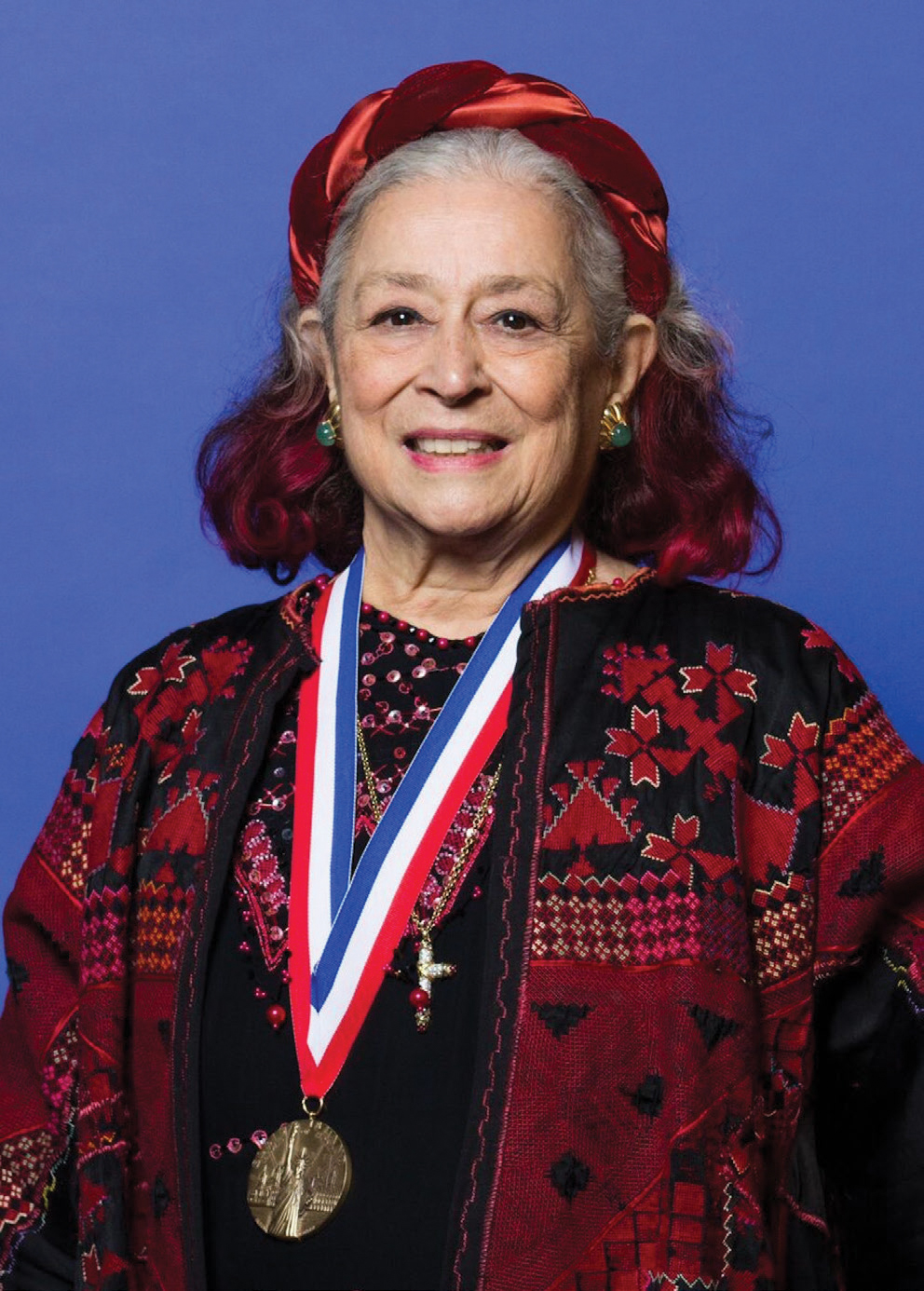 The Ellis Island Medal of Honor was presented to Joan Agajanian Quinn in 2017. Quinn served as a representative to the United Nations for 20 years on behalf of the Los Angeles Armenian International Women's Association.
12 May

Collector's Eye: Fine Art Between Friends

In 2017, humanitarian and visionary Joan Agajanian Quinn received the prestigious Ellis Island Medal of Honor, which is presented to U.S. citizens who exemplify American values while distinguishing themselves in their ethnic group. The Los Angeles affiliate of the Armenian International Women's Association honored Quinn that same year, as she had served as the organization's representative to the United Nations for 20 years.

As a journalist and arts advocate, Quinn is known for her television series "The Joan Quinn Profiles," which began in 1993. During some 400 shows — available on YouTube — she interviewed such creative individuals as architect Frank Gehry; fashion designers Vera Wang, Bob Mackie, and Oscar de la Renta; actors Javier Bardem, William H. Macy, and Tippi Hedren; and artists Laddie John Dill and Ed Moses, to name a few.

For a time, she was the West Coast editor of Andy Warhol's Interview publication. And she has been called "the Gertrude Stein of her day," as she and her husband, Jack Quinn [1932–2017], hosted artists at their home from the 1970s through 1990s. It was during this time that they began collecting the work of visiting artists.

"Art wasn't on the table for most of Los Angeles," Quinn says. "It was forbidden territory. Our association with the Venice group of artists — which included Larry Bell, Lynda Benglis, Tony Berlant, and Joe Goode, as well as others — drove us to promote and call attention to them. Jack showcased their art in his law offices, influencing other attorneys to do so; and I became their ex-officio press person."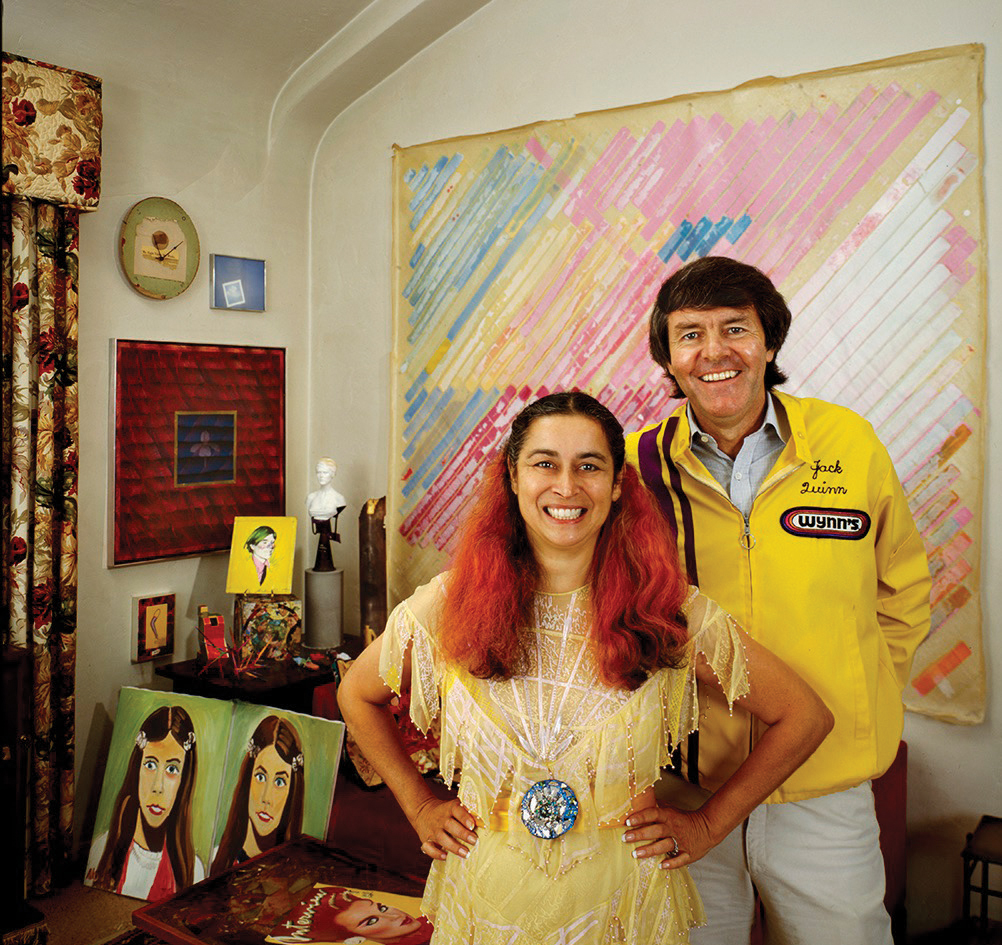 Out of admiration and respect, more than 200 artists have created portraits of Quinn, including Jean-Michel Basquiat, Robert Mapplethorpe, David Hockney, and Beatrice Wood.
WA&A: What inspired you to collect art?
Joan Agajanian Quinn: My mother was a very chic woman who loved fashion and the arts, especially the Civic Light Opera. That influence stayed with me; I was always a visual person. When Jack and I married, we bought art. It was never about starting a collection; we just wanted artwork by our friends.
WA&A: What was the first work that you purchased, and what made you choose it?
J.A.Q.: We regularly visited Abell Auctions in downtown Los Angeles, where we bought an oil in a big ornate frame. The little child sitting on the step reminded Jack of the times he waited for someone to pick him up. How could we resist?
'People should buy what they like, not for investment', was the advice that we were given. And we did just that, buying a serigraph by Sister Mary Corita at the Immaculate Heart School sale, then a landscape by Ruth Osgood from the Dalzell Hatfield Gallery at the Ambassador Hotel. Next came our interest in the Nueva Presencia painters in Mexico. Our art has been an adventure. It just happened — we weren't collecting — the path just kept getting longer.
WA&A: The Quinn Family Art Collection contains many portraits of you by a variety of artists. How did those come about?
J.A.Q.: It started with Dora de Larios and Bob Graham, who are both sculptors. My first painted portrait was by John Carr when I was 16 — a graduation gift commissioned by my parents, J.C. and Faye Agajanian. After years of friendship with Andy Warhol, he told me that portraits were his bread and butter. He would make a portrait to mimic what the sitter wanted … a long neck, thick flowing hair, big eyes, full lips, and no wrinkles. At the same time, my friends were painting me, but I was just a subject like a bowl of fruit. These portraits had no vanity, no ego involved. I may not always love someone's perspective, but I do appreciate their view of me.
WA&A: What type of works make up the Quinn Family Art Collection?
J.A.Q.: There are two components: 90 percent of our collection focuses on Southern California artists and is very personal. We looked at art as being part of the artist who made it. When we added anything, it was because of our love and respect for the artist. The second part of our collection consists of portraits gifted by friends.
WA&A: Was there ever one that got away?
J.A.Q.: Yes! And yes! When we lost Claire Falkenstein, who made the Guggenheim gates in Venice, Italy, she was in the process of designing gates for our front porch. The project was never completed. Looking back, I guess we should have bought something from Andy Warhol, but we didn't think much of him as an artist at the time. I was at his studio so much, and I saw him appropriating ideas and images from others. We thought he didn't have ideas of his own, and then we finally realized that what he was doing was part of the Pop movement. He was way ahead of the times.
WA&A: When did you realize that you and your husband were art collectors?
J.A.Q.: People started to call us collectors, but we really just accumulated things we loved. Art is one of them. We felt close, at some point, with everyone whose work is in our collection.
WA&A: You have interviewed many artists. What stands out as an unexpected event?
J.A.Q.: David Hockney painted me for his 82 Portraits and a Still Life. I was number 16, and I thought I was one of the last to be painted. Much to my surprise, he painted and painted and painted.
WA&A: Where do you think the Quinn Family Art Collection will be in 100 years?
J.A.Q.: Some of my portraits will be passed down in our family from generation to generation. The heart of our collection — from an academic standpoint — presents an in-depth peek into decades of each artist's career. My hope is for that work to be on display in an institution for the public to enjoy.