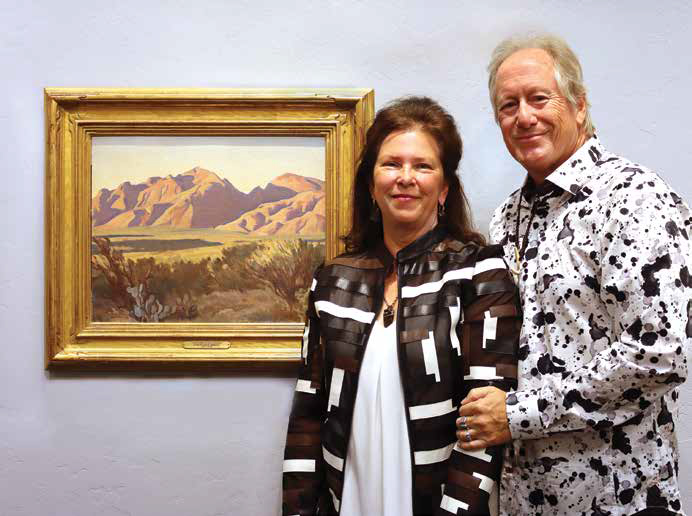 Collectors Kathleen and Mark Sublette with Late Light on the Catalina by Maynard Dixon [1875-1946], a favorite artist from their collection.
08 Nov

Collector's Eye: Jack of All Trades

If you want to meet a modern day Renaissance 
man, say hello to Mark Sublette. Formerly a practicing physician specializing in preventative, occupational, and sports medicine, today he's the founder and owner of Tucson, Arizona's well-known Medicine Man Gallery. Sublette is also considered an authority on artist Maynard Dixon; he hosts a weekly podcast called "Art Dealer Diaries;" and he's written many art-focused articles and a series of murder mystery novels featuring a New Mexican gallerist, Charles Bloom, as the protagonist.

As active supporters of the Tucson Museum of Art (TAM), Sublette and his wife, Kathleen, have donated many works to the museum over the last 15 years, including textiles, paintings by Dixon and, most recently, 59 pieces of pottery from the Rio Grande region of the Southwest. In 2021, the Sublettes received the Ambassador Circle Lifetime Achievement Award from TAM for their commitment to the preservation of Western art.

WA&A: When did you become a collector?

Mark Sublette: I knew I was a collector when I was a little kid. I started collecting Native American art when I was about 8 or 9. I remember buying a little animalito — a small pot in the shape of an animal — from Santa Clara Pueblo in Santa Fe. It probably cost a dollar at that time. I still have it. The first significant piece that I purchased was a Maria Martinez pot. I started buying pottery when I was in my mid- to late-20s.

WA&A: As a novice buyer, was there a lesson you learned that you would pass on to others?

M.S.: There was a Frederic Remington painting in a gallery. It looked good, and I liked it. They were willing to trade my whole pottery collection for the piece, but I said we had to get the world's expert on Remington to authenticate it. They contacted art historian Peter Hassrick. I was smart enough to know that I didn't know anything, but I found someone who did. I didn't buy the Remington; it was a valuable lesson.

WA&A: After concentrating on pottery, how did you diversify your collection?

M.S.: I began buying textiles and going to Native American art shows. And then I began working as an art dealer. I learned that if I could sell things, I could buy more things.

WA&A: What made you decide to open a gallery?

M.S.: There was a point when most of the magazines stacked up on the table next to my bed were the New England Journal of Medicine. Then there came a time when I noticed that most of the books were about Native American culture or art. I thought, 'This looks like a sign.' I was offered a job working for a sports group with the Phoenix Suns — a very coveted position and one I'd actually wanted. I had to make a decision. I wrote down all the pluses and minuses. I was really enjoying the buying and selling, and my wife was supportive, which was critical. I turned down the job and opened my gallery six months later in 1992, and the rest is history.

WA&A: If you could interview any artist, who would you choose and why?

M.S.: Maynard Dixon. I became interested in him about 25 years ago when I bought my first piece by Dixon. He was such an interesting individual. He loved Native American culture and art. He made sure that when he drew or painted, he represented his subjects authentically. He lived with the Hopi for six months and visited about 25 tribes. Dixon's was an original voice during a time that saw so much change. Born before the Battle of the Little Bighorn, he died after the atomic bomb exploded. He documented these things. He was a great draftsman and painter. He was true to the West. My museum in the gallery is dedicated to him. I have lots of ephemera, his writings, his easel, and 150 pieces of artwork. It runs the gamut of what he did from the beginning to the end of his life.

WA&A: If you woke up one morning and your collection was gone with the exception of one piece, what would you want it to be?

M.S.: It would be my little animalito, because that way I could start all over again.

Based in Edmond, Oklahoma, Elaine Warner is a member of the Society of American Travel Writers. She's the author of two books, including More than Petticoats: Remarkable Missouri Women and Insider's Guide to Tulsa.