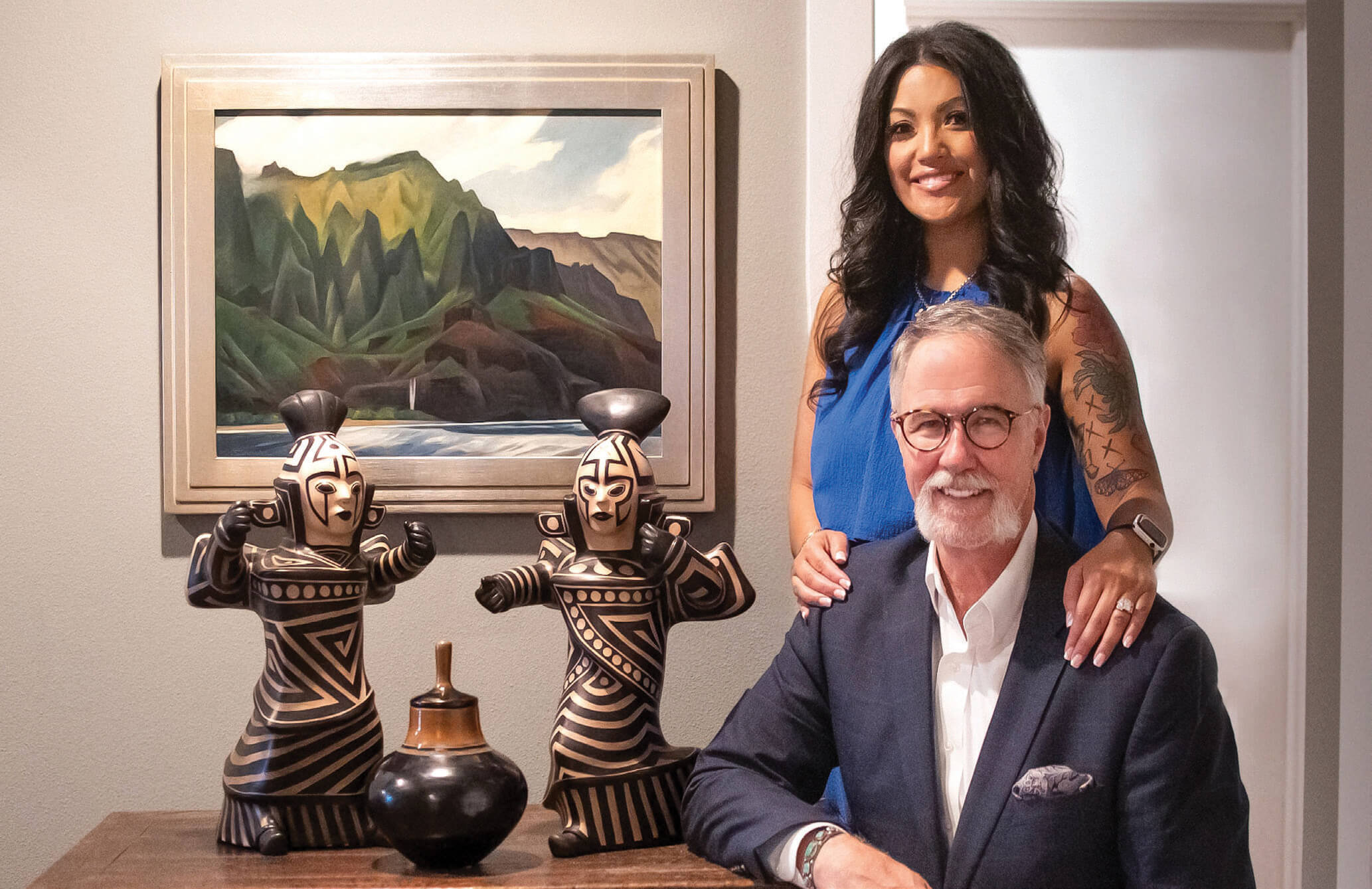 Russ and Denette Hoover love living with pottery by Tony Da and Virgil Ortiz, seen here with a painting of Hawaii by Ed Mell.
06 Sep

Collector's Eye: The Happiness Factor

While Russ Hoover was growing up in the early 1960s in what was then the small town of Scottsdale, Arizona, his mother took the then 7 year old to the Heard Museum in Phoenix. There, he fell in love with the museum's Katsina doll collection. His fascination deepened at age 13 when the Hopi elder and famous Katsina carver White Bear Fredericks was part of the staff at a summer camp Hoover attended. He was privileged to experience the Niman ceremony at the historic Hopi village of Oraibi, as Fredericks' guest, where he saw the Hemis Katsinas perform. His love of Katsina dolls continues today.

Hoover and his wife Denette Chu are collectors who have combined their love of art into impressive collections. Indigenous Hawaiian, Chu is focused more on arts originating from Asian influences. Hoover, born and raised in Arizona, notices the similarities of Native arts and Asian arts. "It's truly amazing how, in our Pacific Northwest home where we have more Asian influenced art, Native American artists Virgil Ortiz and Tony Da's pieces feel at home," says Hoover. "Even Ed Mell, an Arizona painter known for his renderings of its landscape, painted a scene in Hawaii while on a trip there; that piece fits in perfectly, too."

Although the couple's collecting tastes vary across a broad range of genres and mediums, says Hoover, "Most of it is focused on the landscapes and spirit of the West, its people, cultures and histories of those like me who call it home." Paintings by Mell, Kim Wiggins, Mark Maggiore, and Rosetta Santiago fill their Scottsdale and Olympic Peninsula homes. Pueblo pottery by notable artists including Margaret Tafoya, Nathan Youngblood, Jennifer Tafoya, Russ Sanchez and Les Namingha have their places, as do Hopi Katsina carvers Shawn Deel and Tayron Polequaptewa.

Both husband and wife are by profession investment advisers, and while they do not offer investment advice on art, Hoover tells this story: "When I was a graduate student at the University of Arizona in the 80s, I was on Fisherman's Wharf in San Francisco looking at art. There were Leroy Niemans everywhere, but one piece spoke to my Arizona roots," he says. "I couldn't resist a print of a rider in a rodeo. This was at a time when salespeople in the galleries often initiated sales by declaring that their artist was 'a great investment,'" he says. It was a good point for a young man to consider as he was laying down $1,200 on that rodeo rider print — a formidable sum for a student.

Fast forward to 2023, where there are offerings of Neiman's rodeo rider print for sale on the internet. "Today, I could buy that piece for $4,000, which figures out to be a 233 percent increase over my initial investment. But, if I went back and bought Proctor & Gamble shares with the same $1,200, the difference in investment becomes real. Proctor & Gamble sounds boring; everyone knows it. On the other hand, $1,200 of P&G stock then would now be worth $220,729 at its current selling price."

There are good investments in art, Hoover hastens to add. "If I would have bought a Mark Maggiore painting for $60,000 two years ago, that same size just sold for $300,000," he says. "Scottsdale Art Auction sold at auction another Maggiore for $500,000 in March 2023. But Maggiore is, in my opinion, a once-in-a-generation artist at the top of his game, and this was both an exceptional and very uncommon experience."

The bottom line to buying art, he says, lies in the happiness factor. "The last thing I want to do is rain on the parade. I tell my clients, 'Happiness is worth investing in. You buy art because you love it.'"

 WA&A: What inspires you to collect art and do you have criteria for a purchase?

RH: I have a tendency to only buy things that speak to me, are of museum quality, or are from an artist that I know and whose vision I believe in. Another reason I might be buying a certain work is that it finishes something. Take Tammy Garcia for instance; she had five stylistic phases to her career, and I have representation of only four of those. Another example involves the Tafoya family: I have five generations of that family's work — from Serafina and Margaret, who are deceased, to Chris Youngblood, a younger member of the family. A piece must make sense in the collection.

 WA&A: Is there a theme to your collection and has it evolved over time?

RH: I collect art that is an iconic representation of the work from the artists who were important in defining the genre. Equally appealing to me is collecting works that reflect a turning point in their style and development as an artist. I want my collection, both in parts and in whole, to tell a number of stories. Over time, I came to realize that my collection was filled with works by nonliving artists and if I wanted to encourage the continuation of the artistic legacy and culture, especially in Native American art, it was important to collect the works of living artists.

 WA&A: What inspires you to buy a living artist's work?

RH: A great deal of our collecting has centered on supporting the living artists who have a vision that we believe in. By collecting them, we feel we are doing our part in letting their visions be shared and their creative voices be heard. We certainly need to like their work but much of the joy we have received as collectors has come from getting to know the artists as people and taking a more active role in supporting them and helping them achieve their personal goals.

 WA&A: What is your most beloved piece and why?    

RH: I have a canteen made by Nampeyo that my great-grandmother, Gertrude Cushing, bought directly from her. She had an antique shop in Fitchburg, Massachusetts, in the 1920s when she took a train trip across the U.S., getting off in Santa Fe, New Mexico, where she boarded one of Fred Harvey's Detours to the Hopi Reservation. Today, I am proud to be its guardian.

WA&A senior contributing editor Shari Morrison has been in the business of art for more than 40 years; she helped found the Scottsdale Artists' School and American Women Artists, and she directed the Santa Fe Artists' Medical Fund for some years.

Marvena Pimper has been a professional photographer since 2019, focusing on connecting spontaneously with her human subjects.