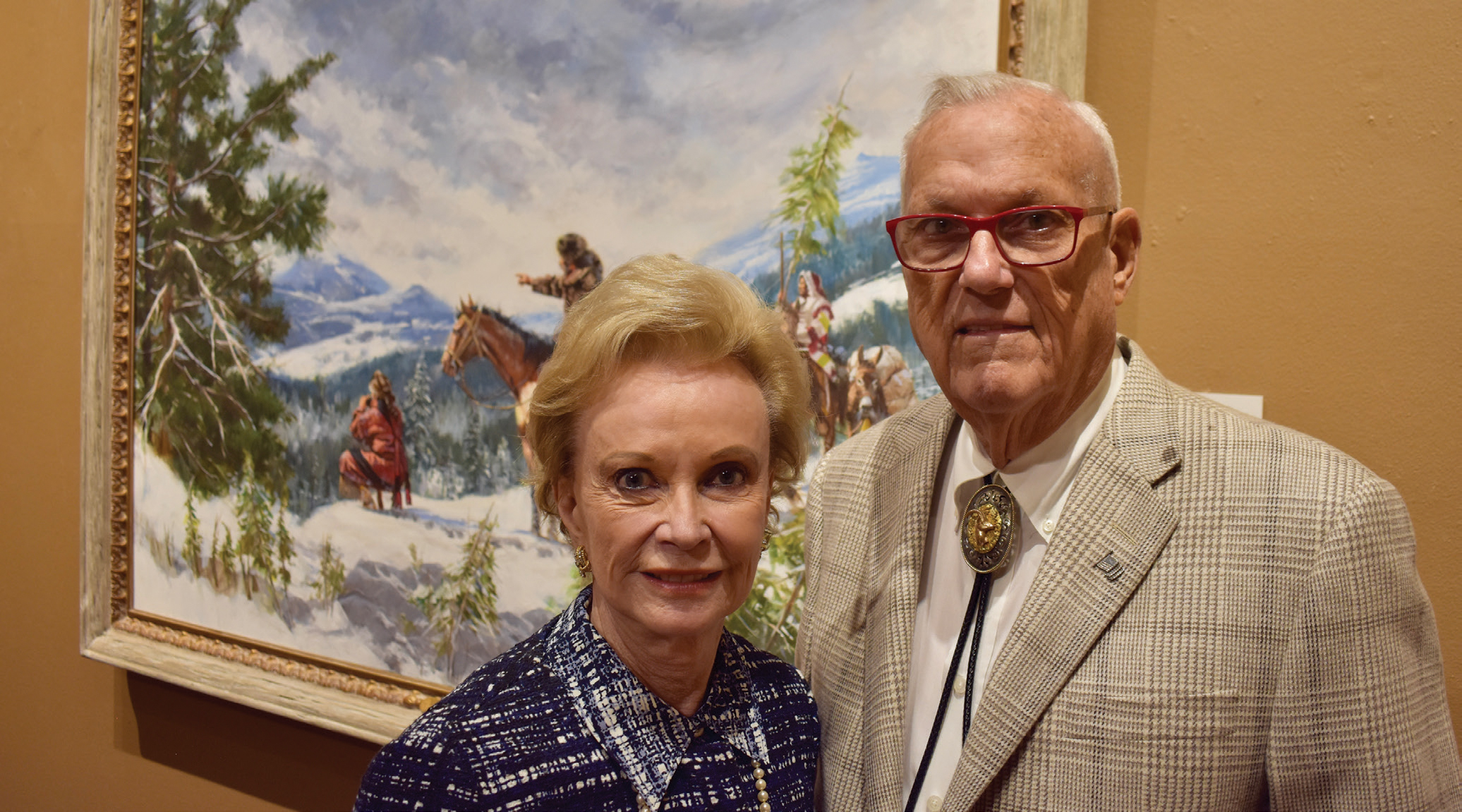 Betsy and George Matthews at the opening of The West in Winter at The Museum of Western Art in Kerrville, Texas. Photo courtesy of The Museum of Western Art
08 Jul

Collector's Eye: The West in Winter

George Matthews has lent his expertise to everything from real estate and oil investments to cattle operations and managing the game ranch he and his wife, Betsy, own in the Texas Hill Country. The couple maintains several residences, but they are especially endeared to the rolling hills of their Texas ranch, and so it's there that their sizable collection of paintings featuring wintry Western scenes mostly resides. The Matthews admire and have acquired the works of such painters as Martin Grelle, Michael Coleman, Roy Andersen, Robert Pummill, and Paul Calle.

As strong supporters of The Museum of Western Art in Kerrville, Texas, it was a natural fit for pieces from the Matthews' collection to be exhibited there in a show titled The West in Winter. The exhibit began in January and ran through March, and provided an exceptional view of Western landscapes and figures in a season known equally for its challenges and stark beauty.

George invited the museum's executive director, Darrell Beauchamp, to visit their ranch and have a look at their paintings, even though the couple was not in residence at the time. Beauchamp expressed enthusiasm about the works and proposed the idea for the show, George says.
"He's a new director there and a really neat guy," George says. "The night of the opening party, it was cold and rainy, and I told my wife I didn't expect to see more than four or five people. We got there a little early, and there were already 100 people."

It was the kind of convergence that happens when a careful eye and the affinity for art are shared by both curators and collectors alike.

WA&A: What inspires you to collect art?
George Matthews: Betsy, my wife, gave me a painting several decades ago that showed a Western winter scene. It's called Safety in Numbers, and it was painted by Robert Pummill. I thought, 'That's really cool.' The next time I saw some Western winter scenes, I think I bought one or two, and the purchases grew on top of that.
To start with, when someone says they collect art, that hasn't told me a thing. It's like when they say, 'I collect guns.' I think, 'Do you collect guns of the Confederacy, guns of the Civil War, guns of World War II, French guns, German guns? You need to be a little more specific.'
I decided that whatever I did in terms of collecting art was going to be specific — specifically, the West in winter. They're limited in scope — with perspectives of mountain men, settlers, and Native Americans — but I thought acquiring Western pictures set in winter was a little more defining.

WA&A: What are your collecting methods, and when did you realize you were a collector?
G.M.: I'm not sure that I qualify as a collector; maybe I'm a gatherer. A clue about the number of paintings Betsy and I owned occurred when we ran out of wall space.

As far as how I go about it, because I'm specific about the scenes I'm interested in, it's relatively easy to pursue paintings if you look at gallery and auction catalogs.

WA&A: What was the first work you purchased, and why did you purchase it?
G.M.: That was the Pummill that Betsy bought me. It's a picture of a couple of guys in the snow, riding horses; it's really a nice piece.

WA&A: Was there ever one that got away?
G.M.: Tons of them. Not one or two or 10 or 20, but tons of them. There have been so many paintings I thought were really cool, but I couldn't afford them at the time.

When pursuing work, there are two things you have to look for: One is your desire, what you find to be an attractive painting, and another element that is really important is called price. Those are my two chief criteria. You have to like the painting — otherwise, why would you even look at it? And then, again, is it in the realm of your budget?

WA&A: What is your favorite piece, and why?
G.M.: I have a lot of nice paintings, some of which I like a little more than others, but practically all the paintings I have I like. I don't think I really have a favorite. I'm at a stage where I have to look through them because there are some I'd like to cull, to trade in, or trade up. There are a couple that will be sent to galleries for resale with the idea that if you sell, say four, you may be able to use that revenue for one or two that have more appeal and value. That process describes the natural progression that takes place when someone is a collector.

WA&A: If you were having a dinner party and wished to have interesting conversations about art, who would you invite?
G.M.: We have several very good friends who are artists. But I'm not sure we could have much of a conversation about art, since I'm not convinced that I know much about art. But I do know what I like.

WA&A: If you could meet any artist in history, who would it be?
G.M.: If frogs had wings, I'd probably like to meet Charlie Russell. He was really a character. I've been to his museum in Montana — the C.M. Russell Museum in Great Falls — and that just confirmed that he was a pretty cool guy.

Of course, there's no way I can afford a Russell painting. I learned he liked to illustrate letters to friends, and I thought 'I would love to get one of those illustrated letters.' I couldn't find any for a long time, and then, finally, I was in a gallery in New Mexico and saw one. I asked, 'How much would you like for it?' The price was $125,000. But it was really interesting, on a plain piece of paper where Charlie wrote to one of his buddies, and it had drawings on the top and bottom of the page.

WA&A: Where will your collection be in 100 years?
G.M.: It will probably have been to eight or 10 auctions or galleries by then.