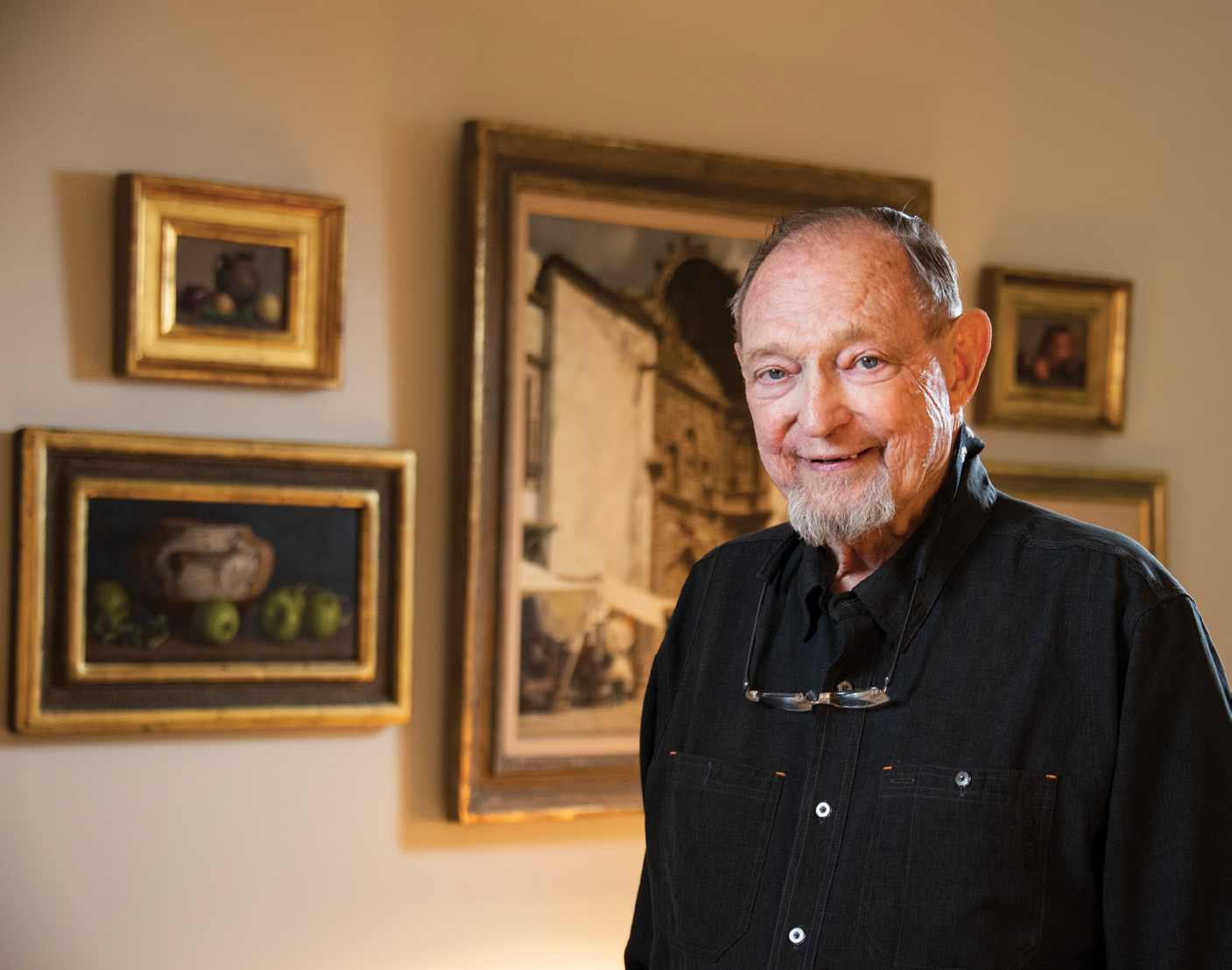 Jack Morris co-founded the Scottsdale Art Auction with partners Michael Frost and Brad Richardson in 2005.
10 May

Collector's Eye: The Winding Path

For Jack Morris, the story of his life in the arts has had many twists and turns, eventually leading to his status as Emeritus Auctioneer with the Scottsdale Art Auction, which he co-founded with partners Michael Frost and Brad Richardson in 2005.

After a case of rheumatic fever in childhood, Morris' mother, a painter, enrolled him in Saturday morning art classes at Wesleyan University in Macon, Georgia. When he entered the University of South Carolina on a football scholarship, Morris intended to become an architect. He was supposed to go to the Sloan College of Engineering to sign up. Instead, he went to McMaster College by mistake and handed his cards to a lady at the registration desk. She stamped them, and "suddenly I was an art major," Morris says. He earned a degree in fine arts, studying drawing, painting, and design.

The lady who stamped his cards was Catharine Rembert, who had been Jasper Johns' design instructor at the University of South Carolina. Morris would later become friends with Johns while attending the Columbia Museum of Art in 1961. Rembert would also become a significant influence. Morris dedicated his first book, Contemporary Artists of South Carolina (1970), to Rembert, with Johns' painting Target on the cover. 

Morris later earned a Certificate from Harvard University's Institute in Arts Administration. That was the beginning of a career that has ultimately earned Morris his Emeritus Auctioneer status with the Scottsdale Art Auction.

Morris' commitment to the arts has had few boundaries. He once served as chairman of the South Carolina Arts Commission and testified before joint subcommittees of the Senate and House during reauthorization hearings for the National Endowment for the Arts in 1970. He also advanced Saturday morning art classes for children at the Greenville County Museum of Art, where he was executive director for 15 years.

In 1979, Morris secured a collection of 26 paintings by Andrew Wyeth from the movie producer Joseph E. Levine, a transaction that was described by art dealers Frank Fowler and Fred Woolworth of Coe Kerr Gallery in The New York Times as "the largest single sale of American art in history." A benefactor who purchased the collection for $3.5 million reneged on his promised gift to the museum in 1990 and instead sold the collection to Seibu Pisa, a Japanese department store chain, for $45 million. 

In 1983, Morris partnered with Texas gallery owner Tony Altermann to create Altermann & Morris Galleries with locations in Dallas and Houston, Texas, and Santa Fe, New Mexico. They would go on to establish their own art auctions patterned after Altermann's mentor, Bill Burford of Texas Art Gallery in Dallas, who set the precedent of seated auction dinners in Texas.

When Altermann & Morris dissolved in 2000, Morris got his South Carolina Auctioneers License and began art auctions in Hilton Head Island and Charleston, South Carolina, with J. Ben Whiteside at Morris & Whiteside Galleries. By 2004, it was clear that Western art auctions in South Carolina were not the best match, so in 2005 he contacted Brad Richardson at Legacy Gallery in Scottsdale, Arizona, and Michael Frost at J. N. Bartfield Galleries in New York City, and the three partners organized the first Scottsdale Art Auction. With his Texas sales topping out at a little over $2 million per auction, Morris figured that with two partners, they might do $4 million the first year. The sale brought $7.5 million, and the Scottsdale Art Auction was on the map. 

Successes continued with sales never dropping below $10 million. In 2018, The Leaning Tree Collection chose the Scottsdale Art Auction to sell their corporate collection, creating a banner year of $18 million. To Morris, it was all in a day's work. "I have been so blessed. I feel as if I've never worked a day in my life. I've had the opportunity to rub shoulders with and have been servant to so many prominent artists and collectors, and I have enjoyed a three-person partnership that has been exceptional."

WA&A: When did you decide you were a collector?

Jack Morris: When I was 23 years old. 

WA&A: What inspires you to collect art? 

J.M.: I'm in the business of art. My first job at age 22 was in an art museum and my career continued through curator, executive director of art museums, and then art gallery owner in Scottsdale, Arizona; Houston and Dallas, Texas; Santa Fe, New Mexico; and Charleston and Hilton Head Island, South Carolina. It was in my DNA.

WA&A: What was the first work that you purchased?

J.M.: A painting by Gilmer Petroff in 1963. Petroff was my instructor at the Richland Art School at the Columbia Museum of Art. 

 WA&A: Was there ever a piece that got away?

J.M.: Yes. A Clark Hulings oil, titled Ten Below — Taos, NM. It was a 1974 Hulings classic forte — snow! It had sold at auction in 2006 for $132,000. Then it came up at auction in July 2020. The auction house did not call me for my bid. It sold for $15,000! I still haven't gotten over it.

WA&A: What is your most beloved piece and why?

J.M.: Glenna Goodacre's 1989 bronze Puddle Jumpers, which I owned in partnership with Glenna. It was her sculptor's proof cast. My wife, Luanna, and I didn't have the space to install it in our sculpture garden at home, so I decided to include it with Glenna's collection that we offered at the Scottsdale Art Auction in April 2017. It sold for $409,500 and still holds Glenna's record at auction. It was almost a trademark for Glenna; it started an epidemic of running, jumping, flying kid bronzes across the country.

WA&A: If you could be any artist in history, who would it be?

J.M.: Andrew Wyeth.

WA&A: Which artists would you invite to dinner if you wanted a lively conversation about art?

J.M.: Glenna Goodacre, Clark Hulings, Wilson Hurley, Dan McCaw, Dean Mitchell, and Stephen Scott Young.

 WA&A: Where do you see your collection in 100 years?

J.M.: Sold! 

WA&A senior contributing editor Shari Morrison has been in the business of art for more than 40 years; she helped found the Scottsdale Artists' School, the American Women Artists, and directed the Santa Fe Artists' Medical Fund for some years.

Rob Kaufman has been a professional photographer based in the Hilton Head, South Carolina, area for more than 20 years. He has honed his photographic skills in such specialties as architecture and interiors, food and products, portraits and weddings, and fine art reproductions.