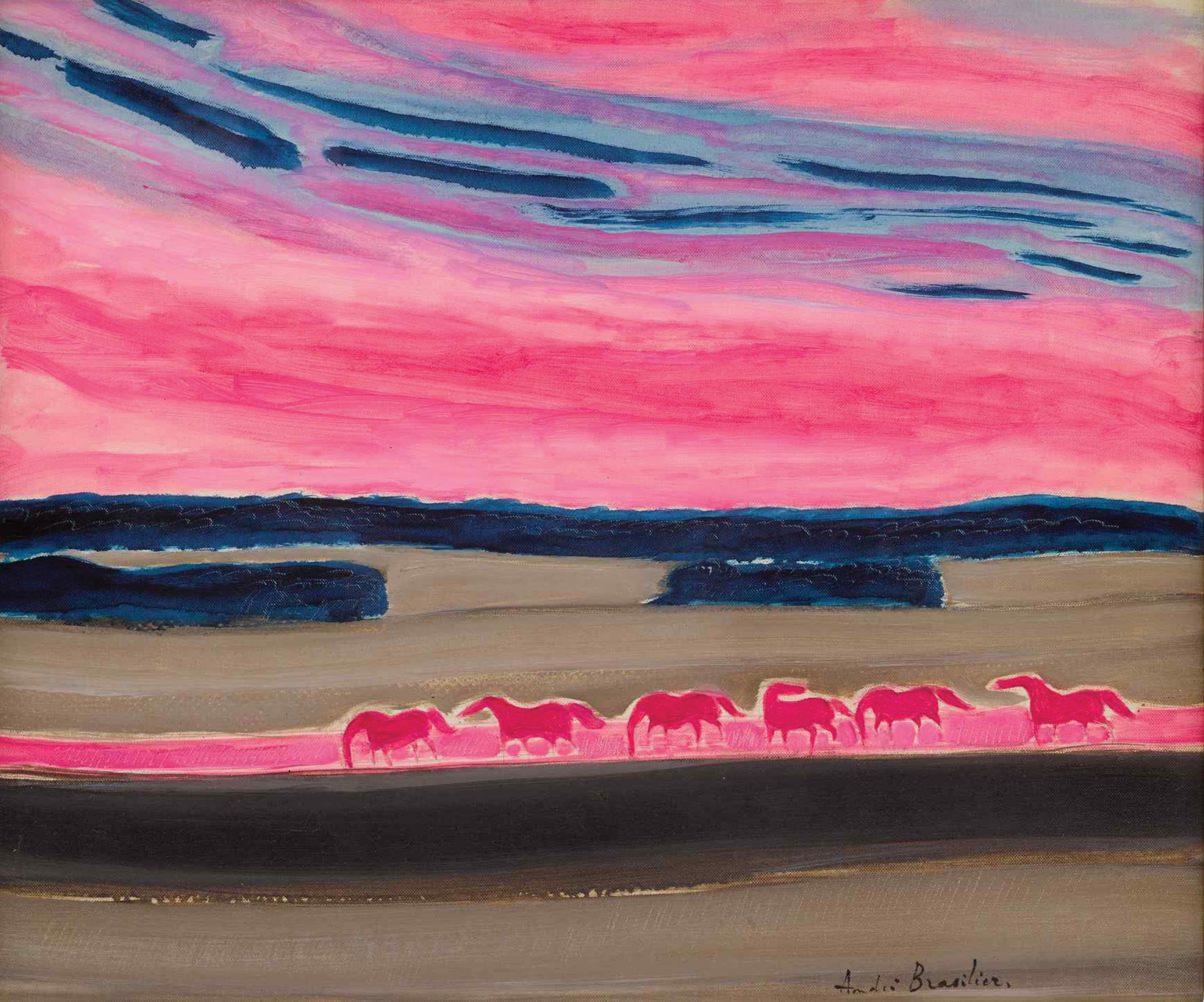 André Brasilier, Le Grand Ciel Rose | Oil on Canvasboard | 18.125 x 23.75 inches | Courtesy of Sotheby's
07 Jan

Collector's Notebook: Become a Savvy Salesperson

If you're a collector, chances are you've considered selling off paintings or sculptures to free up space and make a little cash, naturally, to buy more art. Undoubtedly, along the way, you discovered that it's way more fun to buy than sell.

To help you prepare, we're talking resales, bringing you the insider information about how things work; what leverage, if any, you might have; and how to strategically buy and sell in what has become, according to The Wall Street Journal, one of the "hottest markets on earth."
Selling at Auction vs. Gallery
By art world standards, sales at auctions are transparent. Artwork is photographed, vetted, and analyzed for value based on myriad details ranging from the artist's importance to the work's place within the artist's oeuvre. By law, the reserve cannot be higher than the low estimate. Sales are conducted in a public forum, now made global by the internet. Generally, both buyer and seller pay a premium to the auction house.
Gallery sales, on the other hand, are private transactions. The artist usually decides a set price for the art with his dealer's input. However, should there be any haggling and deal-making, which can happen before the final transaction, that's kept private, primarily to keep the integrity of the artist's pricing structure intact.
For sellers, working with a gallery is often considered less risky. Both collector and dealer agree on the resale price and the commission rate, which can be anywhere from 10 to 40 percent. And, while the value of some artwork might have gone up dramatically over the years, most pieces won't appreciate to the degree that the collector sees a large profit after commissions are paid; they may even take a loss.
By contrast, auction houses set prices in a range, starting at what can be a terrifyingly low estimate — a number that makes lots of resellers back away. According to Jennifer Vorbach, former auctioneer and international director of Post-war and Contemporary Art for Christie's and now a private consultant, the strategy is twofold. "The auction wants to make it competitive to get as many bidders as possible," she said. "And it tends to work. Lower starting estimates also allow the auction house to gather and use statistics, like 50 percent of our lots exceeded their mid-estimates and 50 percent sold above the estimate. The auction house then uses those statistics competitively."
Can the seller set the reserve, you wonder? The answer is yes and no. If a work is of high value and desirable, the seller can negotiate a higher minimum, as well as a lower or no premium payment to the auction house after the sale. They can also arrange prime placement in the sale's line-up (earlier is better to get bidders while they're fresh and the excitement is high). However, Vorbach says, "Everything is negotiable, but if the auction house is not keen on the art, they won't give you an attractive estimate or even take the work."
In that instance, is it worth shopping the work around to several houses to get the best deal? According to Vorbach, if you have a good relationship with one auction house, it's best to deal with them. If you do decide to shop around, she warns, be prepared for competing houses to whisper disparaging things about your art, especially high-profile pieces, something she's seen happen. An auction might cast doubts to steer buyers away from a rival house. "It's very competitive," Vorbach adds.
Perhaps the biggest benefits auction houses can offer over individual galleries are their immense mailing lists and knowledge of buyers. Auctions further create excitement and anticipation for upcoming sales by sending out gorgeous catalogs and posting them online. Plus, the news stories generated from record-breaking sales help add to the fervor.
The Art Market's Fickle Trends
No matter where you choose to resell art, gallery or auction, you should bone up on the market before making a decision. The reason: while you may think the worst-case scenario is that your art doesn't sell, the reality is that you may have just "burned" your art.
Auction results are reported publicly, and those reports last forever. Anyone can see how sales went, but they can't see why things didn't sell. And so, for years to come, there will be a shadow of doubt hovering over work that didn't sell, so much so that, should you try to sell the work again, the estimate could be listed lower than your first attempt.
Art is also subject to trends. Vorbach notes how Helen Frankenthaler, who, after a major show of her work at the Museum of Modern Art in New York City, suddenly lost her edge. "There was so much of her work in one place," Vorbach explained, "the works canceled each other out. But, as the art world revolves, other painters of her generation and previously neglected artists — often women and artists of color — have had the spotlight turned on them. Now her work is very much back in demand."
Blurring the Boundaries: Guarantees and Private Treaty Sales
Over the last two decades, auction houses have crowded into gallery territory in two major ways: private treaty sales and guaranteed sales. Though neither is a brand-new concept, the prevalence has caused a shift in galleries as they respond to the competition.
Private treaty sales are conducted directly between seller and buyer without ever going to auction. The auction house has a tremendous advantage over galleries because they have a deep list of collectors to call on, and they know not only who won works by the same artist but also the under-bidders. Like galleries, these sales are much less transparent, and they are not reported.
Guarantees are another way auctions compete with fellow houses and with galleries by taking out the risk in the sale. Here, the auction house guarantees the selling price. If the artwork goes for less than the guaranteed price, the seller still makes this amount. And, if it goes above the guarantee, the seller not only makes this number but gets a portion of the upside, as does the grantor. Buyers can see if a work has a guarantee; it will be listed in the catalog, albeit in very fine print.
Fun and Games: Buying at Auction
Auctions are great entertainment. They can call to mind something of a casino atmosphere: some art goes big, some craps out. So, what's the best strategy for getting the price you want at auction?
According to collector and auction denizen Doug Erion, the key is research, research, and more research. Because of his dogged approach, Erion knows where a lot of work is, which makes it possible for him to swoop in and grab pieces others may not have realized were coming up for sale. A case in point was a Frankenthaler print, one of which resides in the Tate Modern collection. "The Tate has a nice long video about how that print was built," he says. "Frankenthaler uses many layers; it doesn't look like it. The video shows how she did this one particular piece. Would I have bought the piece otherwise? Probably. It's spectacular. But seeing that video and knowing that the Tate owns one pushed it up in my mind."
Part of Erion's strategy is in his attitude toward auctions. "I go to auctions because of availability," he says, "not for the lowest price."
For expensive works, he often calls the auction house and requests a condition report. With prints, which he's been predominantly collecting these days, he's concerned with foxing or discoloration of the paper. So, if the print is framed and damage is not readily apparent, he asks to remove the frame to confirm the condition.
If a piece is not expensive, he places a bid for the maximum amount he's willing to pay. "If the bidding goes past, no problem," he says. By doing this, he avoids getting too invested in the outcome and overspending in the heat of competition.
If it's something he really wants, he will determine the amount he's willing to pay above the high estimate. Sometimes he'll handle the bidding process, but usually he prefers to have a trusted advisor bid for him. And he maintains his intention of not going too far over the budgeted amount unless the situation warrants it.
If you're new to auctions or find them frustrating, consider hiring a consultant like Vorbach to help. Often, an expert who knows their way around the auction scene can work magic, open doors, and even find things you haven't had any luck tracking down. At a minimum, understand that reselling work is not as easy as buying, so do your homework, ask questions, learn how individual auctions work, and, most importantly, set realistic expectations.
Collector's Notebook" columnist Rose Fredrick writes a regular blog, The Incurable Optimist, where she covers the art market, collecting, and exhibitions, and presents in-depth interviews with artists; rosefredrick.com.