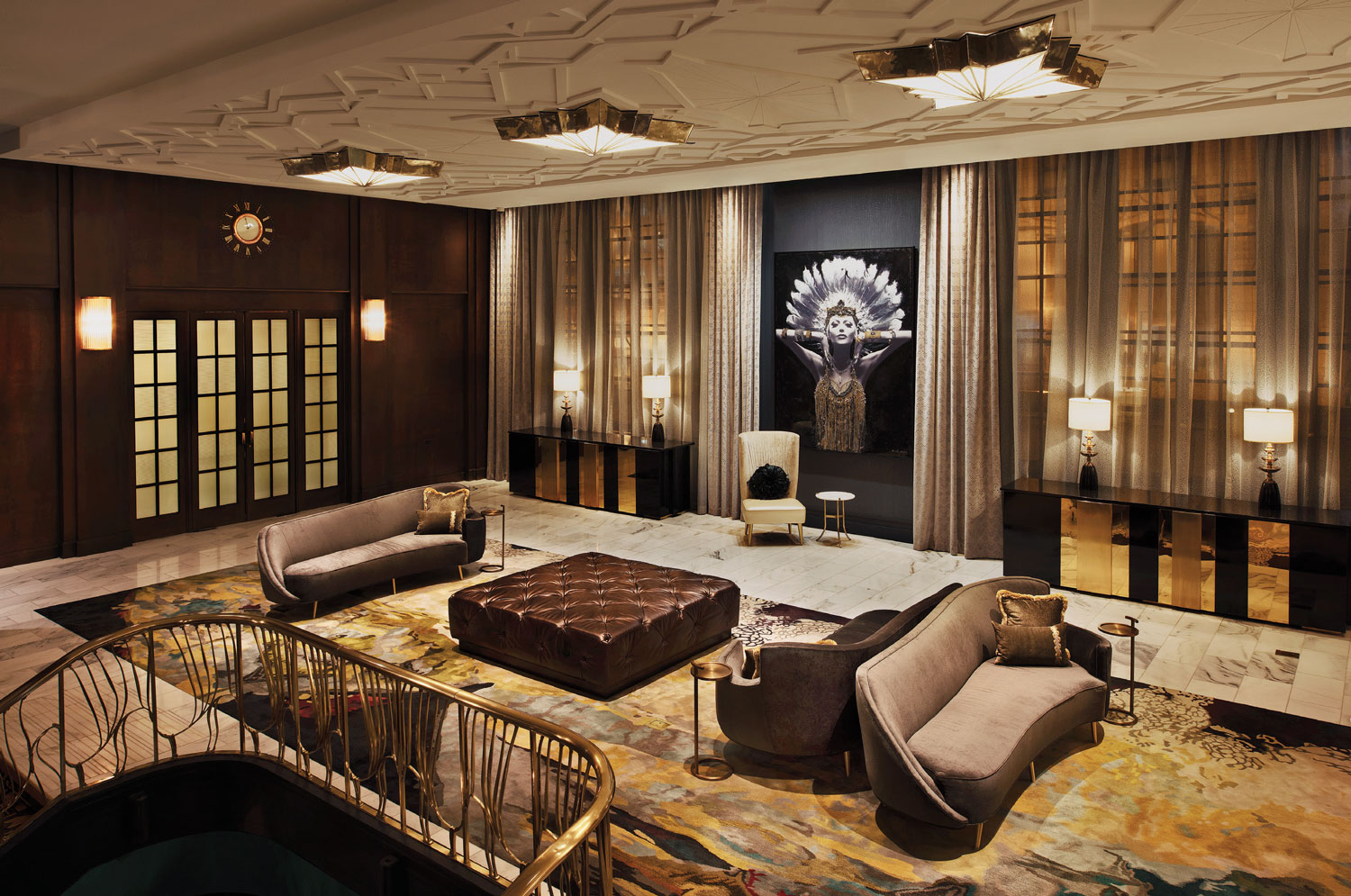 At Chicago's Kimpton Hotel Allegro, Lady Lucent of Awakening by Sarah Raskey looks on, waiting to surprise visitors.
11 Sep

Collector's Notebook: Explore While You Stay

The gorgeous lady may be staring at you, but don't feel self-conscious. She stares at everybody. If you are staying at Chicago's Kimpton Hotel Allegro, you'll inevitably meet Lady Lucent of Awakening, an 8-foot-tall self-portrait of artist Sarah Raskey that always surprises guests during check-in.

At the 21c Museum Hotel in Bentonville, Arkansas, a waist-high, plastic green penguin stands in your elevator one day and then in front of your room the next. Did it suddenly grow legs and walk?

And at the Hotel Villagio in Yountville, California, sultry black and white photos harken back to the glamor days of Sophia Loren, and one even captures a cigarette-smoking nun.

These encounters are not unusual. Hotels around the country are loosening up, playing with art, and amassing collections. Encouraged by the delight on guests' faces, some have hired curatorial staff and established partnerships with museums, galleries, and artists. Hotels are doing more than decorating walls, and during your stay, observation can lead to some eye-opening discoveries. 

"We don't design for 'Instagrammable' moments," says Gianna Tetrick, director of marketing for Simeone Deary Design Group in Chicago, which planned the interiors at the Allegro. "We see design as an opportunity to create a vessel that holds a story. We intend to create spaces that are compelling and memorable, spaces that make guests feel a certain way." 

Many properties showcase local artisans or favored mainstays, exposing customers to new discoveries. The 21c Museum Hotels, a collection of boutique establishments across the U.S., introduces visitors to 21st-century artworks from such well-known talents as Nick Cave. The 21c spaces are considered a new type of museum where the public can enjoy high-end collections 24 hours a day, for free, throughout the premises. "The range of artists and media we present may inspire collectors to take risks — to buy work from emerging artists, or artists from parts of the world not represented in their own collections," says Alice Gray Stites, 21c Museum director.

The Hotel Zeppelin in San Francisco takes its cues from the city's radical fabric in the 1950s to '70s. "Those were important revolutionary and lifestyle-defining moments," says hotel designer Andrea Sheehan with Dawson Design Associates. At the Zeppelin, psychedelic wallpaper plasters the bathrooms, and medallion motifs adorn guestroom pillows. Lobby visitors marvel at Blowing in the Wind, a metal sculpture of a woman with wind-blown hair made of recycled tools. It's an edgy experience that may not be for everyone, but the 8-foot-diameter peace sign covered with license plates and the cartoon wall mural in the game room make a bold statement. 

"For those of us with curious minds, hotels can play a vital role as an interactive gallery, a living medium to experiment with new concepts, ideas, and perspectives both as an artist and as a guest," says Sheehan. "Art has always been used to start conversations."

When registered at an artsy abode, participate in available architectural tours, in-house art walks, and meet-the-artist receptions. These are usually free and offer scintillating behind-the-scenes stories. The Broadmoor, with more than 175 articles of Western art, features both authentic and replicas of great works from Frederic Remington, Albert Bierstadt, and Charles Russell. The artwork is so popular at the historic Colorado Springs resort, that it provides art tours three times a week. And the 21c Cincinnati hosts a collectors' dinner program, where guests dine with artists and take home a limited-edition work. Meanwhile, Hotel Zeppelin plans to maximize the 50th anniversary of Woodstock this year with special art talks. It recently hosted a meet-and-greet with Rolling Stone photographer Baron Wolman, who shared his experiences during photoshoots with such celebrities as Jimi Hendrix.     

In addition to discovering and meeting new artists, use your stay to study a hotel's interior design. Observe the placement  of items, learn to mix and match, and find ideas for placing artwork in unexpected places. 

When The Estate Yountville, which includes two hotels and a guest house, underwent a recent multi-million dollar renovation, it revolutionized itself with an updated, upscale look and feel. The Villagio on the property went from Tuscan to industrial chic with hints of Mid-century Modern, says Kathleen Dauber, partner at the global design firm Hirsch Bedner Associates. Since the 27-acre location was originally a winemaking site, the designers ordered ceilings with exposed beams for an authentic barrel-look, along with framed antique corkscrews. The lobby features black and white photos, brass lighting, and leather couches for a darker, moodier feel. And at the adjacent Vintage House hotel, white paint and high ceilings offer a bright farmhouse feeling. "[In Villagio] we wanted to celebrate the structure of the winery with warm woods that hearken to wine casks, and the Vintage is more romantic with whimsical artwork," Dauber adds. 

At hotels, it's also easy to see the "story" running throughout an interior. This might inspire you to commission artwork with a theme. At the Chicago Blackstone Hotel, the fitness center features a one-of-a-kind mural of Chicago icons, igniting the room with color. And at the Hotel Talisa in Vail, Colorado, lead designer Lara Rimes and her team came up with a narrative that included three "ambassadors": the adventurer, the artisan, and the Southern Ute tribe. Each design decision subtly reflects an ambassador. Images were printed on wood that resembled feathers. String art pointed to woven baskets. The glass chandelier? Crafted to sparkle like healing stones. 

"Pull together your own narrative and share what it is like for you," advises Rimes, senior interior designer at Leo A Daly architecture firm. "We wanted guests to feel like they were in a luxurious mountain home, where the owner had spent a lifetime collecting this artwork and furniture."

While wandering hotel hallways, you never know when a new collectible may strike you. It can be the most ordinary of objects that look fantastic when grouped together. In a private dining room at Hotel Talisa, a set of antique fishing rods arranged in rows provides an eye-nabbing visual. Unique placements set off collections in a novel way, making them look new once again.

When you get stumped and cannot remember what you saw, call the hotel to track down the names of the originators. Designers are more than flattered when that occurs. Says Rimes, "One lady contacted us about a piece of artwork in the guestroom corridor, and we were able to connect her with the photographer. Another person wanted to learn more about an artist. Other times it's about a light fixture or a particular rug. I love getting those kinds of calls."

As you plan your next vacation, select a venue that yields adventures in art and design. Be inspired once more, and upon returning home, refresh or revamp your prized collection.