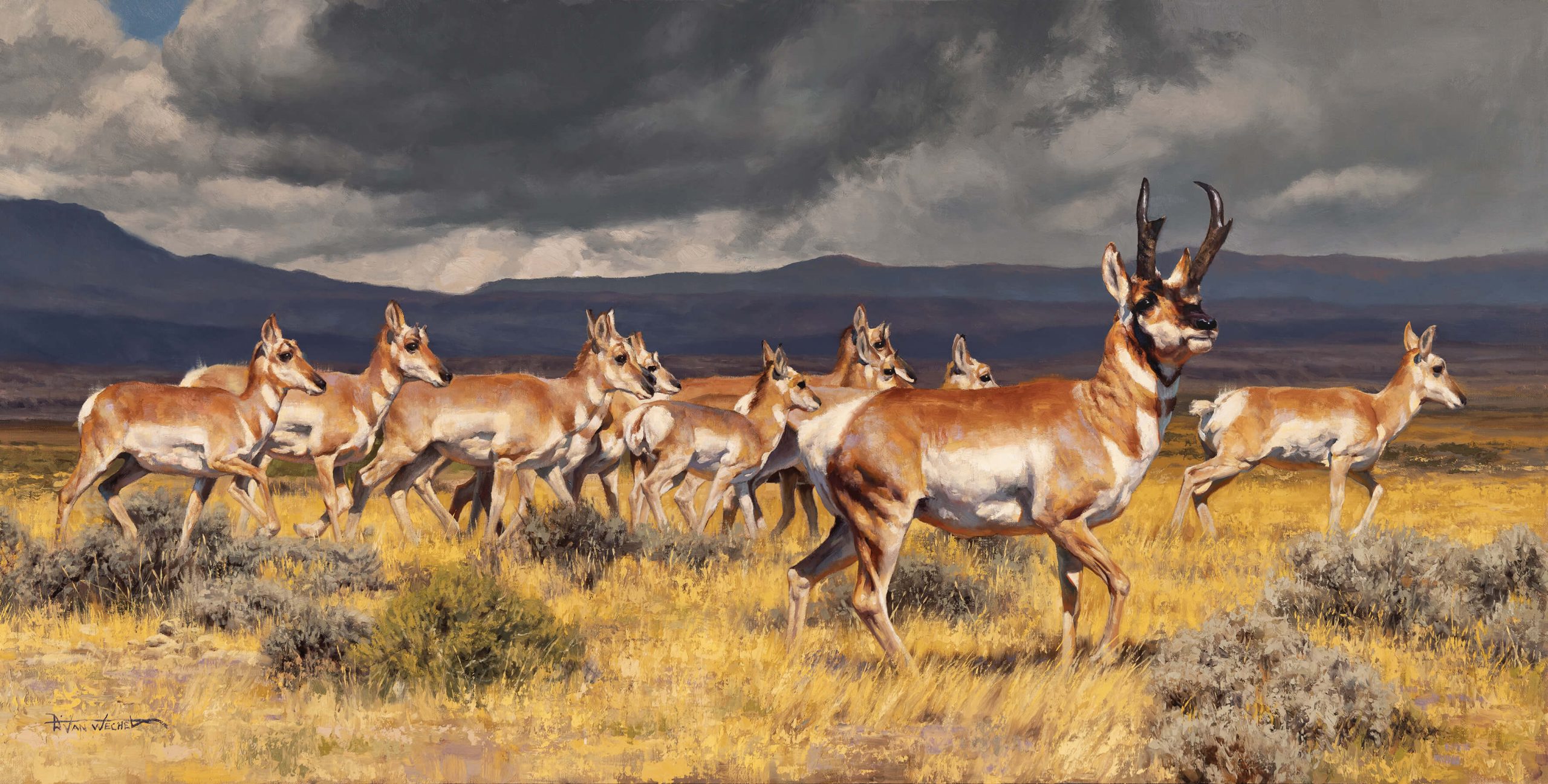 Bill Van Wechel, Speed Dating | Oil | 24 x 48 inches | Courtesy of Buffalo Bill Art Show & Sale
07 Nov

Collector's Notebook: Meeting of the Minds

If you're a collector thinking about diving into a major remodel or new construction but don't know where to start, why not consider letting your artwork take the lead? Think of it this way: Your art collection and those unique objects you've found on your travels are a type of personal memoir. Why not use them to reflect your inner aesthetic? 

Jennifer Hartman, principal and co-owner of the Crested Butte, Colorado-based firm Sunlit Architecture, assists her art-collecting clients by learning the depth of their collection to understand their specific needs for placement and display. She recommends that collectors compile a detailed list of all their pieces, including dimensions and medium, so the design team can refer to this document throughout the process. Architectural features like niches for sculpture, gallery-like display walls, supports for heavy pieces, window placement, and lighting become a priority, not an afterthought. 

"Many conversations follow cataloguing a collection," Hartman says. "Are we going to use all the pieces? Are we grouping them? Will some things be rotated out?" Once she has the answers, Hartman begins the design phase. 

Remodels, she admits, are trickier than new builds because they require re-imagining a space and how the collection will fit. One such project was for a pottery collector who wanted each of their ceramics displayed. "Because some of the pottery was intricate and some were quite small, the viewing areas needed to be about 36 inches to 60 inches above the finished floor; otherwise, they would be difficult to see," she says. "We added ample storage in cabinetry below the shelving, as well as integral decorative lighting within the shelving to soften the spaces."

In the case of more varied collections, identifying where large works will live and then engineering walls and lighting to handle those pieces is critical. Paint colors and wallpaper can also impact how art is perceived. Furniture and antiques come into play, too, because, as Hartman explains, "In all scenarios, similar to a museum, having enough space to comfortably view the art is paramount. In residential architecture, there is a tendency to overcrowd walls or overfill shelving because the space is not big enough." Before this happens, Hartman strongly suggests everyone take a moment for an honest conversation about rotating one's collection.

"Ultimately, it's a matter of understanding the goals of the client in terms of the rhythm or pace of placement. Using furniture as pedestals makes the experience more residential, less like a museum," Hartman says, adding that placing large works in vaulted spaces or on a fireplace creates a balance between art and architecture. She also uses art as focal points on the sides of fireplaces or at the end of halls. And if the design includes a long hallway, she will add multiple niches to offer interesting breaks for art along the way.

Beyond the architectural nuts and bolts, Hartman also believes a residence has more opportunities for whimsy when planning for an art collection. "Having texture, color, and material variation," she says, "can enhance a painting or sculpture as well as the architecture of a home." 

Lighting is essential to enjoying art, says interior designer Eric Mandil and architect Stephen Henschel of the Denver-based firm Mandil Inc. "Eric was an intern at the Smithsonian in D.C. under their lighting director," says Henschel. "His experience there has helped in all types of projects and lighting." 

They recommend considering light fixtures from day one. "Planning space for art is best in the beginning," Henschel says, adding that spaces like corridors and intimate sitting areas can be well-lit to highlight important works. 

Thankfully, lighting and preservation have come a long way with LED, various lenses, and UV-resistant coatings, but window placements can impact art in terms of conservation and casting shadows. "The lighting and light source is the last thing you want to see," Henschel says. "Track lighting is the most versatile but also the busiest. We try to recess the entire track in a trough when we plan in advance. In a remodel, it's harder to plan due to the structure. In these situations, we incorporate soffits or underlit shelving or cabinet lights running vertically." 

Henschel and Mandil also suggest using sculptures to anchor a dining room and create drama at the end of a long hall or in a garden setting. "Up lighting," Henschel says, "whether from the floor or backlit, provides different experiences. And lighting from the front at a distance can enhance objects with shadow effects."

The medium will also affect the lighting. Glass pieces, for example, are best highlighted from behind or underneath a clear glass shelf. Henschel recommends LumiSheet or LED panel lighting to achieve dramatic backgrounds. And glass sculptures set on a pedestal in front of a window can be breathtaking, but consider how to light these works when the sun goes down.

Unique design elements and opportunities might include display enclosures like the ones Mandil Inc. designed for a collector who wanted to surround floating fireplaces with glass sculptures. Henschel, who believes displaying multiple objects is powerful, also warned that some collections can become chaotic if not cohesively organized. 

When it comes to wall-friendly hardware, architects and designers can work with anything their clients throw at them. "No Command Strips here!" Henschel says. "Just like in days past, picture rails are easily integrated into crown moldings to allow art to hang in front of walls that a client would rather not nail into." He also recommended art shelves, gallery rails, and French cleats for multiple pieces. "Or," he adds, "if a painting's not going to move, just use a nail."

Hartman suggests neutral colors for walls that will showcase paintings, especially if rotating art might require repainting the wall. Because plaster or clay finishes can get expensive and are time-consuming to repair, she recommends installing a layer of plywood behind the drywall to allow for flexibility when hanging more substantial pieces. "Within stone veneer," she adds, "providing anchors is helpful. And incorporating unexpected materials, like metal or wallpaper, can add visual interest and enhance the experience of the art and the architecture."

Don't forget the great outdoors, which, when done right, can be a gorgeous extension of your living space, complete with outdoor art. Consider adding signature sculpture to establish a sense of your aesthetic and collecting prowess from the street. And work with your architect to place windows in strategic locations so you can enjoy those exterior works from inside, too.

Off the Wall: Art Storage

During a remodel or new build, you might plan a special place for every last art piece. But know thyself, collector. You will most likely acquire additional works, and it's best to prepare for storage to avoid a monthly bill from a third-party facility. Consider these tips and tricks for planning ahead and storing art safely…

On the Move: Consider how to get pieces into and out of storage; make doorways wide and tall enough to accommodate large works. If you need an elevator, account for the size of your biggest work and ensure it will fit inside.

Security from the Elements: Look into humidity control. High humidity can encourage mold, warping, and pests, while low humidity can lead to brittle works. The Smithsonian Museum recommends between 30 to 50 percent relative humidity for paper-based collections, but it can vary for other mediums. (Visit their website siarchives.si.edu for more tips on conservation.) If using a basement, think about storage racks that keep art off the floor in case of water leaks and ensure waterless fire protection.

In the Dark: No windows, please. Keeping art free from dust and natural light is vital. Important photographs also need a regular break from being on display.

Strategize and Organize: Create labels for different genres or mediums, such as oil or watercolor, to easily find specific works. Consider keeping a ledger in the storage area to check things in and out. 

Taxonomy: Knowing what's hidden behind wrapped artwork will spare you a headache. Print labels with a photo, the title, size, and medium, and tape them in a visible location for easy identification.

Rose Fredrick shares her extensive knowledge about the inner workings of the art market on her blog, The Incurable Optimist, at rosefredrick.com.