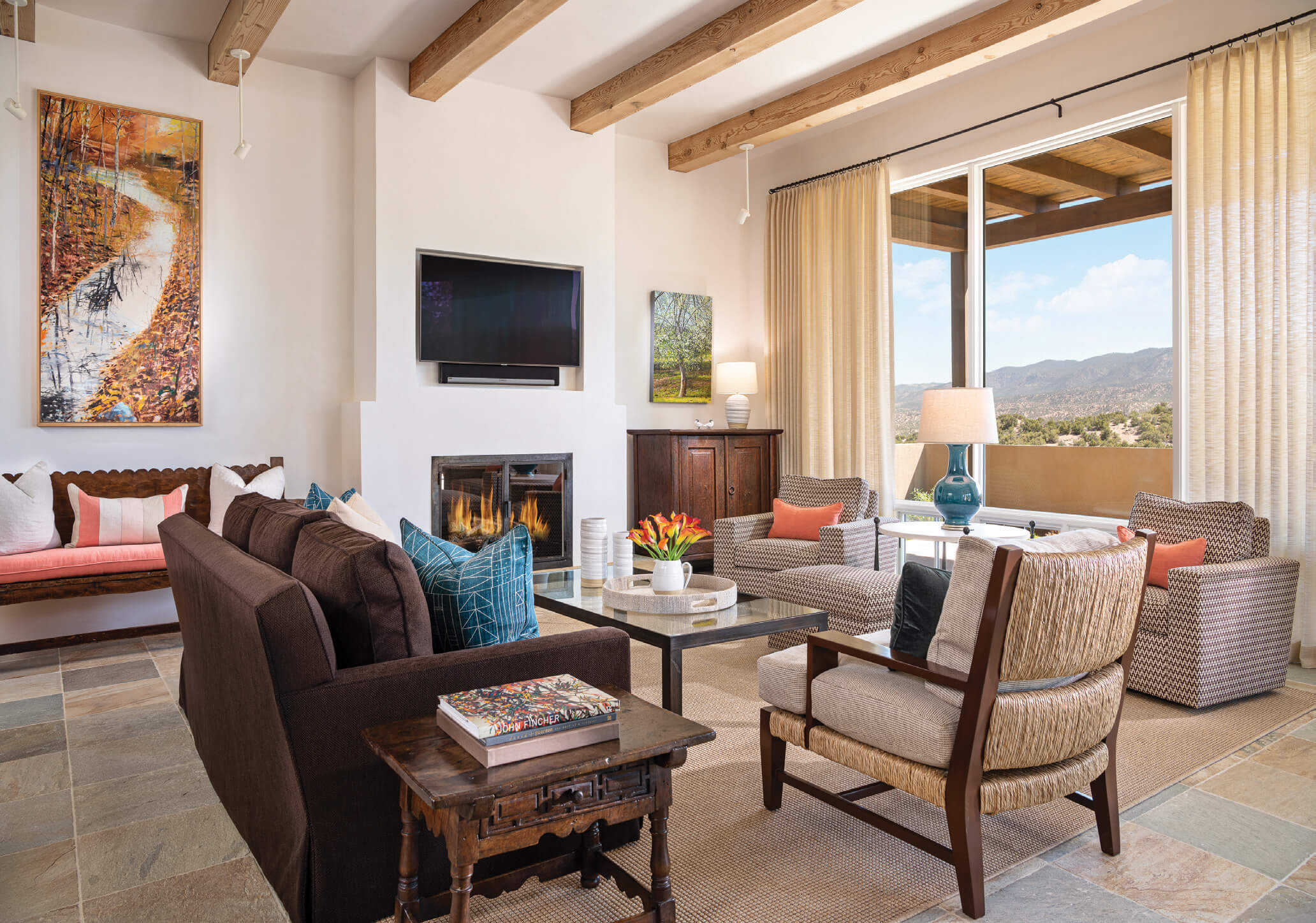 To meet the needs of an extended family with grandchildren and dogs, the upholstery in this living room is made of outdoor fabrics. The woven-back chair from A. Rudin adds to the casual, informal feel.
09 Jan

Designing the West: A Consummate Team

Paul Rochford, who grew up in Santa Fe, New Mexico, was one of those unusual kids whose parents never had to ask him to clean his room. He always kept it "just so," he says. Meanwhile, in Chicago, Michael Violante's parents allowed their young, art-enamored son to choose colors and rearrange his room as he liked.

So it's no surprise that the pair — now a married couple with a 15-year partnership as designers and owners of V&R Interiors in Santa Fe — "live together beautifully," Rochford says. And their teamwork extends to every aspect of their business. Known for their close collaboration with clients and sophisticated touch in traditional, contemporary, or blended styles, they are often hired for repeat projects by clients with multiple homes.

Rochford brings strong business acumen to the team, having been an entrepreneur throughout his adult life, including co-owning a Santa Fe art gallery for many years before selling the business in 2006. Similarly, Violante's inclinations have always been artistic. "As a boy and young man, I was moved by the color, texture, pattern, history, and architecture of Chicago," he says. "I was touched by the beauty."

A few years after Rochford sold the art gallery, he decided to remodel his home and sought an interior designer to help. Aware of Violante's reputation as one of the best in Santa Fe, Rochford hired him. During the remodeling process, they realized they worked together well. They also fell in love.

At the time, Violante was part of a Santa Fe interior design firm but had never been made partner. Rochford's experiences have taught him that life is short. "I knew how to set a business up, so I asked Michael if he'd be interested in [establishing an interior design firm] together," Rochford says. Violante remembers feeling anxious about leaving the security of an established company, but it turned out he had no time to worry. Violante & Rochford Interiors took off.

Today the award-winning business, now known as V&R Interiors, has four full-time employees in addition to the two principals and has conducted design projects across the country. A few years ago, the team opened The Store for V&R Interiors, a retail space housed in a 1902 craftsman-style home in downtown Santa Fe. The Store features antiques, upholstery, and artisan-crafted items the couple finds in their travels, including Old World-style fixtures made with recycled glass by La Soufflerie in Paris, handmade lighting by Dumais, and hand-painted ceramics by Hannah Niswonger.

Dedicated to the collaborative process, Violante and Rochford meet with clients together as a team. They spend time discovering their clients' aesthetics, lifestyle, and interests. Often the designers are hired even before the architecture is completed, allowing them to work with the homeowners on the finishes: from the flooring, countertops, tile, lighting, and exterior details to the interior walls. "By the time we get to the furniture, we know each other pretty well," Violante says.

When it comes time to decorate the rooms, the designers always start with rugs, which the pair considers foundational for establishing color palettes and the overall look. Violante's primary tasks include drawing the initial design plan on paper and coming up with ideas for colors and shapes. Then the couple works with the clients to refine the concept.

For a recent home redesign on the Texas coast, the clients wanted a playful beach vibe without being stereotypical. The results included vibrant hand-printed fabrics by Raoul — yellows, blues, greens, and reds, with esoteric patterns — and outdoor fabrics used inside to accommodate young grandchildren. Yet, even with a beach house or highly contemporary home, Violante and Rochford always like to incorporate at least a few antiques. As Rochford explains, "It brings another layer of soul to the house."

Gussie Fauntleroy has written about art, architecture, design, and other subjects for 25 years. She's the author of three books on visual artists.

Photographer Wendy McEahern brings more than 30 years of experience and dedication to her work.

Q&A with Michael Violante and Paul Rochford of V&R Interiors

What do you say to clients who would like to step out of a familiar look but are anxious about trying something too different or bold?

To get out of one's comfort zone, it's always helpful to hire a design professional, as it helps you feel more confident about your choices. If you don't want to go that route, choose simpler, less expensive decisions to test the waters. If that goes well, then look at the bigger picture.

Is there a new trend in lighting that's especially exciting to you?

We absolutely love the company Urban Electric. They take a classic form and make it current and contemporary. We have a lot of it in our own home.

What are your favorite travel destinations for sourcing treasures for The Store or to use in your designs?

London, Florence, Santa Barbara — we're always inspired by California — the Caribbean, especially St. Barts, and we have brought things from as far away as Jordan in the Middle East.

What's one of the most interesting design challenges you've overcome?

We designed a ski chalet in the village of Wengen, Switzerland, which has a population of 300 people. Absolutely breathtaking. The town does not allow cars, so we had to arrange for several train cars to get our "story" to the chalet. Talk about trains, planes, and automobiles!

You incorporate antiques and artisan-created items into highly contemporary interiors. Are there any styles, colors, or aesthetics that you would never combine in one room?

We love the adventure of exploring many possibilities, and we find it's actually nice to have friction between pieces: antique next to contemporary. There are no rules!