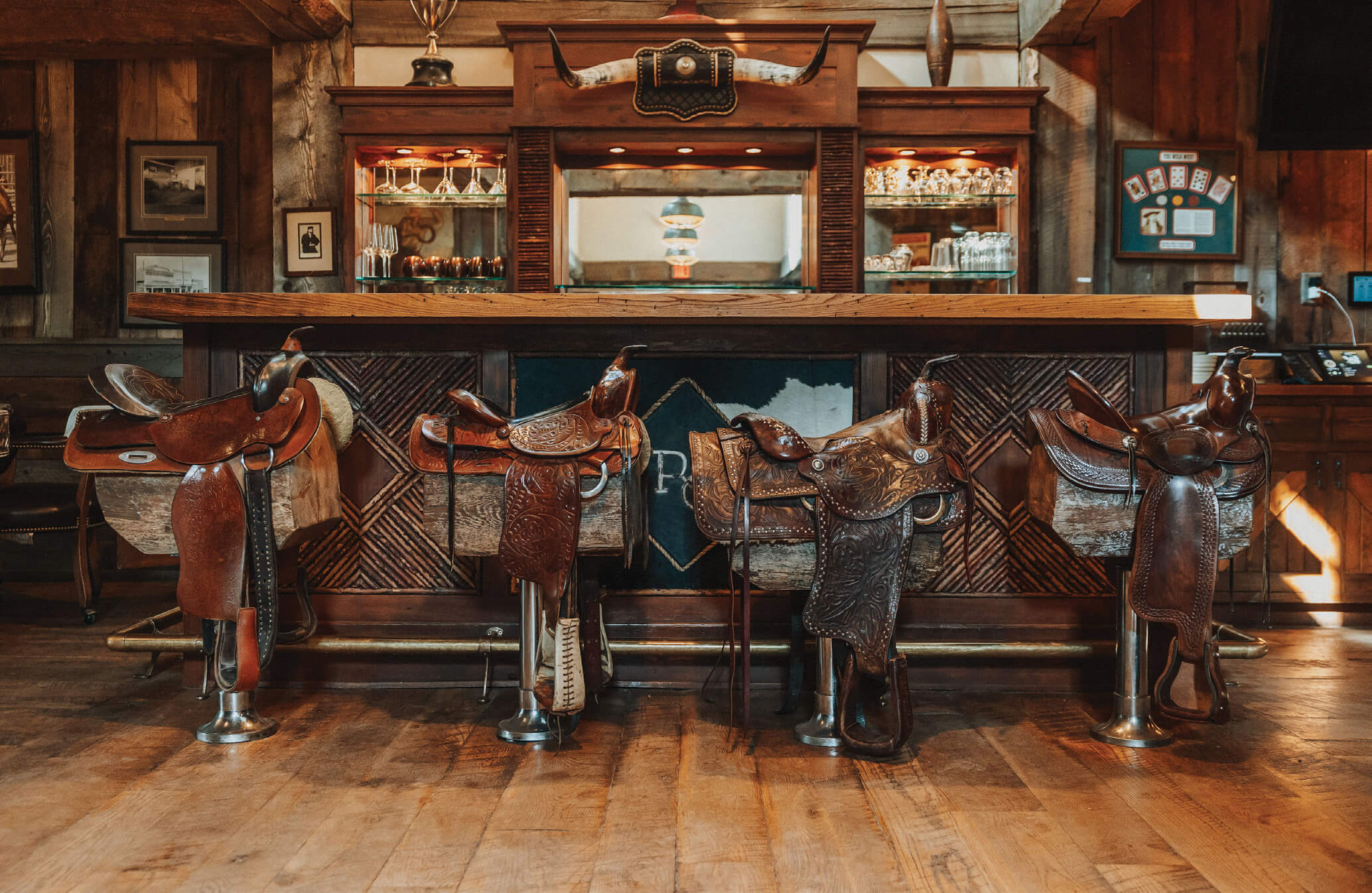 Saddle up for a true Western experience at the Silver Dollar Saloon found at The Ranch at Rock Creek in Philipsburg, Montana. Actual old reconfigured saddles swivel just like regular barstools. Photo: Jennifer Blodgett
06 Sep

Designing the West: Blending Past and Present

When a journey through miles of wilderness leads to the brink of a rustic resort, the next step makes all the difference. That moment of transition from the natural world to a designed interior can make or break a vacation. Who doesn't feel welcome when the human-made space they enter harmonizes perfectly with the natural environment?

Jet Zarkadas, principal designer and owner of Los Griegos Studio in Santa Fe, New Mexico, should know. Rural communities in Montana, Colorado, Wyoming, and New Mexico have showcased her work since 1997, with discerning homeowners and hotels her most appreciative clients. From dude ranches to elite lodgings, she has perfected the art of living through the art of interior design.

"I can't take all the credit," says Jet, who was born in Chicago but, having grown up in Phoenix, is truly a Westerner at heart. "The firm is made up of the three Js — myself; Jennifer Wilson, my lead designer; and our bookkeeper Jayne Valdez: the dream team." Wilson was raised in Santa Fe and is a third-generation expert in the arts, specializing in Native American art and culture. After a decade with Sotheby's in New York, she returned to New Mexico, where she met Jet. Their talents and interests meshed perfectly. 

The firm's office operates out of Santa Fe simply because Zarkadas loves the city. "The beauty of the landscape, the art, the architecture, the culture, and the climate make it a magical place. Then there's the earthiness, the sky, and the amazing people. It's a very easy environment to live in," she says. 

With some formal art training and broad exposure, her first efforts as an artist included running an animation and graphic design studio with her husband, followed by creating art, designing furniture, and showing in galleries before starting her own business, Los Griegos Studio. It wasn't long before clients sought her counsel in color and design. 

An extraordinary opportunity came with an invitation to collaborate on the interior of the Blake Hotel with designer Susan Nowakowski of Zehren Architects in Vail. A gem in the heart of the Taos Ski Valley, the hotel is possibly the designer's favorite job of the last decade. Privately owned, the 80-room, four-star alpine guesthouse is appointed with understated sophistication from casual gathering areas to plush penthouse ski chalets.

"The job allowed for an exploration of the locale with its rich history of European influences, ski culture, Indigenous people with Native arts, plus local Northern New Mexico traditions, and the influence of the WPA with its particular aesthetic," says Zarkadas. "Several influential artists were associated with that program including Maynard Dixon, Dorothea Lange, Pablita Velarde, and members of the Taos Society of Artists such as Sharp and Blumenschein, plus the influence of Mabel Dodge Luhan, who brought so many to Taos and New Mexico. It's been the project of a lifetime really, with continuing facets born out of that initial project."

The Blake Hotel also exhibits original art by many of the legends who once lived and worked in the area, including Georgia O'Keeffe and many of the Taos Society of Artists, all part of the owner's personal collection. Zarkadas is deeply aware of art history and style and knows how to use both in context. Her choices in fabrics, bedding, and décor reflect a true understanding of place-making without compromise, creating a sense of place and finding the soul of the project. 

Her installations at the Ranch at Rock Creek near Philipsburg, Montana, another career-defining association, might exceed the average client's wildest imagination. As the dude ranch facility has grown, Zarkadas has perfected a rugged but comfortable look that appears to have evolved over time. The interior design is both contemporary and rustic, with a kind of nostalgia and cowboy cool that in many ways reflects the very essence of the American West.

Coming up for Zarkadas is a renovation of a 1920s fishing cabin on a lake in Northern New Mexico at Vermejo, part of the Ted Turner Reserves. The goal is to restore and transform it for a 21st-century Western experience — the perfect canvas for the talents of Los Griegos.

Q&A with interior designer Jet Zarkadas

Where do you find inspiration?

 I like to start with the geography, the architecture, and/or a favorite piece of art that may influence the design or the client.

What ideas help develop individuality in your interiors?

Personally, I strive to establish a sense of identity congruent to the surroundings. I adopted a ranch and lodge vernacular many years ago, so you might say my signature is "Rustic Ranch" or "Lodge." I try staying true to the location, history, and culture and always seek the authentic, using real antiques, not cheap reproductions.

What are the greatest challenges for you when starting a new project?

Understanding a client's vision and translating it to a better, clearer, and more coherent sense of design, style, and color.

What do you love most about your work?

Creating a sense of place and telling its story. Most opportunities have been in the most beautiful locations. I've been so fortunate in that respect.

Hospitality facilities require an upgrade approximately every five years. Do you incorporate new trends or try to preserve what was?

I stay true to the original intent when updating a project. The programming may change but the design intent stays true. It lends cohesiveness.

Many of your clients have been with you for a very long time. What do you think contributes to this?

Understanding their vision, being loyal in return, and being available when needed. Trying to keep that vision fresh and responding to changes in their lives impacting the surroundings. I've been very fortunate to have had longstanding relationships with people I admire and respect and who have an appreciation for fine art, history, and architecture.

Corinne Joy Brown is an award-winning, Colorado-based freelance writer and novelist. She covers art, design, and architecture for Colorado Life, Home & Garden Colorado, and other regional publications. For more, visit corinnejoybrown.com.