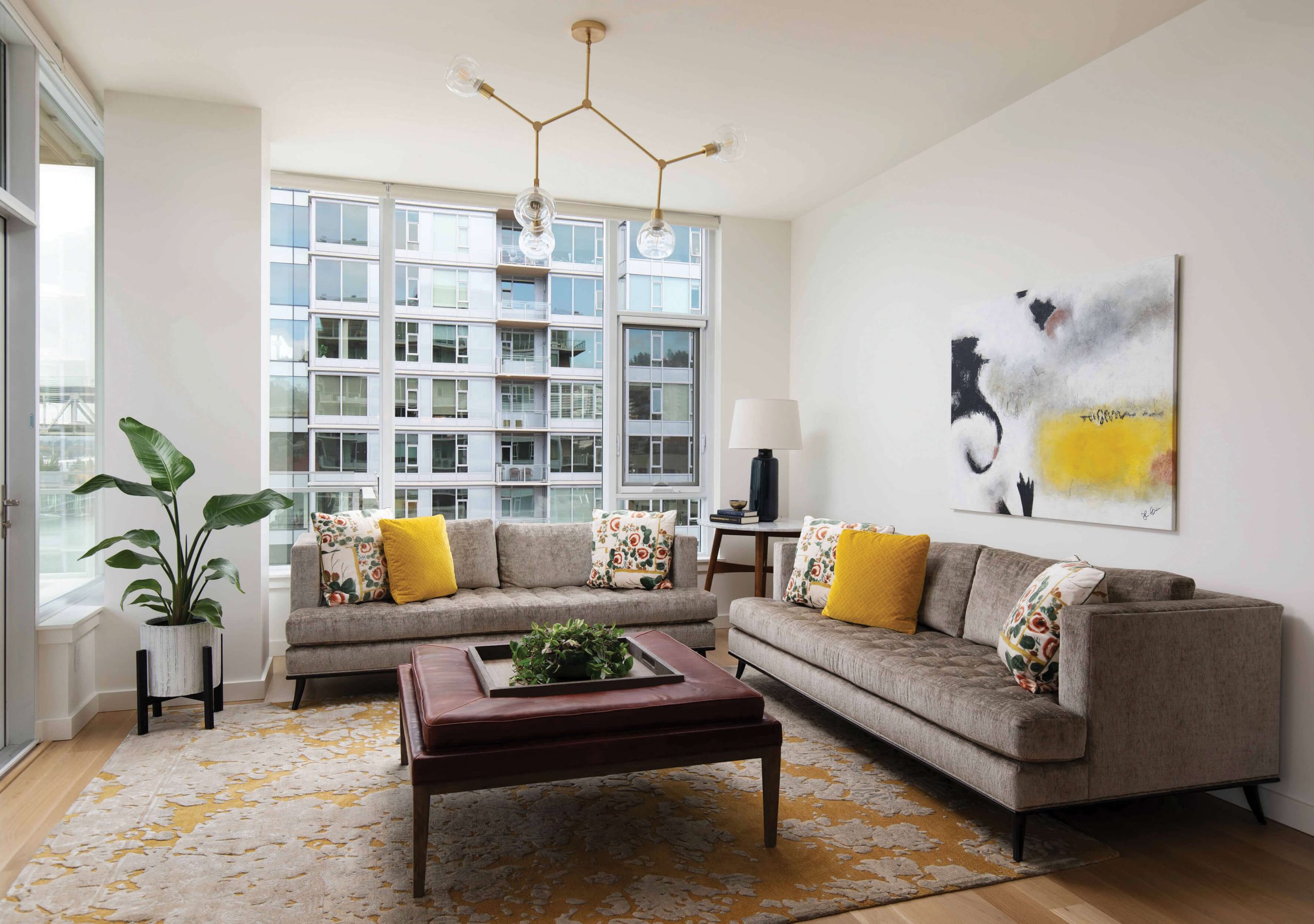 A condominium remodeled in Portland, Oregon, demonstrates Jenni Leasia's ability to meld a client's taste with a modern aesthetic.
08 Nov

Designing the West: Finding the Flow

Having grown up surrounded by the lush Hawaiian 
outdoors and her mother's vibrant watercolor paintings, Jenni Leasia's natural inclination to improve people's environments informs her design aesthetic. "My Hawaiian childhood instilled the importance of connecting indoor and outdoor spaces, which is a huge part of Hawaiian design," Leasia says. "The other thing is I am not afraid of color. I love color. Our design firm has a restrained modern style, but we are not afraid of injecting bold colors in a way that works for our client."

Jenni Leasia Design started out as a one-woman operation more than 20 years ago. Now her Portland, Oregon-based company has five designers, a studio manager, and a remote administrator. She discovered her passion for interior design while remodeling one of her own homes. "I remember interviewing kitchen designers and thinking, 'I want to do what you do.' I started staying up at night and hand drawing designs of our kitchen," she says. Then, a unique job came along when a friend who was building a custom home asked her to be the lead designer. "I have to say, when I think back on this, this was an extraordinary opportunity that was handed to me," Leasia recalls. "I was literally learning by doing. And I loved it. I would jump out of bed looking forward to what we had to do that day. It was a wonderful experience."

Leasi enrolled in design classes and opened up her business at the same time. "It worked out great," she says. "I had young children, so having my own business allowed me the time they needed, and I had the opportunity to grow and develop."

Prior to becoming an interior designer, Leasia worked in television, producing a PBS series that featured personal and public art collections. She also worked at an art gallery after graduating from Reed College, which gave her an appreciation for the connection people have with art. "There's a real difference between art made as decoration and art made with intention," she says. "The need to create and say something — to make sense of things somehow — is an incredible way to tune into what it means to be a human being in this painful and beautiful world."

Leasia says her mother's sense of color and balance helped guide her aesthetic. "My mother painted landscapes and was incredible with color. She created a home that was just gracious, welcoming, and very authentic to who she was, and that influenced me. She loved what she loved and wasn't a trend follower."

Instead of following the new-fangled fads, Leasia's design studio looks at every project as a way to solve a problem. "Clients come to us because their house doesn't flow right or they hate the way it looks," Leasia says. "It might be that their family is growing or downsizing; there's always some problem. We start diving into what is the problem and what is the vision."

The design concept phase involves a lot of client input, from inspiration photos to such nitty-gritty details as where they want their charging stations. Next, the design team meticulously documents the space and generates a plan. They go over everything from the floor plan and finishes to the accents and focal points of a room. "My other passion is rugs," Leasia says. "I love handmade rugs. It's really great to start with a statement rug and build the palette and materials from that."

When it all comes down to it, livability is a key aspect of her firm's design philosophy. "Interior design aesthetics are important, but there's a huge opportunity to get a flowing work-live situation that works better for them, and that has a high value," Leasia says. "You just feel better in a space that flows for you."

Q & A with interior designer Jenni Leasia

What is your favorite Portland, Oregon, art gallery?

I'm partial to Russo Lee Gallery because they represent Northwestern artists. They have done really well sustaining long-term relationships with many artists, but I also love the new artists they bring in. You can see how well they nurture their artists' careers.

What is the best way to begin a renovation?

The more clearly defined your objective, the better. Think about what specifically is not working — not how to solve it, but what would I rather have? It's important to get educated about costs, and it's super important to stop watching HGTV! It's not reality. The timeline is ridiculous, the way they talk about costs does not take into account all the behind-the-scenes work that the client will pay for, and they don't acknowledge any of that. Finally, reach out to reputable professionals and talk to friends and neighbors and ask them not to sugarcoat the costs. This way, you can prioritize your scope of work and do what makes sense for your budget or think about doing things in phases.

What is a favorite piece from your art collection?

I started buying art when I was in my 20s, so I have a few pieces from that time. (I haven't gotten rid of anything.) I love having art around me. I have not acquired very much for many years, but I just recently bought a rug I'm insane about. I can't stop staring at it and plan to redecorate the room around this rug. I also have a painting that my mom did when my son was 3. She had been on a phone call with him, and then she painted a big purple airplane, a helicopter, a train, and a dog, all in fabulous colors. She called it, A Conversation with Henry. And I love this painting.

Michele Corriel, freelance art writer, author, and curator, earned her master's in art history and a Ph.D. in American art. She recently started her own art consulting business. Michele is an assistant professor at Montana State University and is currently working on her book, The Montana Modernists.