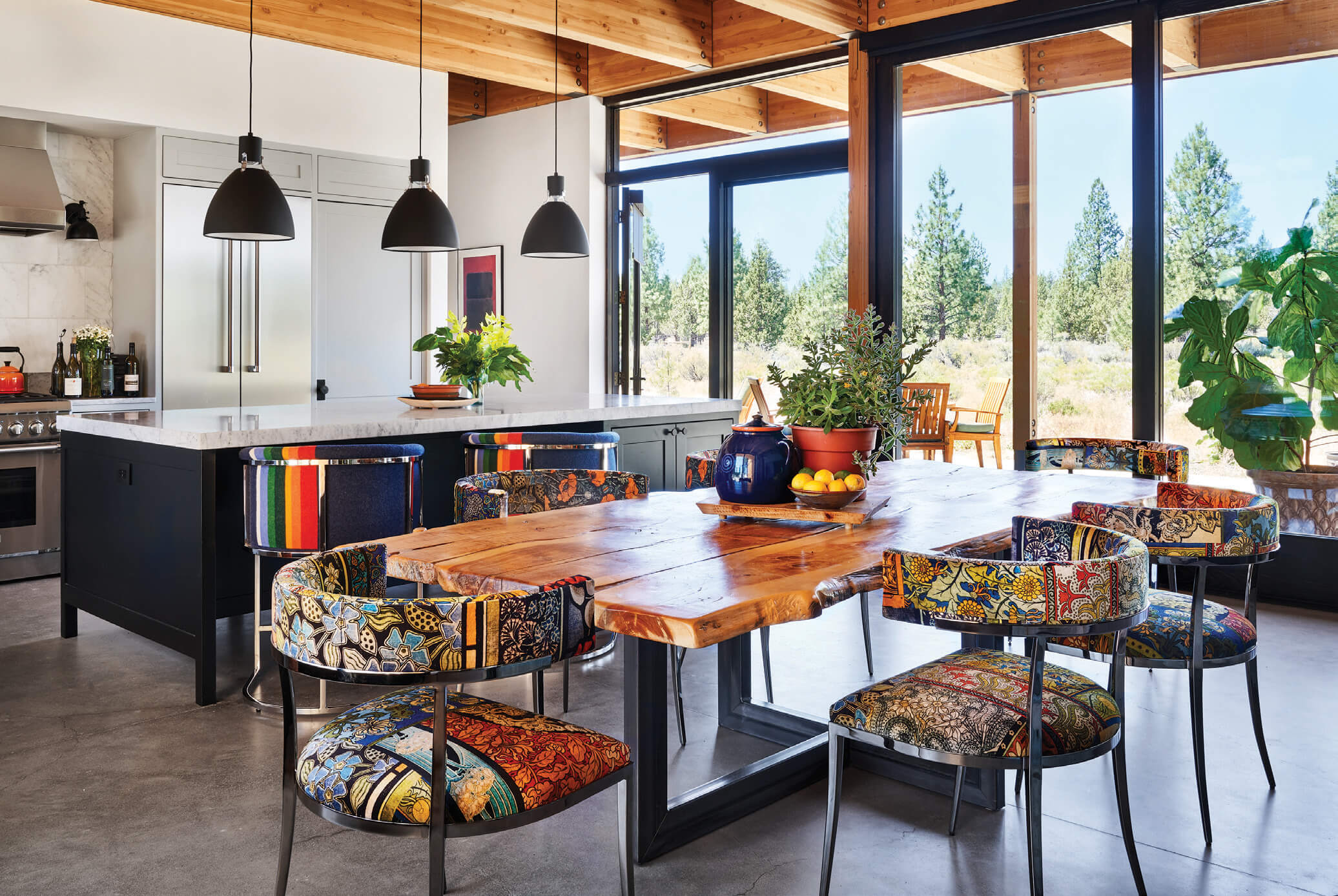 In this kitchen designed by Angela Todd Studios, stainless steel appliances and a marble-topped island lend a classic feel, while the seating adds personality. The dining chairs, upholstered in a low-pile velvet fabric from Vervain Fabrics, and counter stools, upholstered in the Crater Lake pattern from Pendleton Woolen Mills' National Park Series, are from Vanguard Furniture
03 May

Designing the West: Heart and Soul

Intuitive. Charmed. Spirited. These words could describe interior designer Angela Todd, who defines herself as a visual storyteller. She came to the design business in her early 30s with a background in business and a creative side that had, until then, expressed itself musically as an event and wedding singer. She still enjoys music, along with her husband, Jeff Church, an accomplished musician and songwriter. Joined in their Portland, Oregon, studio by Sugar and Finnegan, their two golden retrievers, Angela Todd Studios has been serving the Pacific Northwest for more than 15 years.

Todd has earned recent kudos from the design industry, including the Best of Houzz in 2020 for design and customer service; it's the 13th and 14th award from Houzz they've received in less than a decade. Also, in 2020, she was named 2020 DesignHounds' Interior Design Influencer of the Year. But it doesn't stop there: Todd was lauded as one of the Top Ten Cool Designers in Portland by Point2 Homes.

It's not just the industry but also her clients and collaborators who heap praise on Todd. "Angela is one of the most adaptable designers I have ever worked with," says contractor Nathan Young. "She understands budgets, timelines, and the sequence of construction. Her team puts together phenomenally detailed workbooks that help to convey the information to the builder, client, and most importantly to the individuals doing the work. Before meeting Angela, I never understood the importance of having a designer on our team; now, I will not do a project without having her involved."

Todd's interior design abilities come naturally, and her intuitive skills serve her well. "Often when I meet someone, I can express them in a color. Sometimes it's by hints of colors in their home, but even when meeting someone in a grocery store, I can often identify them as a color," she says. One client assessed Todd's intuitive skills by saying, "Angela just sees things. She's fast, purposeful, and has brilliant distinctions for and about her work."

For Todd, following her intuition allows her to work easier and faster. She offers a few examples. "Once, when I was working with a bachelor client, the color orange came to me, and I included it in the design for him. A coworker questioned me, knowing it wasn't a color I tended to use. When I presented it to [the client], he said, 'How did you know orange is my favorite color?' Another time, as I was completing a design, I rearranged the room to showcase a grandfather clock. When the client saw it, he said, 'I like where you moved the clock.' I replied, 'Yes, since it was passed down by your family, I wanted it more prominent in the space.' He was astonished and said, 'We never talked about where the clock came from. How did you know?'"

The stories of her clients' lives charm Todd and inspire her designs. Are they playful? Do they love the outdoors? Do they travel often? Is family important? Their stories give her insight. "I'm really into history and architecture and how history has formed styles. Understanding clients' history helps me to understand their unspoken desires as well as the spoken ones," she says. "Whether it's using textiles, lighting, or keepsakes to tell a story, I'm looking to interpret where they are and where they've been in visual form. Clients hire me first and foremost as an artist, and instead of seeing me as an executor of drawings, they want me to interpret them artistically. Often, they'll have something tucked away, such as a piece from their travels or a family heirloom, but they never thought to use it in the design. I hear things like, 'I keep this because it's from my great-great-grandmother. Do you think we could use it?' I like to use these personal objects in the design because it's all a part of their story."

Todd's spirited designs result from the passion she has for every project. In the interview process, she determines if she can fall in love with the ideas the client is talking about; it's only those projects that she accepts. "When your heart is open with people, they tell you things," she says. "Love and understanding help inform the work I do for them."

Todd likes to express the personal color prescription of each client and their individuality. For a successful businesswoman who, she says, was a beautiful blonde with sass and an intense, powerful personality, Todd designed a wing-backed living room chair in red with an exterior wrapped in velvet cheetah fabric. "She reminded me of a cheetah. Beautiful but fierce. That chair alone was her!" she says. "If there is one reason why people select me, I hear over and over, 'I like how you work with color and mix in patterns.' I admit, I get excited when I can use textiles to express who my client is!"

While many designers have a trademark look, Todd's strongest asset is being able to comprehend and execute different styles. "Some designers have a signature style — you can pick them out the minute you see the room. That never felt right for me," she says. "I love a lot of different styles; it's an attribute that works for me. Some designers say, 'I can't stand to work with farm house' or 'I don't really like modern' or 'I hate traditional.' I don't feel that way — it's really exciting for me to work in any style.

"I live to juxtapose raw with refined, as well as sophistication with spontaneity. I like to use color and pattern to set a mood in a space. I wouldn't say I'm laid back — I'm a redhead — but I do have a sense of being down to earth. For example, my interiors are ready to be lived in. Most of my clients have pets or grandkids, so I'm thoughtful about protecting the materials I use."

Whichever style a client may choose, Todd's idea of creating meaningful living spaces and memorable backdrops for her clients' lives has served her well. "Nobody ever walked through my door without stepping back to marvel at the simple beauty and tasteful presentation Angela created," says client Donald Miller, a New York Times best-selling author and former Portland resident.

"I'm so excited to be able to do this as a living," Todd says, summing up her response to the praise she receives. "What thrills me most is when a client is apprehensive about a new idea they hadn't considered, but when it is executed, it becomes their favorite thing. No one gets excited about what is predictable." With an upcoming project in Alaska and another in Hawaii, Todd is creating a history of her own — as a visual storyteller.
Q&A with interior designer Angela Todd
When undertaking a remodel with a contractor, would you recommend hiring an interior designer? If so, why?
It's not true that every remodel needs an interior designer. But when one wants to spend money wisely, it pays to do it with someone who's done it hundreds of times because of how one decision impacts another decision. Contractors generally want an answer to a specific question to complete a task, such as placing a light fixture. If that fixture is installed in the center of the room, without thought to the overall plan or centering the fixture above the dining table, then it would require another junction box to be installed in the proper space after the fact. Often people will choose any baseboard, not considering the height of the ceiling. There are literally thousands of questions the contractor needs to have answered. Interior designers look at a project as a whole to make the right decisions at the right time. It's not intuitive. It is possible to spend the same amount of money and get a full plan.
If there were one place to splurge to make a room special, where would that be?
I would say that the lighting is a great place to splurge because lighting provides not only function and mood but also provides architectural interest when it comes down to a cool "unexpected" fixture. The runner-up is great bedding in the homeowner's suite; luxury linens for sure because of the number of hours spent there.
With many homeowners having dozens of family photos, is there a secret to creating a comprehensive look when hanging them?
Yes, one way is to tie all the pieces together; not to match exactly but to carry continuity throughout the composition with color in framing and/or matting. Another way to do it is to get craft paper and lay out your design; then when you're happy with it, transfer that design to the wall.
If a homeowner has traveled across the globe, collecting unique artifacts, what is the best way to display these? Should one have a themed room, or can you combine objects from different countries?
I think rooms are most interesting when there are a variety of eclectic decisions, particularly when the client has a large selection of favorite items. A themed room is totally doable. However, if someone is questioning how to mix different objects and they are not connecting, try using color to relate them. For example, if you have a red lacquer Asian piece, you're not going to mix it with pinks and turquoises from the Caribbean. But if you have a nice mahogany piece from the Caribbean, it will work well with the red lacquer in the same space because of the color relationship.
WA&A senior contributing editor Shari Morrison has been in the business of art as an administrator, publisher, curator, writer, and collector for more than 40 years.