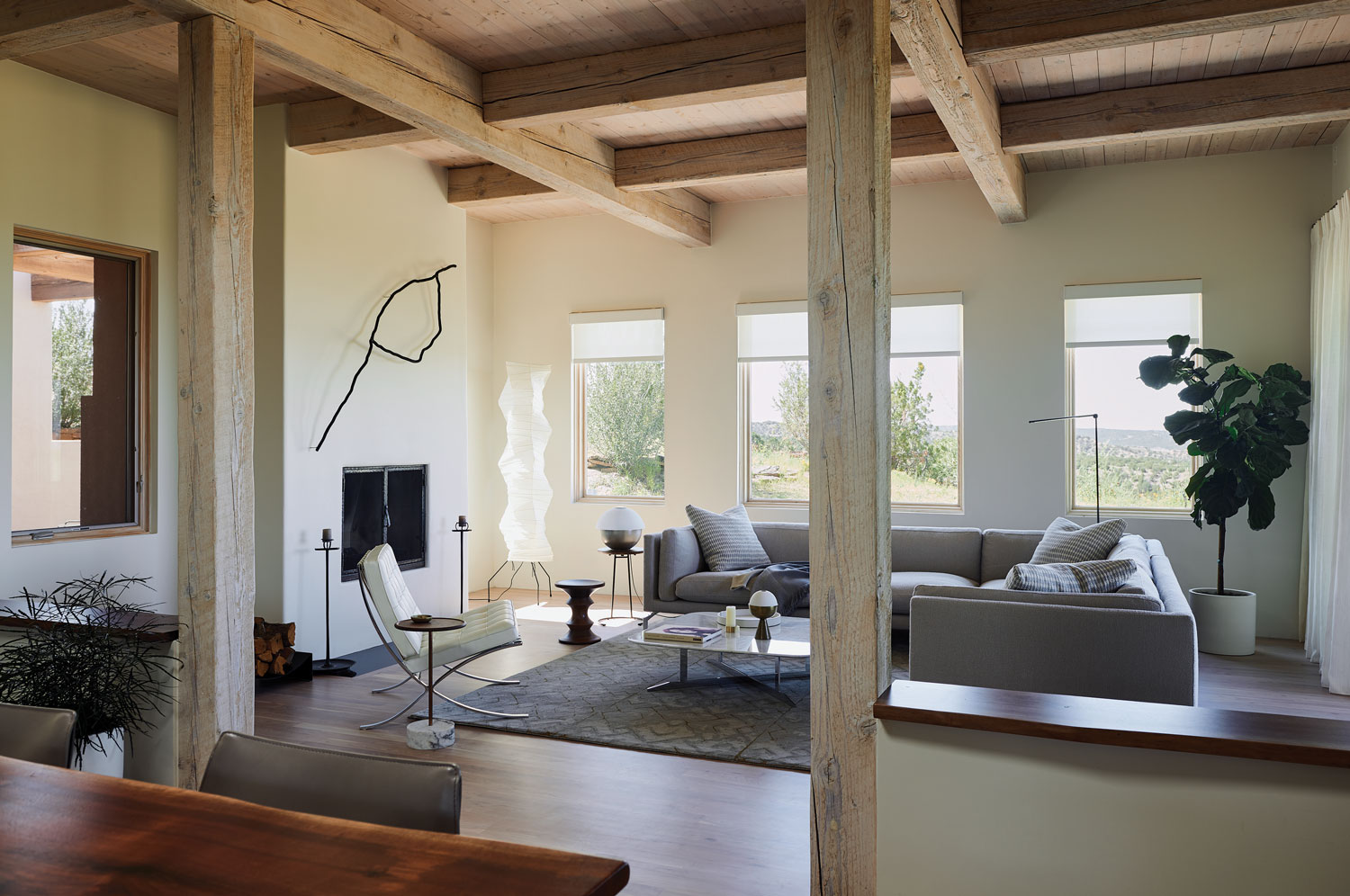 Santa Fe designer Susan Stella loves bringing old buildings back to life and specializes in creating layered, functional interiors for both private and commercial clients. In this living room, a branch-like sculpture by Michael Motley provides a counterbalance to the room's heavy beams. The Noguchi lamp and white leather Barcelona chair from Knoll keep the color palette light.
08 May

Designing the West: Intended Purpose

To create layered, functional interiors that reflect her clients' personalities and passions, interior designer Susan Stella draws on a visual education that started at an early age. Her father was a talented sculptor. Her education also included formal fine art training, extensive international travel, and a zealous love of research. Born and raised in Chicago, Illinois, but heavily influenced by the light and topography of the American West during annual family road trips to Southern California, Stella moved west when she was 18. In Del Mar and Venice, California, she embarked on a 25-year career as a stylist and costume designer working on music videos for such icons as David Bowie and Bob Dylan, and on corporate ad campaigns for international fashion brands including Nike and Chanel, all the while utilizing her degree in painting and printmaking to pursue fine art.

Stella's career expanded into interior design when she bought and restored a farmhouse in Bozeman, Montana, (she owned a fashion boutique downtown during the years she was raising her daughter there), followed by a vintage adobe in Tesuque, New Mexico, where she now lives.

Stella's adobe is small but highly functional and artistic. And the casual lifestyle and sunny weather being what they are in Northern New Mexico, the outdoor living spaces make the overall square footage feel twice as large. "I bought my adobe in Tesuque 10 years ago, sight unseen," Stella relates. "I fell in love with the historic architectural details and the meadow that runs down to the river. We would find out later the architect was William Lumpkins. He worked with John Gaw Meem, the founder of the Pueblo Revival style in Santa Fe. It has great bones and a really sweet energy."

In renovating and restoring the house, Stella says she worked within the vernacular of Santa Fe. She kept the traditional handmade Mexican tiles in the kitchen, added them in the bathroom, waxed the old brick floors to bring out their beauty, and incorporated tin and stone. In the kitchen, she added adobe built-in counters. She replaced the doors and frames with those that were bull-nosed and installed thick Ponderosa pine windowsills akin to what would have been original to the house. She added skylights to introduce more light, and treated the walls with clay paint and colored plaster to echo the colors of the hills surrounding the property. She furnished the interiors with a mix of modern-leaning Knoll and Herman Miller items, New Mexican antiques, tribal rugs, Donghia and Ralph Lauren fabrics, Mexican chandeliers, and her personal art collection, which includes works by her father, her friends, and herself. She chose a traditional, vibrant blue for the window frames and door trim. "It's been used in many cultures to keep negativity from entering the house," she says.

It wasn't long before Stella was being asked to design the interiors of both residential and commercial projects. Recent projects include creating the interiors for Design Warehouse, an upscale interiors showroom in downtown Santa Fe, and completing a down-to-the-studs remodel of a 2,800-square-foot house with a 1,500-square-foot casita on 6 acres for a couple who will be retiring to the area. 

Homeowner Julie Kaye was impressed by the alacrity, enthusiasm, and thoroughness with which Stella embraced the project. "She jumped right in and hit the ground running; she was instrumental in coordinating the project," says Kaye. "She helped create a team of contractors and helped us pick artisans for custom casework. And she introduced me to printmakers, artists, and weavers in town. The light here is so beautiful and is such an important part of the design; we were striving for simplicity and wanted to reflect the colors of the land." The result, Kaye says, is that the home "is a nice reflection of the history of Santa Fe, plus it was beautiful and really personal. No surface was left untouched, and Stella was instrumental in all of it."

Stella still does fine art photography as time allows, but her main focus is on interior design. Her fine-art education has been helpful in conceptualizing the finished spaces, as has her costume design work. "Working on film sets, I designed with space, lighting, and color which informed my aesthetic when I transitioned to the three-dimensional world of interiors. My background in textiles influences my passion for choosing and incorporating fabrics into my design work. My background in art and painting inform my [sense of] color and textures."

She enjoys all design work but particularly loves repurposing existing buildings. "When a building speaks to me, as if asking for help to restore it to its true character, I find myself completely taken," she says. "My passion for working in three dimensions, creating living spaces that restore the tactile foundation as well as the soul of a building, grows in me more all of the time. Our living spaces, like our clothing, are a primal form of our human expression."
Q & A with designer Susan Stella
What are your design inspirations?
The books on my studio table are: Axel Vervoodt: Wabi Inspirations, Georgia O'Keeffe: Living Modern, and Marfa Modern. My daily inspirations come from Remodelista, Gardenista, and Instagram. I'm an obsessive researcher. I follow riads and rug dealers in Marrakech, Japanese designers and shops, furniture and interior designers worldwide, art, architecture, fashion, and food. My love of travel and other cultures is another major inspiration.
What are your go-to colors and treatments?
It depends on the project, but I tend to work with colors that have a warmer base. I love tone on tone, but also the vibrancy of a strong trim or deep black against a neutral wall. My preference is to work with materials that have a natural tactile quality: stone, wood, and plasters. 
Where do you like to unwind?
I go home to unwind. I find sanctuary in my adobe by the river. There is silence and stillness there. The next best place to unwind is in my car, driving down a dirt road. I've always been a road-trip person. My other relaxation trick is our family dachshund, Karma. Her black ears are my worry stones.
Can you describe your personal entertainment style?
Easy and casual, with a great selection of guests. In my experience, the best times have always depended on who was at the table. The collective energy and personalities are fundamental to creating a magical moment.
Describe your favorite places to visit.
California has it all for me: the ocean, desert, and mountains. The design, food, and cultural influences are an endless source of inspiration, as is the color of the land, the vegetation, and the brightness of the light. I've always loved the California Mission and Spanish architecture, both modern and historic. 
Then there's Montana, which has a vastness of space and scale: grasslands, rivers, mountains. The light in Montana is very different from California. It changes wildly from summer to winter. I learned about farm vernacular and color usage there. The winters are dark and internal, the summers are bright and sublime, full of color. 
And New Mexico has also been in my visual memory since I traveled through as a child. The color of the land and the sky inform me all of the time. And, of course, the storms with the light and magic they bring.