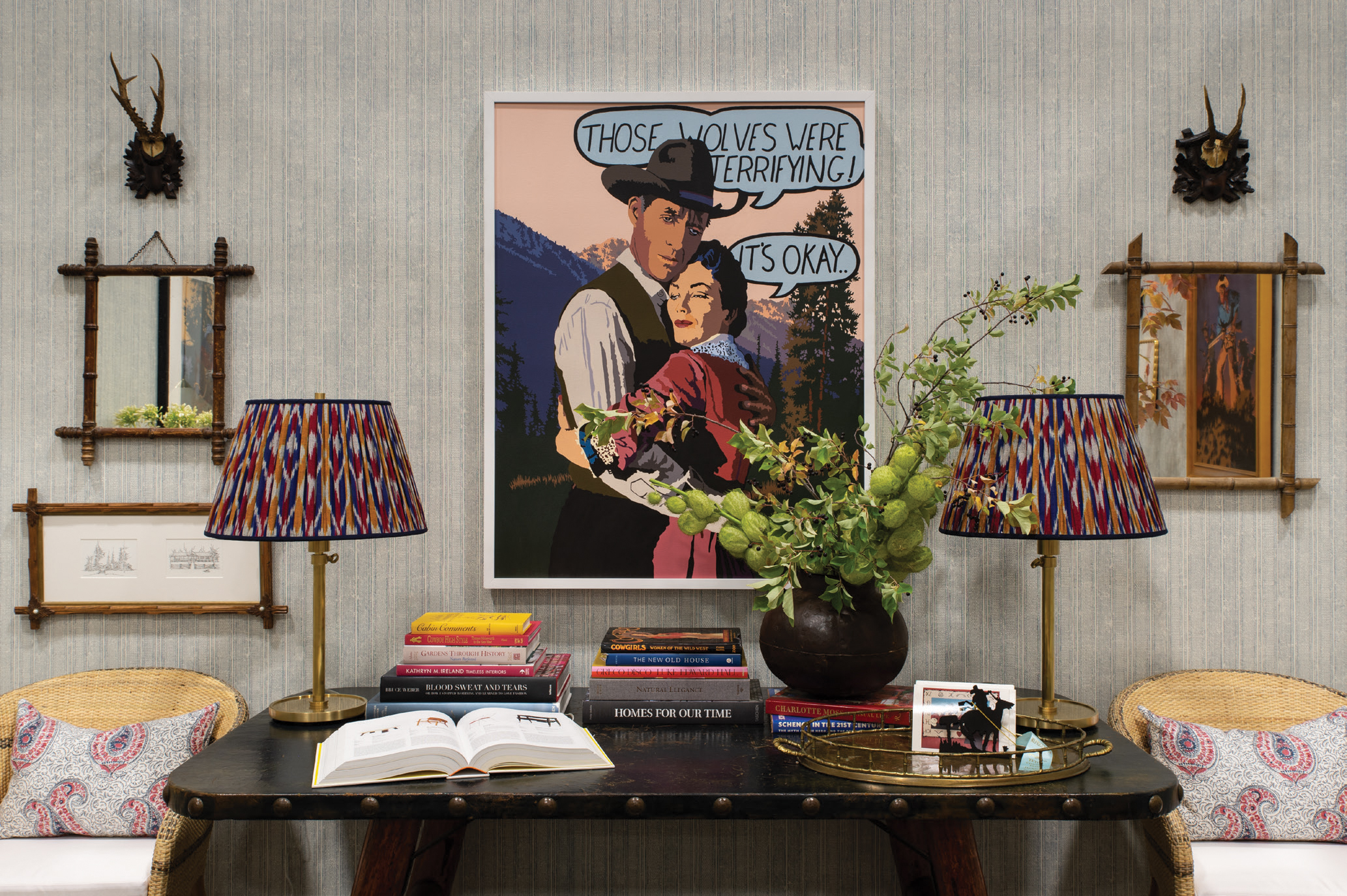 Emily Janak's award-winning 2021 Western Design Conference showhouse room featured artwork by Billy Schenck, a Thomas Molesworth leather library table from Fighting Bear Antiques, antique French mirrors, and custom ikat lampshades from Vaughan Designs. The wallpaper is by Schumacher.
07 Jan

Designing the West: Layered History

When Emily Janak was growing up in the horse country of Lexington, Kentucky, design was a family tradition. "My mother is a decorator and would tote me around to auctions, antique stores, and fabric stores my whole childhood," Janak explains. Then, when she was studying history in college and interning on Capitol Hill, Janak felt drawn to Georgetown's historic architecture. "I think that's when it really dawned on me," she confesses. "Why am I not going into interior design? It's what I love."

As a last hurrah after graduation, Janak traveled to Jackson, Wyoming, to work on a dude ranch, and that whimsical decision turned out to be life-changing. "After my first summer of working at Spotted Horse Ranch, I decided I really couldn't leave this amazing place," she says. Fortunately, Janak found a position at Jackson-based WRJ Design, where she could learn from the firm's co-founders, Rush Jenkins and Klaus Baer. That early training set her up to launch her design studio, Emily Janak Interiors, in the summer of 2018.

Today, Janak leads a team that's grown to include two other designers, and they work on residential projects in Jackson and beyond. She aims to create interiors that reveal different facets of a homeowner's life. "I really appreciate a collected interior," Janak says. "I'm excited about projects that don't look like they were ordered overnight, that don't look like page four of a catalog."

Janak has a special talent for weaving together the old and the new. "I love working with people who have existing collections that I get to go shopping from, and oftentimes that will jumpstart a project and inspire an entire room," she says. "Even if it's a very contemporary, clean interior, I think it's important to have something old — it will just feel more layered; it will feel more grounded. And vice versa, if you have a really old cabin that you're working within, mix it up and put something really contemporary in there."

Far from playing it safe, Janak embraces the surprises that sometimes come along with the design process. "I like touches of the unexpected for sure," she says. "If something's looking too run-of-the-mill, I've got to funk it up somehow."

Janak's approach is attracting admirers: She won the Best Interior Design award at the 2021 Western Design Conference for a Designer Showhouse project she created with Fighting Bear Antiques, which featured a bold mix of vintage and contemporary elements.

When working with her clients, Janak starts by asking wide-ranging questions about their lifestyle, from kids and pets to outdoor activities. "I think it's all about telling a story and showing who you are as a family when you're creating a home," Janak says. "As long as you are willing to take a chance, trust, be brave, have some fun, and some personality and show that personality with your interiors."

That's exactly the kind of working relationship Janak forged with client Lisa Flood, who asked the designer to help renovate a log cabin. "I wanted to preserve the authentic rustic and informal style of my home, but I wanted to make the place feel more stylish, more current," Flood says. "I loved that Emily appreciated antiques and Western memorabilia but wasn't afraid to mix in the unexpected: fancy French wallpaper, Schumacher on Thomas Molesworth chairs."

By carefully listening to her clients, Janak creates original spaces that are a perfect fit. As Flood explains, "With attention to my style and respect for my personal pieces, she helped me rebuild personal layers that make a home a home." That's one more step on Janak's lifelong mission. "I do take design to heart," Janak admits. "I've had a passion for it since I was a very little girl, so I think it'll always be that way."
Q&A with interior designer Emily Janak
Do you have a favorite interior paint color?
My favorite paint color at the moment is Farrow & Ball's Pink Ground. To my surprise, I was able to convince my husband to allow me to paint our bedroom this color, and it turns out he loves it, too! It is a very neutral blush that feels warm in a bedroom or living room and is a fresh change if you're tired of white walls.
Do you listen to music when you design?
I listen to Pink Martini. My first day of work at WRJ, I came in for training, and we listened to Pink Martini. And I think that just puts me in work mode; it has for the last decade now.
Is there an interior design item you're obsessed with right now?
I keep using daybeds and chaise lounges at the end of beds. It's a great spot to lounge, but also to throw clothes on, and it just makes the bed feel so much cozier.
What's one thing you add to an interior to make it extra inviting?
Drapes on a canopy bed. I mean, how can you get cozier than that?
Is there something we'd be surprised to find in your house?
It's all pretty tasteful, I'd say. But in my powder room, I have covered the walls in some metallic wallpaper that has Queen Elizabeth all over it.
You've mentioned that you admire the British royal family. Is there a member you'd like to design for?
I would love to design for Queen Elizabeth. I think she would be game for the unexpected and a little bit of a contemporary twist. I'd love to do a living room where she meets with people. She certainly wouldn't be afraid of color because she's so brave with her wardrobe.