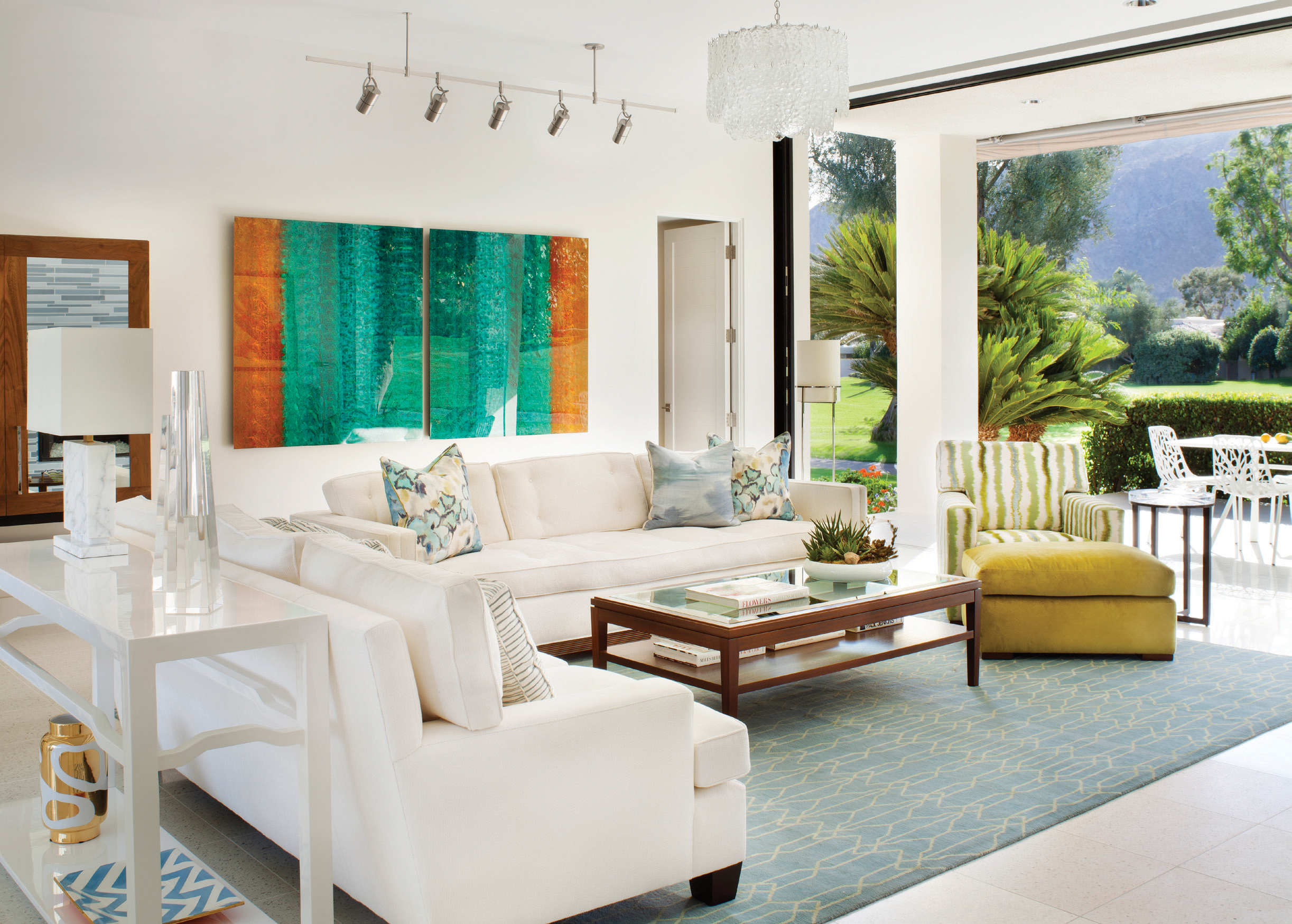 Interior designer Amy Casey created a luxurious indoor-outdoor living space for a Palm Springs home. "The client likes color, so we chose a palette of bright accents to blend with the vibrancy of the outdoors," she says. The sofa is by A. Rudin, and the paintings are by Christopher Martin.
20 Jan

Designing the West: Naturally Timeless

How does a former nutritionist become one of Vail, Colorado's top interior designers? For Amy Casey, a principal at Casey St. John Interiors, her circuitous path began in her hometown of Bowling Green, Kentucky.

"I was always interested in making beautiful spaces while I was growing up," she says. "My grandmother loved and collected antiques, and my mother has always been passionate about interior decorating and art, so they both influenced my path to become an interior designer Then, when I was a teenager, our good friends decided to renovate their exquisite plantation home, which included a cabin and barn on the property. I hung around their house as much as possible during the remodel, and as I watched the transformation, I began to fall in love with the entire process."

She took a few interior design classes in college, but nonetheless followed her chosen major of health sciences. When she graduated, Casey moved to Vail and took a job with a hospital. "I soon realized that working as a nutritionist wasn't my passion," she says. "That became even clearer when I decided to take a break and work for an interior designer. I absolutely fell in love with the business."

Casey returned to college, this time pursuing her interior design degree at Parsons School of Design in New York City. She considered settling in a metropolitan area like Nashville, Atlanta, or Manhattan, "but my love of the West pulled me back here," she says. Soon after she returned to Vail, she worked for Slifer Designs. "I loved the creativity, responsibility, and working with the clients."

Casey always had the goal to start her own business, and in 2013, she formed Casey St. John Interiors with the firm's two other principals, Courtney St. John and Joanne Brutsch. "We each bring a unique perspective to the process," Casey says. "Courtney has an extensive construction background that is so valuable, and Joanne is super creative and has a great energy that clients love. We always help each other and enjoy working both individually and collectively as a team."

The firm's current portfolio is about 90 percent residential and 10 percent commercial projects. "We do new builds, remodels, and everything in between," Casey says. "We love collaborating with architects and being involved from the beginning. The architecture is so important, and interior designers tend to look at spaces a little differently. We like all the spaces to be cohesive, and when we get involved early, we can coordinate materials, colors, and furnishings, and help plan the project as a whole."

The company's online portfolio is grouped under the headings of Calm, Cool, and Collected. "We like to gauge what our clients are drawn to — the colors, forms, and materials they love, as well as the elements they absolutely don't like," Casey says. "We have a lot of conversations to discover things, such as how they spend holidays, what they want in a home office, how they might utilize outdoor living spaces, and even the lifestyle they envision for their pets."

Each project is different, but the company's work tends to be clean and streamlined with layers of textiles, patterns, textures, and accessories. "We don't necessarily follow trends, but we want spaces that are updated and creative," Casey says. "There are new materials out there all the time, but we try to be selective because we never want something to go out of style in 10 years. Above all, we want our spaces to be timeless."

The firm has completed projects in such locales as Florida, California, and Massachusetts, in addition to numerous mountain towns. Casey says that aesthetic preferences have evolved in the 20 years she's been designing high-country homes. "When I first started working in Vail, homes were generally lodge-, ranch-, or alpine-inspired. Now, people have gone to a more contemporary, uncluttered look. We always try to give the interiors a sense of place, with natural elements that are appropriate for this environment."

The firm recently redesigned the dramatic new lobby for the Antlers at Vail Hotel, part of the property's $5 million renovation. "We wanted to keep an authentic mountain-ski-lodge feel while giving the space an updated, modern aesthetic," Casey says. "The design palette includes elements of wood, leather, stone, and metal with accents of bright color, like reds and blues."

The former nutritionist says she is happy with her chosen career path. "I love the people I get to work with, from my customers and partners to the builders and installers. This is such a team-oriented profession, and I depend on so many professionals to make what I see come to reality. I get a chance to do something new all the time, and every day is a fresh opportunity to keep the creative juices flowing."

Eliza Cross is a senior contributing editor for Western Art & Architecture and the author of 15 books. She's written hundreds of articles for a variety of publications.
Q & A
Interior designer Amy Casey shares some of her favorite design sources and inspirations…
Who is an artist or artisan whose work you love right now?
Zachary Petterson is a woodworker from Sugar City, Idaho, who makes gorgeous furniture and cabinets. We've worked together for 20 years, and he is a master at crafting my visions for custom furnishings and accessories.
When you travel, where do you like to go for a relaxing getaway?
n I live in Avon, Colorado, with my husband, son, and daughter. While we love the mountains, we also love to escape the winter cold and head to a warm beach. My husband is Australian, and one of our favorite places to go is Noosa on Southern Queensland's Sunshine Coast. The area has beautiful beaches and national parks, and when it's winter here, it's summer there.
In your home, what's one of your favorite possessions?
n I love using our wedding china as often as possible. My husband's family gave us their beautiful French Bernardaud white and green Constance china. The pattern is traditional, but it always looks clean and fresh.
What's your go-to interior wall color?
n Benjamin Moore's Dove Wing. It's a neutral color that's not quite white, and not quite gray. The subtlety of the color adds depth to the walls, and it's a great backdrop for art.
When you have friends over, what's your entertaining style?
n I love to have casual dinner parties, and I especially enjoy planning the details and making things feel special. We had a cozy gathering recently, and we used our pretty china and put candles on the table. I served comfort food, like pork chops, potatoes, and spinach, and my daughter and I baked pumpkin bread together.