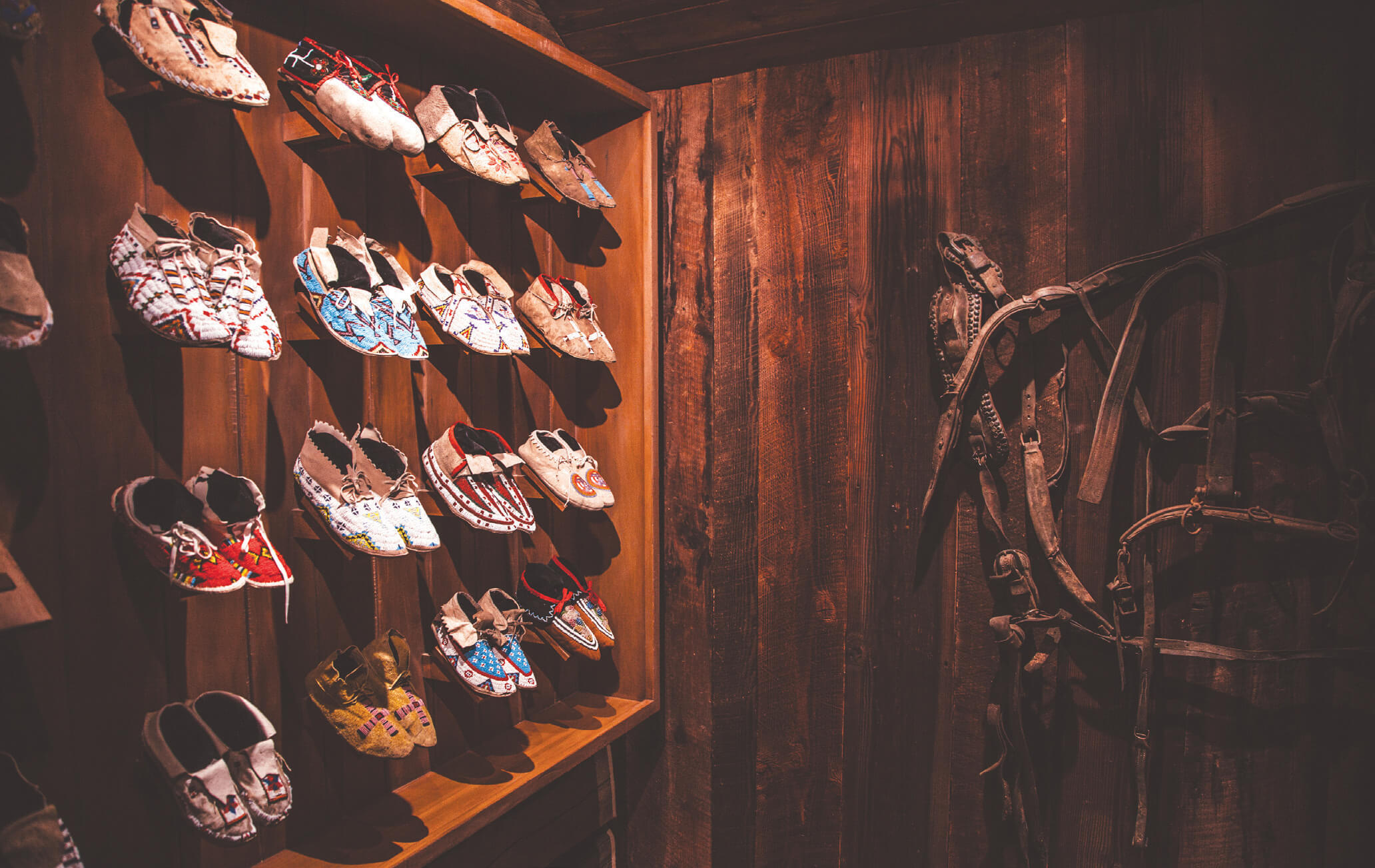 A collection of Native American moccasins, curated by Cisco's Rare & Exceptional, adds an artistic essence to a lake home.
10 May

Designing the West: Pieces of History

Sam Kennedy grew up meeting famous cowboys including Rex Allen, Roy Rogers, and Gene Autry; he was introduced to each by his grandfather, a writer "who knew everyone in Hollywood," according to Kennedy. That grandfather was Irving Wallace, a freelance writer, who once wrote every article for a single magazine and then assigned pen names to each feature to make it look as if various writers were involved. Wallace (not the bestselling novelist of the same name) would arrange for one of Hollywood's cowboys to meet his grandson and would pose the lad on the cowboy's famous horse, taking a picture. Later, he'd have them autograph the photo. 

Kennedy's other grandfather, and his namesake, was a Westerner. He'd homesteaded 160 acres in Utah and when it didn't produce enough to live on, he delivered mail instead, with a six-gun on his side. Perhaps his grandfathers' influences factored into what would become Kennedy's passion for and love of the West and its memorabilia.

Today, Kennedy, who grew up in Iowa, is the proprietor of Cisco's Rare & Exceptional, in Coeur d'Alene, Idaho, a well-established gallery of iconic Western-style home furnishings, 14,000 square feet in total. His inventory includes Molesworth furniture, antler lighting fixtures, Navajo weavings and rugs, fine beadwork, and historic art. Other collectibles include vintage Winchester rifles and Colt revolvers alongside Native American jewelry. The inventory at Cisco's is filled with unique pieces, something Kennedy has always focused on. "We buy things that are one of a kind … that don't have an equal," he says. 

Cisco's outfits ranch homes, cabins, and modern homes as well as museums; Kennedy's business has become a trusted resource for those who desire authentic Western items. A recent project involved working with an owner of a private Native American museum. "We designed the displays for the museum with over 1,000 curated artifacts," he says.

Kennedy speaks of the period that made the West famous and desirable. "From around 1870 to the Depression era of the 1930s, no matter what you speak of in Western or Native American collectibles, it's still popular. It doesn't matter whether it be Winchester rifles or Navajo rugs, or Remington and Russell art; it was a period of 50 to 60 years that the great stuff we covet today was happening," he says. 

He says appreciation for such collectibles came from the lodges built in the West's national parks that utilized Adirondack furnishings and antler chandeliers. We came to covet leather furniture with fringe or concho trim. "The Adirondack period from 1890 to the 1930s started in the Northeast at the same time frame as Western furniture was on the rise. If you look at old Yellowstone or Glacier lodges in the national parks, Old Hickory Furniture was used. At the same time, Black Forest furnishings from Switzerland were in high demand. Much of which was shipped to the U.S., ended up in the Northwest, and in many of the Western lodges and homes," Kennedy says.

"Today, we have ranches that used Navajo rugs in their homes that were bought in 1905 and are still in the same family, three or four generations later," says Kennedy. "Often, Molesworth furniture, made in Jackson Hole, Wyoming, was partnered with Russell or Remington paintings." However, that picture is changing, he says. "Some who grew up with it couldn't keep the ranch or the house or they didn't want what their parents lived with. From 1995 to 2010, there was a  generation where great amounts of this period of collectibles became available, privately or at auctions."

While there are those who still value the antique look that might include a $150,000 Molesworth dining table, others are looking for something more simple. "We have a whole new generation of clients in the 30-  to-45-year-old range who still want the look — they like the feel and look of leather, but they don't want the fringe or the conchos. 'Don't overdo it' could be their motto," Kennedy says.

Kennedy speaks of the changes in homes that call for a different standard of design. "There are things like Victorian furniture that for 100 years has been used at bed and breakfasts, but now those furnishings are too small. Spode china 20 years ago would sell for $3,000, while today you might get $200 for a 12-place setting.

"Sterling silver and silver plate are the same; while they used to have value, we're lucky now to get 80 percent of the melt-down price. No one wants to clean silver. Some things will never happen again. People today want functional items with low maintenance."

While most of the projects that Cisco's executes utilize authentic vintage items, the call for more modern designs of Western furnishings has risen. Kennedy's son, Hunter, with an advanced degree in interior design, has been designing furniture with modern lines based on vintage designs. "It's more upscale and a bit larger, but it is still similar," Kennedy says. "Fifty years ago we didn't have 35-foot ceilings, thus the need for enlarged size."

Cisco's not only produces their own line of furnishings, but they also design and sell their own antler lighting and accessories. "We have local artisans within a 50-mile radius who create our designs," says Kennedy. "While we have our own line, if someone comes to us with an idea, we can custom build it." The demand for more modern designs in Western interior furnishings might be as much as 25 percent, according to Kennedy. "We're doing some big projects now," he says.

Throughout the years, Cisco's has had the pleasure of creating interiors for public figures, including John Elway of the Denver Broncos, who relied on Cisco's staff to create a Western atmosphere for his family's lake home. Movie sets for Kevin Costner have been a high point of design for the team at Cisco's. They consider the trust placed in them an honor.

Cisco's has gained popularity for good reason.Unlike buying items at auction, one can return any item purchased should it not work for their home. It's a good business model, as proven by the number of return clients who count on Cisco's for quality vintage goods.
Q&A with Cisco's Rare & Exceptional founder Sam Kennedy
What design advice do you offer someone who wants to utilize classic Western décor in their home, be it a vacation home or their own?
A majority of the second homes are "themed," such as fishing, bears, or perhaps a cowboy bedroom, a Mountain Modern great room, and a more rustic and traditional Western bar. Cisco's offers options such as a moose over the fireplace, or if one is not into taxidermy, the right painting or a Navajo weaving.
What trends are you seeing today?
It is different from 20 years ago: when buyers saw something they liked, they would find a place for it. Now most buyers need to know exactly where the piece is going to go or take it on approval.
What's the hottest trend?
Fewer but more important pieces. Our clients prefer originals versus copies, pieces that will hold their value. For instance, art prints and giclées are going out of favor, with clients preferring to buy original paintings.
Is nailhead trim on furnishings still a look that is sought after? What about cowhide?
The trend is more simplistic — stitched seams rather than brass tacks. Leather or a combination of fabric and leather more so than hair-on hides.
What is your line of Mountain Modern furniture about?
Mountain Modern furniture is more simplistic in design with many pieces incorporating iron for a semi-industrial look.
How did your antler lighting and accessories come about?
Cisco's has been designing and retailing antler chandeliers for 25 years, ranging from extra-large elk, moose, and red stag chandeliers to a small whitetail that would go over a breakfast table. A high percentage of these antlers are winter sheds that represent the West. We have artisans within a 50-mile radius that help us create our designs.