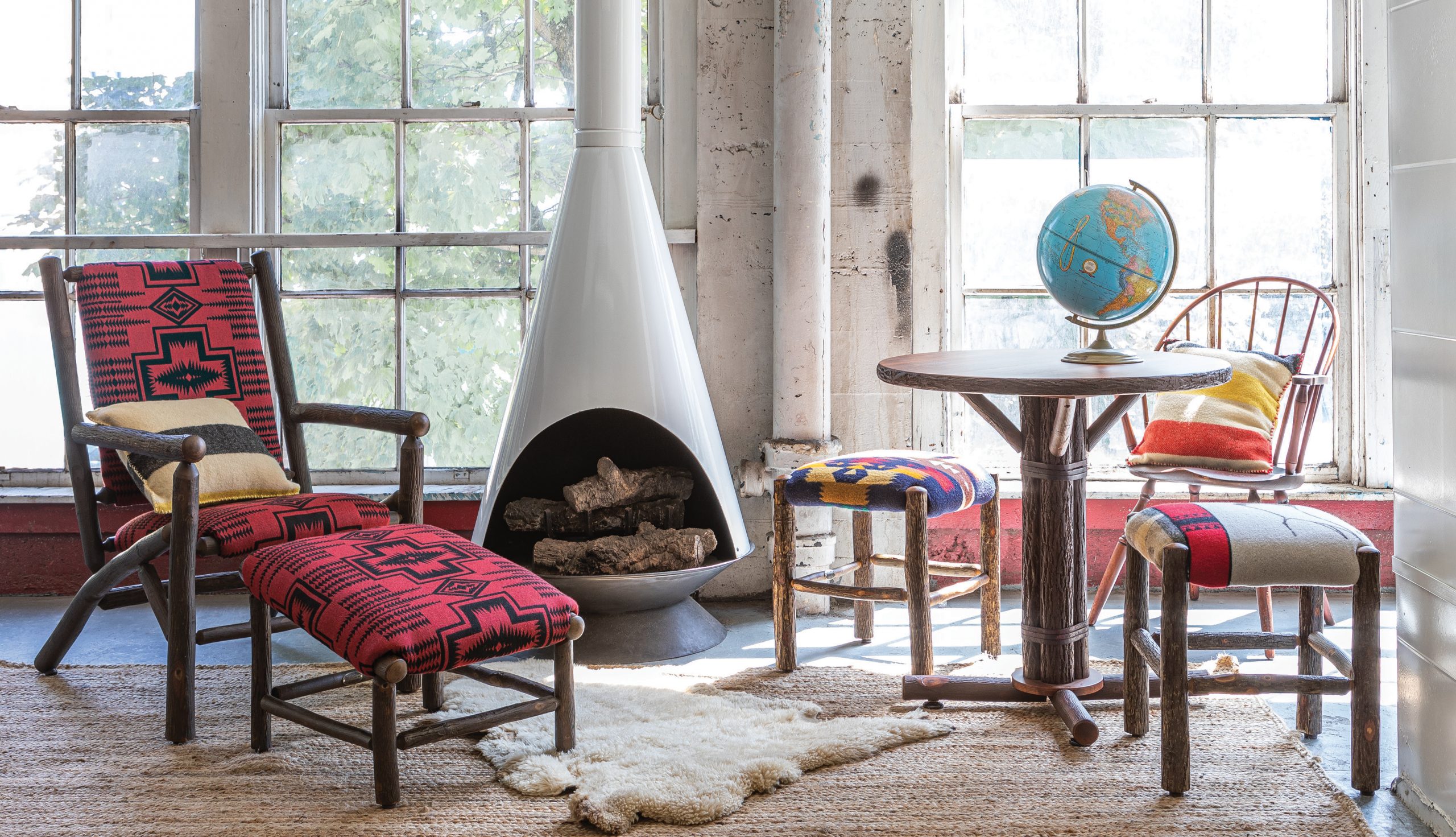 Designer Max Humphrey is passionate about working with American brands, such as Old Hickory Furniture Company and Pendleton Woolen Mills, which are equally at home in a rustic cabin or industrial-edge loft.
11 Jan

Designing the West: Think Outside the Box

Growing up, Max Humphrey didn't know that interior design was a thing. "My hometown in New Hampshire was preppy adjacent," he explains. "In my town, parents worked at the ball-bearing factory, but in the next town over they were professors." It wasn't until after he'd finished college in Boston, worked as a television production assistant in Los Angeles, signed a major record label with his band, released an album, gone on tour for a year, and landed back in L.A. that he began to understand the concept of interior design.

"We had just put 50,000 miles on our van going to every state in the continental U.S., and after the last tour we felt like that was it," he recalls. "I rented an apartment in a 1920s hotel building. It was the first time I'd lived without about a dozen roommates, and after spending all this time on the road living in crappy motels, I had a newfound sense of appreciation for home base. I was thinking about career moves while decorating the apartment, and a couple of months in, I had a lightbulb moment. I realized that this hobby could be a job. But I didn't know what that meant; I didn't even know it was an industry."
A collection of framed bandanas and needlework create a gallery wall against a knotty-pine backdrop; the Good's potato chip tin serves as a makeshift planter.
He set out to learn more, reading numerous design books, blogs, and magazines, and researching the history of interior design. When he did land an entry-level job with a firm that focused on high-end residential projects, Humphrey found that his time in TV production had prepared him well, as had his exposure to set design. After eight years of on-the-job training, in 2016, he relocated to Portland, Oregon, with his young family and went out on his own.
After an unsuccessful search for bandana wallpaper, Humphrey designed his own — now available for sale on his website. He painted the dice table himself in a room featuring multiple medium-scale patterns.
The door to a second-floor balcony allows for airflow in a house without air conditioning; the Room and Board side table was made in a Massachusetts factory on equipment originally used to make bobbins.
In this kitchen, Humphrey installed plywood cabinetry and handmade polka dot tile in a random pattern.
Humphrey thrives on variety, with half his clients located in Oregon and the rest located all over the country. He's designed new homes from the ground up, restored a traditional home in Boston, and worked on mountain homes and urban condos. Commercial projects have ranged from retail shops to a hotel, and from a winery to a burger-chain food truck.
When a coffee brand approached him about outfitting an Airstream trailer as a mobile coffee shop, he was all in. From dealing with the lack of right angles to creating a fully decorated feeling in a room that might careen around corners, Humphrey had to get creative. He used cork for the floors, because they were mold-resistant and soft, maple plywood for built-ins, and outdoor fabric for the cushions. He created a gallery wall on one end, drilling framed art pieces into a plywood backsplash over a built-in sideboard, and fastened a mirror to a wall using velcro. He wanted to speak to coffee, camping, and road trips, so he accessorized with state maps, vintage coffee mugs, and enamelware coffee pots. "It was a dream project," he says. "Not only was it this awesome piece of Americana, it was coffee related. I don't have an office outside of my home, so I bounce around town doing this coffee shop musical chairs. All my design work is fueled by coffee."
When presented with the opportunity to design the interiors of an Airstream trailer from scratch for a mobile coffee company, Humphrey had to consider every inch of the small footprint. Custom cabinetry, layered-in textiles, and an unexpected art wall imbue the space with color and style. The coffee bar speaks to his client's brand, and the road trip references represent the Airstream's mobility.

Although Humphrey works in all genres, he has become known for a lived-in, layered look that represents a fresh take on classic American style. From a modern-retro knotty pine sitting room with a built-in daybed, to a wood-paneled wall decorated with vintage panoramic photographs, the rooms he designs reflect personalities and lives well lived. His style is accessible, bound by neither region nor demographics. He likes to think creatively and reinterpret classic elements, from bandanas to flea market finds. He's a master at layering with texture and color, showcasing objects with meaning, and — as a devotee of Ebay, Etsy, and junk shops — celebrating the thrill of the hunt.
| Humphrey says olive green is the new charcoal gray; here, he uses it to create a neutral background for built-ins.
Humphrey's book, Modern Americana, offers many DIY suggestions, such as how to make cushions for vintage camp cots. The book also offers styling tips, such as using color to set a mood.
Frequently hired for art direction and styling by major retail brands and home catalogs, Humphrey's work is well represented in magazines, design conferences, and show homes. He's been named a Next Wave designer by House Beautiful, a Design Change Maker by Apartment Therapy, and one of Country Living's 100 Most Creative People. His newest venture, a book titled Modern Americana, which will be released in spring 2021, showcases the elements of the style he loves — one that he happily adapts to all age groups and all settings, from beach houses to brick-walled urban lofts.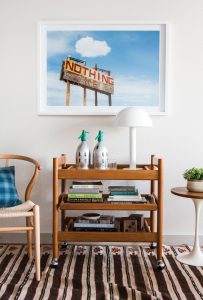 As a designer, Humphrey places more stock in intuition than rules. "I think every room should show signs of life," he says. "I believe style is about knowing who you are, knowing what you want to say, and not giving a damn."
Q&A Interior designer Max Humphrey shares his design inspirations.
What's one of your best vintage finds?
I have to practice reverse psychology on myself. If I tell myself I'm looking for wooden dice, I'll never find them. I have to walk in and have something hit me on the head. There's always some item that kicks off the creative process; for instance, something vintage that I find might become the basis for the color palette.
Tell us about an artist or artisan whose work you're following right now.
Old Hickory, based in Indiana, is a brand I've been familiar with for a long time and recently started working with more closely. You picture their stuff in national park lodges, but I've been using their pieces in more contemporary settings, and they look really fresh, especially when upholstered in fun Pendleton fabrics. Their stuff also looks great paired with more modern pieces. Your eye goes right to it. Old Hickory looks awesome in photos, but you really appreciate it when you see it in person and get a sense of the handiwork that went into constructing it.
Do you have any favorite paint colors?
I use olive green a lot. In the design world, we've seen charcoal gray kitchens trending. I've been using olive green in the same way, either for kitchen cabinets, built-ins, or wall treatments. To me, olive green is the new charcoal gray.
You grew up in New England and lived in Southern California for a long time, but Portland, Oregon, seems like a great place to raise a family. What are some of the best things about it?
I had no background in Portland, other than having passed through a few times, but I always had the feeling I could live there. I like the feel of it; there's a lot of greenery, and it has a sort of aesthetic connection to New England.
What's a favorite getaway?
I grew up landlocked and have never been a beach person. Living in L.A. was my introduction to the beach, but coastal Oregon is more my vibe. I've been spending more time in beach settings, and I have a new appreciation for the coast. I'm working on a hotel project in Lincoln City, so I've been soaking up the local flavor. I especially like to go vintage shopping on my drives out to the coast.
You were a professional musician. Is music still part of your life?
I always have music on in the background, and recently, I really enjoyed watching the 16-hour PBS documentary on country music by Ken Burns. It was really fun to watch but even more fun to turn it off and listen to the singers and groups who were mentioned. My music background is punk rock, and a lot of these country performers were as punk as it gets.