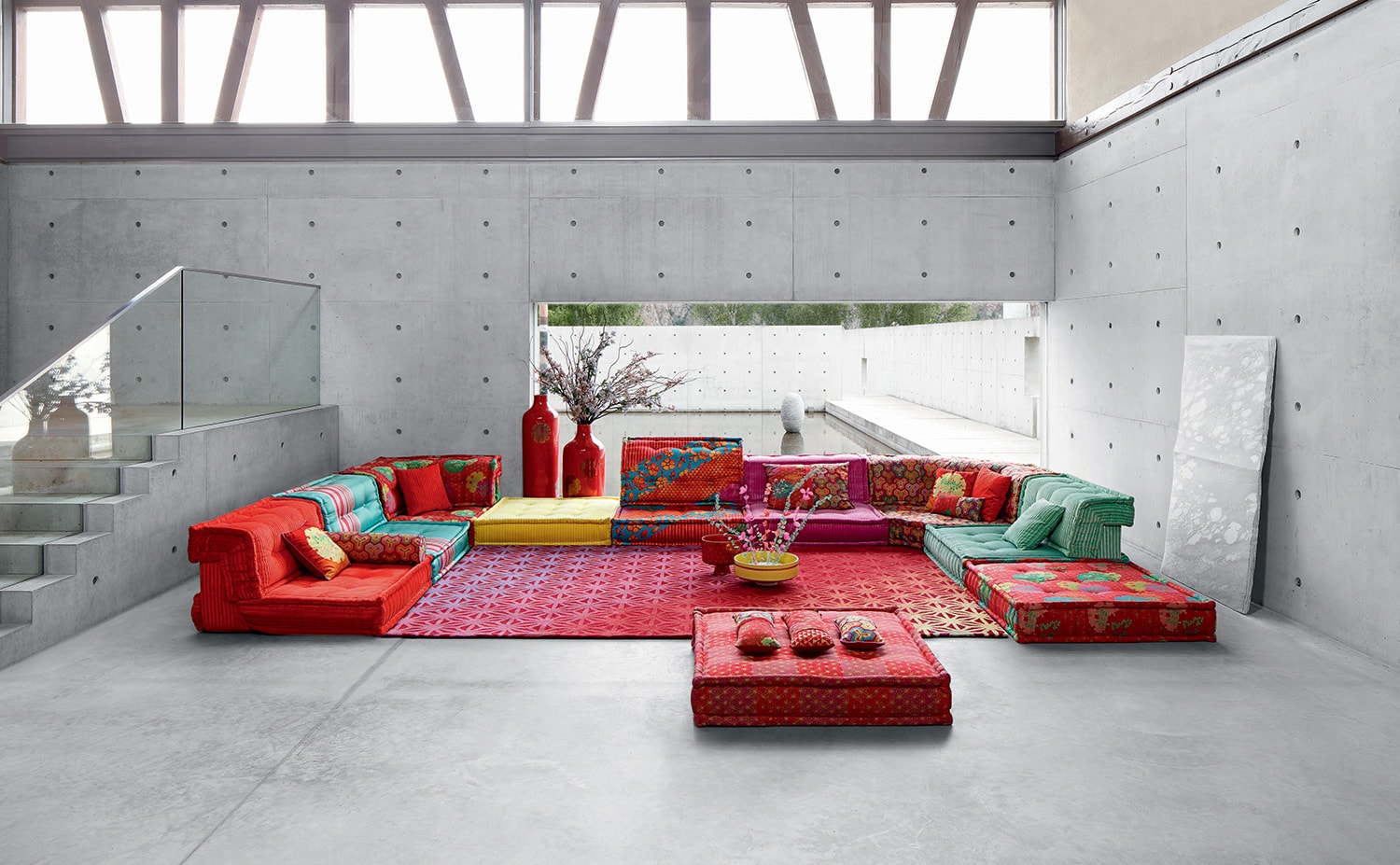 Vivid red hues dominate the Mah Jong sectional sofa by designer Kenzō Takada in richly patterned fabrics inspired by vintage kimonos. The largescale rug is Gara Jutan in red, the accent pillows are Hanagame and Hanawa cushions, and the tall vases are Aka Hanawa, all from Roche Bobois. Images courtesy of Roche Bobois
17 Jan

Designing the West: Mastering the Mix

Mauricio García always knew he would do something in the creative arts. In second grade, he began making architectural models out of notebook paper.

"From a young age, I was intrigued with creating beautiful, functional spaces," says García, now the store and sales manager of the San Francisco, Caalifornia, showroom for Roche Bobois, a French furniture and design retailer.

García studied architecture in college, earning his degree from the University of Monterrey in his native Mexico. Drawn to interior design, he worked as a brand manager for Mitchell Gold + Bob Williams and managed Internum & Design in Miami, Florida. During the past 17 years, he has managed 10 Roche Bobois stores — four in Mexico and six in the U.S. He's been at the San Francisco store since 2013.

Roche Bobois, which was founded in Paris in 1950, offers a broad range of made-to-order furnishings from sofas, armchairs and cocktail tables to dining sets, beds, dressers, storage, lighting, rugs and accessories. The company has 250 showrooms around the world, including those in Washington, Oregon, Arizona, Colorado, Texas and California.

For its biannual collections, the company collaborates with designers such as Sacha Lakic, Christophe Delcourt and Stephen Burks, and with fashion houses such as Jean Paul Gaultier and Missoni Home.

The company's most recent collaboration is with renowned designer Kenzõ Takada. The Mah Jong has been Roche Bobois' best-selling sofa design for more than 35 years; Takada reimagined the clean-lined piece by creating vibrant, richly patterned fabrics inspired by the ancient kimonos worn in traditional Noh theater. The designer created three color schemes for the Mah Jong: Asa (morning), in pastel tones; Hiru (midday), in deep red hues; and Yoru (evening), in rich blues. "Every sofa has its own personality, and Kenzõ Takada's textiles completely transform the look and comfort of the piece," says García.

Roche Bobois also offers design services, and the San Francisco store has four in-house designers on staff. "We begin with the discovery phase, learning if they're working with a designer and how we can best help them," García says. "We can assist customers in choosing just one piece or furnishing their entire home. Roche Bobois offers styles from classic French Louis 15th to contemporary, but our designs are timeless, and our clients' spaces will continue to look fresh and current."
Clean-lined sofas from the Littoral II collection are accented with colorful Hanawa and Kame throw pillows. The large ottoman is upholstered in Kenzō Takada fabrics from the No Gaku collection, and the glass and metal cocktail tables and pedestal tables are Metallica. The hand-tufted rug is Sato.
Chloe Lee had just purchased her first home when she visited the store. "Up until that time, I'd never worked with a brand that could make things to order," she says. "At first, I was passing on some items that I thought were the wrong size, but the staff told me, 'Don't worry; we can make it bigger or smaller, depending on what you need.' I'd always purchased furniture off the floor, so it was a new experience for me to have pieces made to fit my space."
After helping her hone in on her style choices, the design team visited Lee's new home, taking measurements and photographing the rooms. "They created renderings so I could envision what the spaces were going to look like," says Lee. With the help of designers, she chose furnishings for her living room and dining room along with bar stools, lighting and accessories.
García advises his clients to go slowly and enjoy the process when designing a space. "You can't be in a hurry," he says. "You have to take the time to find your pieces. I believe in mixing styles in a way that works aesthetically and personally. I like to combine different textures, like using contrasting pillows in a silky fabric with a shaggy rug underfoot or pairing a contemporary leather sofa with a mid-century wooden chair."
It's the personal touches that truly make a house a home, according to García. "I'm big on accessories, because they reflect who you are," he says. "I encourage our clients to layer things. You might add a soft throw to a chair, or display an objet d'art that someone gave you as a gift on your coffee table or arrange a collection of mementos you picked up on a trip on bookshelves. No matter how you design your home, it's important to be surrounded by the things you love."
WA&A wants to know:
Q: Being based in San Francisco, you have such a wonderful diversity of galleries to source great art. Can you share one of your favorites?
A: ArtHaus has always represented the most incredibly talented artists, and we often collaborate together. In the Roche Bobois showroom, we also showcase works from local artists. It's like our own private art gallery.
Q: What's a favorite object in your home?
A: I enjoy having things around that remind me of my family, like a special cocktail table with a black-iron base and white-marble top that belonged to my grandparents. I also have a pair of stools in the kitchen that just about everyone in my family owned at some point, and they add a lot of personality to the space.
Q: Tell us about a furnishing or accessory you like right now that imparts style in a room.
A: I am in love with Roche Bobois' Profile collection. The pieces all have great lines with mid-century influences and are available in beautiful fabrics. The tufted upholstered Profile bed, designed by Roberto Tapinassi and Maurizio Manzoni, is definitely at the top of my style list.
Q: Where do you enjoy dining out in San Francisco?
A: Park Tavern in North Beach is one of my favorite restaurants. The ambience is amazing, and the food is spectacular. Bellota is another special place, with great cocktails and wonderful Spanish dishes like tapas and paella.
Q: Do you enjoy entertaining at home?
A: I love to cook and have people over, and my style is definitely casual. We'll open a bottle of wine and I'll put something out for guests to nibble on while I prepare dinner. I might cook a simple dish like seared scallops or a pasta I make with mushrooms, thyme and parsley. We rarely have leftovers.
Q: What do you always stock in your refrigerator and pantry?
A: Eggs for morning omelets, cheese, salsa, corn tortillas and gluten-free pasta.