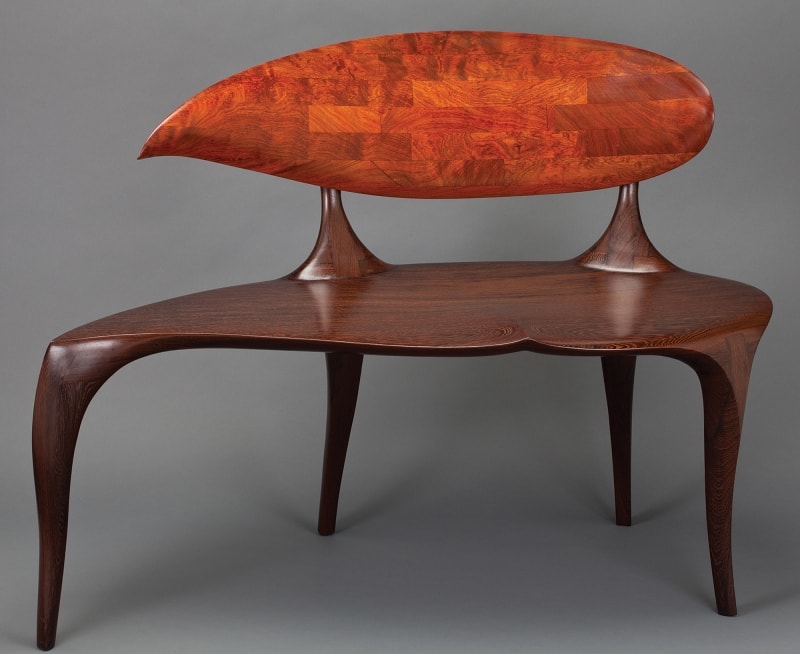 17 Dec

Details: Things We Love
Handmade Metal Switchplates by Four Winds West
---
With a creative background in leather crafting, artist Joel Rubiner has evolved his skills into metalwork. From his Tucson, Arizona, workshop he creates switchplates in standard configurations out of heavy-gauged burnished copper, brass and nickel silver. What isn't standard are his designs, which, he says, he discovered when working in Ibiza, Spain. There, he learned that the roots of American Western culture were Hispano-Moorish inspired. Rubiner creates switchplates in six different motifs with hand tools and an emphasis on  quality. He and his wife and business partner, Sinde, have another workshop in the ancient city of Marrakech, Morocco, where Joel creates laborious laced leather works with the help of two master craftsmen.
$26 to $38 | 520.622.7536 | fourwindswest.com
---
Teardrop Bench by Victor DiNovi
---
In Santa Barbara, California, furniture maker Victor DiNovi creates unique forms from a variety of wood. At times his process is laborious, as he seasons layers in a steam-heated kiln to draw out water before forming the individual pieces into shapes. Koa wood, a favorite material used in this Teardrop Bench, was once allowed only for Hawaiian royalty and is now in demand since it hit the open market. A cousin of the koa, the black acacia, found along the streets of Santa Barbara, is incorporated in his work whenever DiNovi can obtain one that fell naturally. Distinctive and rare, we think you'll love this bench for the rich brightness offered by nature.
---
V Strata Bracelet by Maria Samora
---
Jeweler Maria Samora loves to make art and feels that her pieces come to life when they are worn. Originally from the Taos Pueblo in New Mexico, Samora is celebrated; she was awarded first place twice during the venerable Santa Fe Indian Market, and she was the first jeweler to be featured on the event poster. Her designs are Pueblo Indian inspired and contemporary. We love this polished sterling silver bracelet topped with 10 white diamonds, which, we believe, fulfills her stated purpose: "to enhance one's beauty."
$3,200 | 2.25 x 5.75 inches | 866.878.3555 | sorrelsky.com 
---
Antler Sculpture by Shawn Rivett Designs
---
Shawn Rivett conveys his love for materials from his home state of Wyoming. This floating chandelier was created from naturally shed deer and elk antlers collected from the Casper area. Rivett, self-taught as an interior designer, worked for his family business, Wyoming Steel & Recycling, for 20 years, giving him plenty of exposure to unique materials. This floating, linear chandelier is both artful and a feat of engineering. It lights up a room with delightful ease and is a fresh take on a traditional Western favorite.
$6,000 | approx. 3 x 5 feet | 307.797.2944 | shawnrivettdesigns.com
---
Flower Tub from Hastings Tile and Bath
---
A comfortable and stylish bathtub, such as this Flower Tub, is ever more delicious when accompanied with bubbles, champagne and candlelight. Artisans in the Tuscany region of Italy created this Ferrari-red bathtub for the Flower Line from Hastings Tile and Bath. Its uniqueness includes not just its fluid form and lush color, but also its innovative materials. The pedestal and tub are made of sturdy yet lightweight fiberglass, allowing for the arched lines of the design. The deep red of its finish is the result of a patented "cool glass" material, composed of resin and glass pigments that produce a smooth surface as well as intense chromaticity. Available in five finishes: silver, white, black, gold and this vivid beauty.
$12,495 | 2.5 x 5.6 x 3 feet | 212.674.9700 | hastingstilebath.com
---
Paint Palette Belt Buckle by William Matthews
---
Western watercolor artist William Matthews found a new medium for his creative endeavors: silversmithing. This silver inlaid belt buckle is a geometric study of one of his favorite items  — the painter's palette. It was cast in Durango, Colorado, and fabricated by Navajo silversmiths in New Mexico. The buckle contains vibrantly colored all-natural stones, including shells, jade, lapis and lazuli, and the inlay is set flush in sterling silver. The artist's name and chop mark appear on the back, which includes space to fit a 1.25-inch belt. It's a wearable celebration of art by one of the West's most beloved artists.
Starting at $480 | 2.25 x 2.75 inches | 303.534.1300
---
Oculus Wing Chair by Carl Hansen & Søn
---
Hans J. Wegner [1914–2007] originally designed the stunningly handsome wingback chair in 1960. Wegner, born to a shoemaker in Denmark, is credited with the rise in popularity of mid-century Danish furniture worldwide. Of all his creations, the CH445 chair was the most sought after. Thanks to Carl Hansen & Søn, who, in 2006 recreated his design from a 1:1 ratio drawing, we can now enjoy the comfort and beauty of this icon once more. What goes unseen are some of the chair's best attributes: The backrest's cross-seams adapt naturally to offer support in a comfortable position, and its solid beechwood frame attests to its durability.
$11,350 | approx. 3 x 3 x 4 feet | 866.678.6016 | suiteny.com
---
Mosaic Tiles by New Ravenna
---
We love this collection of mosaic tiles from New Ravenna's Kiddo Collection. This pattern, titled "Fleet," was designed by Cean Irminger, creative director of the company and a new mother. We think this charming sailboat motif befits any toddler's nursery or bath. The mosaic is made of jewel glass, and the fun part is that it isn't pre-made. When you decide where you wish to feature them, you can choose your colors, and they are created to exact size and scale. If you like the blue and white but wish to add a touch of red, that's no problem. Made in America, New Ravenna's tiles are handcrafted and can be tumbled, honed or treated to create subtle shades and textures.
Price available upon request | 757.442.3379 | newravenna.com
---
Kiln-Formed Vessels by Karen Bexfield
---
Karen Bexfield is a master at creating kiln-formed vessels and sculptures. Delicate in appearance but strong in form, her pieces seem to mirror patterns of nature. Just as nature is unpredictable, so too is the process of kiln-formed glass. The technique, used since the times of ancient Egypt, models the glass through the manipulation of heat and mass. Bexfield enjoys exploring the limits of glass, noting that it only requires subtle nuances of effort and time to bring forth the beauty we see here. When lighted from above, they make an astonishing addition to any room. We suggest a series of three in primary colors for a bright accent in a neutral room.
$1,200 to $1,800 | From 8 to 10.5 inches | 505.992.8878 | fineartsantafe.com