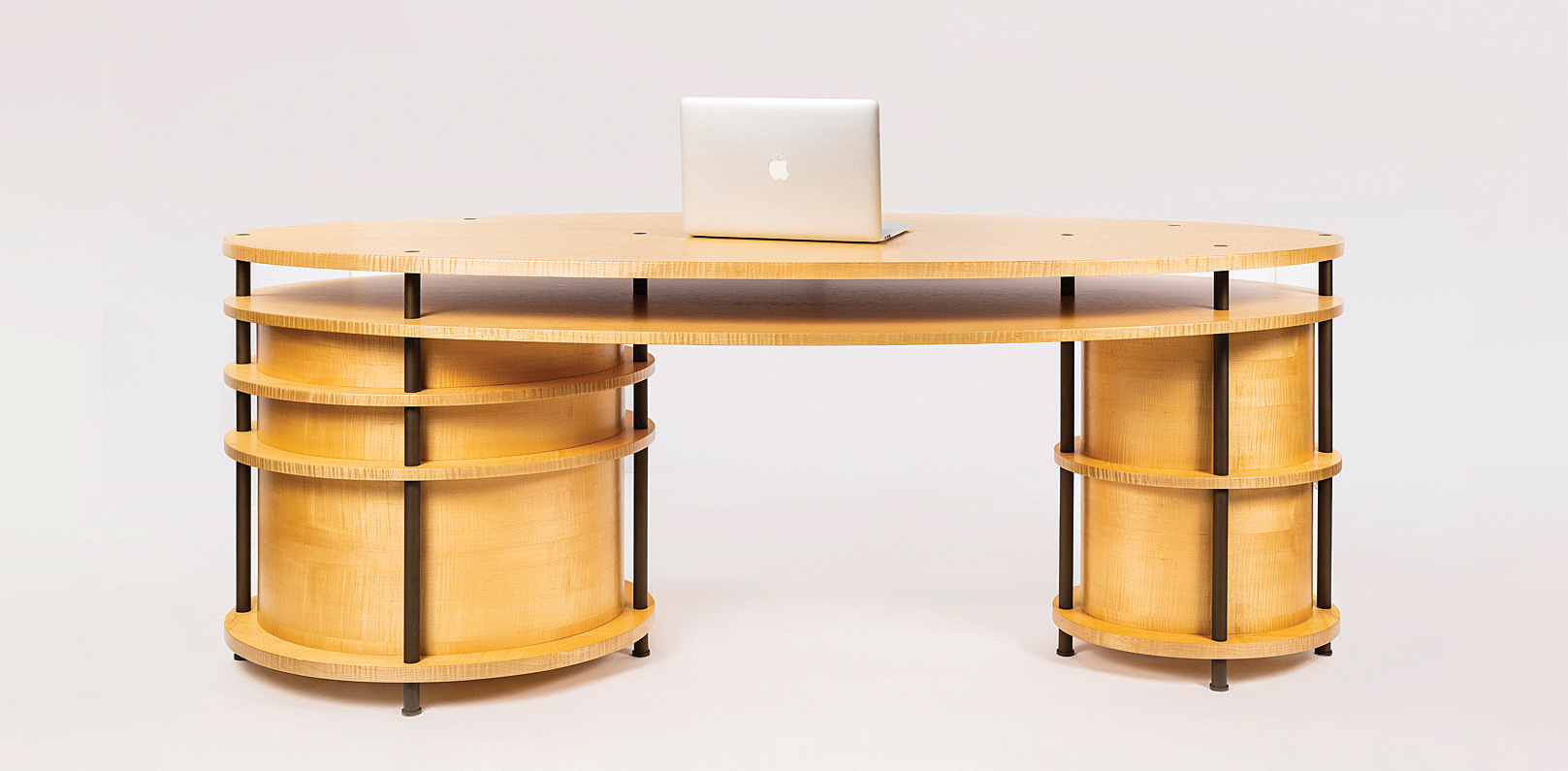 11 Jan

Things we love
Nomad Portable Espresso Machine from UniTerra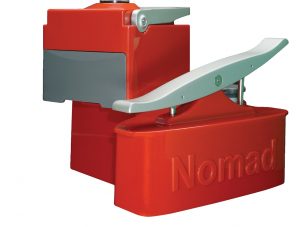 We think you're going to fall in love with the Nomad, just as we did. If you're a fan of high-quality espresso, we've found the answer to coffee-on-the-go. An uncompromising replacement for large, professional espresso machines, Nomad travels wherever you do, be it the top of a peak or fishing by the river. It requires no electricity or batteries — just hot water and ground coffee. We love that, through its two-cylinder micropump, it produces professional barista-quality espresso, and yet, it's conveniently portable.
$290
approximately 7 x 7 x 6 inches
uniterra-nomad.com
San Francisco's Chinatown by Kathy Chin Leong and Dick Evans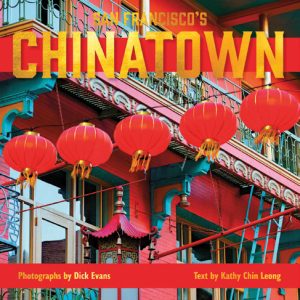 We love the vivaciousness of Kathy Chin Leong and Dick Evans' newly released book, San Francisco's Chinatown, published by Heyday. Evans' brilliantly colorful photographs of San Francisco's popular community, accompanied by Chin Leong's commentary, make for an excellent documentation. Chin Leong writes from experience, having spent time with her grandmother who lives there. Together, Evans and Chin Leong have recorded the historically important landmarks and intimate settings of North America's largest Chinatown, and many are scenes that tourists likely don't see. One will revel in the beauty of this large-format book, making you feel as if you're there in person. Pick up a copy just in time to celebrate the Chinese New Year on February 12.
$40
Hardcover, 208 pages
11 x 11 inches
chinatownbooksf.com
Strata Vessels from GartnerBlade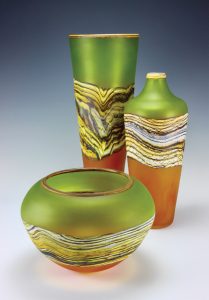 Together, Danielle Blade and Stephen Gartner create limited-production works of blown and sculpted glass. The duo draws inspiration from their mutual fascination with objects that are revered in the rituals of both historic and contemporary cultures. Their one-of-a-kind vessels, such as these brilliantly colored and distinctively patterned vases from their Strata series, come in a variety of colors, including translucent lime and tangerine. Each has a distinctive pattern and is signed by the artists. We think one of their glass vases, filled with a bouquet of flowers, would make an elegant gift.
Starting at $490
gartnerblade.com
Diamond Rain Chain from Good Directions

Turn those rainy days into beautiful ones with a Good Directions' diamond rain chain that doubles as a wind chime. At 8.5 feet long, it directs rainwater off a roof while gifting one with a delicate melody. Made from 20-gauge pure copper, the chimes develop a beautiful patina over time. An aesthetically pleasing downspout originally developed in Japan, rain chains, or kusari doi, have been used on temples for hundreds of years. Made by an American family-owned business, the company was started by John Lodato, the son of an immigrant coal miner who collaborated with a group of American artisans and craftsmen in 1982, and it continues to operate to this day.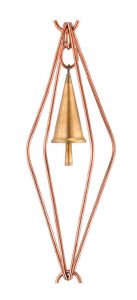 $168
8.5 feet long
gooddirections.com
Blue Tiger Set from Pillow Pops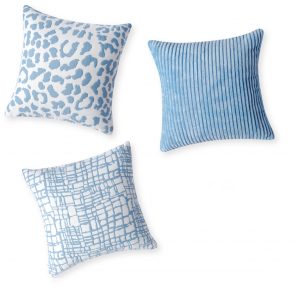 "Luxurious fabrics in an amplitude of textures and colors" is founder and creator Shani Moran's description of Pillow Pops. Bundled into a rich variety of sophisticated sets, we were particularly drawn to these baby blue animal-inspired patterns, featuring luxurious, smooth dobby jacquards combined with soft chenille. Each pillow has a hidden zip enclosure, making it easy to remove and launder, for, perhaps, the perfect nursery gift. Moran's experience with specialized mills around the world and knowledge of quality fabrics inspired her to make luxury pillows available for all. For gift-giving, each set arrives in a signature box.
Set of three: $99
14 x 14 inches per pillow
pillowpops.com
Lian Chrome Chair from Massoud Furniture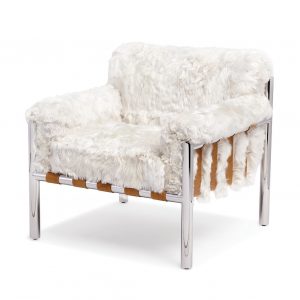 If you love a pop of luxury, we have the perfect chair: the Lian Chrome Chair from Massoud Furniture. Based in Dallas, Texas, and in business for more than 50 years, the Massoud family still holds true to its original mission: to provide quality products created with integrity that last for generations. Inspired by a mid-century design, we love the details of this Lian Chair and that it's upholstered in silky, soft Suri alpaca. The aniline leather support straps make for a comfortable seat, and, best of all, its retro chrome look can fit in with numerous interiors, be it traditional, contemporary, or lodge style.
$6,999
35 x 33 x 35 inches
massoudfurniture.com
Ink Blue Ombre Mural from Graham & Brown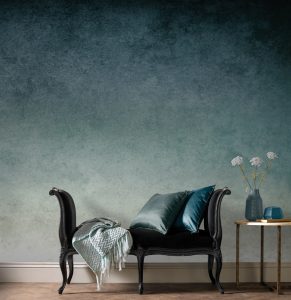 We think this contemporary, bespoke wall mural by Graham & Brown makes a strong artistic statement. The trending inky blues fade from midnight to warm neutrals, creating a distinct ambiance and mood. Enhance the theme of a room by partnering the mural with complementary wall paints and features, as the company also curates a wide selection of paint colors, mantles, and door frames. We love that this mural is available in a variety of textures, from smooth to fibrous, and in-house experts tell us that each of the different textures has a slightly different effect in appearance. While each design is color-matched by Graham & Brown designers, they recommend, for your perusal and approval, a substrate sample selector as a first step in creating a beautiful setting.
$7 per square foot
grahambrown.com
Torchies from Old Wood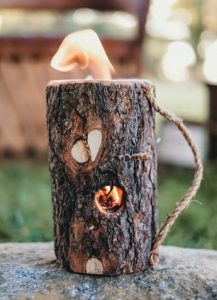 Old Wood is a family-owned company that produces and supplies sustainably-forested firewood. From its 17,000-square-foot production facility in Las Vegas, New Mexico, Old Wood specializes in aromatic woods, like piñon and juniper, but also carries aspen, spruce, Douglas fir, and ponderosa pine. For a portable campfire feeling, the company designed the Torchie. Made from the naturally aromatic piñon and juniper trees found in the American Southwest, Torchies are single-log, self-contained fires that are safe to use wherever open fires are allowed. In addition to their lovely fragrance, they're also known to repel insects. Torchies are kiln-dried so they light quickly, and they also come with an all-natural fire starter. Once lit, Torchies will burn with an admirable flame height for up to four hours, eventually turning into a small ash pile. We love how easily they can travel to the beach or enliven a simple night under the stars, leaving little trace. Their clean, beveled design also makes them appropriate for special occasions, including outdoor ceremonies.
$62 for four
8 inches tall
firewoodnm.com
Tiger Maple Executive Desk from Paul Rene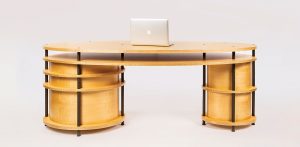 Designer Paul Jeffrey grew up in Detroit, Michigan, and joined the U.S. Army after high school, rising to officer ranks. Later, he studied industrial design, and Ford Motor Company hired him as a concept car designer. But fate had other plans, and today he's lauded for his quality craftsmanship and original furnishings. In 2019, the American Society of Interior Designers awarded his company, Paul Rene, first place in design excellence, and Jeffrey has served as a guest lecturer at Holland's Royal Academy of Art in The Hague. His transformational journey to becoming an artist is reflected in his unique aesthetic, and is represented in this finely crafted Tiger Maple Executive Desk, with its bold curvature, powder-coated steel accents, and exacting details. The large barrel contains three drawers, and the smaller barrel hosts two adjustable shelves. Jeffrey also accepts commissions, working one-on-one with clients to create stand-out pieces for their homes, from custom media walls and bedroom furniture to kitchen and bath cabinets.
Starting at $10,000
paulrenefurniture.com