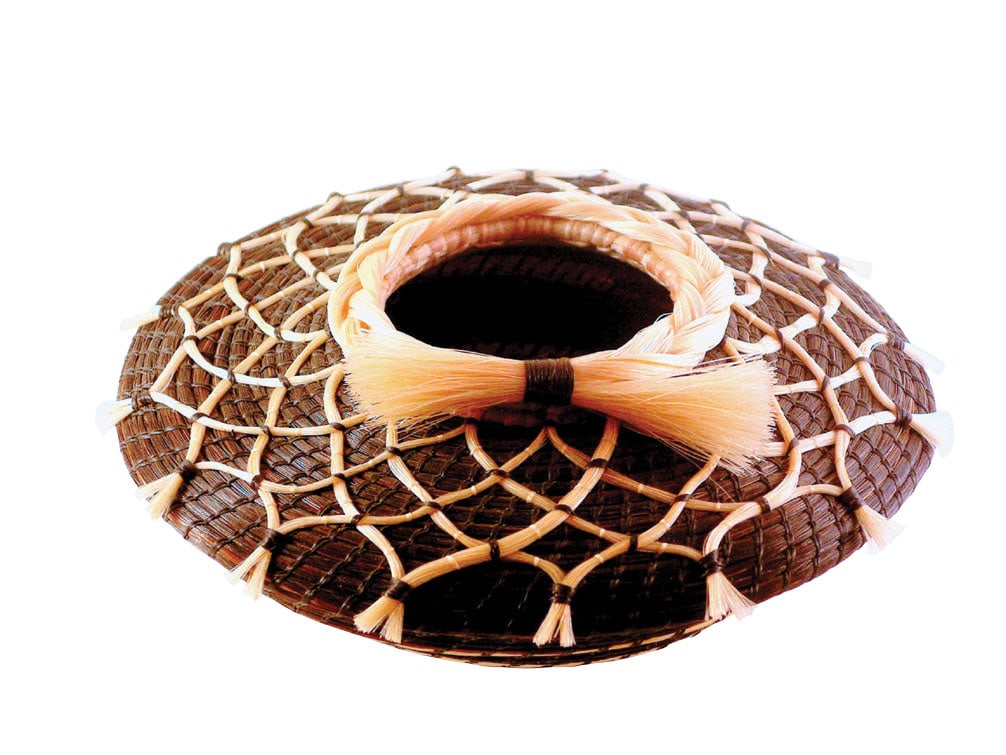 11 Mar

Things We Love
Horsehair Baskets by Jane Chavez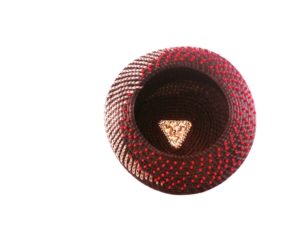 We love when someone's passion shines through in their artwork, as it does with these coiled horsehair baskets made by Jane Chavez. The artist's interest in baskets began as a child growing up in Argentina. She was thrilled whenever the basket purveyor in his horse-drawn cart would pause in front of her home. As a young girl, she saved enough money to purchase a small basket. In 1992, Chavez began to make her own baskets using pine needles. Then, one day while grooming her horse, she had the idea of using the hair from his tail. Now trademarked, her hand-stamped sterling silver and horsehair baskets are highly sought after; they have been in museum and gallery exhibitions across the nation.
$800 to $5,000 | 505.988.3444 | sagecreekgallery.com
Versa Coffee Table or Ottoman by Berman | Rosetti
Nick Berman and Gennaro Rosetti's collaboration is a successful meeting of creative minds. Simplicity and quality are the hallmarks of their designs, found in showrooms located across the U.S. and Canada. The Berman|Rosetti motto: "As simple as possible, but not simpler." 
The Versa is available with a top made from rift-cut oak, stone, or cushioned fabric, and, depending on your choice of material, it can act as a table or ottoman. It includes a removable tray, the perfect size for favorite magazines or other odds and ends one might need to store in a living room. The legs and wooden base are also available in any finish offered
by Berman|Rosetti.
$7,150 | 310.476.6242 | bermanrosetti.com
The People: The Missing Piece of John Wesley Powell's Expeditions
by Carol Ormond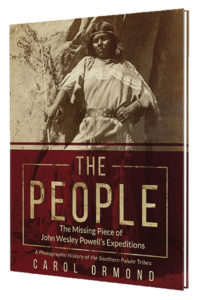 John Wesley Powell's journey in 1869 down the Colorado River and through the Grand Canyon was a powerful moment in history for the exploration of the West. On his second expedition, he took along a photographer and friend, John Hillers. Together, they hauled over 1,000 pounds of photography equipment on boat and horseback as they journeyed and wintered near the Grand Canyon in 1872, with the help of local Paiute tribes. This new book displays 116 historical photos taken by Hillers during this trip and documents the Paiute culture before it was significantly altered following Western expansion.
$65 | Hardcover, 250 pages | 800.992.1066 |thunderbirdfoundation.com
Floating Hydros Sink by Sonobath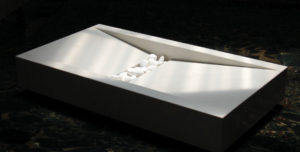 Here's where the interaction of water meeting stone becomes artwork for the powder room. Inspired by nature, designer Jae Omar added natural river rocks to conceal the drain in this dramatic, floating Hydros sink. Constructed of premium quartz, the hidden drain complements the sink's subtle curves and interacting planes. Made in the U.S., the company's motto is: "Think outside the basin," a measure they've met with this necessary but unique fixture.
$2,450 to $3,900 | 310.492.4006 | sonobath.com 
Limbo Chandelier and Russell Loveseat by Kenneth Cobonpue
"Everything I do today is an extension of my creative childhood," says designer Kenneth Cobonpue, whose mother, Betty, founded a furniture design and manufacturing company in the Philippines. From that early exposure, Cobonpue went on to study industrial design at the Pratt Institute in New York City and to apprentice in leather and woodworking in Florence, Italy. Cobonpue also studied furniture design and marketing in Germany, before returning home to the Philippines in 1996. 
Today, the designer applies the skills he's learned over his lifetime to create furnishings ranging in style from traditional to playful. Many of them are functional works of art, eliciting a response of awe and delight. Take, for example, the Russell Loveseat. Immediately, we imagine ourselves relaxed and at play, with dreams at hand and reality far away. Or consider this acrobat chandelier which brings a moment of delight, perhaps even a thrill, above a dining room table. The acrobat is captured with gossamer wires hand-woven in a lattice pattern that requires more than a month to make. Appropriately titled Limbo, it's one of three different acrobat fixtures in various stages of performance that Cobonpue dreamed up. 
"Romance is one element in our designs that never goes out of style," he says.
With design centers in the Philippines, Germany, Portugal, and New York City, Cobonpue's innovative furnishings and technologies have earned international awards. One look, and it's easy to see why.
888.889.9005 | kennethcobonpue.com
The Neutron Sofa by Katherine Snedeker
Designed by Katherine Snedeker, owner of The Arrangement, this single-slab wood couch blends industrial solidity with creature comforts. The design is inspired by raw materials to expresses the spirit of the West in a new way: iron, wood, chenilles, and leather are crafted to embody a rough-hewn yet modern essence. The Neutron is versatile and will fit with multiple styles of décor. Available in light or dark timbers, the limited-edition couch is ultra customizable, in size as well as fabric and leather options.

$9,000 to $12,000 | 110 x 40 x 37 inches | 888.924.4428 | thearrangement.com
Integrated Rolscreen by Pella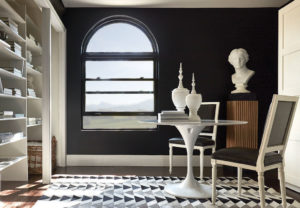 Remember when automatic blinds were the wave of the future? Well, welcome to the technology of today: automatic window screens. Pella, a window and door manufacturing company operating since 1925, designed these collapsible screens to allow for a clean view through a glass window. The screen appears when you open the window — and only to the degree that it's open — and then rolls away out of sight when the window is closed. The technology prevents wear and tear on window screens from harsh weather, and it also provides a more polished look for the detail oriented designer.
3 x 5 foot window with basic options starts at $900 | 877.473.5527 | pella.com
Starre Table by Angelo Donghia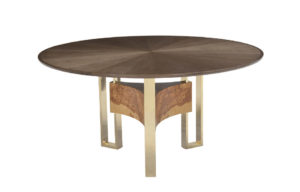 As the first interior designer to license "designer" products for the mass market, Angelo Donghia [1935-1965] was inspired by the glamour of movies. He was determined to "make people feel gorgeous and beautiful" in their surroundings, and we imagine this Starre Table would do just that. Inspired by jewelry, the table is made of straight grain walnut veneer in a starburst pattern. Its gold-plated legs are joined by a burl of olive ash, creating a glamorous appearance. Used as the perfect setting in a dining room or perhaps a sitting area that overlooks your garden, unexpectedly, something useful becomes an object of beauty.
Price upon request | 29.5 x 120 x 48 inches | 310.657.6060 | donghia.com