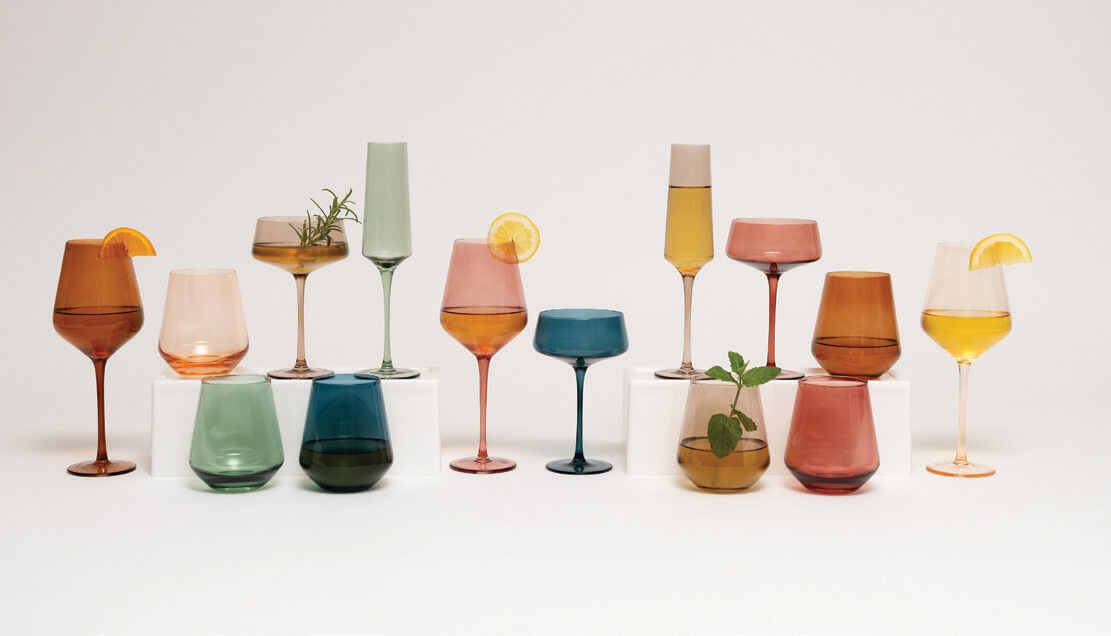 07 Nov

Things We Love
Multi-Colored Champagne Flutes by Saludi Glassware
Saludi Glassware founder Dani Baltar has infused her Latina roots into high-quality drinkware reminiscent of the joy-filled family gatherings she recalls from childhood. Inspired to make celebrations more fun, she designed these colorful glasses to brighten a table setting and facilitate a chorus of "cheers." While the company is based in Denver, Colorado, these champagne flutes are carefully hand-blown overseas, taking on an elegant and modern form that's made from one piece of high-quality glass without seams. We love how the multi-colored sets feature complementary hues, adding a festive spark to any upcoming holiday party.
9 x 2 inches; 6.5 ounces
Set of 6: $185
saludiglassware.com
Elk Bone Scrimshaw Handle Obsidian Knife by Dale Duby
While felling timber in Oregon for work, Dale Duby started carving arrows out of the obsidian scattered around a volcanic area. Then, when a friend suggested adding a deer antler handle to make the point into a knife, his work as a craftsman took flight. Before long, his handcrafted knives were sold in national park gift shops and other stores throughout the West. Inspired by the stone tools made by Native American tribes and dating back to the prehistoric era, Duby uses a flint knapping technique, chipping away obsidian flakes to form the sharp edges. The extra-large Elk Bone Scrimshaw Handle Obsidian Knife, featuring an elk's jaw bone with a scrimshawed image of a soaring eagle, works just as well as a display piece that honors traditional stonework.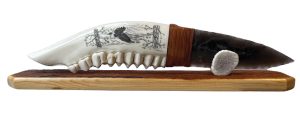 Knife: 15 inches
Stand: 15.25 inches
$375
briscoemuseumstore.org
By Western Hands: Functional Art from the Heart of the West by Chase Reynolds Ewald
Featuring the work of artisans in today's Western design renaissance and historical figures in the movement, By Western Hands: Functional Art from the Heart of the West celebrates the history of rustic design. From Adirondack and National Park "Parkitecture" styles to the work of legendary furniture maker Thomas Molesworth, author and WA&A contributor Chase Reynolds Ewald details the evolution of this art form born of each artisan's unique creative process and inspired by place. Coupled with fine photography, Ewald profiles artisans, offers original examples of mountain and rustic interiors, and showcases one-of-a-kind works from 50 of the best Western decorative artisans working today.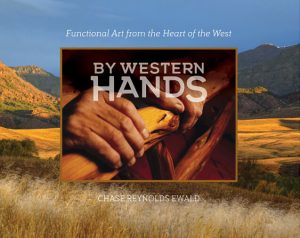 Hardcover, 11 x 14 inches
$75
bywesternhands.org
Chili Rose Tesuque Bracelet by Adonnah Langer
Adonnah Langer discovered her passion for jewelry making in 1989, leading to a love of beads and Southwest style. Her detailed patterns combine textures to create beaded jewelry infused with her signature contemporary look. Langer's patterns are an homage to traditional Native American beaders. However, she takes an abstract approach, blending color palettes and beads with various sizes and finishes. In addition, she has designed and fabricated a number of sterling silver clasps for the Chili Rose Collection. We love the bold colors and bead variety she chose for the Tesuque Bracelet, and how it's topped with a silver-wrapped turquoise statement.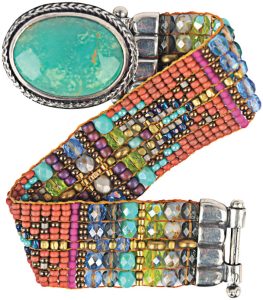 7.5 inches & adjustable
$975
peyotebird.com
In Dreams: Four Seasons Vase by Heesoo Lee
Heesoo Lee's self-described artistic language is "formed by observations of material, nature, and place" in a way that "engages with themes of identity, connection, and time." Her In Dreams series of porcelain vessels are, well, dreamy to say the least. The pieces are hand-thrown and painted with up to 30 layers of pigmented clay to create intricate landscapes with surreal details that bring each work to life. We love how the Four Seasons Vase depicts a changing aspen grove with subtly different colors and details that pop from every angle. Born and raised in Seoul, South Korea, Lee had studios in Berkeley, California, and Maui, Hawaii, before moving to Montana 10 years ago. She is currently in her fifth residency at the Archie Bray Foundation in Helena.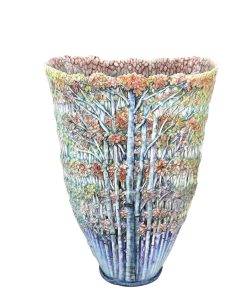 19 x 13 x 8 inches
$7,200
radiusgallery.com
Anya Center Table by HOMMÉS Studio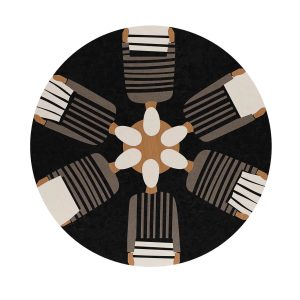 Inspired by the works of early 20th-century Russian avant-garde painter Kazimir Malevich, this stand-out center table features geometric patterns with distinct lines, sleek colors, and an undeniable modern flair. Made by skilled woodworkers using marquetry — a traditional approach to furniture making that dates back to the 16th century — the patterns are crafted with thin veneers and layers of different wood varieties, resulting in a unique composition. We love how the Anya's boldly patterned table top contrasts with the black and white lines on the side, creating an optical illusion of sorts.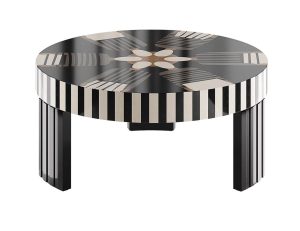 19.7 x 39.4 x 39.4 inches
$3,372
hommes.studio
Chaise Rocking Chair by Henneford Fine Furniture
Judging by his quality craftsmanship, it's hard to believe that Steve Henneford started his woodworking career just 13 years ago with no prior experience. "My wife and I owned a gymnastics club, and I wanted to do something different," he recalls. "I'd never made a chair in my life." Since then, Henneford has honed his signature style, re-creating Mid-century Modern pieces with Western flair. The Chaise Rocking Chair — made from quilted maple with distressed bison hide seating — was inspired by legendary furniture maker Sam Maloof, with long lines and seamless joints that make it look like one piece of wood. We love how the rustic nature of this rocking chair blends with a laid-back touch of luxury.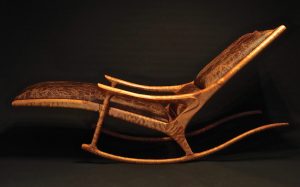 24 x 72 x 36 inches
Starting at $12,000
hennefordfinefurniture.com