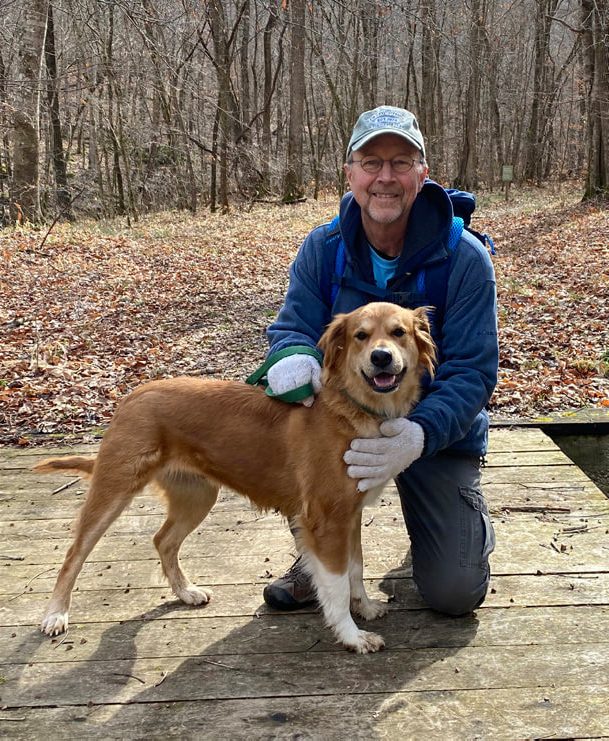 05 May

Artist Spotlight: Al Boswell

When Al Boswell came across his late father's pocket watch a few years ago, he realized he had to create something special so its significance would not be lost. His dad, who had a "very small, very rocky dairy farm in southwest Missouri" where Al was raised, always kept the timepiece in the bib pocket of his overalls. "After he passed away, I carried it for a while, and then it found its way into a drawer. And I realized I didn't want it someday to just wind up in one of my kids' drawers."

So Boswell, working in the bright, spacious shop near his hilltop home overlooking an idyllic wooded valley in southwestern Missouri's Ozarks, set about designing and building Dad's Pocket Watch Table, "the most meaningful piece of furniture I've ever made."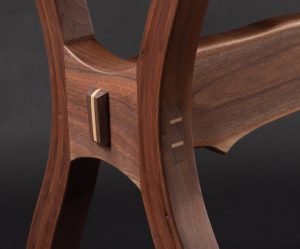 Featuring a live-edge walnut top expressing a style he describes as "a cross between rustic and contemporary," the hall table features a stringer — the long piece that connects the legs and provides stability — with a knothole right at its midpoint, into which he epoxied his father's watch, its hands stopped as they were when he'd pulled it from the drawer. "I gave the piece to my son and daughter-in-law. They now have it in their beautiful house, and I know it will be used for generations of descendants. And there'll be a little story about my dad to go along with it."
Furniture is a living thing for Boswell, who's been crafting it full-time for 24 years after transitioning into the erstwhile hobby from his previous two-plus decades as a veterinarian. He spent the first 20 years of his veterinary career in Central Nebraska ranch country primarily looking after cattle. "I've actually found that being a veterinarian is very similar to what I do now," he says. "You still have to interact and deal with people. And handling the wood is a lot like doing surgery. It's living tissue that has to be handled and put together properly so that things work right."
Looking at Boswell's creations — many of which feature the walnut, maple, oak, hickory, sassafras, hackberry, Osage orange, and other woods that grow nearby — it's no big stretch to sense how alive they feel. Chair legs curve gracefully like the natural tree limbs from which he caringly fashions them, steaming and bending the limbs so that they rest just right on the ground, their seats and backs carefully shaped to offer absolute ease to the humans who sit in them.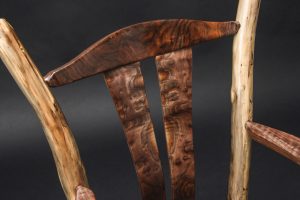 "Chairs are the only piece of furniture that we actually interact with intimately by sitting," he says. "The challenge in building a chair is that they have to do three things: catch a person's eye, so they have to look good and draw attention; be comfortable, so that people can sit in them and visit for a couple or three hours and really not even know they're sitting in a chair; and take a beating, to last for generations." Made by Boswell, they are certain to meet and exceed all those goals.
Find Al Boswell's work at boswellcustomfurniture.com and at By Western Hands and Nordberg-Lindauer, both in Cody, Wyoming.