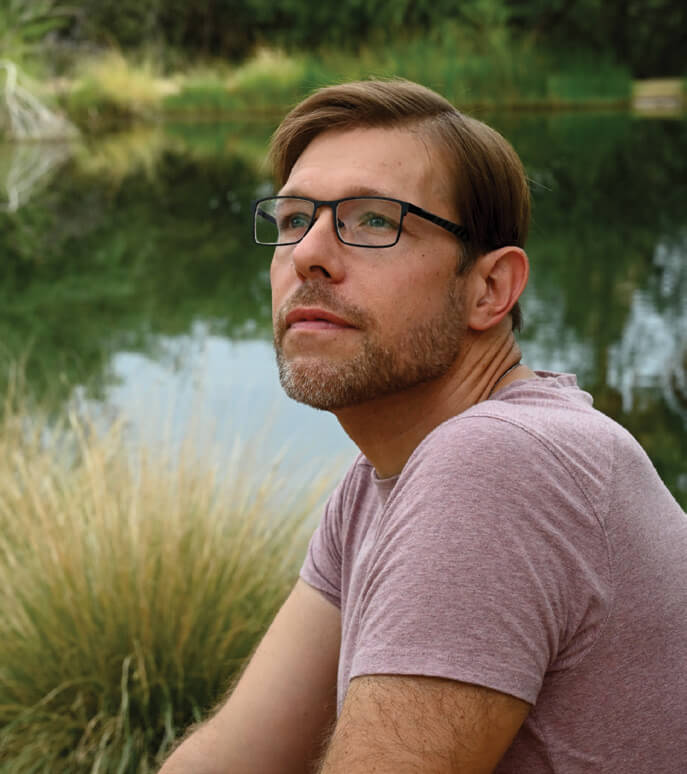 06 Sep

Artist Spotlight: Andrew Denman

Andrew Denman reimagines wildlife painting within a context of contemporary and modern art, dramatically shifting viewers' perceptions. Take, for example, The Usual Suspects. The acrylic-on-cradled-board work presents 20 impeccably contoured ravens — some compositionally cropped along its edges — in four neat lineups against a textured background achieved by diligently building up thick impasto and then power-sanding the surface. Yet, only three of the corvids (including one revealed only by its tail feathers) are rendered absolutely true to life, black feathers agleam, eyes alert, one beak agape. All the others are filled in with brightly colored patterns.

"I'm recontextualizing animals that we might otherwise overlook because we see them every day," Denman explains. "The new context forces viewers to consider them in a different way."

With similar visual freshness, his String Theory #21: Kingfisher features the jaunty title bird perched on a bold diagonal yellow-orange line against a background of other lines in blue, deep burnt orange, white, and gray, along with what may be a blue sky and a gray rooftop. "I have a real fond spot for Minimalist artists like Barnett Newman or Piet Mondrian, who could create a sense of atmosphere and space with nothing but straight lines and color harmonies. And I thought, what if birds flew in and interacted with those lines?"

Such an innovative, eye-opening approach, coupled with realistically rendered animal subjects, has justifiably earned Denman major gallery representation, along with membership in the Society of Animal Artists. His work has been celebrated at the National Museum of Wildlife Art in Jackson, Wyoming; the Leigh Yawkey Woodson Art Museum in Wausau, Wisconsin; the Arizona-Sonora Desert Museum in Tucson; and the Nature in Art Gallery and Museum in Gloucester, England, among other venues.

Denman's current acclaim stems from a lifelong passion for art. His first public success came in his early teens, when he organized his own one-man show featuring some 60 paintings and drawings of "living wildlife, dinosaurs, dragons, and monsters" at the public library in Orinda, California, his hometown east of San Francisco Bay. "I probably sold two-thirds of them and had the overwhelming thought that it might be possible to make a living doing this," Denman says.

He earned a Bachelor of Fine Arts from nearby St. Mary's College, with the practical goal of making art while supporting himself as a teacher. But in 2000, as he was applying for graduate school, the offer of his first one-man gallery show solidified his path.

Today, Denman lives on the east side of Tucson, sharing a 600-square-foot home studio in a spacious Mid-century Modern house with his partner Guy Combes, a Kenyan-born British-American painter specializing in African wildlife. "We have tons of birds and beautiful views of the Catalina and Rincon mountains," Denman says of the inspiration all around him. He plans to continue following that inspiration wherever it might lead. "When I have an idea that surprises me," he says, "my hope is that, through my art, it will eventually surprise other people as well."

Denman's work is represented by Astoria Fine Art in Jackson, Wyoming; Sanders Galleries in Tucson, Arizona; and Gallery by the Lakes in Dorchester, Dorset, England. He's participating in the Western Visions Show & Sale at the National Museum of Wildlife Art in Jackson through October 2; and Desert Senses in the Ironwood Gallery at the Arizona-Sonora Desert Museum in Tucson from December 10 through March 5, 2023.