Three Mugs | Red Stoneware with Cone-6 Oxidation Glazes | 6 x 4 x 4 inches | 2019
06 May

Artist Spotlight: Ben Jordan

Some of Ben Jordan's earliest, fondest memories date back to childhood excursions with his dad to old Native American sites on the desert plateau near their family's home in Kingman, Arizona. "We'd look for pottery shards, and that got me asking questions like, 'Who made this?' and 'Why did they make it?' and 'What were they doing here?'" he recalls. "That gave me an early appreciation for pottery, as well as for different cultures and how they operate."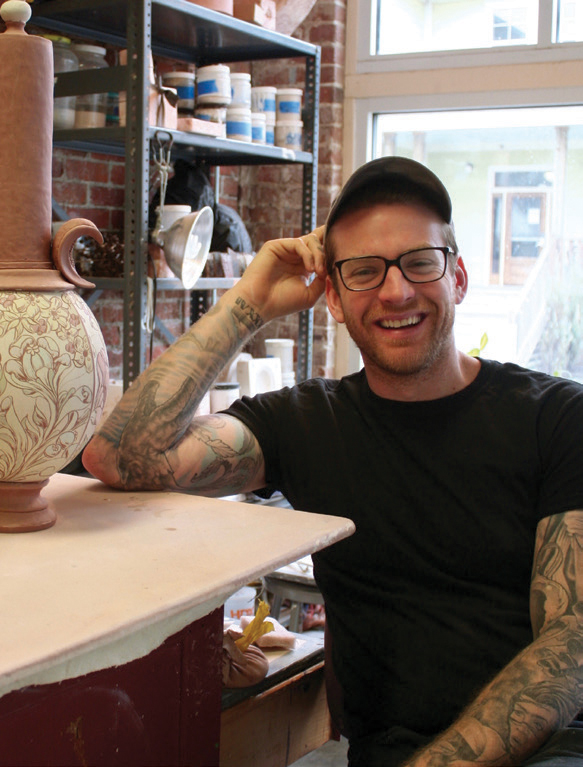 Perhaps that is why, while studying sociology at a community college, he signed up for a studio pottery class. "Right away, pottery made sense," he says. "It came fairly easily, and its immediacy felt good to me." After transferring to Northern Arizona University in Flagstaff, he wound up graduating with a dual major in sociology and ceramics, before going on to earn a Master of Fine Arts in ceramics from Virginia Commonwealth University in 2016.
During his immersion in working with clay, Jordan gradually moved beyond the pleasures of process and structure — "how the lip of a pot looks with the foot, how the handle relates to the overall form" — to the conceptual side. "In graduate school, I had a committee of people helping to nurture that growth in me, to think about why I'm making what I'm making," he says. In the process, and at a distance of 2,300 miles from his home, he gradually developed a theme and style that addressed the romanticization of the American West.
Jordan came to adopt the Sheridan style of Western leatherwork, giving almost everything he made — from cups, bowls, and pitchers to sculptural ram skulls and steer heads — relief-like ornamentation, with ornate patterns of desert roses and other flora. He'll even go so far as to finish some pieces in a wax encaustic to give them the look and feel of burnished leather.
In the process, many of his works present viewers with opportunities to ponder issues at the intersection of
historic Western myth and present-day reality. Synthetic Landscapes, for example, functions as a decorative planter for baby barrel cacti, arrayed along four interconnected lengths of red stoneware tubing fashioned to resemble irrigation pipes incongruously made of hand-tooled leather. "I was thinking about 21st-century agriculture and water issues," Jordan says, "and how you think the West is about freedom and having the room to move around and breathe, when in actuality there's private farming and monoculture, pesticides and herbicides. It's idealization versus reality."
Still, many pieces by the 35-year-old artist, who now lives near Bozeman, Montana, lean more toward pure pleasure. His floral-decorated Salad Bowls, for example, employ the same techniques used to make the fine clay of ancient Greek pottery, with pale blue and yellow glazes highlighted by real gold luster. They're an example, he notes, of how "the history of the material really resonates for me. That's a big part of why I do what I do."
Jordan's work is represented by the Red Lodge Clay Center in Red Lodge, Montana.