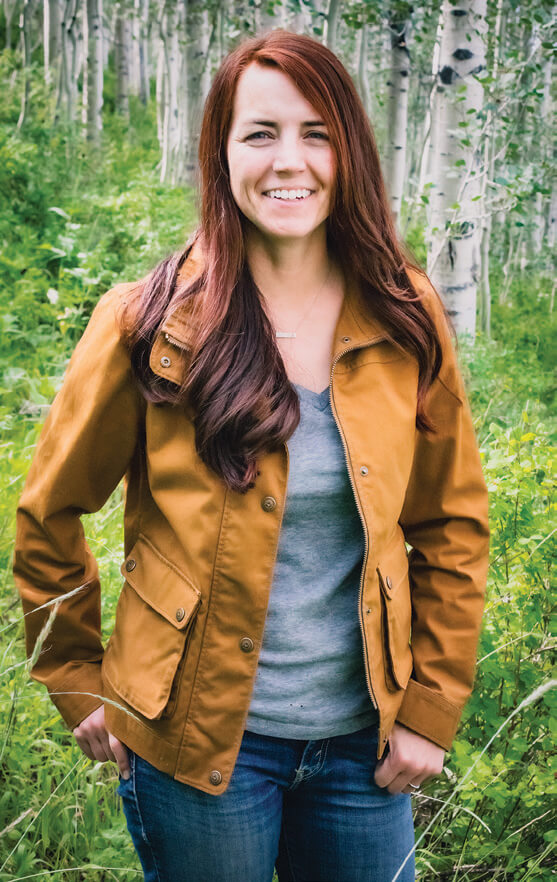 09 Jan

Artist Spotlight: Bridgette Meinhold

Bridgette Meinhold paints large-scale landscapes inspired by the Mountain West she calls home, imbuing these artworks with an almost trancelike quality through the medium of encaustic. She applies as many as 20 separate thin layers of pigment-colored beeswax and three to four coats of milk-based casein paint to a rigid panel, creating an illusion of depth in two dimensions. Take, for example, her recent work Committed. "That's a personal favorite of mine," she says of the 50-by-40-inch scene of 12,968-foot Engineer Mountain in Colorado's San Juans, viewed through banks of mist-shrouded evergreens and crowned with "sundogs," the rainbow-like radiance caused by sunlight filtered through stratospheric moisture. And what of the title? "The names of my paintings almost always relate to whatever I'm going through at the moment, and the solidity and majesty of that mountain feels rock-solid committed," she says.

That level of dedication befits a woman whose original life goal was "to save the world through sustainability." Armed with bachelor's and master's degrees in engineering, Meinhold consulted on green design to a range of clients, including architects, ski resorts, and wind farms, as well as blogging on the subject and writing the well-regarded 2013 book Urgent Architecture: 40 Sustainable Housing Solutions for a Changing World. But during the 2008–2009 recession, she says, "I had more free time on my hands," enabling her to return her attention to an earlier passion: art.

"As a kid, I always wanted to be an artist," she recalls of her upbringing in Edmond, Oklahoma. While taking Advanced Placement Art in high school, she'd come in early every day "so I could paint in the studio there." Her parents, however, instilled in her the belief that "you're gonna have to get a real job someday, and so I settled on the sciences and engineering."

In the summer of 2009, recently married to her husband, Matt, a fireman and ski guide, and living in a small A-frame surrounded by aspens outside of Park City, Utah, Meinhold took a workshop in encaustic. She showed one of her earliest creations in that medium, a small transfer of a figure drawing, at a local holiday arts show, and it was bought by Maren Mullin, owner of Gallery MAR, who asked to represent her work. "Every time I brought around another painting to her, it would sell," Meinhold says. Eventually, still more representation followed, including, three years ago, her work's first appearance in the Sundance Catalog, the mail-order enterprise begun in 1989 by Robert Redford. "That has been a really amazing relationship," the artist says.

Meanwhile, Meinhold continues to explore new artistic directions. Most recent is her "Living Ink Paintings," for which she makes her own paints from foraged materials, including plants, kitchen scraps, pieces of copper, old nails, vinegar, and alum. Among the latest of these watercolor-like works feature deep blacks made with charcoal from the devastating August 2021 forest fire at Parleys Canyon near Park City. "They represent death and renewal, a concept we've all experienced in the past couple of years," says Meinhold, ever cognizant of the role art can play in saving the world.

Meinhold's work is represented by Gallery MAR in Park City, Utah; Diane West Art in Durango, Colorado; sundancecatalog.com; and Gallery Wild in Jackson, Wyoming, where she's in a two-artist show from February 17 through 28.