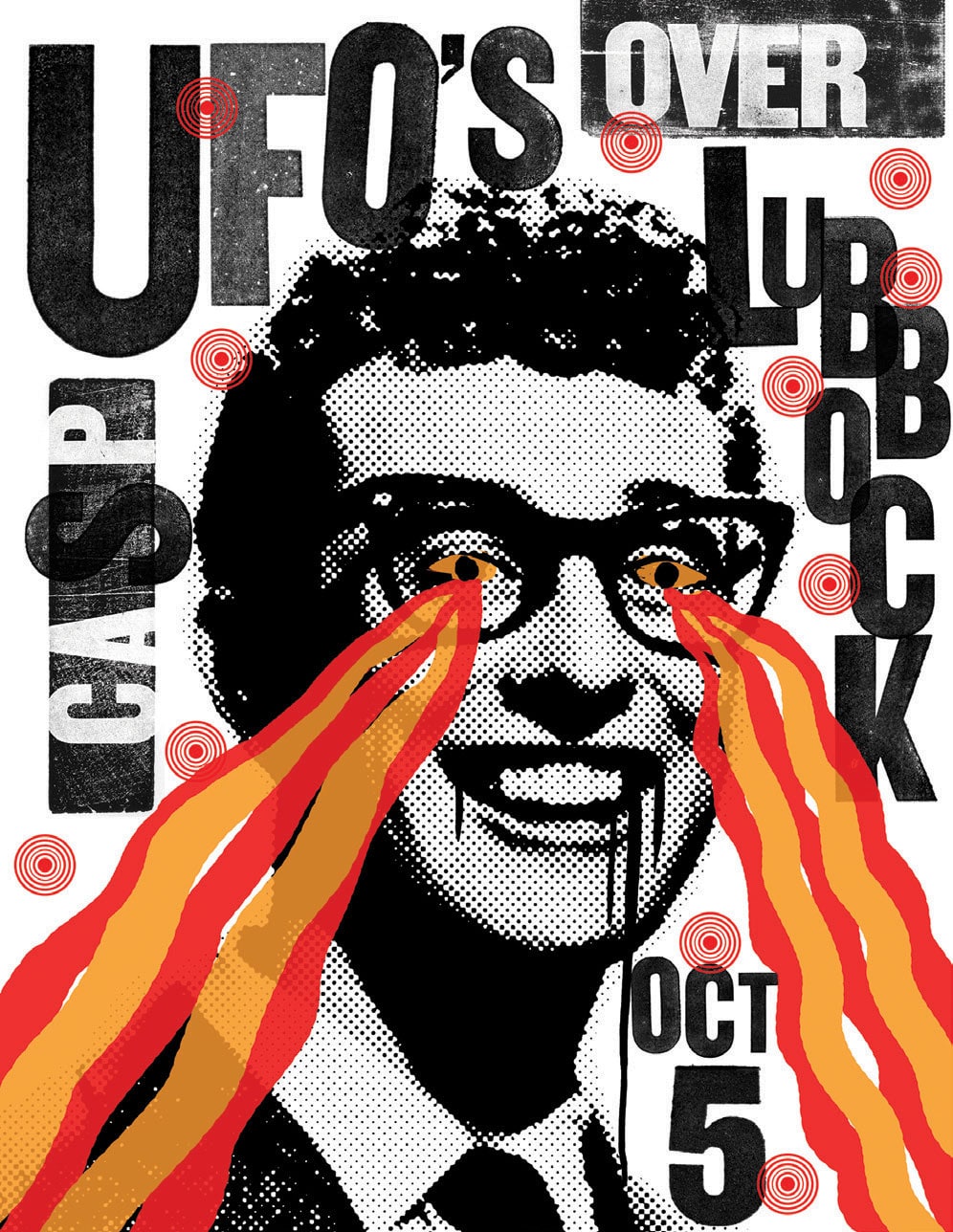 "UFO's Over Lubbock" | Screenprint | 2018
12 Sep

Artist Spotlight: Carlos Hernandez

Last October, Carlos Hernandez and a group of print enthusiasts, costumed as extraterrestrials, planned a parade he playfully claimed would summon rock-and-roll legend Buddy Holly down from the heavens and back to his hometown of Lubbock, Texas. Alas, a sudden downpour thwarted their efforts.

The procession was intended as a grand finale to the first UFO's Over Lubbock, a sale and show of works by 10 graphic artists selected by Hernandez. It took place during the First Fridays Art Trail, which attracts up to 5,000 people monthly to Lubbock's burgeoning Cultural District, and the show's title refers to the Lubbock Lights, a nationally reported series of celestial sightings in 1951. Hernandez created the event's poster in his signature combination of vintage images and raucous, graffiti-like drawing: a grinning black-and-white Buddy Holly headshot with eerie orange and yellow rays streaming from his eyes. "Maybe we'll try again to bring him back," jokes the artist, referring to the art for this year's event.

Enthusiastically supporting Hernandez's efforts is Chad Plunket, director of the Charles Adams Studio Project. The nonprofit plays a dynamic role in Lubbock's arts scene, with exhibition and performance spaces, studios, and the Charles Adams Gallery, a regional showcase run by its eponymous founder. "If an artist comes to us with an idea," says Plunket, "we say yes and then figure out how to make it happen."

Hernandez certainly possessed the bona fides. The Lubbock native earned a Bachelor of Arts from Texas Tech in 1992, then moved to Houston, working as a graphic designer while printing serigraphs in his garage. In 2010, he co-founded Burning Bones Press, a community print studio that's now 25 members strong. Meanwhile, his reputation has skyrocketed, with frequent coverage in top graphic arts publications and regular university guest lectures and workshops.

Like poster artists stretching back to Belle Époque Paris, Hernandez lands many commissions from commercial clients. A gold-crowned skull grins hypnotically from a Saint Arnold Brewing Company label. On a promo poster for O-K Paper, a jaunty black-and-orange cat flashes a fish-skeleton smile. Lightning bolts shoot from the eyes of a horned skull on Apple Music's "¡Puro Rock!" playlist. His gig posters, employing iconography drawn from Día de los Muertos, Mexican lotería cards, and other sources, promote such gatherings as South by Southwest and the Austin City Limits Music Festival, and announce performances by the likes of Arcade Fire, Santana, Alabama Shakes, and Los Lobos.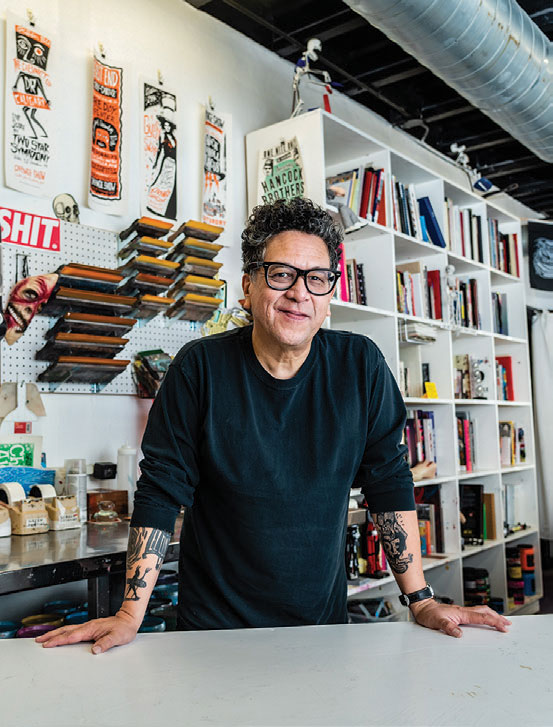 As for Buddy Holly, Hernandez indeed hopes once again to symbolically summon him. The artist roster will probably double, and he's been hatching other ideas, like printing giant hand-carved woodblocks on the street using a steamroller. "The goal is to grow UFO's and showcase all these hot printmakers whose work people should see," Hernandez enthuses. Adds Plunket, "Carlos is incredibly talented and hardworking, and he gets people excited because he's so excited about printmaking." Whatever transpires this year, art lovers can expect something memorable, even otherworldly.
UFO's Over Lubbock lands October 4 at the Charles Adams Studio Project's 5&J Gallery in Lubbock.