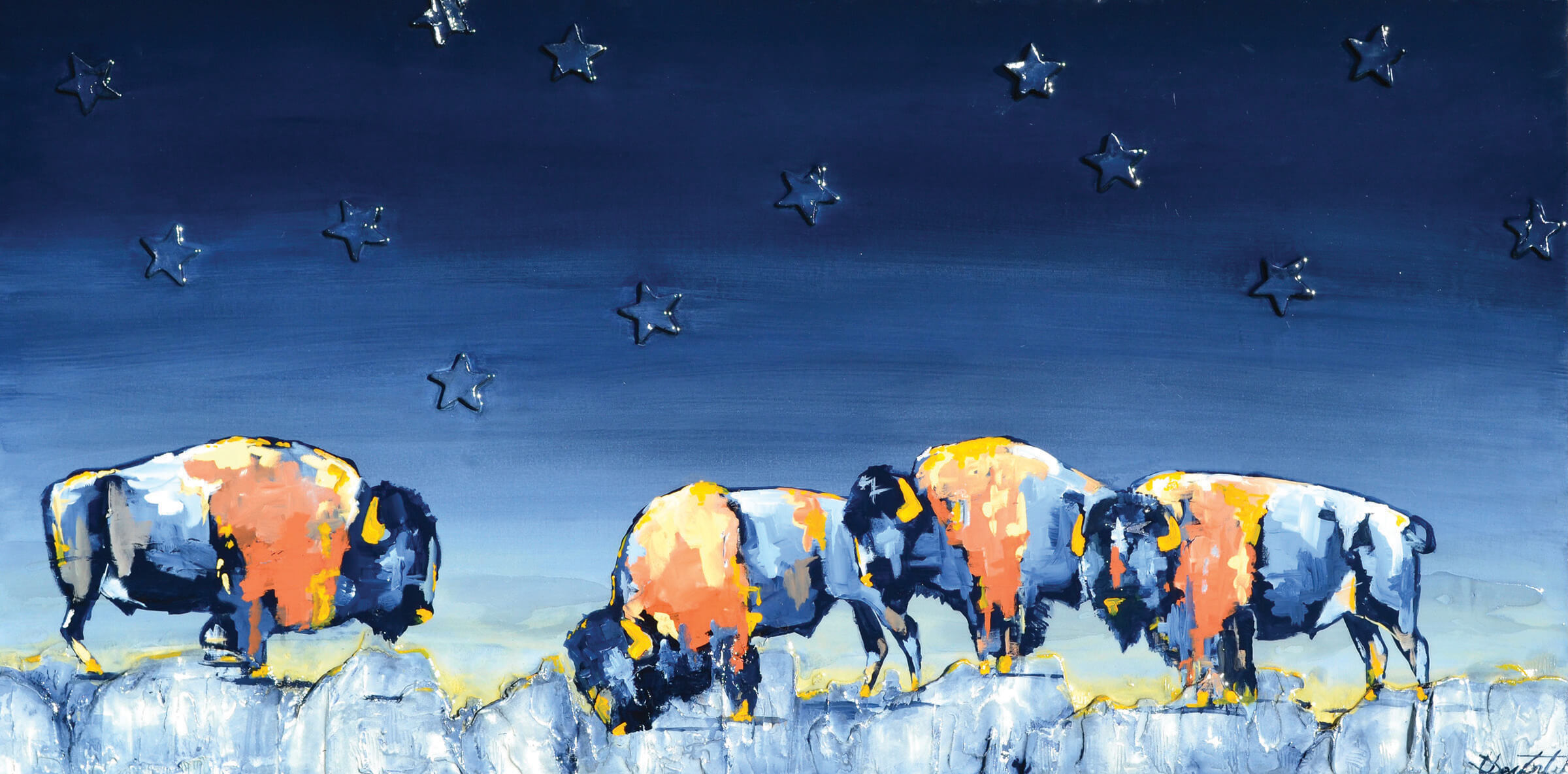 Starlight | Mixed Media and Acrylic Sculpture on Canvas with Resin Finish | 30 x 60 inches | 2023
07 Nov

Artist Spotlight: Cora Sexton Wheeler

Cora Sexton Wheeler has never stopped trying to capture something she considers forever elusive. "You can never recreate what nature creates," she says. And yet, the artist remains adamant about filling her canvases with scenes of ranch life, Western flora and fauna, mountain skylines, and groves of aspens, all rendered in shades of vibrant acrylic paint so built up in layers that the finished paintings almost function as sculpture.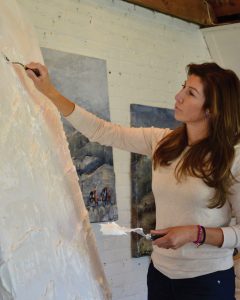 Wheeler is so aware of her surroundings that while doing errands with her three children in her hometown of Denver, Colorado, she'll often stop the car just to take in the light and colors appearing on a distant Rocky Mountain peak. "My kids will say, 'Mom, you told us about that mountain a few hours ago,' but I'll tell them, 'Yes, but the colors are different now in this new light.'" Wheeler never stops trying to record the magic of nature, and she continues to be awed by it, even from the front seat of her car on the way to a child's sports practice. 
Wheeler has a long and intimate affiliation with the wilds that define Colorado. She grew up in Golden, where her father had a pediatric dentistry practice, but every weekend, she and the whole family would get in the car and drive to their ranch in Durango, where they raised bulls for bloodlines (not for meat) and cultivated hay. Since her father's passing, Wheeler's mother now tends the ranch full-time, so the artist continues to visit regularly. 
Part of the experience of the ranch life that has stayed with her since becoming a professional artist some 12 years ago is the sheer tactility that the endeavor requires — the actual feel of the hay, the coats of the animals, the dryness and wetness of the earth. "I grew up, as most children do, being told not to touch the art when we go to a museum or someone's home, but I make art that I do want people to touch. It's as if you can feel the colors when you do so," Wheeler says.
Her paintings assume a three-dimensional quality that beckons. Wheeler describes her methodology as beginning with a pencil sketch, followed by a sculpting process on canvas that involves using a white malleable paste that "easily accepts paint colors." She then applies colorful acrylics to the dried, sculpted portions, sometimes maintaining a matte finish, other times adding an epoxy resin. "When you add the epoxy, it gives the work a sheen and makes the colors pop," she says. For her many commissioned works, she often finds that clients prefer that extra shine and dimension. 
As for her love of animals and depicting them, Wheeler says, "I'm so thankful that I live in Colorado, where you can just drive a short distance and see nature and animals living in it."
Wheeler is represented by the Southern Kindness Gallery in Houston, Texas; the Western Gallery in Austin, Texas; and Rogala Design in Englewood, Colorado. Her work will appear in the Young Guns Rhinestone Rodeo on December 7, 2023, and the Coors Western Art Exhibition & Sale at the National Western Stock Show on January 6 to 21, 2024, in Denver. A variety of her paintings will be featured at the Coors event, including some from her Wild Rags series that depict extravagant "fantasy" scarves, as well as Native American headdresses, a theme Wheeler has long explored. A portion of proceeds from the sales of those works will be donated to a nonprofit devoted to the education of Native American children.