Beginnings | Hand-Painted Ceramic Tile | 8 x 24 inches | 2021
07 Jan

Artist Spotlight: Debora Duran-Geiger

About 25 years ago, Debora Duran-Geiger began to explore making ceramic-mosaic folk art crosses set into wooden frames handcrafted by her husband Michael. With dedicated self-education and a creative drive that tapped into her seventh-generation Santa Fean heritage, those early efforts evolved into her career today as an in-demand artist who creates scenic ceramic-tile murals celebrating the vibrant beauty of her native state and other locales.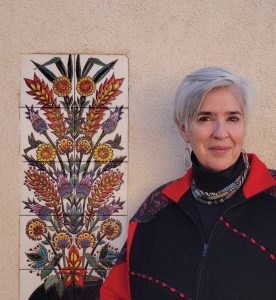 Originally intending to be a civil engineer, she took her first entrepreneurial step using local ceramicists' discards that had shattered during firing. One artisan invited Duran- Geiger into her studio and introduced her to the tile-making process. Eventually, "after going into the library and studying ceramic techniques of different cultures, and a lot of trial and error," she says, "I bought a used kiln and started making my own tiles." These early efforts were large hand-painted squares and rectangles that she fit into those wooden frames. They sold well. Eventually, her artworks "got bigger and bigger," outgrowing the cruciform shape to become the joyously rendered, colorful murals she creates today.
Success, plus several years with her husband and sons living in Panama, led Duran-Geiger to begin showing her work at art gatherings farther and farther afield from her Santa Fe homeland. One major milestone came in the fall of 2015 when she exhibited at an annual art fair along the DuPage River in the Chicago suburb of Naperville, her husband's hometown. She was approached there to create five 9-by-5-foot murals, composed of 45-square-foot tiles, depicting the area's rural past. Unveiled late the following year, it became the first public artwork in that city's historic Water Street District Riverwalk revival.
More often these days, however, Duran-Geiger's work focuses on private commissions. Take, for example, a recent request from homeowners in Albuquerque, New Mexico. They provided dimensions and said they wanted "hot-air balloons in the morning" — a distinctive sight in a city that annually hosts the world's largest balloon festival — along with native plants and animals. The artist brainstormed in thumbnail sketches, then worked up a quarter-scale drawing for approval. From that, she enlarged her rendering to full scale, in the process including a wealth of additional details. "Sometimes I tell myself 'less is more,'" she laughs, "but it never turns out that way. For sure, more is better."
Next, she carefully transferred her artwork to blank red terracotta tiles imported from Italy or Spain, building up translucent glazes that — along with the time-honored textural effects of clay slips, sgraffito scratching, and the wax-resist technique called cuerda seca —eventually bring her images to life through firing in a kiln at 1,900 degrees Fahrenheit. "The firing process takes two to three days. And then I open the kiln with my fingers crossed, because things do still break sometimes," she says. Such rare mishaps aside, however, the end result is anything but transitory. Archaeologists, she notes, "are digging up tiles from the Byzantine Empire. So these will still be here for thousands and thousands of years."
Duran-Geiger exhibits her work in the Santa Fe Artists Market, held on Saturdays in The Railyard from March through December.