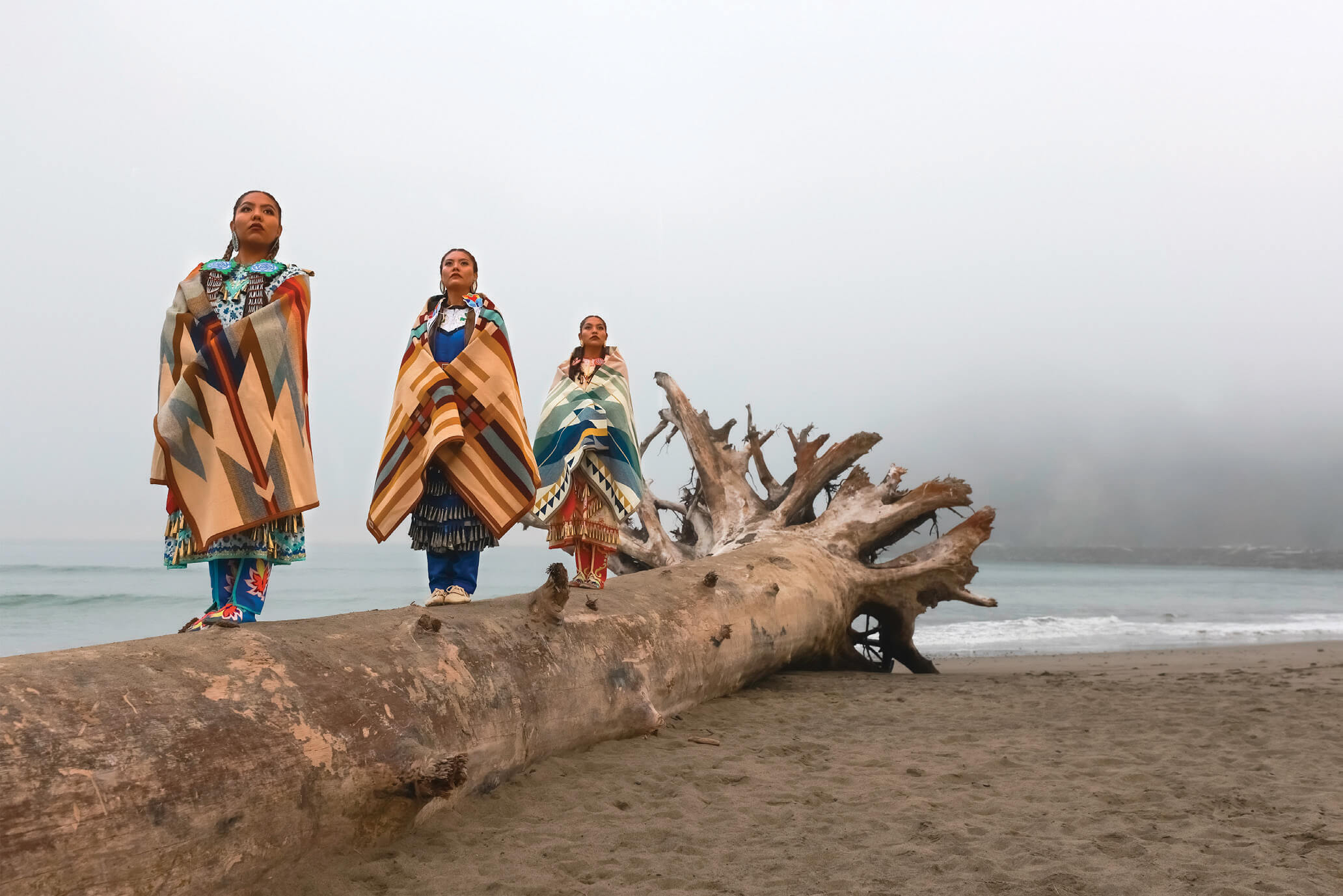 Strength and Dignity | Olympic National Park, LaPush Beach, Washington | Art Heals: The Jingle Dress Project, 2021
06 Sep

Artist Spotlight: Eugene Tapahe

Eugene Tapahe's ravishingly beautiful photographs achieve far more than merely pleasing the viewer's eye with scenes of Indigenous women wearing ceremonial regalia posing serenely in sacred sites. The ever-growing body of works in his Jingle Dance Project — begun in the early days of the Covid pandemic and inspired by an Ojibwe healing dance that that originated during the devastating Spanish flu pandemic of 1918 — is created, says Tapahe on the project's website: "to unite and give hope to the world through art, dance and culture to help us heal." 

Since he picked up a camera, Tapahe has traveled more than 25,000 miles to take the photos, bringing the world's attention to Native American issues. Tapahe himself has metaphorically traveled far in his 55 years, since being raised by his grandmother Susie on the Navajo Nation in Fort Defiance, Arizona. "I grew up in the old ways," he says. "We didn't have running water or electricity in the traditional log hogan my grandfather built, and the first six years of my life before I went to grade school, I herded sheep. I was creative playing in the dirt and sand with rocks and sticks as my toys." 

At Window Rock High School, he says, he was an unexceptional student, except when he entered the art room, where teacher Gloria Grant encouraged his imagination to soar in drawing, painting, sculpture, and jewelry-making. "Art became a salvation for me." Grant supported Tapahe in getting a scholarship to study at Brigham Young University in Provo, Utah. 

Unsure of what to pursue and feeling culture shock amidst a 98 percent non-Native student body, he took six years to graduate with a degree in graphic design. With his wife Sharon, whom he met while in Provo, he returned home to a job as advertising manager of Navajo Times, where he stayed for 10 years and became a photographer and the managing editor.

Tapahe, his wife, and their two daughters returned to Provo when she decided to enter BYU, and he was hired as the university's web developer. Then, in 2012, word came that Grandma Susie, then in her early 100s, was gravely ill, and he went home to see her. When he appeared at her bedside, Tapahe recalls, "She looked at me and said, 'Son, what did we see today?' She always said that same thing to me when I would visit her." Tapahe, who was working in an office cubicle, was at a loss for how to answer. 

When he came home to Sharon, he told her what had happened, saying, "I don't walk the land or visit the animals anymore. I don't go to the mountains. I want to quit my job and do landscape photography, then go home and show them to Grandma. And Sharon said, 'You've supported me and the girls. If that's what you feel you want to do now, then do it.'"

At first, he says of his efforts, "I was just kind of lost, still feeling the pressure of wanting to be the provider. And my photos were terrible. Then, one night, Sharon urged him to stop worrying about shooting photos that would make money. "'What you need to do,' she said, 'is shoot from your heart.'" Soon, he began striving to capture images with which he felt a spiritual connection. "I needed to feel those ancestors that were on the land, and to feel my grandma, who passed away in 2014, walking with me." Tapahe's followers felt that connection avidly and began to support the work.

When Covid isolation began in the spring of 2020, Tapahe's career was impacted like those of many other artists. He also felt the pandemic's impact on Native peoples after his aunt died on the reservation and attendance was restricted at her funeral. "We needed to send her on her journey, and they allowed only six of us at the burial." That night, he had a dream of seeing a bison herd grazing in peaceful green pastures, when suddenly jingle dancers appeared and danced with the bison. "That dream resonated the whole next day, and finally I had to tell my wife and daughters, 'I think this dream was telling me that if I take the jingle dress dance to the land, the land and the ancestors that lived there are going to come back and help us heal.'" And thus began the project, in which many of the photos feature his daughters Erin and Dion.

Not that Tapahe has ever been content to be complacent in his success. This coming April, while continuing with the Jingle Dance Project, he'll graduate with an MFA from BYU. Ever seeking new channels for creative expression, he's begun doing land art, also known as earthworks, in which he respectfully reshapes aspects of the natural environment. 

For one recent piece, Water Offering #1, he and his daughter Dion headed out to Navajo lands just north of Monument Valley before dawn in the spring of 2022 and, with their own four feet, precisely scuffed the red sand to form a 50-foot-diameter water symbol. Only when Tapahe climbed a 12-foot ladder to photograph the finished piece did he see the familiar majestic landforms peeking over the horizon. "I was just blown away," says Tapahe, ever open-hearted about relating to others what he has seen in this world.

Eugene Tapahe's work appears in The Modern West exhibition at Modern West Fine Art in Salt Lake City, Utah, through the end of September; and he'll have a solo show there for Art Heals: The Jingle Dress Project from October 20 through November 18. See his Jingle Dance Project and other works at tapahe.com. He also exhibits each August in Santa Fe Indian Market, Santa Fe, New Mexico.