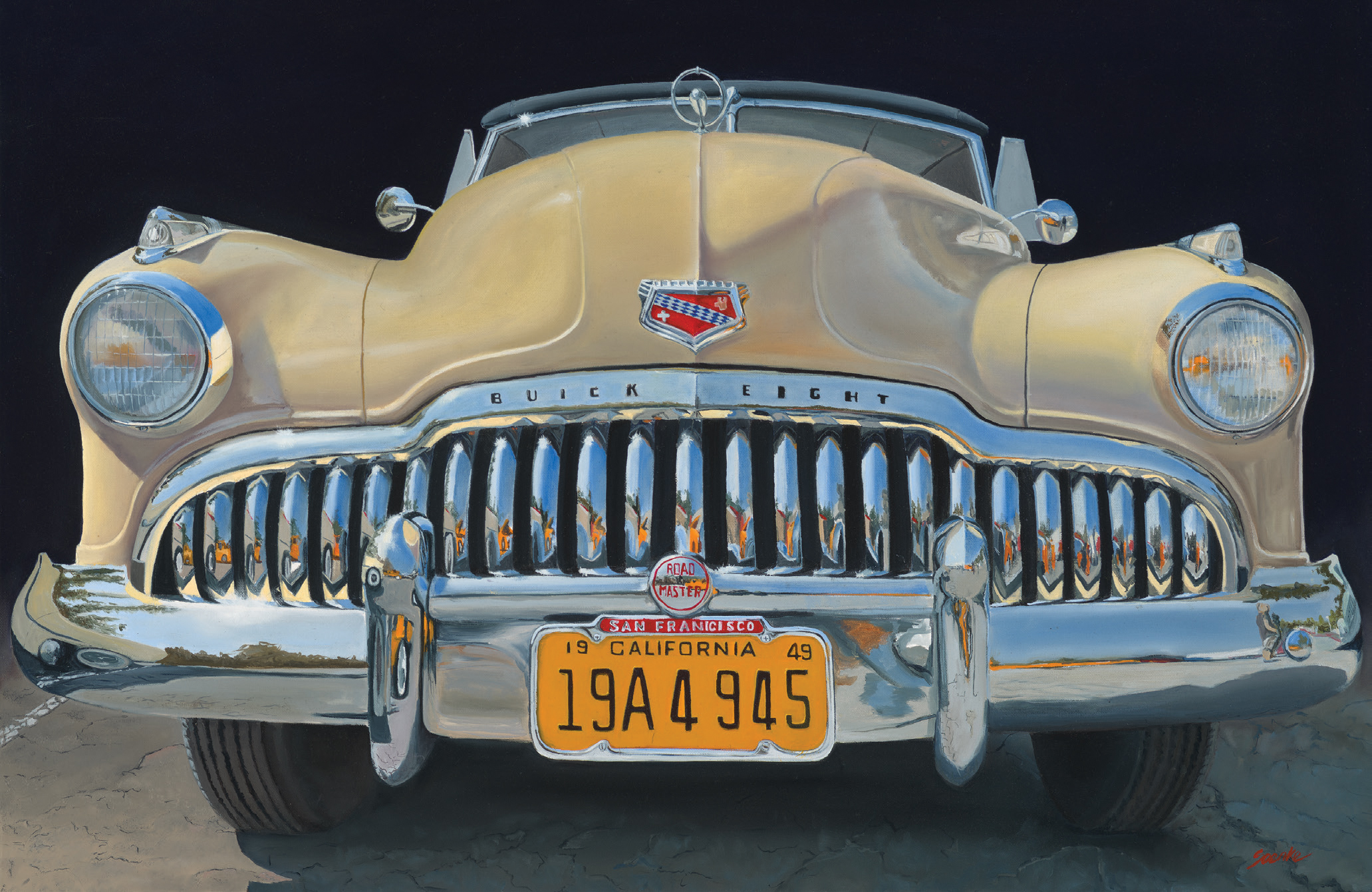 49 Buick Roadmaster | Oil on Canvas | 24 x 36 inches | 2017
10 Sep

Artist Spotlight: Frank Soenke Haseloff

Frank Soenke Haseloff reckons that a big reason he "ended up being an American was because of a car." It was a 1958 Plymouth that his dad saved up to buy after immigrating to the U.S., having escaped from East Germany by "crawling through trenches filled with water and barbed wire, chased by dogs." That artist explains that his father told him "he could do things in this country that he couldn't back in Germany. Buying the car was a clincher." That may be one compelling reason why Haseloff, now 54, not only breathes life into his phenomenally detailed realist portraits of classic vehicles but also seems to imbue them with a stirring sense of possibility at the heart of the American dream.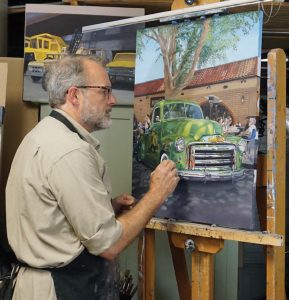 He grew up on a central Pennsylvania dairy farm his father eventually bought. In high school, Haseloff majored in drafting and wound up studying fine arts and psychology at San Francisco State University, during which time he met and married his wife, Laura. He and his young family settled in the San Francisco Bay town of Concord, and Haseloff earned a living as a massage therapist, which he continues today. But not quite 20 years ago, when his children Thomas and Anna were young, he had a moment of revelation. "We were doing a lot of coloring and paint-by-numbers projects. And I thought to myself, 'Oh my gosh!'" He discovered how pleasurable those activities were and started taking local adult education classes in art.
At first, he focused on painting Bay Area cityscapes, landscapes, and seascapes in watercolors, pastels, and oils. Then, in September 2017, his artistic calling shifted into sharper focus — both figuratively and literally — when friends invited him to the Orinda Classic Car Show, an annual fundraising exhibition of fine motorcars held just over the hills east of Berkeley. "The first car there I took pictures of was a 1949 Buick Roadmaster," Haseloff recalls. "I was captivated by its beefy quality and the shape of the grill. I could just see it as a face. I took a crack at painting it and had the best time." That sense of fun shows in the resulting oil painting, as it does in every vehicular portrait he has completed since.
Based on his photos, Haseloff makes detailed drawings that he transfers by hand onto the canvas. Next, he'll "block in some basic colors, establishing the dark, light, and mid-tones, getting rid of all the white." Then, with layer after layer of detailed brushstrokes, added over as long as three months, while he works on multiple paintings at a time, he tries "to achieve a sense of volume and space, so you can feel the weight of the objects."
Ultimately, as he fine-tunes each particular subject, it seems to take on a life of its own, becoming "more than a machine. It's got personality, the unique character that happens to a car through ownership," he says. This year, Haseloff's manifest mastery earned him membership in the Oil Painters of America, another sure step towards his goal of "making it as a full-time artist."
Haseloff's work is represented by Valley Art Gallery in Walnut Creek, California.