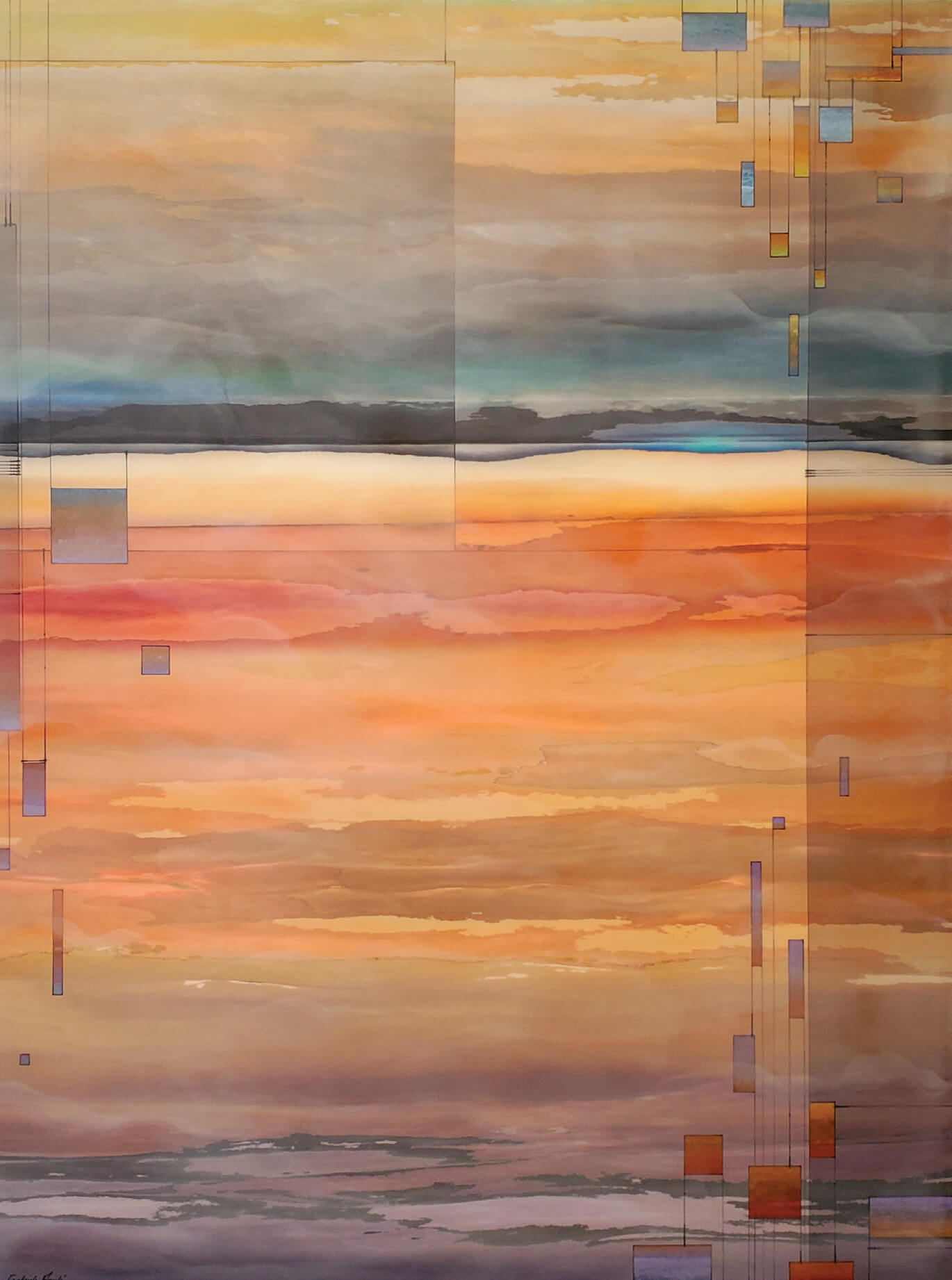 The Sweet Unknown | Encaustic Mixed Media | 60 x 45 inches | 2022
10 May

Artist Spotlight: Gabriela Aguiló

Gabriela Aguiló paints enthralling imaginary landscapes drawing on such powerful imagery as alchemical symbols and the archetypes of the collective unconscious identified by the great 20th-century Swiss psychologist and psychoanalyst Karl Jung. Though those subjects will certainly enhance one's understanding of her art, there's no need to know them to still appreciate it. 

By way of example, consider The Sweet Unknown, one of Aguiló's largest creations to date. A moody, multidimensional scene, it presents what may be a hilly, lake-interlaced terrain, surmounted by fiery skies resembling shifting desert sands, topped in turn by what looks like low hills and still more cloudy skies possibly portending a downpour. Simultaneously turbulent and surprisingly peaceful, the painting — composed with gouache, inks, and graphite on watercolor paper, then sealed with a poured and blowtorched encaustic of pharmaceutical-grade beeswax mixed with resin — "is layered and vague" in what it conveys, says the artist. "It's something to which you could bring almost whatever you want."
Creativity and a personal quest for meaning have long intertwined in Aguiló's life. When she was 6, her family moved from Argentina to Santa Monica, California, for her father's work as a prototype toolmaker creating robotic arms and other high-tech parts for the space shuttle. He shared his love of origami with his daughter, who had her own wild creative streak. "I would get in trouble for dying my mom's white bedspreads black or shaving the top of my dad's desk with a wood-shaver," she says. An alchemist at heart, "I was always trying to change something into something else." 
At 12, Aguiló wondered if she could draw a figurative female nude, and did it perfectly on the first try, "even though it was from my imagination." By her 20s, she had a successful business making "adorned clothing," such as tuxedo jackets decorated with antique beading and lace, for music-world celebrities including Madonna, Mick Fleetwood, and Paula Abdul.
Meanwhile, an avid reader, Aguiló built a personal library to educate herself on art history and techniques. Though "always dabbling in painting," she only began doing so in earnest a dozen years ago, following 15 years or so collaborating on works in glass and stone with her ex-husband.
Meanwhile, for almost three decades Aguiló has been exploring the world within herself through Jungian archetypal dreamwork, which aims to connect the unconscious and conscious minds; and she has guided her own clients through that inner adventure for five years now. Such deep insights inform paintings like Love Is a Madman with a Knife, which takes its title from a poem by the 13th-century Persian poet Rumi. A blazing sunset beneath stormy skies is intersected, as in many of her works, by sharp vertical, horizontal, and diagonal lines that make it feel as if the scene is unfolding to the viewer, like the origami of Aguiló's childhood. "The geometry in my landscapes is trying to open the door into that unconscious world and suggest that there are mystical and mysterious pathways and layers of feeling to explore."
See Aguiló's work at Mirada Fine Art in Denver, Colorado, where she'll be featured in group show August 25 through September 24; at Ramey Fine Art in Palm Desert, California, where she will be featured in a First Friday art event opening from 4 to 7 p.m. on November 3; and at Grace Renee Gallery in Carefree, Arizona.