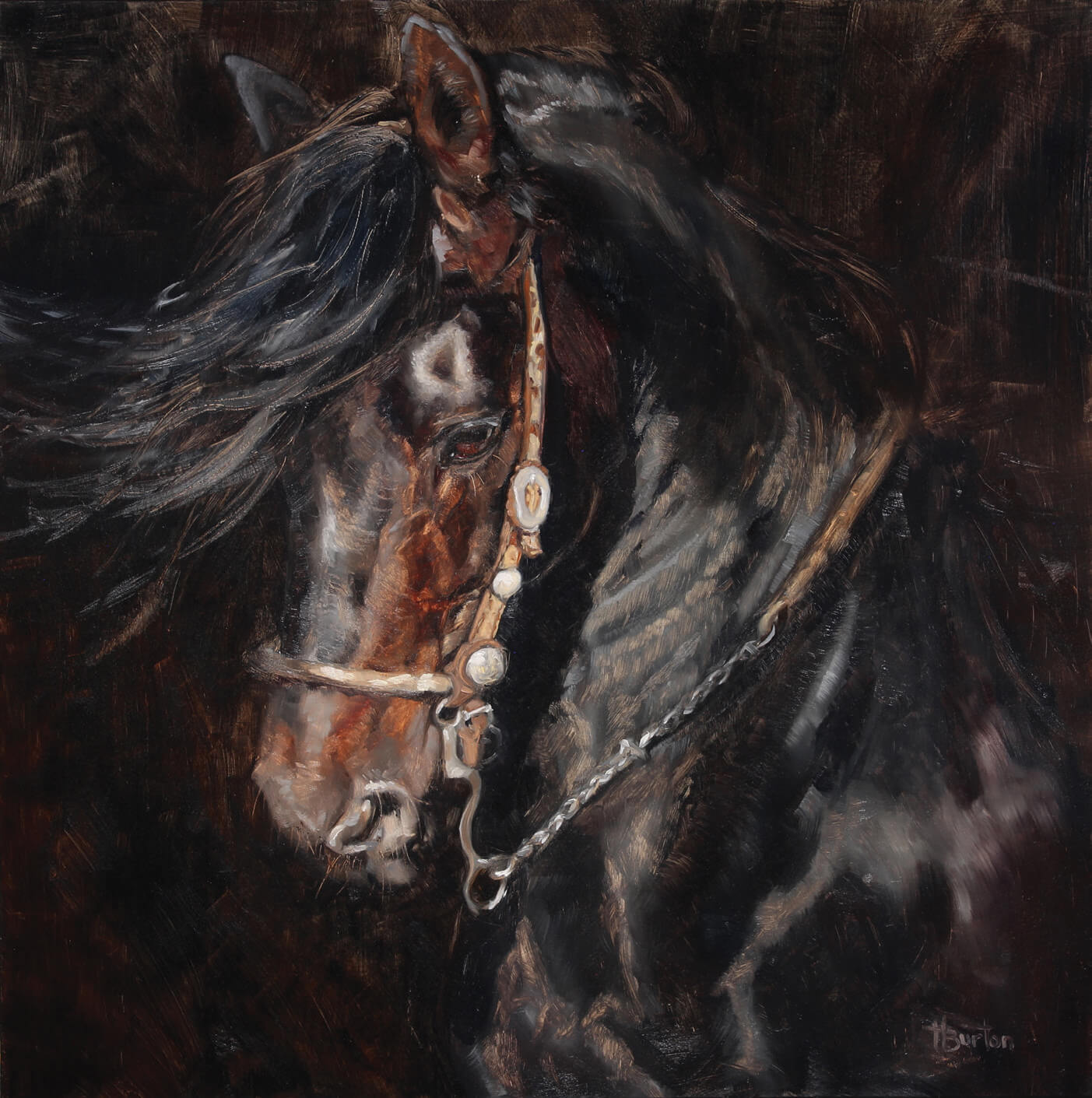 Azteca | Oil on Panel | 17 x 17 inches | 2022
06 Sep

Artist Spotlight: Heather Burton

Heather Burton portrays horses with a painterly realism that captures their spirits as vividly as their physicality. Consider Azteca, featuring a breed of the same name that is considered Mexico's national horse, often trained for elaborate dancing exhibitions and prized for its fine musculature and flowing forelocks. She first saw them in Loveland, Colorado, in a parish festival at the family church of her husband, painter Dave Santillanes. "I just fell for these horses," she says. "I probably took a thousand photos."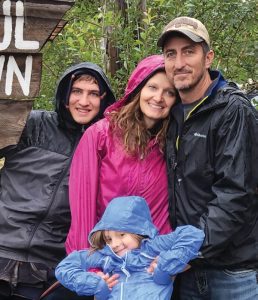 Back in the home basement studio the couple shares near Fort Collins, Burton focused on a photo of one horse. "I felt a connection with his soul and heart." She edited it in Photoshop, cropping in tightly, setting the steed against a moody background. Working on archival board, she loosely sketched in her composition in transparent oxide to give the finished piece a warm glow. Then she gradually refined it, "always trying to walk the line between detail and impression," bringing the finest detail to the focal point: the horse's eye, aglow with powerfully focused intelligence. The gripping result leaves no doubt as to why Burton has been selected for the prestigious Cowgirl Up! Exhibition & Sale of top Western women artists at the Desert Caballeros Western Museum every year since 2019.
Burton has always passionately loved horses. "My entire childhood, I was the typical girl begging my mom for one," she says of her early years in Upstate New York. Her love of art, meanwhile, was nurtured by her grandmother, a self-taught amateur painter who always kept creative supplies ready for visits with her grandchildren. 
Burton graduated from Syracuse University in 1994 with an art degree specializing in surface pattern design for such products as wallpaper, bedding, and dinnerware; but she wound up at IBM, where she learned to be a web designer, going on to work in that field for several years before becoming an information technology manager. In 2006, feeling disconnected from her early passion, she says, "I applied to the Academy of Art University in San Francisco, quit my job, sold all my stuff, and moved to California with my 4-year-old son Conner." 
She thrived there, while supporting herself and her son doing web development on the side. "I'd always had these ideas I wanted to portray," she says of her four years of study, culminating in an MFA. "Without that knowledge, I did not have the skill to do what I wanted."
Eight months after graduation, after a return to her hometown, Burton and her son set out on five months of cross-country travel, ultimately moving to Maui, where she taught secondary school art. While there, she saw and admired Santillanes's work at the Maui Plein Air Invitational. They fell in love and eventually married, settling in his home state of Colorado, where they now live with Conner and their 8-year-old daughter Callie. All that good fortune stems from "one of the best decisions of my life," a career change that also demonstrated to her son "the importance of following your passion."
Heather Burton is represented by Illume Gallery West in Philipsburg, Montana. Her work can also be seen in Cowgirl Up! at the Desert Caballeros Western Museum in Wickenburg, Arizona, beginning in late March 2024.