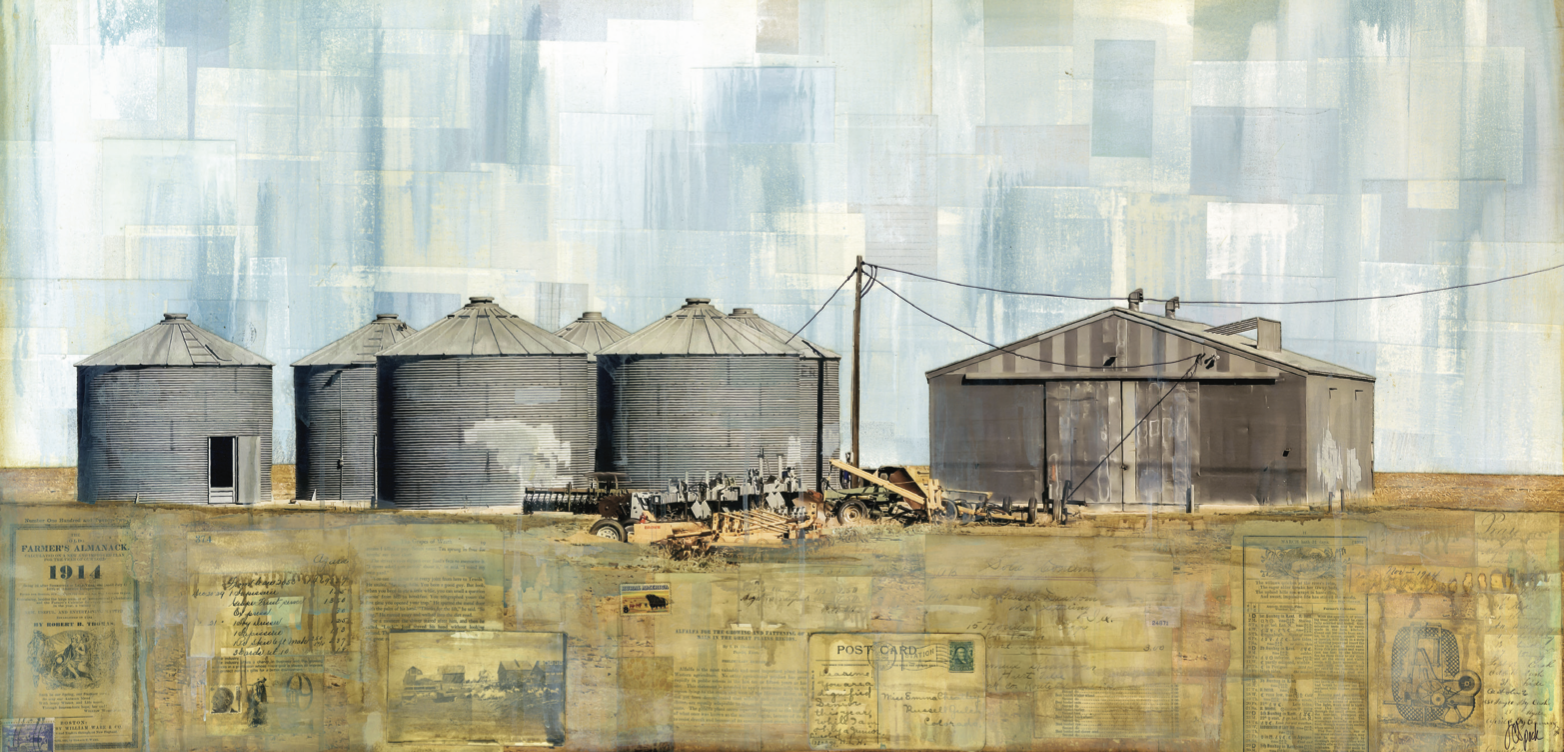 Storing the Harvest | Mixed Media Collage | 24 x 48 inches | 2019
11 Mar

Artist Spotlight: JC Spock

JC Spock first fell in love with the West almost three decades ago as a teenager on a six-week cross-country family vacation. "I was so amazed by the magic of the landscapes, which were entirely different from my upbringing in deciduous New England," she recalls. "It completely changed my life." She snapped many pictures on that trip, which in turn helped fuel lifelong passions for both photography and Western history. That passion eventually evolved into a singular art form: multilayered, richly textured collages in which she combines her photographs with scraps of printed ephemera, acrylic paint, and inks to document and tell the story of places and things that enchant her.

Spock came to her creative passion through what she laughingly describes as a "very strange route of interests and careers." At first studying nursing, she went on to earn a bachelor's in communications and a graduate degree in higher education administration. The latter led to a job at Wesleyan University — which she left two years later after she and her husband David moved near Denver, Colorado. There she found work in the natural foods industry, rising to an executive position with a prominent market chain.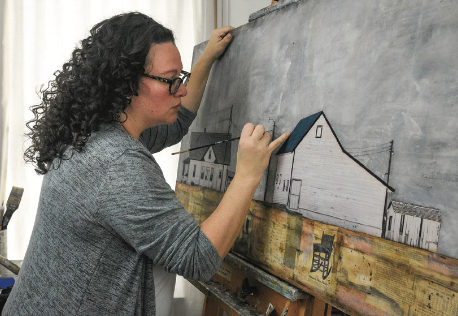 "Art," she continues, "never crossed my path as a possible profession," even though she always carried her camera with her and had also long loved the craft of making collages. In 2010, she began making and selling mixed media collages using paint and ephemera. Then, not long after she and David returned to Connecticut for family reasons, she started adding in her photography. "It was like a light bulb went on for me," she says, as she methodically complemented and contrasted her photos of the West with old documents and antique papers.
The results possess both the subtle beauty of painting and the complex intellectual intrigue of archaeological digs. Storing the Harvest, for example, began with an image she captured of some grain bins near Longmont, Colorado. Before printing it out, she manipulated it in Photoshop to achieve "a desaturated vintage color scheme," she says. Using archival glue, she attached the print to a basswood panel along with a medley of scraps that create a complementary narrative, including vintage postage stamps and pages from an old seed catalog, a 1904 agricultural manual, the 1914 Farmers' Almanac, and a 1939 edition of John Steinbeck's The Grapes of Wrath, among other materials. Then, she used many squares and scraps of antique papers for "interesting depth and dimension." Finally, she added atmospheric washes of paint that tie it all together and protective matte varnishes that enable viewers to "touch and feel the textures of the different layers."
Spock finds the entire process as richly satisfying as her buyers find the results. Someday soon, she hopes to move back out West to better explore subjects that intrigue her, including the first transcontinental railroad, old mines, ghost towns, and remnants of the Dust Bowl era. "I love this learning process," she concludes. "My artwork helps me to explore history, which in turn informs my art."
Spock's artwork is represented by Abend Gallery in Denver, Colorado.