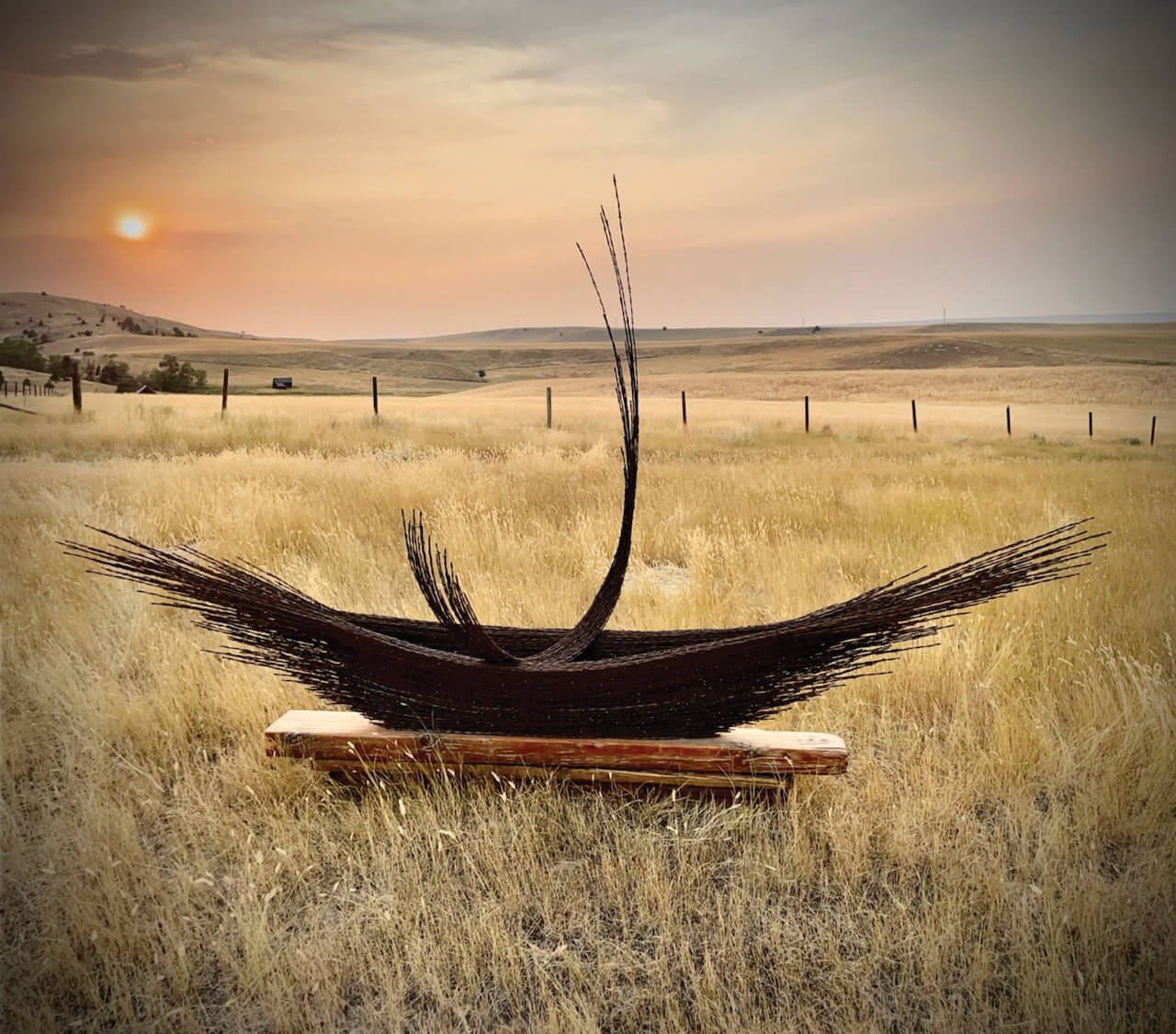 Wind Writes | Barbed Wire, Old Mining Timber and Steel | 82 x 62 x 18 inches | 2022
06 Sep

Artist Spotlight: Jennifer Pulchinski

Jennifer Pulchinski creates what might best be described as large-scale three-dimension-al drawings composed with lengths of fallen barbed wire. The sculptor tracks down her materials, and her inspiration, by wandering the rangelands and mountain slopes — with permission of landowners, of course — beyond her home in Bozeman, Montana. "I'll find a line of barbed wire and follow it, just lifting it up and pulling it out of the dirt," she says. Back in her warehouse studio, she carefully unkinks the often rusted material — nicks on her fingers and palms betray the hazards of working with it — and, referring to drawings she makes in planning each assemblage, she combines the wire with other rugged materials including weathered fenceposts or tree limbs, railroad ties, and concrete blocks to form surprisingly fluid and elegant large-scale forms suggesting Western winds or flowing waters.

The 46-year-old artist's path to creative fulfillment seemed at times as meandering as the primary medium she uses. Born and raised "right in the middle of Wisconsin," she grew up hearing entirely practical career advice: "'You should be in finance; you should work with numbers; you should be a banker, blah-blah-blah,'" she says, mimick-ing the adult voices she heard. Instead, she was happiest making elaborate, convincingly three-dimensional pencil drawings of imaginary ribbons that enthralled her younger sister Jessica — and uncannily foreshadowed the forms of the artworks she'd eventually make as an adult.

In her early 20s, having left the technical college she'd attended for business classes, she took a summer job with the National Park Service working at the Mammoth Hot Springs gift shop in Yellowstone. "And since then, I never left Montana." Settling in Bozeman, she attended Montana State University with the intention of becoming an art teacher. "Then, I realized I didn't want to teach anybody anything," and she shifted her focus to studio art, graduat-ing in 2008 with a BFA in drawing and sculpture.

Pulchinski made her first barbed wire sculpture in 2007 as a student piece, coming up with the concept of a skirt she would wear as a showpiece. "Then, at some point, I tried to get inside of it to wear it …," she laughs, her voice briefly tailing off. " … And I said, 'Yeah, that's barbed wire!'" Nonetheless, The Dance remarkably evokes a swirling, waltzlike movement.

Pulchinski's recent works, including pieces in her Wind Writes series, and the almost-13-foot-long The Boat, con-tinue to evoke an uncannily poetic sense of fluid motion. "At this point," she says, "working with the barbed wire is more a mental struggle than a physical one. I've found ways to make it yield to what I want it to do."

Jennifer Pulchinski is represented by Old Main Gallery in Bozeman, Montana; and Aunt Dofe's Gallery in Willow Creek, Montana. She'll be participating in the holiday show at Radius Gallery in Missoula, Montana, November 3 through December 30. Two of her works are also on display in the Gallatin Art Crossing + Sculpture Park in Bozeman.